Comedians coming to San Diego during September include Kate Quigley, Paul Reiser, Paula Poundstone and Ken Jeong.
8.31-9.1: Justin Berkman
"Here's the message for you ladies here tonight, and I don't want you to get offended. I don't want you to get offended. But I want all you ladies here tonight to realize that none of you actually are princesses. I'm sorry, I'm sorry, I'm sorry! I understand, though, why a lot of girls think that, I get it, I understand. 'Cuz I know girls like, when you're four or five years old, your mommy or daddy is like, 'Baby girl, you're a princess. You are a princess.' But then you girls believe that when you're 35 years old. Like, you'd never see a 35-year-old guy walk into a room and be like, 'I'm Spider-Man! I am Spider-Man!'"—Justin Berkman on All In
@ Pechanga, pechanga.com
8.31-9.2: Jeff Garlin
"My wife is not my soulmate. She's not. I love her, I'm not going anywhere, but she's not my soulmate. I don't think your soulmate should be constantly disappointed in you. I don't think your soulmate should say, 'If I had the chance to do it all over again, I'd pick the complete opposite of you.'"—Jeff Garlin in Young & Handsome
@ The Comedy Store, thecomedystore.com/la-jolla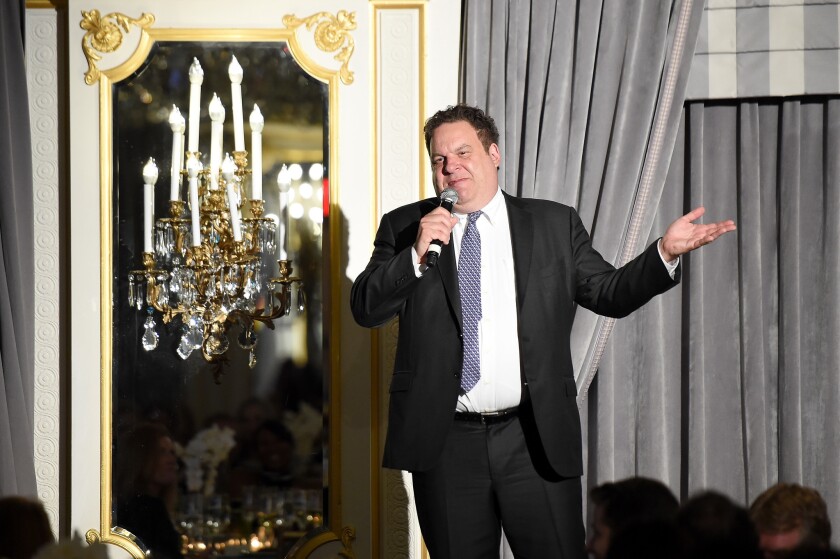 9.6: Maria Bamford
"I used to work in an office, and I miss the excitement. I miss the excitement of waking up every day, I didn't know if I was going to file something, or type something, or file something I just typed!"—Maria Bamford at Just for Laughs
@ American Comedy Co., americancomedyco.com
9.6: Paula Poundstone
"I'm kind of excited because I'm a million dollars in debt. Now, that's not the exciting part, but it does feel good just to say it. I'll tell ya something about being a million dollars in debt: Once you hit a million, it feels kinda good. I mean, if I were a hundred thousand dollars in debt, I'd be working my ass off right now, because I'd have a shot at paying it back. But once you're a million dollars in debt, it's just like, well, who's kidding who here? Does anybody that loans to me really expect to get it back? The kids'll say to me, 'Can we go to DisneyLand?' I say, 'I don't see why not.'"—Paula Poundstone on Look What the Cat Dragged In
@ The David & Dorothea Garfield Theatre, sdcjc.org
9.7-8: Paul Reiser
Editor's note: After this article was posted, the venue announced that this show was being rescheduled for a later date.
"Marriage is just an elaborate game that allows two selfish people to periodically feel that they're not."—Paul Reiser in Couplehood
@ The Comedy Store, thecomedystore.com/la-jolla
9.7-9: Affion Crockett
"I'll be the first to say it: Hollywood can be a little bit racist. Just a little bit. Case in point: We've had about five Batmans. Not one black actor has played Batman. Keep in mind, Batman is a black bat. We can't get a brother to play a ni**a bat? Are you serious? Are you serious? Is that we doing? C'mon, man. Even when they put the mask on, they blackface the eyes. Christian Bale has black makeup on his eyes. Don Cheadle wouldn't need that. We can't get Idris Elba up in there or something? Terry Crews wouldn't even need a suit. Just put some pointy ears on him, let him dance his naked ass around Gotham City."— Affion Crockett on Just for Laughs
@ American Comedy Co., americancomedyco.com
9.13: Kate Quigley
"Here's the problem with fake boobs. Let me tell you guys something you might not know. Did you know they could go bad? Yeah, did you know that you can have a runaway boob? OK, my left boob is like a drifter boob. It's like a f**king lazy eye of t*ts. I've had this redone three times, it keeps going bad. I swear to God, you guys, if I wrap it up in a bikini, stick a bra on it, it looks good, right? Take this off? Forrest Whitaker's face, that's what happens." — Kate Quigley at the Improv
@ American Comedy Co., americancomedyco.com
9.20-22: Ronny Chieng
"You know Chinese people, we invented gunpowder. We invented fireworks. Chinese people, we invented chopsticks. We invited chopsticks because forks are too easy. I don't know about you, but I enjoy a challenge when I'm doing a daily activity that's required for my survival. What is that, a spoon? Get that shit away from me, you p*ssy. I enjoy drinking soup with two sticks." — Ronny Chieng at the Melbourne International Comedy Festival
@ American Comedy Co., americancomedyco.com
9.22: Ken Jeong
"I've never seen an Asian vet. Asian veterinarian? Not gonna happen. They'll eat all their patients. That's right, I said it. I don't a f**k. Think outside the box, bitches. Recognize. Asian vet, get the f**k outta here. They'll go outta business in a second." — Ken Jeong on 1st Amendment Stand-up
@ Pala Casino, palacasino.com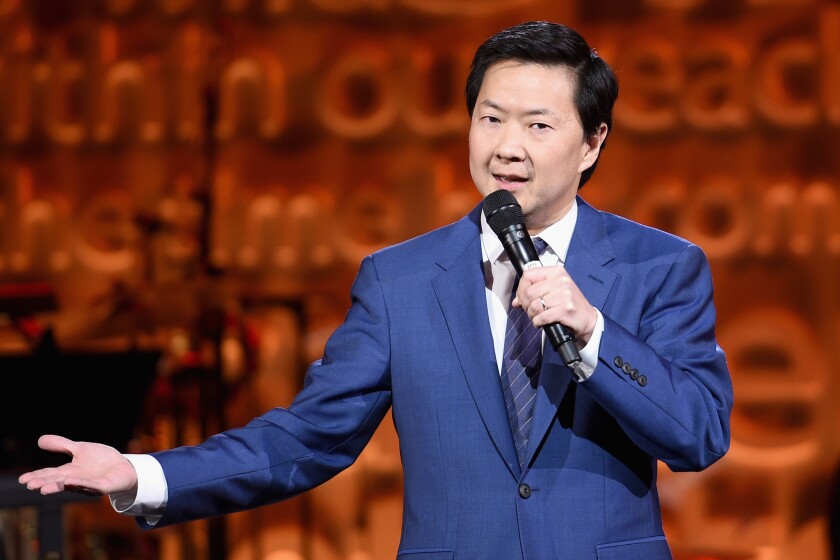 9.27-29: Todd Glass
"I had a girl once tell me I looked like John Goodman. I know it upset me because it happened 10 years ago, and I haven't shut up about it. She goes, 'You look like John Goodman.' I was like, 'What!?' She goes, 'Oh, no, a young, thin John Goodman. Like, young and thin.' That doesn't make me feel any better. That's like if I went up to a girl and said, 'You look like a pig. Oh, no, not a fat pig. A young, thin pig. You know what I mean? Like a hot, smokin' pig. Like a pig that works out, not a pig in mud.'" — Todd Glass on Just for Laughs
@ American Comedy Co., americancomedyco.com
---