Comedians coming to San Diego during July include Kevin Hart, Marlon Wayans, Cheech & Chong and Amanda Seales.
7.4: Jeff Ross
"I found a lump on my testicles. The doctor said it was my d**k. He thinks I should have it removed." — Jeff Ross on Just for Laughs
@ Del Mar Fairgrounds, sdfair.com
7.6, 7: Fortune Feimster
"The Walking Dead finally got in on the LGBT action. It took them long enough to figure out that if anyone is going to survive a zombie apocalypse, it's a lesbian. Yeah, I don't know if you've ever been camping with one, but they can survive five weeks in the wilderness with a match, a can of beans and a dreamcatcher. They're handy." — Fortune Feimster at The 25th Annual GLAAD Awards
@ The Comedy Store, thecomedystore.com/la-jolla
7.7: Kevin Hart
"You gotta know who you are as an individual. If you're not a fighter, understand that you're not a fighter. I know I'm not a fighter, that's why I carry a whistle. I will blow the s**t out of a whistle into somebody's face. You can f**k with me if you want to. You're going to win the fight, but you won't hear s**t tomorrow, bitch." — Kevin Hart on I'm a Grown Little Man
@ Viejas Arena, as.sdsu.edu/viejas_arena
Click here for a chance to win tickets to Kevin Hart.
7.12-15: Marlon Wayans
"What I love about Jay Z is that he's an artist that matures and his music matures with him. Like right now, his new album, 4:44, he's talking about grown-man shit. Stuff that's relevant to grown-ass men. He's talking about marriage, and children, and family legacy and wealth... and cheating on your wife, and getting caught, and getting your ass beat in the elevator by her crazy little sister. You know, shit that happens to grown-ass folks. That shit happened to me twice last year." — Marlon Wayans on Woke-ish
@ The American Comedy Co., americancomedyco.com
7.14: Cheech & Chong
Tommy Chong: "I smoked a Tampax once, man."
Cheech Marin: "Really?"
Tommy Chong: "It looked like a joint.
Cheech Marin: "Yeah…?"
Tommy Chong: "It wasn't bad. It had a real familiar taste."
Cheech Marin: "Oh, yeah…"
Tommy Chong: "But it gave a new meaning to cottonmouth, though, man."
— Cheech & Chong on Gotham Comedy Live
@ Pala Casino, palacasino.com
7.13-15: Owen Smith
"Marriage, man. It's the words 'I do' I don't like. Ugh. I'd get married it they'd let me said, "I'll do my best.'" — Owen Smith on Conan
@ The Comedy Store, thecomedystore.com/la-jolla
7.19: Brian Posehn
"This really happened recently. My son, my 2-year old, he's freaking adorable. We were wrestling, and he points at my belly, and he goes, 'Baby?' I know! Motherf***er. Turns out a 2-year old cannot take a punch." — Brian Posehn on Just for Laughs
@ The Casbah, casbahmusic.com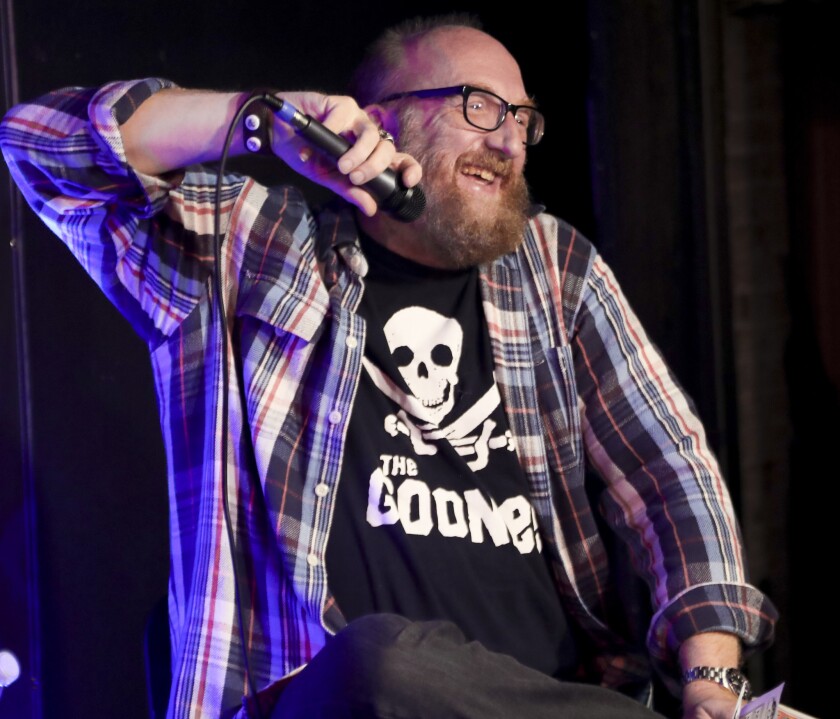 7.20-22: Jon Reep
"That is what our country is, whether people like it or not. We are a small-town nation. There are seven or eight big cities in this country, everything else is small towns, really. What do you think 'red, white and blue' stands for? Redneck, white trash, blue collar. Welcome to America. " — Jon Reep on Metro Jethro
@ Pechanga Resort Casino, pechanga.com
7.20-22: Dan Cummins
"I just decided to go on a diet. I made that decision immediately after seeing a picture of myself. It was taken from the side when I was not wearing a shirt, or sucking in my gut or aware that pictures were being taken. And that's when I realized that my front profile does not match my side profile. Turns out, from the front I look like a dude who lifts weights. From the side, I look like a dude who shouldn't because it's probably bad for the baby." — Dan Cummins on Conan
@ The Comedy Store, thecomedystore.com/la-jolla
7.27-29: Eddie Ifft
"Breaking News: ABC says Roseanne not being canceled! They are just replacing Roseanne with Kevin Spacey and he is going to play Dan's gay lover." — Eddie Ifft on Twitter
@ The Comedy Store, thecomedystore.com/la-jolla
7.28: Joe Rogan
"It's not sexist to say that women can't do big physical labor things as good as giant men can. But people will tell you it is. Well, I'm not sexist. As a matter of fact, my favorite people are all female. I have a wife, and I have three daughters. They're my favorite people in the world. But, I could beat the f**k out of all of them. OK? Listen, if they're guarding the door, I'm getting in. I don't mean to sound cocky, but I'm just real confident. I could f**k them up if I had the flu, OK?" — Joe Rogan on Joe Rogan: Triggered
@ Pechanga Resort Casino, pechanga.com
7.28: Kathy Griffin
"Facetiming someone, without permission in advance, should be a crime." — Kathy Griffin on Twitter
@ Civic Theatre, sandiegotheatres.org
---