Art Institute to host border-themed artistic sparring match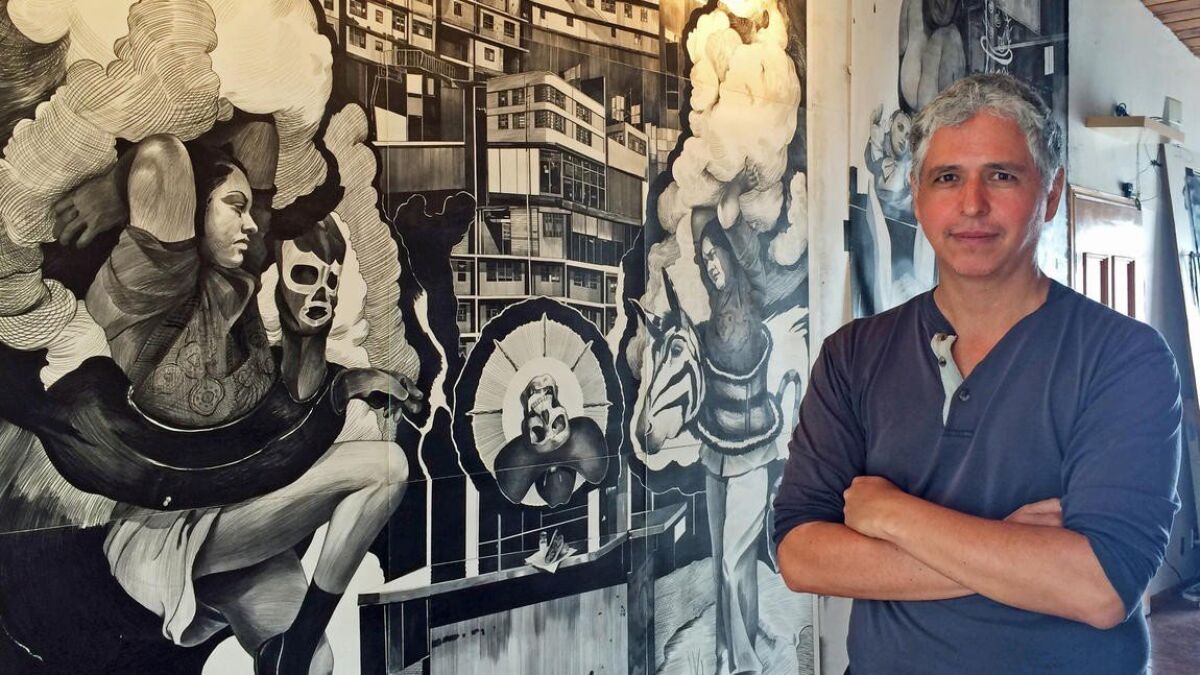 Two artists will duel over a 16-foot wall this week at the San Diego Art Institute as they paint a mural narrating stories of migration and the border.
Hugo Crosthwaite and Jose Hugo Sánchez will begin their work without a plan beyond the theme. The goal is to improvise and interact each other as well as with people who come to watch them work.
"Usually art happens in a studio," Crosthwaite said. "Here, you get to see it right in front of you."
Crosthwaite and Sánchez have spent time on both sides of the border, and images of stories they have encountered in the border region frequently make their way into their art.
Sánchez, who recently held a residency at the Balboa Park museum, said he hopes to explore ideas of "the other" in himself, his rival artist and with the audience.
"I think the more differences I'm able to see in the other, the more I'm able to learn," Sánchez said.
The piece, called Mano a Mano, is set up like a wrestling match, with each day representing a different round of the fight. They will start at opposite ends of the wall and work their way to the middle, where their work will interact.
Their two styles are different, Crosthwaite said, but complementary.
When asked what she expects from the performance, Jacqueline Silverman, executive director for the Institute, said she hoped it would be noisy and awe-inspiring.
The artists will begin at 10 a.m. on Nov. 6 and work during gallery hours until Saturday. The finished mural will be on display until January 7.
To add to the experience for the public, the Art Institute will also showcase two multimedia installations that fit the border-region theme, Ana Andrade's "Last Night at Playas de Tijuana" and Armando De La Torre's "Who Are We Anyways."
The Art Institute charges $5 for entry, with discounts for students, seniors and military. On Tuesday, it is free for San Diego residents.
San Diego Art Institute, 1439 El Prado, Balboa Park, sandiego-art.org
More...
Improvised mural questions 'otherness' and power in reflection on border
Sign up for the Pacific Insider newsletter
You may occasionally receive promotional content from the Pacific San Diego.