Must Reads: From 'Black Panther' to 'Luke Cage,' black superheroes are breaking barriers once considered impenetrable
Television Critic
They fight crime in old cotton hoodies, shimmering black capes and glowing LED unitards. They can repel bullets with their bodies, leap atop speeding cars like a svelte cat or dissipate in a puff of eerie smoke, all in the name of justice.
But most impressive of all: They have a newfound power to break color barriers that were once considered impenetrable.
From "Black Panther" to "Marvel's Luke Cage," 2018 has seen more African American superheroes in their own namesake productions run, leap and fly to the forefront of pop culture than any other time in history.
If it wasn't the blockbuster Disney film set in an African country so advanced it made America look like a developing nation, it was the steel-bending heroics of Netflix's Mr. Cage as he defended Harlem, or family man and high school principal Jefferson Pierce electrocuting bad guys as the protagonist on the CW's "Black Lightning," or Cloak of Freeform's "Cloak & Dagger" challenging corrupt New Orleans cops and robbers with his empathic abilities.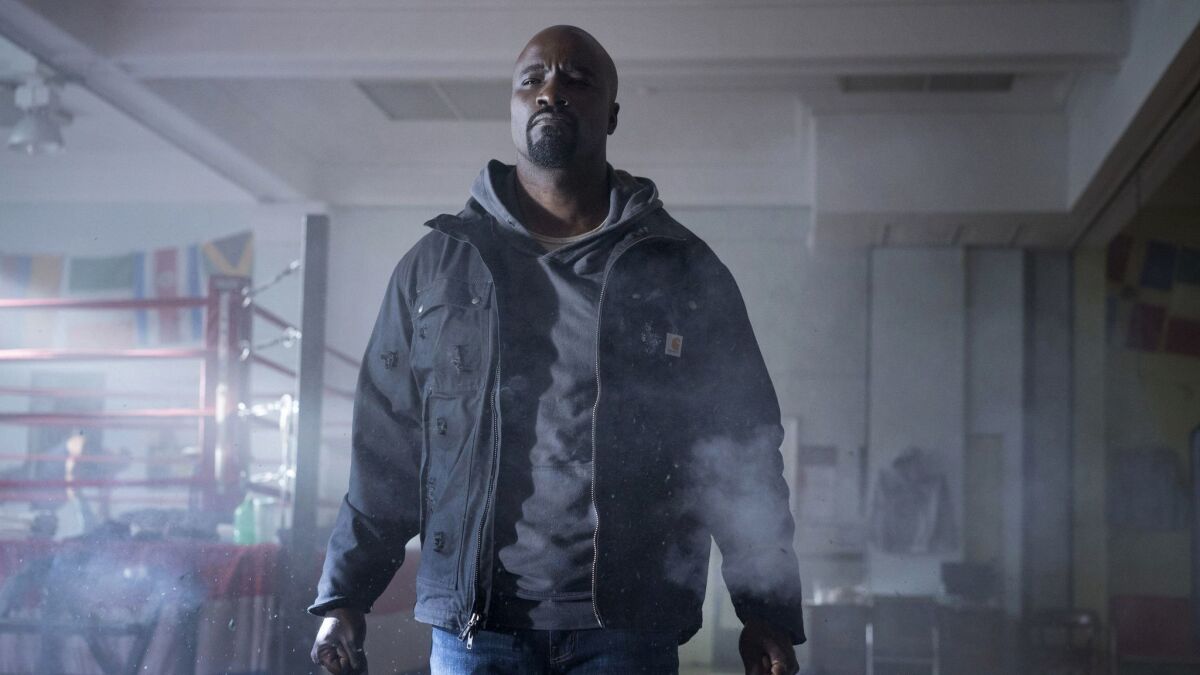 "It used to be that one show had to be representative of all black people," says Cheo Hodari Coker, showrunner of "Marvel's Luke Cage" and a former Los Angeles Times music writer. "Now you have several black superhero narratives on television, and at the same time you also have shows like 'Atlanta,' 'Queen Sugar,' 'Insecure,' 'The Chi' and 'Power.' There's so many different elements of the black experience on television now, it takes the pressure off any one [show] to represent everybody."
Black comic book characters date to the 1970s, but on screen, they've historically been sidekicks or villains if not entirely absent from Hollywood and television's ever-increasing adaptations.
But as Ku Klux Klan rallies astoundingly have become a thing again, and unarmed black men and women are still disproportionately the victims of police violence, and the perpetrators of killings like Trayvon Martin's are given impunity simply because they believed a hoodie-clad teen was "up to no good," avengers of color couldn't be more timely.
Cress Williams, who plays high-voltage hero Black Lightning, lists some of the ripped-from-the-headlines issues his character was up against in Season 1: "Crime, police corruption, political corruption, drugs, police brutality."
Williams, whose versatile career stretches from "Prison Break" to "Hart of Dixie," continued: "Sometimes in a fantasy context, it's easier to look at truths because you see them from a distance. It's like 'Oh, it's sci fi or superhero,' so it's a great medium to look at some of our ills. Even though [our show features] a fictional city, it's kind of representative of so many cities across America that seem forgotten and lost. With the show, we can look at it from that safe distance."
Now there are enough avengers of color to tell several stories with the latitude only fantasy provides. Who wouldn't love to bend a mugger's gun into a pretzel as Cage has done, or terrorize those gangs that have terrorized the neighborhood ala Black Lightning, or catch dirty vice cops red-handed like Cloak?
The color Hollywood cares about the most is green.
— Cheo Hodari Coker, "Luke Cage" showrunner
Their recent impact on screen will no doubt be felt this month at San Diego's annual Comic-Con. The event will be full of fan boys and girls deconstructing the genesis of Cage's powers, claiming they were into "Black Panther" before anyone else knew the name T'Challa, and chasing down characters from "Cloak & Dagger" for selfies (then it's back to stalking "The Walking Dead" cast members).
This year also brought us more black female heroes, though not in lead roles. Domino (Zazie Beetz) brought luck to the foul-mouthed Deadpool, the fierce Wakanda warriors of "Black Panther" kept their king safe and Black Lightning's formidable daughters, Thunder (Nafessa Williams) and Lightning (China Anne McClain), both aided in saving their glow-in-the-dark dad more than once.
Samuel L. Jackson's chilly character Frozone also returned this year in Pixar's "The Incredibles 2." He preceded the current wave of African American heroes but still has the coolest powers of the pack.
The uptick in representation could be studios and networks responding to criticism that their productions and programming have forever been whiter than the hair of "Game of Thrones'" Daenerys Targaryen. But there's also the oldest motivator in show biz to consider.
"The color Hollywood cares about the most is green," says Coker, who worked on both seasons of "Luke Cage." "Having more cultural heroes is lucrative. It's different than seeing your average 'expected' superhero, and culture is the cheapest special effect around. Or I should say it's the cheapest, but most profound, special effect available."
Notably it was "Black Panther," not a "Captain America" or "Iron Man" movie, that became the third highest-grossing film ever in America. The production starring Chadwick Boseman made a staggering $1.3 billion worldwide after its premiere in February.
The film certainly set a high bar, and high expectations, for the other franchise superhero projects arriving in its wake. The Afro-Latin character Miles Morales is the man behind the mask in "Spider-Man: Into the Spider-Verse," Sony's forthcoming animated feature starring "The Get Down's" Shameik Moore as the voice of the web-spinning defender.
As with all superheroes, Cage, Cloak, Mr. Panther and Black Lightning are conflicted, torn between their personal lives and public crime fighting. But for black superheroes, the idea of using violence to combat violence carries more weight given Hollywood's go-to stereotypes for characters of color.
Williams says that struggle is real for high school principal Jefferson Pierce (a.k.a. Black Lightning). But after so many decades of watching other superheroes save the world when his own neighborhood was burning, he found that enacting change required a new approach.
In his case, that meant enforcing a strong curriculum for his students by day and upending crime with high-voltage zaps by night.
"He has tried education as a means to positively affect his community," says Williams, "but sometimes you just gotta mess stuff up as well."
---
Sign up for the Pacific Insider newsletter
PACIFIC magazine delivers the latest restaurant and bar openings, festivals and top concerts, every Tuesday.
You may occasionally receive promotional content from the Pacific San Diego.