The San Diego Spirits Festival returns to the Port Pavilion on Broadway Pier for its 10th celebration of cocktails and culinary culture. This year's festival, complete with samples of top-shelf cocktails from small-batch and big-name distillers, along with tastes from local restaurants and top chefs, will be held August 25-26.
2018 is poised to be the biggest yet for the San Diego Spirits Festival. The festival is known for giving guests unrivaled access to the market's finest spirits. Sample everything from your big-name brands to small-batch distilleries, enjoying old favorites and discovering new ones throughout the day. In between sips, guests have the opportunity to hear the stories behind the spirits and the brands that make them. The Festival also features bartender competitions, grand tastings and mini-seminars designed to appeal to the cocktail novice as well as the mixology expert. All weekend, live music and entertainment will create an unforgettable experience. "I am absolutely thrilled that this is our tenth anniversary," said Liz Edwards, founder and director of the festival. "I am proud to say that the San Diego Spirits Festival is all-inclusive with top shelf cocktails—once you are enter, everything is included."
The entertainment lineup this year includes live music from funk-rock band Sofa King Bueno, Drop Dead Dames Burlesque Revue, Energia Fire Boys Burlesque and Samba, body artist Evgola, the Bollywood dance troupe from Andaaz Dance Academy, Cirque Quirk stilt walker, a fashion show featuring Hulabelle swimwear and Kasia Resort Wear and DJ Mike White.
During the Festival, the winners of the San Diego International Spirits Bottle Competition will be announced. Two weeks prior, craft distillers, American merchant bottlers and large distillers submit their spirits for blind tasting and analysis by an expert panel of judges. The 2017 competition featured 162 entries, with 81 medals awarded.
Brands in attendance this year include: Lillet with VIP Lounge and Fashion Show; Don Julio Tequila; Ketel One Family of Vodka and the new Ketel One Botanicals; Panther City Distillery; Gildardo Partida LLC with 27 brands of high-end Tequilas; Bohemia Beer American Soju; Café Agave; Pussers Rum, Reed's Ginger Beer; Sespe Creek Distillery Speakeasy; Revel Spirits; Dano's Dangerous Tequila; Brugal Rum; Tequila Indianos; Tequila Enedina; Chantaje Mezcal; 44 Degree Vodka; Old Elk Distillery; Santo Mezcal; Hood River Distillery; Sammy's Beach Bay Rum; Deep Eddy Vodka; Blue Chair Bay Rum; Tequila El Rey; Zyr Russian Vodka; Fever Tree; Mule 20; Toco Cachaça; J Reeds Apple Cider Whiskey; Capone Tequila & Rum; Magic Bullet; Kevita; Buzz Pop Cocktails—and more are still being added.
For those looking for an even more high-end experience, VIP tickets include access to an exclusive VIP lounge with Lillet, front row seats for the fashion show, champagne, caviar and additional upgrades.
To purchase tickets, visit sandiegospiritsfestival.com. The festival will be held on Saturday from 2 to 6 p.m. and on Sunday from 2 to 5 p.m. Daily tickets are $65 for Saturday, $55 for Sunday. VIP tickets are $100 for Saturday and $85 for Sunday. All tickets include unlimited cocktails and samples from restaurants. Food may also be purchased from food trucks. Designated driver tickets for Saturday or Sunday are $20.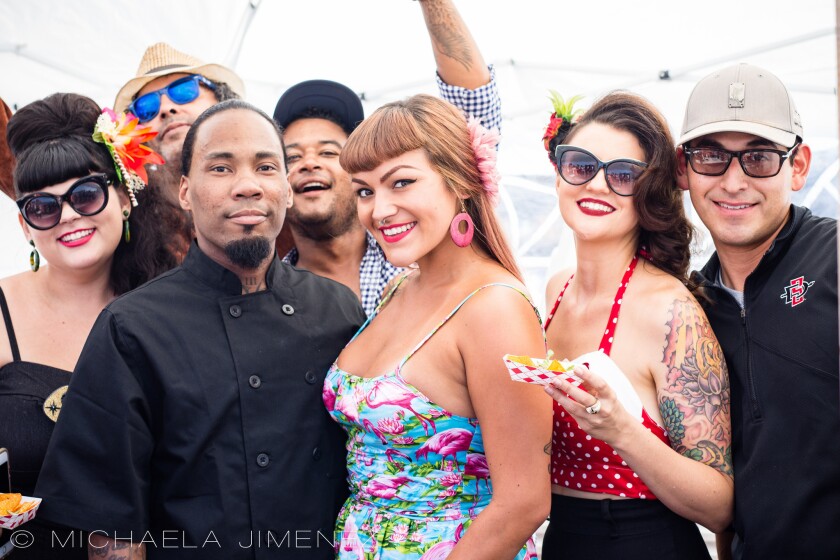 ---