There's no denying that 2019 has already been the wettest year San Diego's seen in some time, and this summer has the potential to be even wetter — depending on how you spend it. With paradisiacal rooftop pool parties and other adult playgrounds scattered around the city, nearby venues know exactly how to make summer memorable with some wet-and-wild fun.
Locals who love venturing into the deep-end can take a dip at a rooftop splash bash replete with comfy daybeds, decked-out cabanas and fabulous, first-class bottle service. These steamy scenes offer oodles of eye-candy and endless voyeuristic appeal while also serving as the perfect oases to unwind after a long week at work.
Or, if you're thirsty for a relaxing refuge away from the water, some of San Diego's most sizzling restaurants and bars regularly host lavish, liquefied socials in sleek outdoor settings that offer stunning views. With splashy soundtracks spun by rising DJs and a flurry of flirty activities to keep attendees entertained, these alfresco get-togethers are famous for decadent delicacies and potent potables guaranteed to leave an impression.
Whether you prefer poolside parties or more laid back outdoor dining, this summer is the perfect time to partake in a host of unforgettable happenings occurring across the city. So now that the weather is getting warmer, prepare to lather up your sunblock and have some outdoor fun in the company of kindred souls. Here are a handful of hot spots where you can turn the volume up and the stress level down.
Rustic Root
Socialize, sip craft cocktails, and dine under the stars on Rustic Root's buzzy open-air rooftop! The expansive deck flaunts market street lights with a modern yet whimsical décor in the heart of the Gaslamp Quarter. Mingle with friends and intriguing strangers alike for boozy brunches, happy hour, dinner, or late-night socializing. Enjoy a timeless cocktail or seasonal specialty (don't skip their frozen slushie!) and go wherever the evening takes you. San Diego was made for rooftops like this.
535 Fifth Avenue, downtown, 619.232.1747, rusticroot.com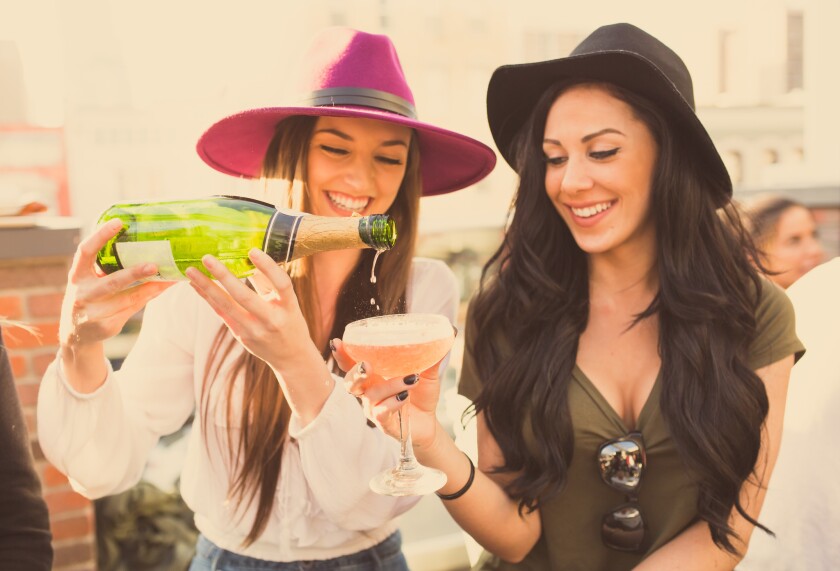 The Pool House at Pendry
The Pool House at Pendry San Diego returns for summer season on Monday, April 1 to kick off another season as the most prominent and sought after scene in San Diego, marked by its official grand opening on Sunday, May 5. The mouth-watering new summer menu by Chef JoJo Ruiz of Pendry's Lionfish will be sure to captivate visitors' palates and it won't be a surprise they'll be returning for more. The contemporary rooftop pool is perched above the Gaslamp Quarter's famed Fifth Avenue, located within the luxurious Pendry San Diego. The exclusive space will play host to a bevy of carefully curated daytime and evening events, such as the Pool House Sundays party series, featuring the hippest and hottest DJs. Daybed and poolside lunch reservations will also be available for guests.
435 Fifth Avenue, downtown, 619.738.7030, poolhousesd.com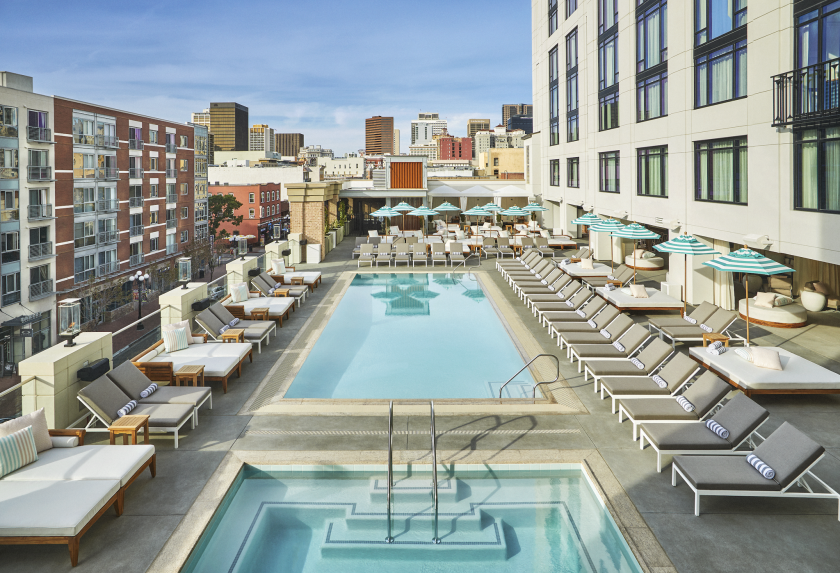 Sycuan Casino Resort, Retreat
Opening in March of 2019 at Sycuan Casino Resort, Retreat is an outdoor venue featuring two pools, an immense lazy river, a swim-up bar, and an expansive pool deck furnished with plush oversized daybeds and cabanas. The poolside menu will feature healthful seasonal bites and a full bar serving fresh mojitos, margaritas and champagne-infused cocktails. With a lineup of DJs and weekend activations, Retreat will be San Diego's hottest summer destination. For more information, visit retreatpoolsd.com and follow on Instagram at @retreatpoolsd.
5469 Casino Way, El Cajon, 619.445.6002, retreatpoolsd.com
The Fish Shop
Established in 2010, The Fish Shop opened with the sole purpose of providing the best service and freshest fish in San Diego. Since then, The Fish Shop has become a local favorite, as well as a popular destination for the many thousands of visitors. Their menu is uniquely tailored, offering you a boatload of fresh fish selections to choose from, your preferred seasoning and a choice between having it all tucked within a taco, sandwich, salad or on a plate. Dine in their comfortable, well-lit and heated patios, order take-out or buy one of their daily catch selections from their market to cook at home.
Pacific Beach: 1775 Garnet Avenue, 858.483.1008; Point Loma: 1110 Rosecrans Street, 619.756.7778; Encinitas: 1010 S Coast Hwy, 858.436.4665, thefishshoppb.com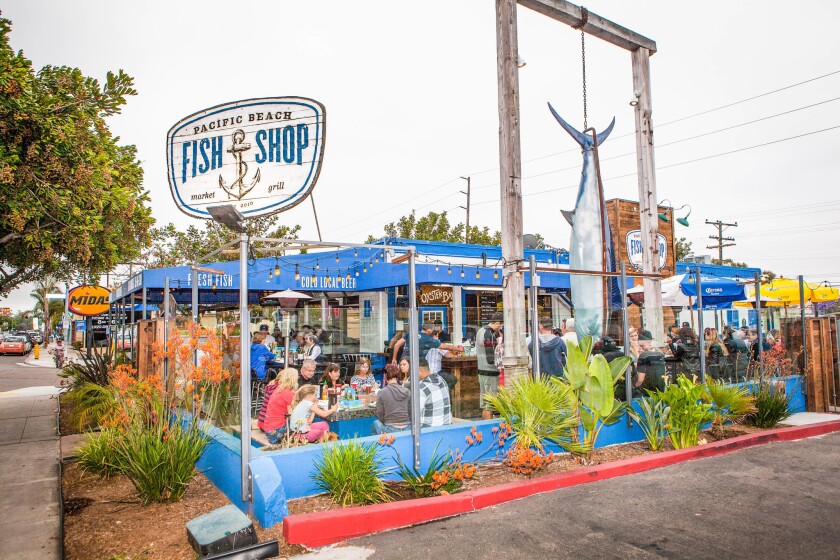 SUNBURN Pool Lounge
Calling all weekend warriors! SUNBURN Pool Lounge returns to the Hard Rock Hotel rooftop every Saturday with a stellar lineup of DJ's, fitness classes, local eats, and poolside cocktails. SUNBURN is the ultimate day party in San Diego, set atop the Hard Rock Hotel in a stylish oasis overlooking the vibrant Gaslamp Quarter. Whether you're in the mood for fitness or fun, SUNBURN is the one-stop shop to make the most of your San Diego summer. From yoga to boot camps to spin, SUNBURN offers a variety of fitness options to choose from each week so you can sweat it out before you drink up! Celebrating something? Kick it up a notch with a lavish VIP poolside cabana, daybed, or table. So hurry up – summer is calling!
207 Fifth Avenue, downtown, 619.814.2549, sunburnpool.com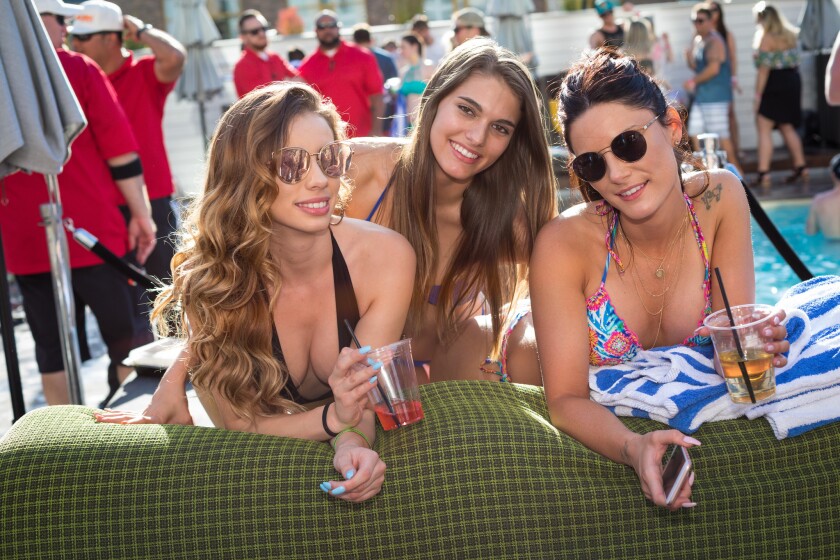 ---