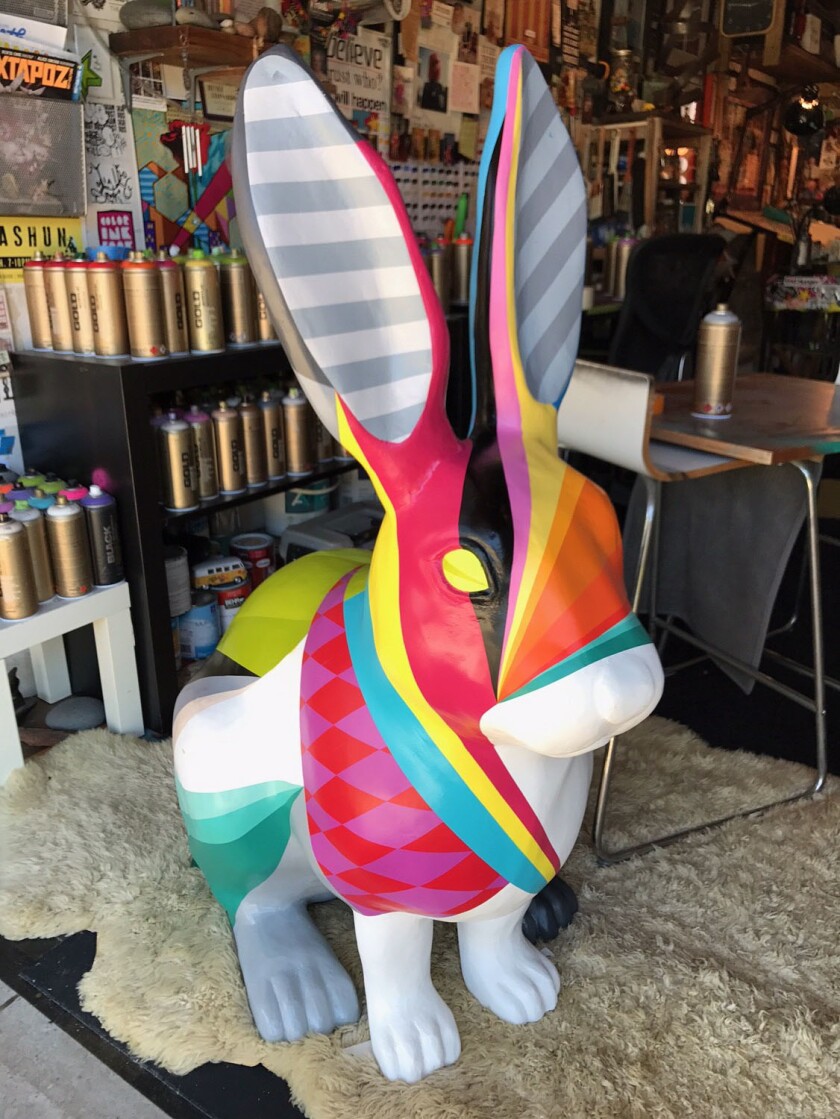 This year, Comic-Con mainstays like Captain America, Han Solo and Wonder Woman will be joined by... rabbits? Yes, rabbits. From July 20-23, the Gaslamp Quarter Association is hosting an exhibition of the "Rabbitville" public art project. The "Hop-Up Gallery" will feature many of the rabbit sculptures that are part of the Gaslamp's 150th Anniversary celebration.
"Many Comic-Con visitors don't know our history," said Michael Trimble, executive director of the Gaslamp Quarter Association. "Rabbitville teaches the Gaslamp Quarter's history using contemporary art in a fun, enjoyable way." The gallery will be located at 453 Fifth Avenue and open to the public from 10 a.m. to 8 p.m. from Thursday through Saturday (July 20-22) and from 11 a.m. to 5 p.m. on Sunday, July 23. Guests can also view historic photos of the Gaslamp, purchase limited edition t-shirts and take photos with the rabbits.
Fifteen local artists have been commissioned to paint and decorate the seven-foot-tall fiberglass sculptures that will help commemorate the area's anniversary.
The rabbits on display at the Hop-Up Gallery will include Matt Forderer's "Willabee"; Tasha Hobb's "Honoring the Disdained"; Monty Montgomery's "Diego"; Sarah Soward's "Against All Odds We Thrive"; Rebecca Nuvoletta's "Ordinate"; Mario Herbelin-Canelas's "Life's Cool!" sponsored by PACIFIC; and Lee Sie's "Nelly Ghirardelli" sponsored by Ghirardelli Chocolatier. The sponsored pieces are adorned with ornamental signs, customized by Atlas Signs and Plaques, which display the sponsor logo and artist's name for everyone to see.
"Since their unveiling in May, Rabbitville has attracted thousands of followers!" Trimble said. "These amazing sculptures each have their own unique personality, reflecting the diversity of the Gaslamp Quarter."
Visitors to the area are also certain to get a surprise sighting of the "Rogue Rabbit," sponsored by Instant Callers. This celebrity rabbit roams around the Gaslamp Quarter, posing for pictures and collecting memorabilia that will later be used in a mosaic around the rabbit's coat.
There are more rabbits in production that will join the herd at different exhibitions around San Diego through May 2018. Those in production are sponsored by City of San Diego's District 3 Councilman Chris Ward, The San Diego Padres and Pendry San Diego. The Gaslamp Quarter Association is looking forward to more sponsors "hopping" on board. The sponsorships will raise valuable funds for the Historic Heart of San Diego.
But, why rabbits? They're a callback to the Gaslamp's chief inhabitants before Alonzo Horton arrived in San Diego. Until 1867, the region boasted only scrubby sagebrush and rabbits. Horton transformed the area, turning Rabbitville into the Gaslamp and building a thriving city on the San Diego Bay. The Rabbitville sculptures both commemorate the Gaslamp's past and pay homage to its dedicated founder.
Visit gaslamp.org/150 for more information about Rabbitville, the Hop-Up Gallery and other anniversary events.
More...
Iconic Gaslamp Quarter celebrates 150 years
---