It's the most wonderful time of the year — holiday party planning time!
Okay, unless you're Martha Stewart, maybe you're not jingling your bells over the prospect of pulling together a holiday party for your office, friends, family or whatever group you want to entertain.
No need to go into hibernation until Jan. 2! These five tips will help make party planning a breeze and be sure to keep reading for some prime party spots to host your event at around San Diego .
Start early
The earlier you start looking for places, the better. Spaces and dates go fast once the holiday season hits, and some venues may even offer early booking bonuses.
Haven't gotten on that yet? Don't worry — if you're able to be flexible and creative, you can still find something that works.
Tight budget? "If you're flexible with your date and time, most venues are willing to negotiate a better price point," says Heather Taylor, sales and event planner for Del Frisco's Double Eagle Steakhouse, which opens inside downtown San Diego's new InterContinental hotel this month.
Choose a venue
Ask around for referrals and recommendations. Ask friends and colleagues or post on Facebook or Instagram.
Tour the venues and talk to event planners in person. Make it easy on yourself and look for a venue that's a "one-stop shop" so you don't have to coordinate other vendors and plans on your own.
Listen to the experts. "Don't try to over-order. Lots of people think they need stations and passed hors d'oeuvres and three- or four-course dinners — work with the venue to make sure you're not over-ordering," says Taylor.
Check the guest list
If you're planning an office party, decide if you're going to let people bring spouses and partners and make sure you communicate that clearly.
Planning a night for your friends? Let them know if the shindig is kid-friendly.
Don't put extra pressure on yourself. "Ask the venue what extra bells and whistles they offer, like making place cards. It's not always a huge additional cost," says Taylor.
Personalize it
Have a signature cocktail or dessert — maybe something that plays on the company name or motto. Look for other creative ways to highlight special guests, inside jokes, group or company accomplishments and more.
Set the tone with signatures. "We always love naming a signature cocktail — it's a nice welcome and gets festivities kicked off right off the bat," says Taylor.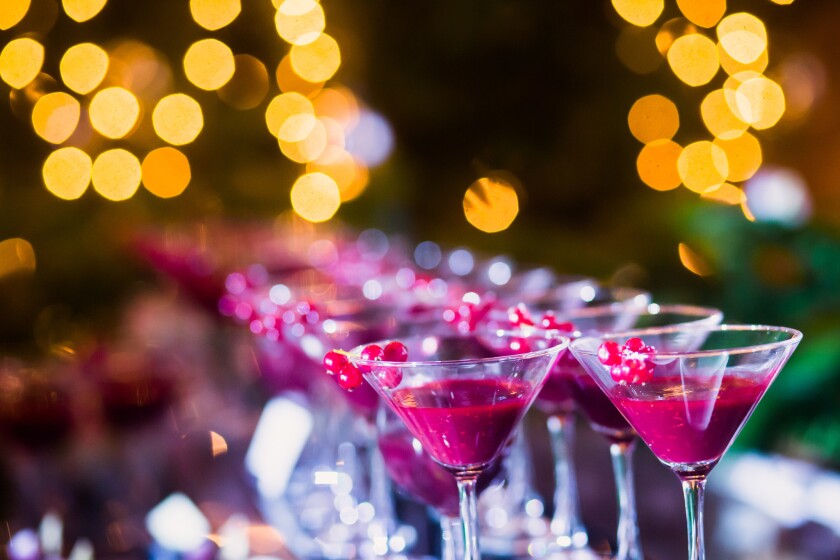 Make it memorable
Add some extra touches like a custom playlist, photo booth (easy to DIY if you're on a budget!) or fun theme or activity, such as Ugly Sweater or an ornament or White Elephant gift exchange.
Brand the event. "Add your logo to the menu and décor," says Taylor.
Where to host your event around San Diego
The Abbey on Fifth Avenue: Popular for banquets, receptions and impressive private parties, The Abbey offers an elegant event option for your next holiday party. Complete with a stained glass dome, arched windows, gorgeous wood balconies and antique fixtures, The Abbey is a one-of-a-kind landmark sure to dazzle your guests. Located conveniently in downtown San Diego, The Abbey accommodates up to 500 guests, has a full onsite kitchen and crew and a variety of elaborate themes, packages and menus to choose from. Their team of professional planners handle every detail, so you can sit back and accept compliments at your party. Book by Nov. 30 and get one free perk for your event!
2825 Fifth Ave., downtown, 619.686.8700, abbeyevents.com
Cloak & Petal: Located in the heart of Little Italy, Cloak & Petal invites you to journey into a place of both intimacy and companionship. The word "cloak" implies secrecy, inspiring their concept of a social sphere humming beneath the levels of ordinary life. "Petal" alludes to the Japanese tradition of "hanami," when family and friends gather under blooming cherry blossoms to savor food, drinks and fellowship. Voted one of San Diego's Most Beautiful Restaurants, the detailed space is an ideal setting for your next corporate, social and nonprofit event. The venue hosts various dining spaces that accommodate groups of 10-300 and the events team customizes packages to fit every clients' needs. Cloak & Petal will deliver an experience you and your guests are sure to remember.
1953 India St., Little Italy, 619.501.5505, cloakandpetal.com
Del Frisco's Double Eagle Steakhouse: Greatness deserves excellence. Whatever the occasion, the Del Frisco's experience will surpass your expectations. Del Frisco's Double Eagle Steakhouse is an ultra-premium steakhouse providing a distinguished dining experience with personalized service in a breathtaking atmosphere, offering bold, delicious fare complemented by an expansive, award-winning wine list. Boasting a vast selection of USDA Prime wet and dry-aged steaks, modern takes on fresh seafood, signature side dishes and mouth-watering desserts. The one-of-a-kind menu distinguishes Del Frisco's as an American culinary institution that delivers an unparalleled experience. Elevate your next event by hosting it in one of Del Frisco's private or semi-private dining spaces. Featuring chic interiors, plenty of seating and audio/visual capabilities, our stunning private dining rooms will help your celebration reach its full potential, no matter your needs. Del Frisco's Sales and Event Planner will work with you to create a celebration beyond compare.
901 Bayfront Ct., Ste. 105, downtown, 619.272.5060, delfriscos.com
Del Sur: At Del Sur Mexican Cantina, they strive to bring you quality Mexican food at a reasonable price and offer something for everyone. The menu was designed to bring traditional Mexican fare to South Park with a healthy twist and to develop a great cocktail and margarita list to go with it. They have lots of vegan and vegetarian friends so they made sure to accommodate them as well. Del Sur is kid and dog friendly. Visit their website for the lineup of daily specials and happy hour details. Del Sur hopes to be your home away from home with smiling faces to take care of you.
2310 30th St., South Park, 619.501.0643, delsurmexicancantina.com
Farmer's Table: Every good neighborhood deserves an eatery where locals and visitors can come together and enjoy "honest food done right." Welcome to Farmer's Table, your food-to-fork destination, that brings locally sourced organic ingredients together to be savored in an inviting atmosphere. Open for breakfast, lunch and dinner, they've incorporated innovative spins on time-tested, family recipes that dig down into Sicilian roots. A Stefano Ferrara pizza oven was even imported directly from Napoli to demonstrate a commitment to authentic cooking methods and flavors. Along with a slate of wood-fired pizza selections, Farmer's Table offers specialties such as wood-fired pizzas, organic eggs and local seasonal vegetables to satisfy every hungry guest.
La Mesa: 8141 La Mesa Blvd., 619.724.6465; Bay Park: 3055 Clairemont Dr., 619.359.4485; Little Italy location: Coming soon,
myfarmerstable.com
The Haven: The Haven offers some of the best Neapolitan-style pizzas in San Diego. You can choose one of theirs, or build one of your own. They even offer gluten-free crusts. Other favorites include Italian sandwiches featuring home-baked bread, and unforgettable salads, like their Caprese Salad with sliced cherry tomatoes, fresh mozzarella, shredded basil and rich balsamic reduction. The Haven makes an amazing Antipasto Salad, as well. Local brews are loved by all, and flow freely from eight taps, to pair with any one of their food items. Wine is also available along with generous happy hour specials. The Haven offers booths, tables and outdoor seating options to assure that every guest is comfy in their inviting surroundings.
4051 Adams Ave., Normal Heights, 619.281.1904, thehavenpizzeria.com
Hornblower Cruises & Events: Get decked out for your holiday event! Choose from seven distinct yachts for an event tailored to your exact specifications. Treat your employees to exquisite food and drinks, sparkling skyline views, city holiday lights and vibrant entertainment. With options ranging from brunch, lunch, cocktail hour and dinner, and endless menus, let Hornblower put together the perfect event for your group (up to 1,200). A Hornblower yacht party is more affordable than you think, and their professional planners take care of every detail so you can relax, enjoy the party and celebrate the season. This year, do something different — leave land and join the party! Book by Nov. 30 and get one free perk for your event!
1800 N. Harbor Dr., Embarcadero, 619.686.8700, hornblower.com
Miss B's Coconut Club: Miss B's Coconut Club is nestled in the heart of Mission Beach just steps from the beach and bay. This open-air restaurant serves up beautiful tropical drinks and island vibes, making it the perfect place to enjoy San Diego's beautiful weather year round. Miss B's is entering their third year and spicing up their already popular Caribbean menu with the addition of their new Culinary Director, Chef Quinnton Austin, who joins the hot spot from New Orleans. With a passion for plate artistry, creole Caribbean food and vibrant spice blends, it's a perfect match and one that is sure to wow in both flavor and presentation.
3704 Mission Blvd., Pacific Beach, 858.381.0855, missbcoconutclub.com
Parq Restaurant and Nightclub: From the décor to the ambience to the food, Parq Restaurant delivers nothing but the best for your private event. Parq gives guests the experience of dining in Central Park, with an open air restaurant and lighted trees creating a romantic and hip ambience, plus 5,000 square feet of event space and a plush ladies lounge complete with a built-in bar. Guests then enter through the esteemed grotto tunnel that opens up into Parq Nightclub with 10,000 square feet of lavish event space. With a state-of-the-art lighting and sound system, the event possibilities are endless. Parq allows planners to use the latest technology available to plan the ultimate event. Plan your next event at Parq and create an evening that everyone will remember. Dinner groups of 50 people up to large corporate dinner receptions for 1,800 guests can be accommodated.
615 Broadway, downtown, 619.727.6789, parqeventcenter.com
Prep Kitchen: San Diego's bustling neighborhoods of La Jolla, Del Mar, North County and Little Italy are all home to local hotspot Prep Kitchen. The expertly curated dining spaces are a reflection of relaxed, chic coastal living, and each location is accentuated by subtle nods to its unique community. Step inside and be greeted by an unexpected juxtaposition of warm, inviting coastal tones and elegant, urban townhouse style. Thoughtfully selected textiles like luxe Belgian linen sofas, plush chenille throws, and hand-thrown pottery plateware set the welcome against a backdrop of fine wine and sun-drenched Euro grooves. The thriving interior canvases of each location are specially designed to highlight the culinary artwork from the experienced and versatile kitchen team, which is stacked with award-winning Chefs from Wynn Las Vegas and SBE Entertainment (Katsuya cool, to be exact). Top toque Joseph Elevado has a cult following for his signature use of ocean-fresh fish, continental cattle, and distinctive spice blends inspired by all corners of the globe. He leads the team while counting accolades such as Forbes Five Star, AAA & Mobil Five Star ratings, as well as a best restaurant achievement. The ever-evolving seasonal menu is best experienced "vibe style," which cultivates a fun and intimate environment perfect for sharing while allowing you and your dining mates to expand your palates with a range of diverse and surprising flavors.
Visit one of the 4 locations: Del Mar, La Jolla, Little Italy, San Marcos, prepkitchen.com
Route 29: Before the holidays begin to peek their way over the horizon of 2018, it's time to plan the parties and group events that will help make the festive occasions ahead a "season to remember." The days may be getting shorter, but the lists of things to do are definitely getting longer. If hosting a party is in the plans, finding that perfect venue will bring the stress levels down, and assure that you and your guests enjoy an amazing experience from start to finish. When considering a venue for a private party or group event this season, Route 29 may be the best road to follow. New to the Gaslamp in July of this year, the Napa-inspired restaurant offers plenty of options for accommodating parties of many sizes. The entire venue can be reserved for private events of up to 150 people, the interior on its own can entertain 135, or for smaller groups, the patio is perfect for up to 25 guests. Unique spaces such as the "Cellar" (for parties of up to 60) and "Vineyard" (for 35-40 people) offer creative surroundings for parties of every size. Route 29 is the newest member to join San Diego Restaurant Group's list of iconic downtown hotspots, which include Greystone, Osetra and Panevino. Each of these restaurants also offer individually unique opportunities for hosting parties and special group events this season.
644 Fifth Ave., downtown, 619.235.8144, route29restaurant.com
Rustic Root: Socialize, sip craft cocktails and dine under the stars on Rustic Root's buzzy open-air rooftop. The expansive deck flaunts market street lights with a modern yet whimsical décor in the heart of the Gaslamp Quarter. Mingle with friends and intriguing strangers alike for weekend brunch, Happy Hour, shared bites or late night socializing. The rooftop menu has craveable dishes such as ahi ceviche, short rib sliders, shrimp dumplings and prime flat iron steak. Taste one of the timeless cocktails, seasonal specialties or have a craft cocktail shot, and go wherever the evening takes you.
535 Fifth Ave., downtown, 619.232.1747, rusticroot.com
Tajima: Tajima's reputation has blossomed into one of San Diego's top Japanese foodie destinations. Since 2001, their focus on offering a wide variety of Japanese flavors has been honored by owner Sam Morikizono, whose passion for excellence is demonstrated at Tajima's eight unique locations. Mastering the "art" of ramen, Tajima brims with scratch-made dishes like Tonkotsu, Tajima and Spicy Sesame Ramen. Top-shelf sushi includes their Crunchy Dragon and Rainbow Roll, along with rice dishes and inventive bowls. Each location is quenched with differing varieties of cocktails, Japanese whiskey selections and local craft beers. Private seating areas and community tables amid artful décor make every occasion special.
Visit one of the 8 locations: North Park, East Village, Hillcrest, Convoy, Mercury, Long Beach, Tijuana Plaza Rio, Tijuana Alameda, Otay Center, tajimasandiego.com
Waterbar: Perched above the Pacific Beach Boardwalk is Waterbar, a 6,700-square-foot beachside eatery. The floor-to-ceiling windows showcase unparalleled ocean views and provide the perfect backdrop to a seafood-forward menu inspired by East Coast, West Coast and coastal cuisine. The "Social Seafood" fresh dining experience at Waterbar captures the heart and soul of sunny San Diego. Chef Steven Lona has introduced an innovative menu that transforms well known coastal classics into unique and delicious renditions. Waterbar's open air atmosphere embraces the obvious: a panoramic view of San Diego's most spectacular coastlines. The event space options include clusters of large community table dining, partial venue buyout receptions, and VIP lounge areas perfect for bottle service and intimate gatherings. Event space options are available for groups of 25 to 250. Waterbar is available for fully private receptions of up to 500 guests. Their commitment to excellence is marked by an ability to correctly position their products and personnel to the benefit of every guest. From sip to savor to service, they choose to focus on the development of a well-rounded "craft culture" that is centered on the guest experience. Planning a holiday celebration? Contact their private event sales team today!
4325 Ocean Blvd., Pacific Beach, 858.291.8687, events@waterbarsd.com, waterbarsd.com
Wood Ranch: Wood Ranch features Certified Angus Beef rib eyes, center-cut filets and NY strip steaks as well as the Classic and Buckeye burgers. Grilled over white oak, these top quality steaks offer a distinctive dining experience. Wood Ranch also uses four different woods in preparing its hormone-free and antibiotic-free Carolina Pulled Pork, sustainably-ranched Double R Ranch Brisket and Pecan-Smoked Beef Ribs. This meat emporium also provides options in gluten-free dishes and a superb Veggie Burger that's made in-house. If you're going meatless, try the Farmhouse Salad or Natalie's Salad. All the juices for cocktails are freshly-squeezed. Check out the incredibly popular "Wine With Us Tuesdays" special, the weekday Happy Hour or the extensive local and craft beer menu. Great catering and take-out too!
7510 Hazard Center Dr., #215, Mission Valley, woodranch.com
---