Coachella 2018 Weekend Two set times released; high winds and heat forecast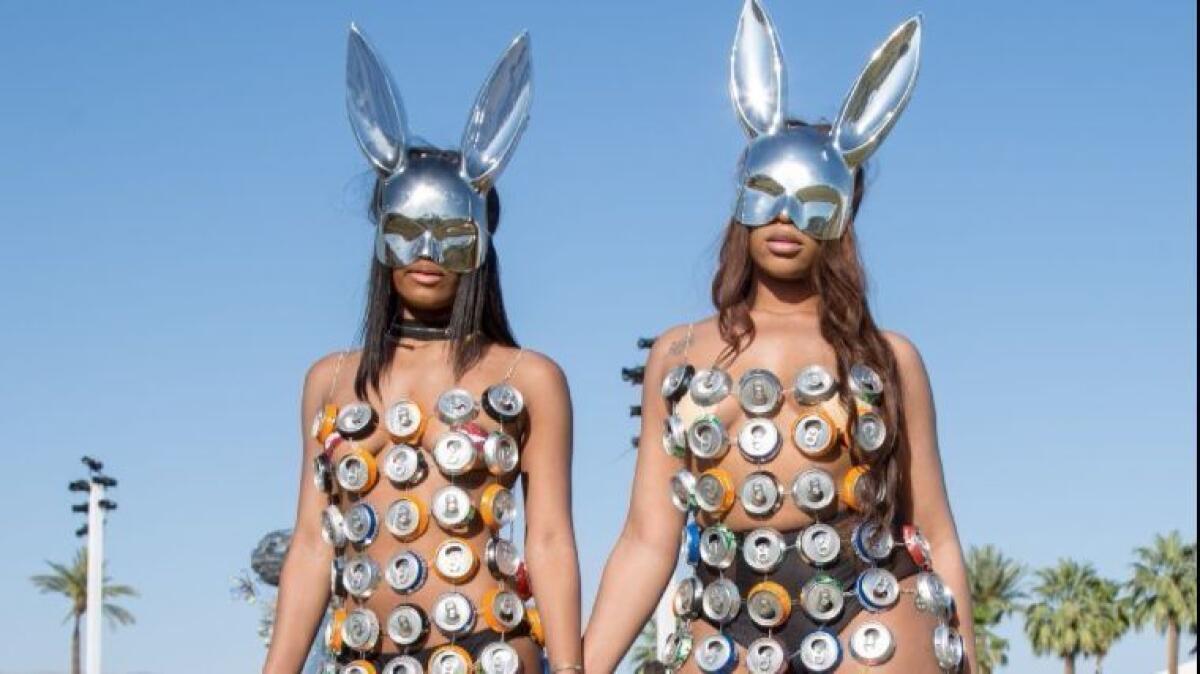 The performance times for the second weekend of the sold-out 2018 Coachella Valley Music & Arts Festival have been released. There will be a few changes from last weekend, both with regards to set times and a high-wind and heat advisory (about which more in a moment).
The biggest change is that performances this Friday through Sunday start an hour later, at noon instead of 11 a.m. By our count, though, that only impacts two performances — this Friday and Saturday — that began before noon last weekend.
The one-hour later starting time may be in response to last weekend, when the gates to Coachella opened at 1 p.m., two hours later than scheduled.
At least several performance start times have been tweaked for this weekend.
Pregnant hip-hop sensation Cardi B will go on Sunday at 5:45 p.m., 15 minutes earlier than last week.
Nigerian singer-songwriter Wizkid, who missed his Coachella performance last weekend because of reported visa issues, will perform Saturday at 2:50 p.m. He will be preceded Saturday on the Coachella Stage — the festival's largest — by DJs Gabe Real and Juice Won, who were moved up a day this weekend after performing last Sunday.
Also this Sunday, Eminem will start his headlining set at 10:15p.m., five minutes earlier than last weekend.
As for the high-wind forecast, the opening of Coachella's on-site camping grounds has been delayed from today until early Friday.
This follows a high-wind warning from the National Weather Service that went into effect Wednesday at 11 p.m. and continues through 2 a.m. Friday. Gusts of up to 60 miles per hour are expected, although the winds should begin decreasing late tonight, according to the forecast.
In a statement on the Coachella website, a message reads: "Please be aware you may experience high wait times… in your cars. "ABSOLUTELY no campsite set ups, no tent canopies or pop-up tents will be allowed to be put up until high wind has passed."
Even after the winds die down, having a bandana is essential at Coachella. Ditto a good pair of glasses you can wear at night.
(I used my swimming goggles one year at the festival, and was glad I brought them. The dust and windblown dirt and sand at the festival can be intense.)
Bring lots of sun protection, too. The weather forecast calls for a high of 91 degrees Friday (when The Weeknd headlines), 97 Saturday (when Beyoncé headlines) and 100 on Sunday (when Eminem headlines).
Coachella 2018 weekend two performance times
Friday, April 20
The Weeknd (11:25 p.m.-12:55 a.m., Coachella Stage)
Carpenter Brut (12:10 a.m., Outdoor Theatre)
Surprise Guest (11:45 p.m.-1:00 a.m., Do Lab)
Jamiroquai (11:35 p.m., Mojave)
Maceo Plex (10:45-11:45 p.m., Gobi)
Jean-Michel Jarre (10:30 p.m., Outdoor Theatre)
Alison Wonderland (10:25-11:25 p.m., Sahara)
Luca Lush (10:15-11:30 p.m., Do Lab)
Soulwax (10:00-11:00 p.m., Mojave)
SZA (9:55-10:45 p.m., Coachella Stage)
Perfume Genius (9:35-10:20 p.m., Gobi)
Carl Craig, Kyle Hall & Moodymann (9:15 p.m., Yuma)
TroyBoi (9:05-10:00 p.m., Sahara)
Oshi (9:00-10:15 p.m., Do Lab)
St. Vincent (8:55-9:50 p.m., Outdoor Theatre)
Dreams (8:40-9:30 p.m., Mojave)
Belly (8:30-9:10 p.m., Gobi)
Kygo (8:30-9:25 p.m., Coachella Stage)
Pachanga Boys (8:20-9:30 p.m., Yuma)
Moon Boots (7:45-9:15 p.m., Yuma)
Deorro (7:40-8:40 p.m., Sahara)
The War in Drugs (7:30-8:25 p.m., Outdoor Theatre)
The Buttertones (7:20, Sonora)
Black Coffee (7:20-8:10 p.m., Mojave)
The Blaze (7:15-8:00 p.m., Gobi)
Vince Staples (7:10-8:00 p.m., Coachella Stage)
Brasstracks (6:30-7:45 p.m., Do Lab)
Avalon Emerson (6:15-7:45 p.m., Yuma)
Alan Walker (6:15-7:10 p.m., Sahara)
Daniel Caesar (6:10-7:00 p.m., Outdoor Theatre)
The Regrettes (6:10-6:55 p.m., Sonora)
Bleachers (6:05-6:55 p.m., Mojave)
LÉON (6:05-6:50 p.m., Gobi)
The Neighbourhood (5:50-6:40 p.m., Coachella Stage)
pluko (5:15-6:30 p.m. Do Lab)
Kali Uchis (5-5:45 p.m., Outdoor Theatre)
Helado Negro (5-5:45 p.m., Sonora)
Tank and the Bangas (4:55-5:40 p.m., Gobi)
Justin Martin (4:55-5:50 p.m., Sahara)
FISHER (4:45-6:15 p.m., Yuma)
Greta Van Fleet (4:45-5:35 p.m., Mojave)
KYLE (4:35-5:20 p.m., Coachella Stage)
Anabel Englund (4:30-5:15 p.m., Do Lab)
The Marías (3:55-4:35 p.m., Sonora)
Skip Marley (3:50-4:35 p.m., Outdoor Theatre)
Kelela (3:45-4:20 p.m., Mojave)
Cash Cash (3:45-4:40 p.m., Sahara)
PVRIS (3:45-4:30 p.m., Gobi)
Los Ángeles Azules (3:20-4:10 p.m., Coachella Stage)
B. Traits & HITO (3:15-4:45 p.m., Yuma)
Fazerdaze (2:55-3:30 p.m., Sonora)
Whethan (2:45-3:35 p.m., Sahara)
Knox Fortune (2:40-3:25 p.m., Outdoor Theatre)
Moses Sumney (2:35-3:20 p.m., Gobi)
Slow Magic (2:35-3:20 p.m., Mojave)
Christian Martin (2:30-4:30, Do Lab)
Benjamin Clementine (2:15-2:55 p.m., Coachella Stage)
Boogarins (1:50-2:30 p.m., Sonora)
Elohim (1:45-2:35 p.m., Sahara)
Jesse Calosso (1:45-3:15 p.m., Yuma)
JustPudge (1:30-2:20 p.m., Outdoor Theatre)
Rick G. (1:30-2:10 p.m., Gobi)
MHD (1:25-2:10 p.m., Mojave)
Mansion (1:00-2:30 p.m., Do Lab)
Señor Kino (1:00-1:30 p.m., Sonora)
Francesca Harding (12:25-1:15 p.m., Mojave)
Anakim (12:00-1:45 p.m., Yuma)
Gingee (12:00-1:35 p.m., Sahara)
Jim Smith (12:00-1:00 p.m., Sonora)
Saturday, April 21
Beyoncé (11:05 p.m., Coachella Stage)
Highly Suspect (11:20 p.m., Gobi)
X Japan (11:10 p.m., Mojave)
alt-J (10:10 p.m., Outdoor Theatre)
Tom Misch (10:10-10:55 p.m., Gobi)
Post Malone (10:05 p.m., Sahara)
Hundred Waters (10:05 p.m., Sonora)
Jungle (9:50-10:40 p.m., Mojave)
The Black Madonna (9:30 p.m., Yuma)
Surprise Guest (9:30 p.m., Do Lab)
Haim (9:15-10:05 p.m., Coachella Stage)
Jorja Smith (9:00-9:45 p.m., Gobi)
Oh Sees (8:50-9:40 p.m., Sonora)
blackbear (8:50-9:35 p.m., Sahara)
Fleet Foxes (8:40-9:30 p.m., Outdoor Theatre)
Alvvays (8:35-9:20 p.m., Mojave)
Pachanga Boys (8:20-9:30, Yuma)
Surprise Guest (8:00-9:30 p.m., Do Lab)
Tyler, the Creator (7:55-8:45 p.m., Coachella Stage)
Benjamin Booker (7:50-8:35 p.m., Gobi)
The Bronx (7:35-8:25 p.m., Sonora)
Louis the Child (7:30-8:25 p.m., Sahara)
Tash Sultana (7:20-8:10 p.m., Mojave)
Bedouin (7:10-8:20 p.m., Yuma)
David Byrne (7:05-8:05 p.m., Outdoor Theatre)
Alina Baraz (6:40-7:25 p.m., Gobi)
MØ (6:35-7:25 p.m., Coachella Stage)
Surprise Guest (6:30-8:00 p.m., Do Lab)
Cherry Glazerr (6:30-7:15 p.m., Sonora)
BROCKHAMPTON (6:05-7:00 p.m., Mojave)
Snakehips (6:05-7:05 p.m., Sahara)
Jackmaster (6:00-7:10 p.m., Yuma)
BØRNS (5:45-6:35 p.m., Outdoor Theatre)
Angel Olsen (5:30-6:15 p.m., Gobi)
Priests (5:25-6:05 p.m., Sonora)
Chromeo (5:20-6:10 p.m., Coachella Stage)
Yaeji (5:00-6:00 p.m., Yuma)
Flatbush Zombies (4:55-5:40 p.m., Mojave)
Party Favor (4:45-5:40 p.m., Sahara)
First Aid Kit (4:35-5:20 p.m., Outdoor Theatre)
Sigrid (4:15-5:05 p.m., Gobi)
Mild High Club (4:15-5:00 p.m., Sonora)
Busy P (4:00-5:00, Yuma)
Nile Rodgers & Chic (3:55-4:55 p.m., Coachella Stage)
Django Django (3:45-4:30 p.m., Mojave)
Ekali (3:30-4:20 p.m., Sahara
Marian Hill (3:25-4:10 p.m., Outdoor Theatre)
Otoboke Beaver (3:10-3:50 p.m., Sonora)
Big Thief (3:05-3:50 p.m., Gobi)
Jason Bentley (3:00-4:00 p.m., Yuma)
Wizkid (2:50-3:35 p.m., Coachella Stage)
Declan McKenna (2:40-3:20 p.m., Mojave)
AC Slater (2:30-3:20 p.m., Sahara)
Sir Sly (2:20-3:00 p.m., Outdoor Theatre)
Bane's World (2:05-2:45 p.m., Sonora)
Sudan Archives (2:00-2:40 p.m., Gobi)
Chloe x Halle (1:50-2:20 p.m., Mojave)
KITTENS (1:30-2:20 p.m., Sahara)
Gabe Real + Juicewon (1:25-2:05 p.m., Coachella Stage)
Ron Gallo (1:00-1:40 p.m., Sonora)
Loboman (1:00-1:40 p.m., Gobi)
Feel Good Green (1:00-1:50 p.m., Outdoor Theatre)
Sahar Z (12:30-3:00 p.m., Yuma)
Ahwlee (12:30-1:30 p.m., Mojave)
N.A.A.F.I. (12:00-1:20 p.m., Sahara)
Chulita Vinyl Club (12:00-1:00 p.m., Sonora)
Sunday, April 22
Eminem (10:15 p.m., Coachella Stage)
Michael Mayer (10:35 p.m., Yuma)
Barclay Crenshaw (10:25 p.m., Gobi)
A Perfect Circle (9:50 p.m., Outdoor Theatre)
The Drums (9:45 p.m., Mojave)
Migos (9:30 p.m., Sahara)
Kamaiyah (9:20-10 p.m., Gobi)
Jamie Jones (9:05-10:35 p.m., Yuma)
ODESZA (8:25-9:25 p.m., Coachella Stage)
King Krule (8:30-9:20 p.m., Mojave)
Miguel (8:30-9:20 p.m., Outdoor Theatre)
Ibeyi (8:05-8:55 p.m., Gobi)
Chris Liebing (7:55-9:05 p.m., Yuma)
Princess Nokia (7:50-8:40 p.m., Sonora)
Illenium (7:50-8:50 p.m., Sahara)
Portugal. The Man (6:45-7:40 p.m., Coachella Stage)
6LACK (7:20-8:05 p.m., Mojave)
Kamasi Washington (7:00-8:00 p.m., Outdoor Theatre)
Jidenna (6:55-7:40 p.m., Gobi)
Joseph Capriati (6:40-7:55 p.m., Yuma)
French Montana (6:35-7:20 p.m., Sahara)
John Maus (6:35-7:25 p.m., Sonora)
Jacob Banks (6:05-6:55 p.m., Mojave)
Cardi B (5:45-6:20 p.m., Coachella Stage)
Aurora (5:45-6:30 p.m., Gobi)
Jessie Ware (5:55-6:30 p.m., Outdoor Theatre)
Motor City Drum Ensemble (5:30-6:40 p.m., Yuma)
Cuco (5:20-6:10 p.m., Sonora)
Petit Biscuit (5:10-6:05 p.m., Sahara)
FIDLAR (4:55-5:40 p.m., Mojave)
Vance Joy (4:35-5:20 p.m., Coachella Stage)
Hayley Kiyoko (4:35-5:20 p.m., Gobi)
Dej Loaf (4:45-5:30 p.m., Outdoor Theatre)
Talaboman (4:20-5:30 p.m., Yuma)
Buscabulla (4:15-4:55 p.m., Sonora)
Russ (4:00-4:45 p.m., Sahara)
Aminé (3:45-4:30, Mojave)
LANY (3:25-4:15 p.m., Coachella Stage)
Japanese Breakfast (3:25-4:10 p.m., Gobi)
Nothing But Thieves (3:35-4:20 p.m., Outdoor Theatre)
Peggy Gou (3:10-4:20 p.m., Yuma)
Snail Mail (3:05-3:50 p.m., Sonora)
San Holo (2:50-3:40 p.m., Sahara)
THEY. (2:40-3:25 p.m., Mojave)
Lion Babe (2:10-3:00, Coachella Stage)
Noname (2:15-3:00 p.m., Gobi)
Magic Giant (2:25-3:10 p.m., Outdoor Theatre)
B Boys (2:00-2:40 p.m., Sonora)
Kölsch (2:00-3:10 p.m., Yuma)
Giraffage (1:50-2:40 p.m., Sahara)
LP (1:35-2:20 p.m., Mojave)
nostradahm (1:10-2:00 p.m., Outdoor Theatre)
Westside Gunn + Conway (1:10-1:50 p.m., Gobi)
The Delirians (1:00-1:40 p.m., Sonora)
Omar-S (1:00-2:00 p.m., Yuma)
Hannah Wants (12:50-1:40 p.m., Sahara)
Rolling Blackouts Coastal Fever (12:30-1:10 p.m., Mojave)
mr. rotu (12:00-12:50 p.m., Gobi)
Mu$ty Boyz (12:00-1:00 p.m., Sonora)
Lee Wells (12:00-1:00 p.m., Yuma)
EMME (11:40 a.m. - 12:40 p.m., Sahara)
VNSSA (11:30 a.m. - 12:20 p.m., Mojave)
george.varga@sduniontribune.com
Twitter @georgevarga