Gregory Porter hails vocal giant Nat "King" Cole
Multiple-Grammy Award-winning California singer-songwriter Gregory Porter had a unique reason for being two hours late for his recent evening phone interview from London.
He had received an invitation from English Prime Minister Theresa May to attend her speech on race relations at 10 Downing Street in London. Porter, who has sung for royalty across Europe in recent years — including at Buckingham Palace — accepted.
"It was pretty cool!" said the former San Diego State University football scholarship recipient, speaking from his London hotel later that same night.
"She was talking about inclusiveness with the black population in the U.K. and gave a really beautiful speech. She'd seen me sing a few days earlier on 'Strictly Come Dancing,' which is like England's version of 'Dancing with the Stars'."
During a pre-speech chat, May told Porter how much she enjoyed his sonorous singing and svelte fusion of jazz, soul, gospel and pop.
"It's really great that Theresa May — or any other world leader — can hear songs of mine, like 'When Love Was King' or 'No Love Dying'," said the Bakersfield-bred singer, who performs Friday at the Balboa Theater. "Because I meant for those songs to be heard by people in positions of power."
Porter laughed appreciatively as he recounted performing for Queen Elizabeth and Prince Charles, as well as for members of royal families in Africa, Norway, Sweden, the Netherlands and beyond.
"My mother, Ruth, predicted it," he said. "She used to say: 'Son, your (musical) gift will make room for you at the tables of royalty.' She used to say all these grand things like that to me and my siblings. And we'd say: 'Sure, mom!' "
Paying homage to a musical 'King'
May, of course, is England's Prime Minister, not a royal. The song she heard Porter perform on "Strictly Come Dancing" was the Charlie Chaplin-penned ballad "Smile." It's a stand-out number from the delightful new "Nat 'King' Cole & Me," which is Porter's fifth studio album and the first tribute release of his career.
Featuring such Cole classics as "Nature Boy," "L-O-V-E," "Mona Lisa" and the Cuban-tinged "Quizas, Quizas, Quizas," the album boasts lush orchestral arrangements by Vince Mendoza, whose credits include Joni Mitchell, Bjork and jazz great Joe Zawinul. Mendoza is also the producer.
The album was recorded primarily in England with the London Studio Orchestra. It was completed and mixed at Capitol Records in Hollywood, in the same studio where Cole made many of his landmark albums.
Porter had previously recorded "Quizas, Quizas, Quizas" as a guest singer on an album by saxophonist David Murray. And he had recorded a concert with Holland's Metropole Orchestra, although it remains unreleased.
But "Nat 'King' Cole & Me" is the first album to come out that features Porter in an orchestral setting. It's an experience he recounts with palpable excitement — and one that found him changing his singing approach in the recording studio.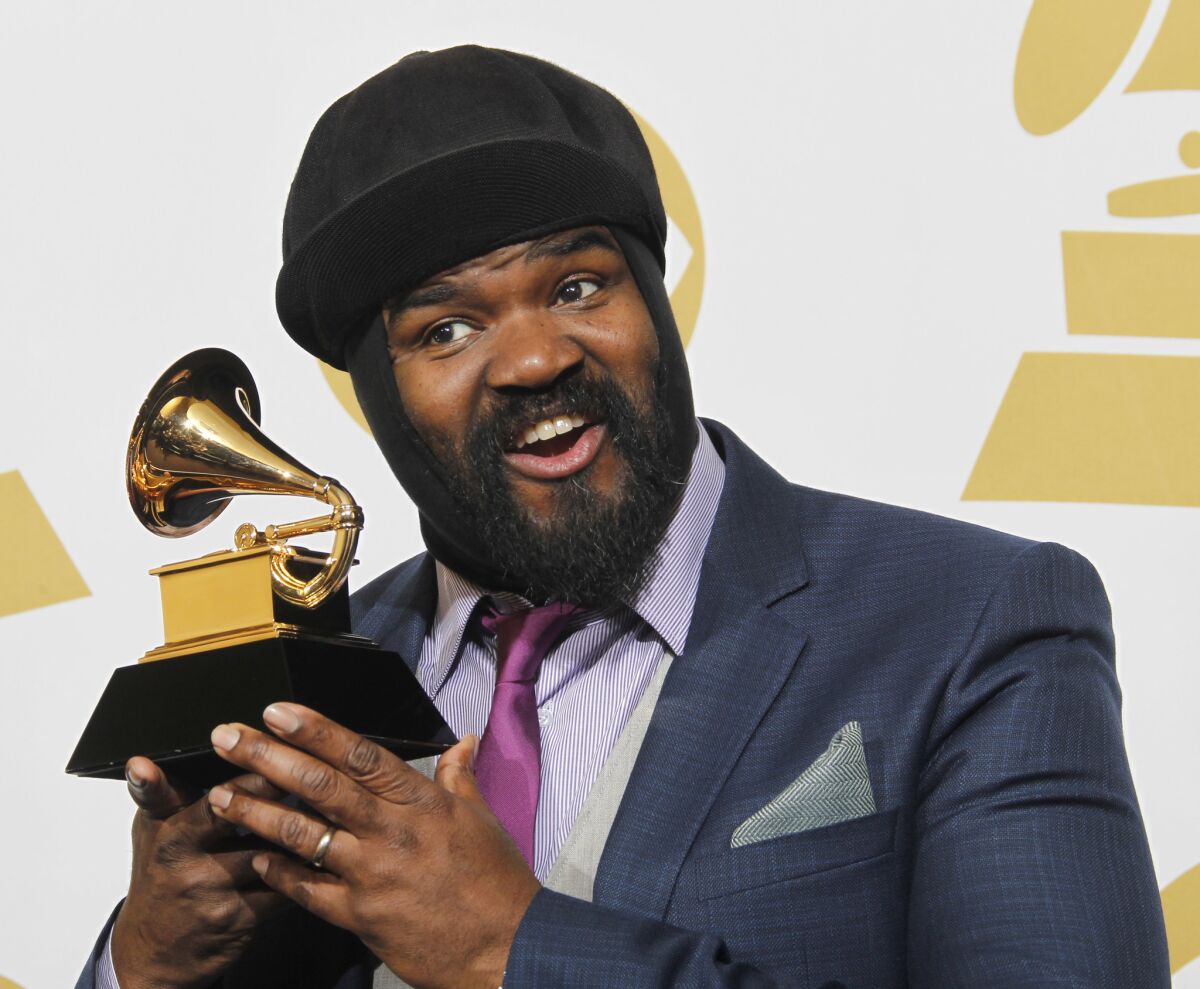 "Hearing this extraordinary palette of lush strings and warm horns can relax your voice," he observed. "In a way, it can take away the need for you to use so much dynamics. With a small group, I feel like the power and strength of my voice has to push through. With an orchestra, you're riding on top of this massive wave.
"So, yeah it does change the way I sing. Also, you have to be at a certain place and certain time. With the flexibility of a four-piece ensemble, like my band, you can stop and start any time. With a 60- or 70 piece orchestra, there's less flexibility, but it's a different instrument and you can do things more effectively because the orchestra can elevate the voice."
Reuniting with mentor Kamau Kenyatta
One of Porter's key mentors, UC San Diego music professor Kamau Kenyatta, has produced or co-produced the singer's four previous studio albums. He is credited as "vocal adviser" on "Nat "King" Cole & Me."
"The timing is right, because were coming up on the centenary of Nat's birthday," said Kenyatta, who noted the new album's long gestation period.
"Gregory actually did a theatrical piece, with the same name as the album, in 2004 at the Denver Center for the Performing Arts. It was a full-on production with musicians and a cast. I was the musical director. This album is something we've talked about for many years."
The result is a deeply moving musical valentine to Cole, whose music profoundly impacted Porter as a child and remains a key inspiration.
A master of jazz, blues and pop, Cole was a supremely gifted singer and pianist who was instantly identifiable in any setting. For Porter, who grew up not knowing his absentee dad, Cole was also a father figure whose "dust yourself off/pick yourself up" lyrics provided messages of affirmation.
"Honestly, Nat helped me develop my voice. He's in my musical DNA," said Porter, who was just 5 when he wrote and recorded a song, "Dreamboat," that immediately reminded his mother of Cole.
Hearing her compare his and Cole's singing inspired Porter to do a little musical investigating. What he found was life-changing.
"Her comment sent me to her record player," Porter recalled. "Because I was curious: 'Who did I sound like?' I played Nat's albums and that was the beginning for me."
A gentle bear of a man, Porter is quick to note that Cole was not his only major musical influence. But he was the most profound.
"My mom was a preacher and I grew up singing gospel music, so that's part of my musical foundation as well," Porter noted. "The things you've heard and been influenced by come through you and help you develop your own voice. For me, it was Marvin Gaye, Sam Cooke, Joe Williams, Sammy Davis, Jr. — all of them have come through me.
"The music I've listened to the most is Nat's, but this album is not a copy of Nat. It's a tribute to his style, grace and importance in music. He probably doesn't need my help, but I'm doing it anyway! The album has a great orchestra and extraordinary arrangements. I'm very proud of it.
"This is a dream project — a dream I've had for 25 years. These are the songs that came to me as a young boy. I have the ability and resources now to pay to record with an orchestra. This album cost me $200,000. I financed it because it's a tribute to the mastery of Nat. His story is also my story."
---
Gregory Porter
When: 8 p.m. Friday
Where: Balboa Theatre, 868 Fourth Ave., Gaslamp
Tickets: $32.50-$42.50, plus service charge
Phone: (800) 745-300
Online: ticketmaster.com
---
Digging deep at SDSU
It was while he was attending SDSU that Porter had the opportunity to immerse himself in Cole's music and learn more about his musical role model.
"It led to a deeper understanding of who he was," Porter said. "Once I was in college at SDSU, there was a music library where I could listen to all of his records. I also got a hold of the BBC documentary about him, called — I think — 'An Evening with Nat "King" Cole.'
"Learning about his life was interesting; the trials and difficulties he encountered and that he was a preacher's kid, like me. He wrote some of his first songs from his father's sermons, which is something I'm doing, writing from my mother's sermons. I like the fact that my first album that sold a million copies (2013's 'Liquid Spirit') was a song inspired by one of my mother's sermons. That feels really good to me."
Might Porter, who is now writing songs for his next album, do a second Cole tribute record?
"Yeah, that might come," he replied.
"One criterion for picking songs for 'Nat "King" Cole & Me' was: 'What might be appropriate for an orchestra?' But that was secondary. The first was: 'What did the songs mean to me?' Did it touch my ears and heart as a young person? These are the songs I listened to and found comfort in, in the absence of my father.
"Nat was so prolific and his discography is huge! So there are many more Nat 'King' Cole songs I would have and could have done, and I will. People can deal with this album on just a musical level. But I think about how proud my mother and grandmother were of Nat, of his image, of how he carried himself, his diction and style and how he dressed. That's something! That means something to African-Americans — and all Americans, in a sense.
"He was a gentleman and such a nice and generous man. That's something I think about now. Maybe from watching his videos and listening to his records and diction, maybe I carry myself a little more upright and think of myself as belonging on stage at the Royal Albert Hall in London, the Vienna Opera House and Buckingham Palace.
"Maybe I feel like I was supposed to walk through the doors of 10 Downing Street — which was another surreal, 'pinch-me' moment — because of the elegance and grace of Nat. That can give a young black man, without a father, some straightening of the spine. That's what Nat did for me."
Sign up for the Pacific Insider newsletter
You may occasionally receive promotional content from the Pacific San Diego.