Chain of Gourmand 2017
Back by popular demand, PACIFIC presents the seventh annual Chain of Gourmand, wherein a local chef cites his or her favorite dish from a restaurant within San Diego County, and then the maker of that dish names his/her fave. The sequence continues until a 10-chef chain is formed, linking together some of San Diego's latest and greatest cuisine.
Heading this year's chain is Danilo "DJ" Tangalin Jr., executive chef at North Park 's new Bivouac Ciderworks, a taproom and restaurant where he tailors the cuisine to adult house-made ciders of various strengths and flavors.
Tangalin left his executive chef post at Tidal earlier this year to team up with Bivouac's founders - brew hobbyist Matt Austin and business partner Lara Worm. No stranger to prominent kitchens locally and nationally, he previously served as corporate chef for Eat. Drink. Sleep. property management group (representing restaurants like JRDN, Cannonball, Draft and Decoy Dockside) and was chef de cuisine at PrepKitchen Little Italy.
Drawing on his Filipino roots, Tangalin promises to maintain "one or two" dishes on the cider-friendly menu that reflect his roots.
"There's more to Filipino food than lumpia and pancit," he emphasizes, while citing an annatto-spiced longanisa sausage burger and panacotta made with ube (sweet purple potatoes) in his current repertoire.
Outside of work, Tangalin was swooned by a Filipino-inspired pasta entrée created by chef Anthony Sinsay at Jsix, calling it "a nostalgic interpretation" of a cherished homeland dish known as polabok.
Danilo "DJ" Tangalin Jr.'s favorite dish: Sweet corn bucatini
Chef: Anthony Sinsay
Restaurant: Jsix
"Palabok in the Philippines is normally made with rice noodles. And they're traditionally tossed in shrimp sauce, fried garlic, fish flakes and hard-boiled eggs, and with chicharrones on top. Anthony plays a lot with the dish, elevating it with corn, shaved truffles and kale chips." - Danilo "DJ" Tangalin Jr.
Chef Anthony Sinsay grew up in San Diego with Filipino parents and is well-familiar with polabok, made typically with pork stock and shrimp. His spin on the dish involves a sauce of sweet corn puree and calamansi, a lemony fruit native to the Philippines. The bucatini pasta is further accented by baked eggs cured in salt and sugar, while the customary fish flakes are replaced with smoked peanuts and the chicharrones by fried kale. Shaved truffles impart an earthy essence in the absence of meat. "The dish is completely altered from what I grew up with, but the flavor profiles are very similar," Sinsay says.
Jsix: 616 J St., East Village, 619.531.8744, jsixrestaurant.com
Anthony Sinsay's favorite dish: Charcuterie
Chef: Joe Magnanelli
Restaurant: Cucina Urbana
"They execute their charcuterie in-house and it's absolutely phenomenal. The meats change all the time. I had rabbit sausage with outstanding texture, and salami - maybe made of venison - that paired exceptionally well to stone fruit jam and house pickles. I can't remember everything on the board because we were drinking lots of red wine, which was a perfect match to all of the components." - Anthony Sinsay
Dry-cured meats and crafty sausages have been in the making for a couple of years at Urban Kitchen Group, which operates a trio of Italian-inspired restaurants in San Diego County and others in Irvine and Newport Beach. "Most of the charcuterie is done at Cucina (Urbana) in Bankers Hill, where we sell about 20 boards a night," says executive chef Joe Magnanelli. Guests choose from a select number of meats, which can include lean bresaola, unctuous head cheese and duck prosciutto shaved razor-thin on a Berkel slicer. The options extend to cooked sausages and artisan cheeses, served with requisite house-made jams, pickles and mustards.
Cucina Urbana: 505 Laurel St., Bankers Hill, 619.239.2222, urbankitchengroup.com
Joe Magnanelli's favorite dish: Wood-grilled lamb meatballs
Chef: Brad Wise
Restaurant: TRUST Restaurant
"These meatballs are on a level of their own - wood-grilled with a beautiful char. Mint in the dish gives them a lightness and freshness, and the accompanying lentils and creamy tzatziki work so well with the meat, which is reminiscent of the best gyros you ever had." - Joe Magnanelli
TRUST's chef-partner Brad Wise is lauded for creating detailed, shareable plates that change seasonally (his Ricotta Agnolotti dish was chosen for the chain last year). His lamb meatballs grilled over red oak, however, have been a mainstay since the restaurant opened last winter. And they'll stick around for the long run. "I like showing people that you can make meatballs in a different way like this. It's one of our top-selling dishes," says Wise, who jazzes up the succulent orbs with Fresno chilies and pickled shallots as well.
TRUST Restaurant: 3752 Park Blvd., Hillcrest, 619.795.6901, trustrestaurantsd.com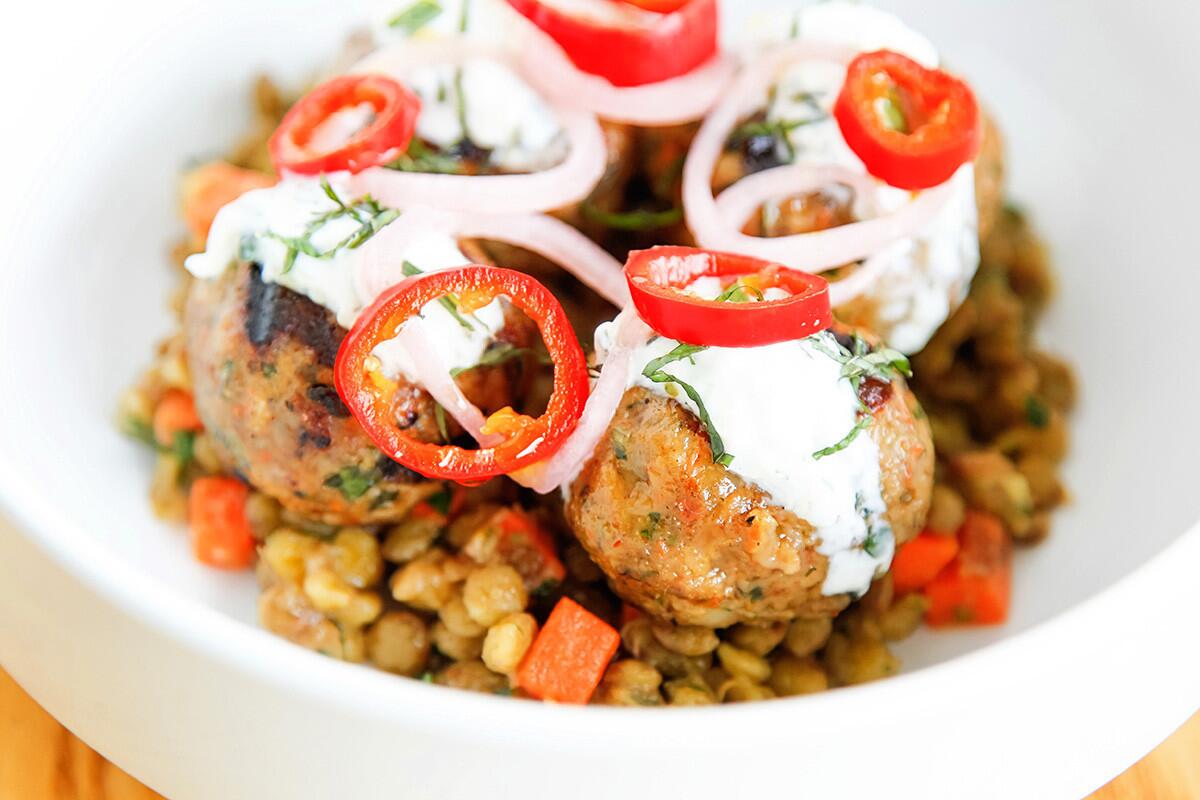 Brad Wise's favorite dish: Chicken liver on toast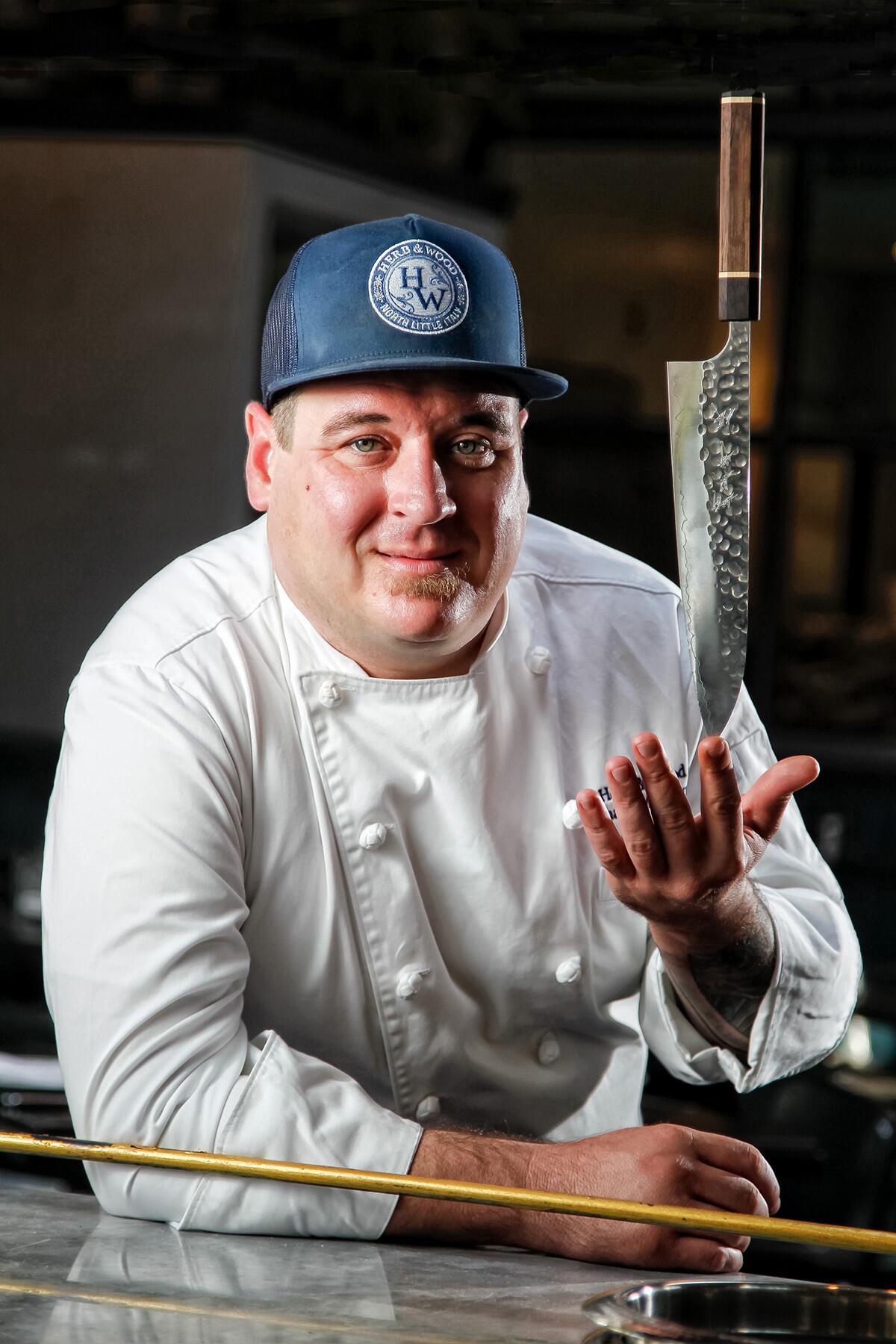 Chef: Shane McIntyre
Restaurant: Herb & Wood
"The kitchen makes a perfectly smooth chicken liver mousse and serves it as an appetizer on top of wood-grilled sourdough bread with radicchio. Everything gels: the creaminess of the liver, the acidity from the vinaigrette on the radicchio and the crunch from the bread." - Brad Wise
The method to Herb & Wood's dreamy chicken liver mousse starts with curing. The livers are then slow poached and blended with brandy, butter and cream into a silken toast-worthy consistency. In a restaurant acclaimed for its wood-roasted proteins and veggies (and overall eye-catching transformation from an art warehouse), only the sourdough wheat bread is grilled. "We wanted to keep the dish old-school," says chef de cuisine Shane McIntrye, who collaborated with chef/co-owner Brian Malarkey in designing the menu.
Herb & Wood: 2210 Kettner Blvd., Little Italy, 619.955.8495, herbandwood.com
Shane McIntyre's favorite dish: Grilled Spanish octopus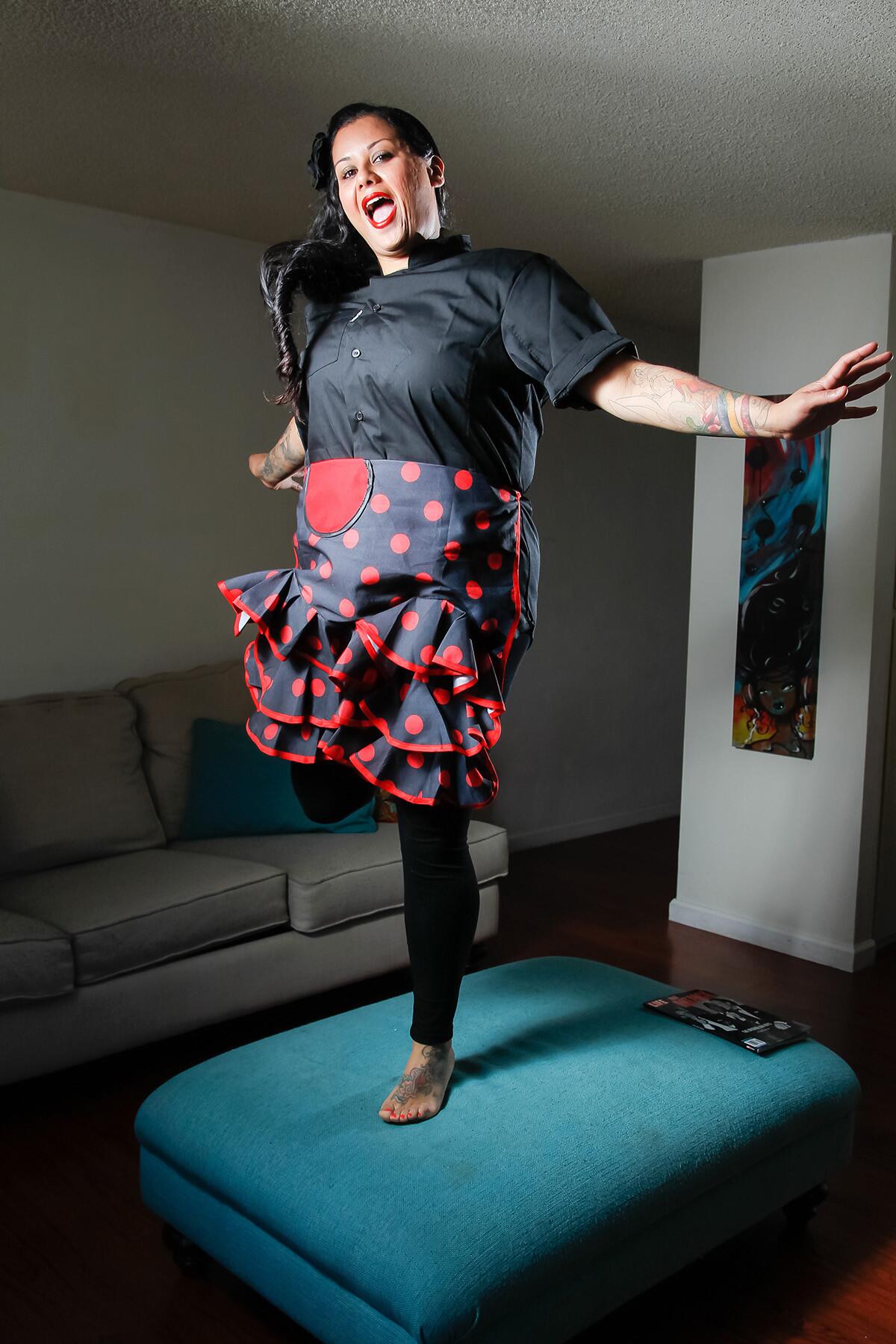 Chef: Aarti Sanghavi
Restaurant: The Hake
"The texture of the octopus offers a little bit of bite and melts in your mouth at the same time. Aarti's use of Indian spices and acidity in the dish is like nothing anybody else in San Diego is doing. And it formed a nice marriage to a glass of crisp sauvignon blanc." - Shane McIntyre
Browned butter and carrot puree spiced with garam masala form the bedding for the broiled octopus, accompanied by crispy potatoes, vegan shiitake bacon and sun-dried tomato pitsu. "I'm showcasing this fall and winter more Indian spices I grew up with, such as cardamom, turmeric and the garam masala," says executive chef Aarti Sanghavi, whose graceful fusions of Indian-Baja-Mediterranean cuisine became all the rage after The Hake's reopening last year.
Editor's note: Just before PACIFIC was able to photograph Aarti Sanghavi for this feature, the chef and The Hake parted ways. It was decided to still feature Sanghavi and Shane McIntyre's favorite octopus dish so as not to break the integrity of chain, which had already been linked together in the previous weeks.
The Hake: 1250 Prospect St., La Jolla, 858.454.1637, thehake.com
Aarti Sanghavi's favorite dish: Opah belly bacon
Chef: Davin Waite
Restaurant: Wrench & Rodent Seabasstropub
"The first time I had this bacon made from opah belly at Wrench & Rodent, it was nigiri-style on top of rice. I've since had it two or three times in different presentations. It always has sweetness, saltiness and smokiness, and you forget that you're even eating fish." - Aarti Sanghavi
Chef-owner Davin Waite credits fishmonger Tommy Gomes of Catalina Offshore Products for introducing local toques - restaurant speak for chefs - to opah, a versatile fish prized for its fatty belly. "It's pork without the pig," says Waite. "It's what you use to make bacon out of fish." The bellies are brined, pressed, smoked and cut into strips, appearing on the menu at least three different ways on any given day, such as in BLT-style sliders, in sushi rolls or plain with miso mustard and fresh fruit parked alongside.
Wrench & Rodent Seabasstropub: 1815 S. Coast Highway, Oceanside, 760.271.0531, seabasstropub.com
Davin Waite's favorite dish: The 608 burger
Chef: William Eick
Restaurant: 608
"I like foods that are commonplace, but that can be turned into something special when love is given to them. This burger gives you the ultimate, surprise foodie high because the beef is aged in-house. It's a perfect combination with the cheddar, aioli and brioche bun." - Davin Waite
Chef-owner William Eick dry-ages beef chuck for 30 days to intensify the flavor. After grinding it, he creates eight-ounce patties and sprinkles them with a little sea salt. No additional seasonings are necessary, as the succulent discs team up with cheddar, lettuce, tomatoes, onions and sweet chili aioli. "I didn't want to be known for cheeseburgers per se, but since we're selling up to 60 a week, I want them to be the best cheeseburgers you can get," Eick says.
608: 608 Mission Ave., Oceanside, 760.291.1040, 608oceanside.com
William Eick's favorite dish: Smoked, grilled rib-eye for two
Chef: Andrew Bachelier
Restaurant: Campfire
"The rib-eye was exceptional - flavorful and with good marbling. It was a large amount of meat that I shared with my wife. Equally memorable was the potato puree that came with it, which was rich and light and creamy all at the same time." - William Eick
The aged bone-in rib-eye weighs nearly three pounds and hails from Creekstone Farms in Kansas. The smoking and flame-grilling of the monstrous Black Angus cut comes naturally to chef Andrew Bachelier, who grew up helping his grandfather cook meats on outdoor grills they built together. Served with grilled artichokes, tomatoes and the pureed spuds, Bachelier has witnessed customers attempt the dish alone. "They usually can't finish it, but the leftovers make for great steak and eggs the next morning," he notes.
Campfire: 2725 State St., Carlsbad, 760.637.5121, thisiscampfire.com
Andrew Bachelier's favorite dish: Curry fried chicken with Moroccan-spiced carrots
Chef: Andrew Santana
Restaurant: The Pearl Hotel
"The curried breading was super nice and crunchy, and the chicken had a clean, savory flavor. It came with awesome Moroccan-style pickled carrots, which cut through the richness of the chicken. I also loved the umami from the fermented shiitake mushrooms and the fruit-leather garnish made of raisins." - Andrew Bachelier
Bay Area transplant Andrew Santana describes his curry-kissed half chicken as landing smack in the middle of "comfort and fine-dining food." The boneless skin-on chicken is fried in duck fat. Curry sneaks into both the breading and the smoked salt, which is sprinkled onto the bird before it's served. The pickled carrots and fermented mushrooms lend brightness to the dish, which was introduced originally as a summer special before being elevated to the regular dinner menu.
The Pearl Hotel: 1410 Rosecrans St., Point Loma, 619.226.6100, thepearlsd.com
Andrew Santana's favorite dish: Black Angus shaking beef
Chef: Marlaw Seraspi
Restaurant: Open House
"I've eaten this multiple times and the flavors intrigue me. Chef Marlaw cooks the cubed beef in a high-heat wok and uses a sauce with one of the main ingredients being a fruit called calamansi, which is like if a kumquat and a Myer lemon had a kid." - Andrew Santana
The "shaking" of chopped beef as it cooks in a wok with lemongrass, onions and fish sauce is the dish's Vietnamese element. Chef Marlaw Seraspi then injects his Filipino heritage into the scheme by coating the beef in citrusy calamansi sauce, a family recipe that also contains chilies, shallots and rice wine vinegar. "I prefer cooking the meat medium-rare, just enough to achieve caramelization," Marlaw says. "It's our most popular dish probably because few restaurants in San Diego serve it." Open House is a multi-concept establishment featuring an American kitchen as well, so be sure to ask for the Asian menu if you come shaking for the beef.
Open House: 345 S. Coast Highway, Encinitas, 760.452.2555, openhousefooddrink.com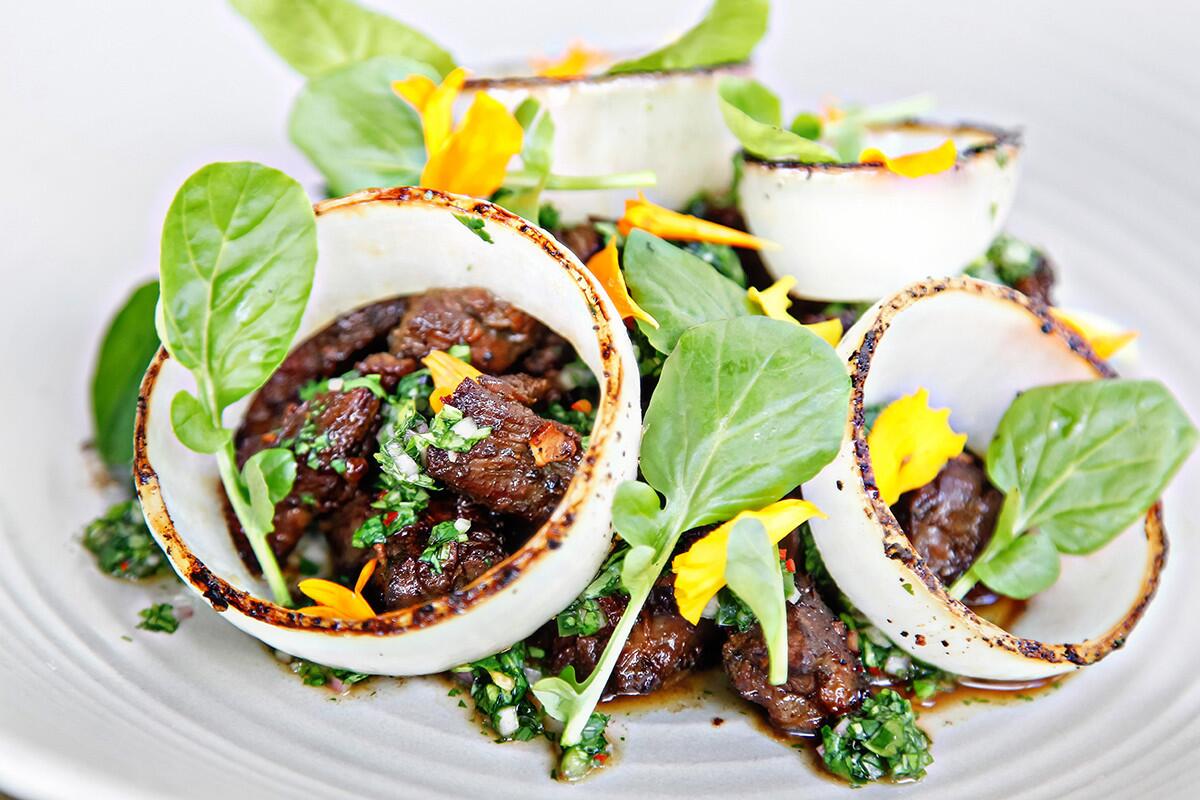 More...
Chef DJ Tangalin adapts culinary prowess at Bivouac Ciderworks
Sign up for the Pacific Insider newsletter
You may occasionally receive promotional content from the Pacific San Diego.