Chain of Gourmand 2016
Photography by Eduardo Contreras
Back by popular demand, PacificSD presents the sixth annual Chain of Gourmand, wherein a local chef cites his or her favorite local dish, and then the maker of that dish cites his/ her fave, and so on, until a 10-chef chain is formed, linking together some of San Diego's brightest cuisine.
Heading this year's sequence is Brian Redzikowski, executive chef of Little Italy 's Kettner Exchange, a smashing-success restaurant from the San Diego Creative Media (SDCM) hospitality group.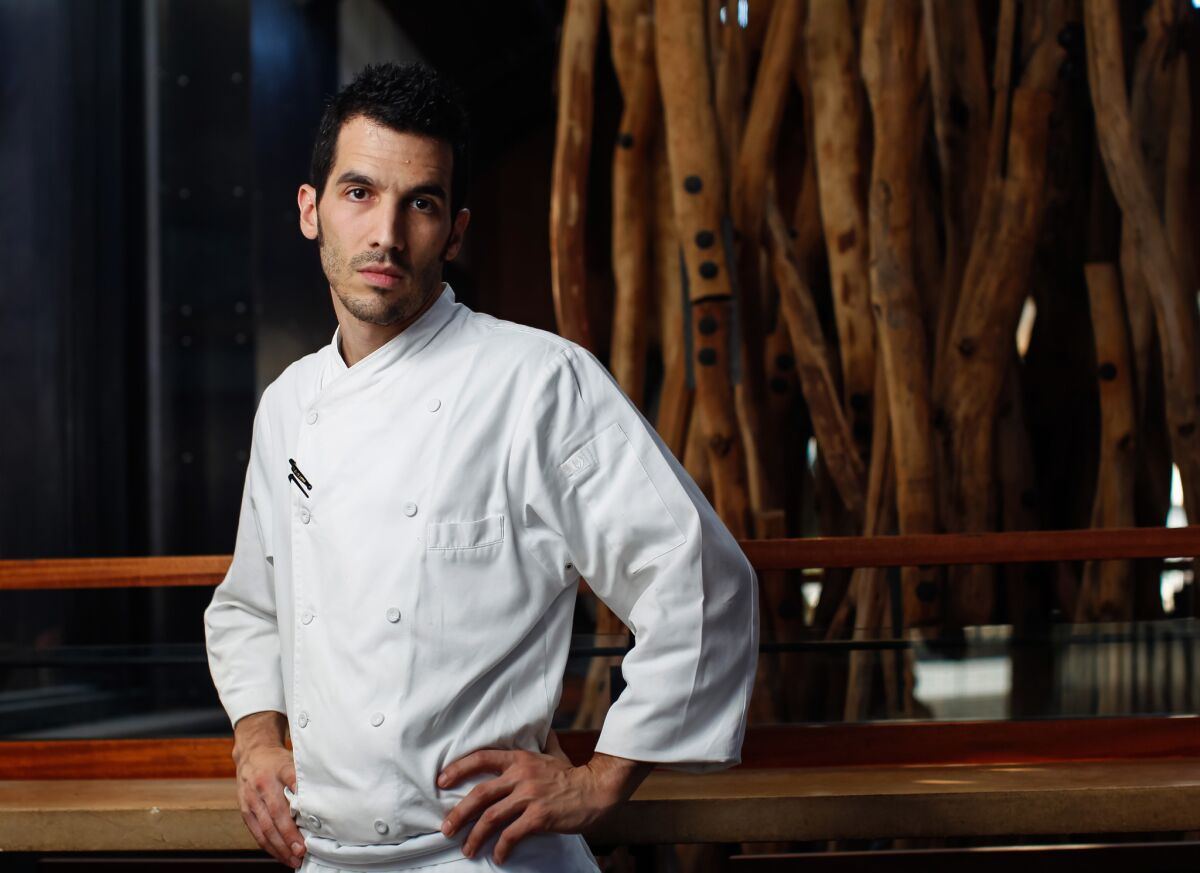 In early November, under the chef's oversight, SDCM will open a dual-concept eatery in Pacific Beach. By day, fresh-fish fans will be lured to Good Time Poke, which, after dark, will become the (no longer) secret access point to The Grass Skirt, where tiki cocktails and southeastern Asian fare come into play.
Redzikowski is a former contestant on Food Network's Iron Chef America and worked for notable restaurants throughout the U.S., including the legendary Le Cirque in New York City. More recently, he presented two outdoor dinners at Temecula Olive Oil Company on behalf of Kettner Exchange for Outstanding in the Field, an organization that gives patrons the opportunity to dine on farms where various foods are harvested.
"I grew up on a farm, so making those dinners were the most rewarding experiences of my career," Redzikowski says.
A graduate of the Culinary Institute of America, he describes his cooking style as "progressive-American with French and Asian influences." Whether cooking in or dining out, he prefers "a maximum of three ingredients on the plate."
Brian Redzikowski's Favorite Dish: Chili-Marinated Tomahawk Pork Chop
Chef: Ted Smith
Restaurant: Craft & Commerce
"You get the smoke and char from oak wood, which takes the chop a step ahead, compared to if it was thrown onto a gas grill. Mild salsa verde adds another layer of flavor. I also like the restaurant's new design and all the taxidermy that went into it." — Brian Redzikowski
Craft & Commerce reopened in September after a major redesign that included the annexation of False Idol, a tiki-inspired cocktail lounge. With a new wood-burning grill in place, Chef Ted Smith's longstanding desire for adding a weighty cut of meat to the menu materialized in the form of the tomahawk pork chop. "It includes the rib meat still attached to an eight-inch bone," Smith says. Served alongside seasonal vegetables, the chop is punctuated with green salsa made of tomatillos, garlic, and Anaheim and poblano chilies.
CRAFT & COMMERCE, 675 W. Beech St., Little Italy, 619.269.2202
craft-commerce.com
Ted Smith's Favorite Dish: Seared Yellowtail
Chef: Tyler Nollenberger
Restaurant: Bankers Hill Bar + Restaurant
"It's a large, fresh center-cut piece of yellowtail, which the chef hits with a seasoning that reminded me of togarashi (Japanese chili pepper). I like dishes with Asian influences, and this happens to also come with shiitake mushrooms." — Ted Smith
Trolled from Baja waters, the 5-ounce filet of yellowtail is seared in a cast-iron pan after being rubbed with paprika, fennel, coriander and other spices. "The seasoning mix is similar to togarashi, but not as spicy," chef Tyler Nollenberger says. Served "rare to mid-rare," the fish is plated with lemongrass coconut broth, sticky ginger rice, pear-papaya slaw and the shiitakes. Once yellowtail fades out of season in late fall, Nollenberger plans to replace it with yellowfin tuna while maintaining the same Thai-style preparation.
BANKERS HILL BAR + RESTAURANT, 2202 Fourth Ave., Bankers Hill, 619.231.0222, bankershillsd.com
Tyler Nollenberger's Favorite Dish: Ricotta-Stuff French Toast
Chef: Drew Hoffos
Restaurant: Nutmeg Bakery and Café
"Everyone has French Toast, but the difference here is that it's crispy on the outside, and custardy inside from the savory ricotta. Thick-cut bacon and plump ripe berries are also included, which sets the dish over the top." —Tyler Nollenberger
The café's chef-owner, Drew Hoffos, likens his top-selling French toast to "cream-filled donuts." He sources the brioche from Bread & Cie and cuts it into chubby triangles before piping ricotta into small holes he cuts along the sides. He spikes the egg batter with cinnamon, ginger and nutmeg, and enlivens the dish further with sweet, locally grown berries. "We elevate breakfast food," Hoffos says, "and I source ingredients just as I did when previously working in places such as Café Chloe and the University Club."
NUTMEG BAKERY AND CAFÉ, 12640 Sabre Springs Parkway, Scripps Ranch, 858.486.8863, nutmegsd.com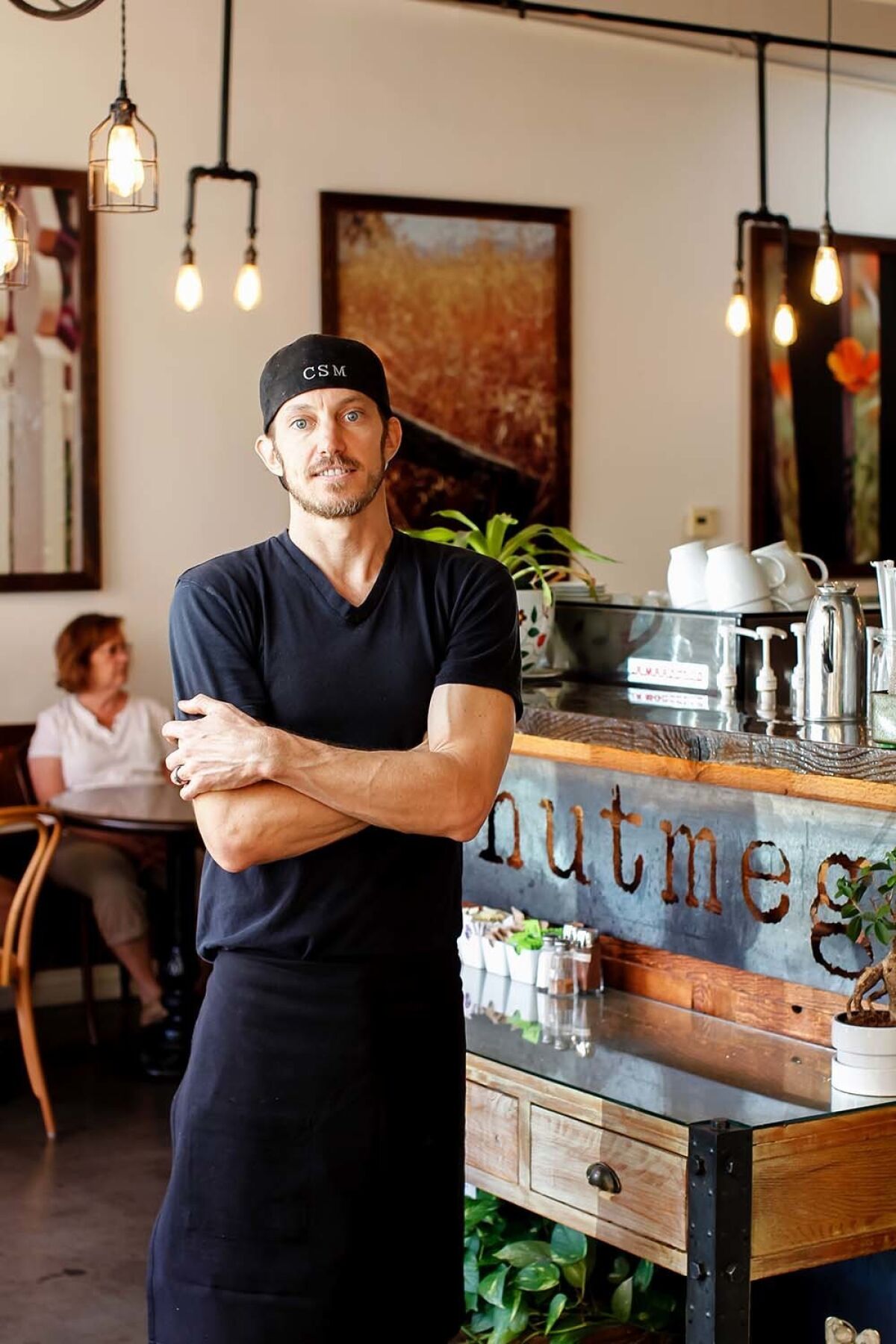 Drew Hoffos' Favorite Dish: Pan-Seared Fish of the Day (Mako Shark)
Chef: Amanda Michels
Restaurant: Starlite
"The fish was Mako shark, which you don't see everywhere. It had an excellent sear and resembled a big, moist, meaty steak. I also liked the meal's temperature and textural contrasts from the chilled udon noodle salad on the side." —Drew Hoffos
Chef Amanda Michels rotates mostly between wild salmon, Pacific tilefish and the mako shark, which has been particularly abundant this year. The species is touted for its dense texture and moderate fat content. "I find the freshest fish, but always keep the same set," says Michels, referring to the accompanying Thai-inspired noodle salad strewn with carrots, cabbage, fried garlic, mint and cilantro. "It's a refreshing component that makes you feel good inside."
STARLITE, 3175 India St., Middletown, 619.358.9766, starlitesandiego.com
Amanda Michels' Favorite Dish: Chicken "Rubenesque" Sandwich
Chef: Marguerite Grifka
Restaurant: California's Table
"It's one of the meatiest sandwiches I ever had. The bread was moistened superbly by juices from the oven-roasted chicken. And the smoked cheese on the meat tasted like it came straight out of a barbeque pit." — Amanda Michels
Pasture-raised chickens from a farm in Temecula are roasted in-house and cut into generous pieces before landing between organic ciabatta bread with smoked Gouda, house-made condiments and pink sauerkraut accented with coriander, ginger and onions. "The poultry I use is meatier and more flavorful than your average store-bought birds," says chef-owner Marguerite Grifka, who opened the small eatery in April and shares kitchen space with the fermented-foods café, JinBuCha.
CALIFORNIA'S TABLE, 3620 30th St., North Park, 619.869.0004, calitable.com
Marguerite Grifka's Favorite Dish: Ricotta Agnolotti
Chef: Brad Wise
Restaurant: Trust
"The cream sauce infused with shaved black truffles had a lovely consistency. Everything was correctly put together — the pasta was al dente, the black garlic wasn't overpowering, and the artichoke chips added a unique umami (savory) profile." — Marguerite Grifka
Trust's menu is hyper-seasonal, although these delicate ravioli adorned with sunchokes, black garlic streusel and shaved black truffles have clung to the menu since the restaurant opened earlier this year. "It's been an unexpected fan-favorite, considering that not many people are familiar with the term 'agnolotti' (a pasta similar to ravioli)," says chef Brad Wise. "We'll keep them around for the time being." The dish's earthy and acidic flavors encompass a touch of sweetness from fresh basil.
TRUST, 3752 Park Blvd., Hillcrest, 619.795-6901, trustrestaurantsd.com
Brad Wise's Favorite Dish: Paccheri
Chef: Dave Warner
Restaurant: Bottega Americano
"This is something I'd eat on a Monday night in my native New Jersey, but never did. Chef Dave mixes the large, circular pasta with guanciale (pork jowl), peas and mushrooms, and tosses it all in the truffle cream sauce. I must have it every time I come here." — Brad Wise
Paccheri is a hearty, tubular cut of pasta chef Dave Warner discovered pairs exceptionally well with English peas, wild mushrooms and hormone-free pork. The white sauce he uses in the dish might, visually, be mistaken for Alfredo, but it's actually cauliflower puree with only a touch of dairy. Warner also adds a pinch of lemon zest for background tang. "This has been on our menu since we opened in 2014, and it isn't something you see around too often," he says, adding that customers wishing to amplify the richness of the dish can ask for the "carbonara effect," meaning an oozy egg enters into the construct.
BOTTEGA AMERICANO, 1195 Island Ave., East Village, 619.255-7800, bottegaamericano.com
Favorite Dish: The Waypoint Burger
Chef: Rich Sweeney
Restaurant: Waypoint Public
"The burger reads like a gut bomb on paper, but the richness of the cheese, pulled pork and fried egg on top is cut by pickled vegetables. The patty has a slight car flavor and it's always consistent." — Dave Warner
This half-pound beauty has undergone a few tweaks since Top Chef's Rich Sweeney began helming the kitchen last year. Sweeney swapped the previously used mozzarella for aged white cheddar, braises the pulled pork in Green Hat IPA by Fall Brewing Co. and adds dabs of honey and brown sugar to the smoked tomatillo salsa that has traditionally accented the burger. In addition, he smears a side of the bun with roasted garlic aioli. "I put my own thumbprint in there," he says, "and even made the pickled vegetables a little spicier with chili flakes and Fresno peppers."
WAYPOINT PUBLIC, 3794 30th St., North Park, 619.255.8778, waypointpublic.com
Rich Sweeney's Favorite Dish: Spicy Sesame Ramen
Chef: Sam Morikizono
Restaurant: Tajima Ramen Hillcrest
"The broth is red like a stop sign, but you want to keep going. The perfect bite is when you get all the ingredients into your mouth at the same time - the noodles, pork belly, the roasted pork and egg." — Rich Sweeney
Tajima's chef-owner Sam Morikizono says he sells about 8,000 bowls a month of the spicy sesame ramen across five San Diego locations, and that customers took an immediate liking to the dish when he introduced it to the menu five years ago. The chicken/pork broth achieves its radiance from chili and sesame pastes, chili oil and chili powder. On a heat scale of one to 10, Morikizono says it rates "somewhere between three and five." In addition to the noodles, pork and boiled egg bobbing within the bowl, the pottage is further enhanced by Asian chives, bean sprouts and fried garlic chips.
TAJIMA RAMEN HILLCREST, 3739 Sixth Ave., Suite B, Hillcrest, 619.269.5050, tajimasandiego.com
Sam Morikizono's Favorite Dish: Puerto Ceviche
Chef: Juan Carlos Recamier
Restaurant: Ceviche House
"This was impressive, with a very strong, spicy flavor from jalapeños, cilantro and red onions. The chopped shrimp was super fresh. It was part clear in color and had a natural, sweet taste. The restaurant also has sashimi on the menu, which tells me the quality of the seafood is very good, like what I grew up with in Japan." — Sam Morikizono
Juan Carlos Recamier began selling ceviche at local farmer's markets before opening Ceviche House in North Park last year. His current menu offers six different styles of the citrus-marinated seafood dish inspired by various regions of Mexico and Peru. In addition to shrimp, jalapeños and onions, the Puerto ceviche is augmented with crisp jicama, fresh avocado and assorted bell peppers. "We make all of our ceviches to order, not in small batches ahead of time," Recamier says, adding that the produce is sourced from regional farms, and the seafood — such as shrimp, yellowtail and big-eye tuna — originates in part from downtown's Tuna Harbor Dockside Market.
CEVICHE HOUSE, 4594 30th St., North Park, 619.453.8330, cevichehousesd.com
Sign up for the Pacific Insider newsletter
You may occasionally receive promotional content from the Pacific San Diego.