M Delivers' cannabis service is dope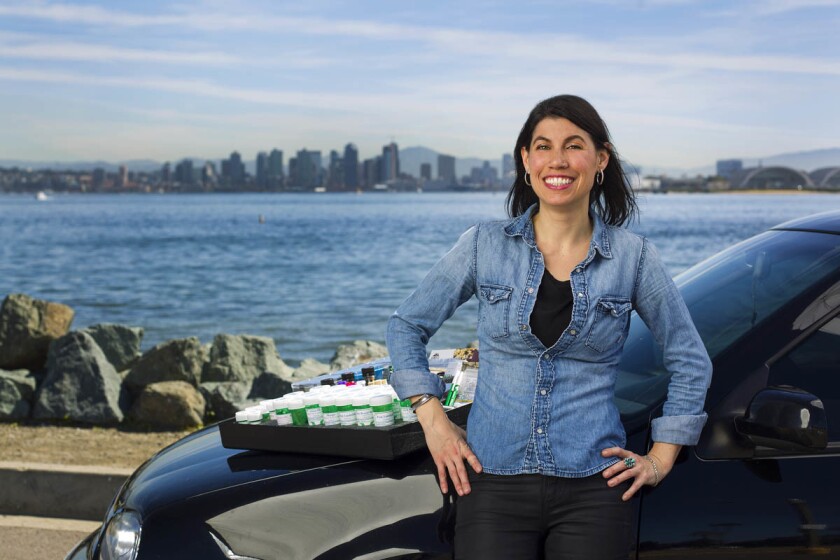 Like many of the best things in life, Cassandra Pearson's career as a "budtender" began on Craigslist.
In 2012, after spending a few years employed at restaurants around San Diego, the native Minnesotan found herself looking for a new line of work. That's when she stumbled upon a job posting for M Delivers, a medical marijuana delivery service.
"I responded to the ad," she says, "and it kind of just went from there."
Five years later, Pearson's still with the company. As one of M Delivers' nearly two dozen drivers, she helps downtown, Uptown and Point Loma cannabis patients pack their pipes and enjoy their edibles. In honor of 4/20, here's insight into what drives this driver.
PACIFIC: What do you love most about your job?
CASSANDRA PEARSON: Just getting the patients what they need to feel comfortable and medicate. It's very demanding and it's hard being on the road all day, but when you get to help this little old lady who's going through chemo and you're providing her something that actually makes her feel better, it's pretty rewarding.
Given the stigma that still surrounds marijuana, does your family support your chosen profession?
Yes, actually. My parents are very supportive. I was very secretive about it in the beginning but I realized, if I can't be open and positive about this, how is anybody else ever going to either? So now I tell everybody.
M DELIVERS
Online: mdelivers.com
Social: @FollowMDelivers
Phone: 1.800.CANNABIS
What distinguishes M Delivers from other delivery companies?
Customer service and professionalism. With a lot of delivery services out there, you have some kid show up in a tie-dyed T-shirt hours late. When you order through us, you're going to have somebody professional, on time and well-educated about the products.
What's your preferred method of consuming cannabis?
Obviously, when I'm on the road and driving to see patients, I'm not medicating. But I do use a high-CBD, low-THC cartridge from Mighty Pen. It's non-psychoactive, which gives you an overall calming effect without actually being high. It keeps my stress level down; I smoke mostly for anxiety. It does just what I need without all the other nasty side effects of being too high and stoney.
All-time favorite strain?
Jack Herrer. I love the smell and the effect. It's a really great sativa and it's my Saturday go-to when cleaning the house. Typically, if I'm smoking flower, I'm definitely rolling a joint. It's kind of like a whole ritual of sitting down, grinding up the weed and rolling it up. It's the end-of-the-day reward to take the day away. Some people sit down and have a glass of wine, and I feel like I definitely am one to more turn to that whole ritual of the joint.
If you were a strain of marijuana, what would your name be?
Wild Child.
If you could smoke up with anyone, who would it be?
The group of kids from That '70s Show, in a basement smoke session. I've always loved their random banter.
Need to re-up? M Delivers offers home-delivery across San Diego County and mail order service throughout California. Dope!
---
Sign up for the Pacific Insider newsletter
PACIFIC magazine delivers the latest restaurant and bar openings, festivals and top concerts, every Tuesday.
You may occasionally receive promotional content from the Pacific San Diego.