Meet your bartender: Juan Sanchez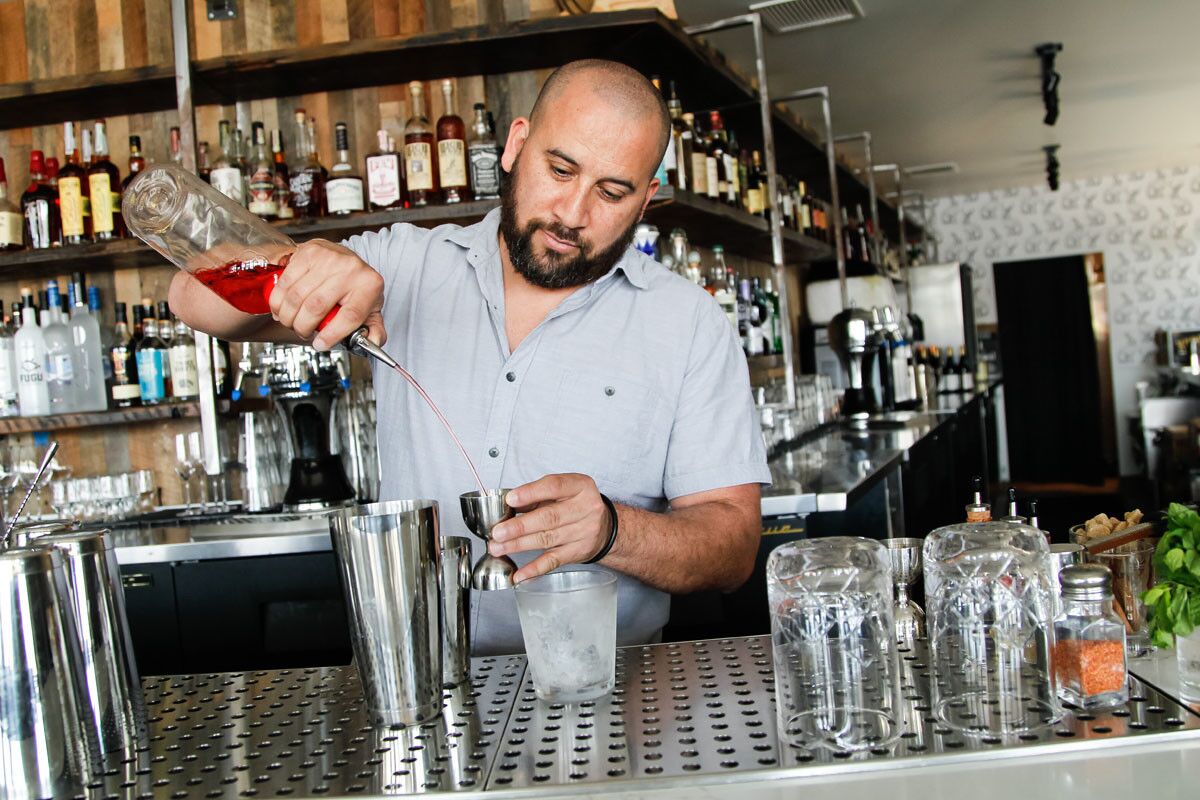 With nearly 15 years of experience in hospitality and a resume that lists some of the city's most celebrated establishments, San Diego native Juan Sanchez is an unstoppable force in the industry. By honing his skills at hotspots such as Addison, Kettner Exchange, Seven Grand and Tower23, he has worked his way up from barback to beverage director for one of the city's rapidly rising restaurant groups.
As bar manager for Hillcrest's acclaimed eatery Trust, Sanchez has set the tone for the restaurant's beverage program since it opened in 2015. And now, thanks to Trust's success, he's calling the shots at Hundred Proof, the second concept to emerge from the minds of owner Steve Schwob and Executive Chef Brad Wise.
Located a few blocks north of Trust in the Park Boulevard building that formerly housed S&M Sausage & Meat, Hundred Proof opened in June after months of collaboration among Sanchez and the rest of the Trust Restaurant Group.
"When we first had the concept of a neighborhood bar," says Sanchez, "we all had a different idea about what we wanted. It was tricky at first, but when we got together and talked about it, all of our ideas slowly morphed into one."
With a comfy, colorful atmosphere, Hundred Proof's approachable environment perfectly complements its sister restaurant, Trust.
"For me, Hundred Proof is more of a neighborhood bar," says Sanchez. "By no means are we trying to be stuffy or too much of a cocktail lounge. And Trust is definitely more food-centric, so the biggest difference is that we do a lot more sales on the liquor side here."
Despite their differences, Sanchez assures fans of Trust that they'll find plenty to like about Hundred Proof.
"Our level of service and attention to detail are still there," he says. "And the things we do well at Trust are still in are our backbone at Hundred Proof. We just do them in a bit more of a laid-back and comfortable environment."
The commonalities between the two venues don't end there. Trust Cocktail #2, a spicy margarita made with jalapeño tequila, grapefruit juice, agave syrup and Firewater bitters, is currently the most ordered drink from both bars.
"We took our best-selling cocktail from Trust and put it on the menu here. It's been our No. 1-selling cocktail here, too - it's a cocktail I can't seem to get away from," Sanchez says with a smile.
Also prominently featured on Hundred Proof's menu are eight beer-and-a-shot pairings known as boilermakers, each chosen by a different member of the Trust Restaurant Group.
"Our general manager, Mark Taylor, has one, the 'Taylor Made,' which happens to be the best-selling so far," says Sanchez. "It's a shot of Buffalo Trace bourbon and an Orderville IPA from Modern Times. Mine is Evan Williams' Single Barrel and the Pale Ale from Fall Brewing. We all tried to pick breweries and spirit companies like Cutwater and Old Harbor, and try to highlight them on our menu as well."
Hundred Proof also offers a unique take on bottle service.
"Essentially, it's a 12-ounce bottle of Buffalo Trace, Maker's Mark or Herradura, and you get a six-pack of craft beer," says Sanchez. "That's our tableside bottle service."
If a shot and a beer aren't in order, Hundred Proof also has a selection of drinks to help beat the heat this summer, including Frosés (frozen rosés), Moscow Mule slushies and a trio of booze-infused milkshakes: Horchata, Coffee & Donuts and Strawberry Shortcake.
Hundred Proof is now open daily for lunch and dinner, with brunch offered every Sunday. Sanchez is behind the bar three nights a week and still slings drinks at Trust once a week, too.
"Between Hundred Proof and Trust, I work a lot," he says. "Plus, I've got two dogs at home that keep me busy, and my girlfriend is having a baby in September. So, right now I'm just trying to juggle two jobs, an expectant girlfriend, and dogs that are awesome and needy."
That, as the saying (kinda) goes, is the burden of Proof.
Hundred Proof: 4130 Park Blvd., University Heights, 619.501.6404, hundredproofsd.com
Sign up for the Pacific Insider newsletter
You may occasionally receive promotional content from the Pacific San Diego.