Surf's up in San Diego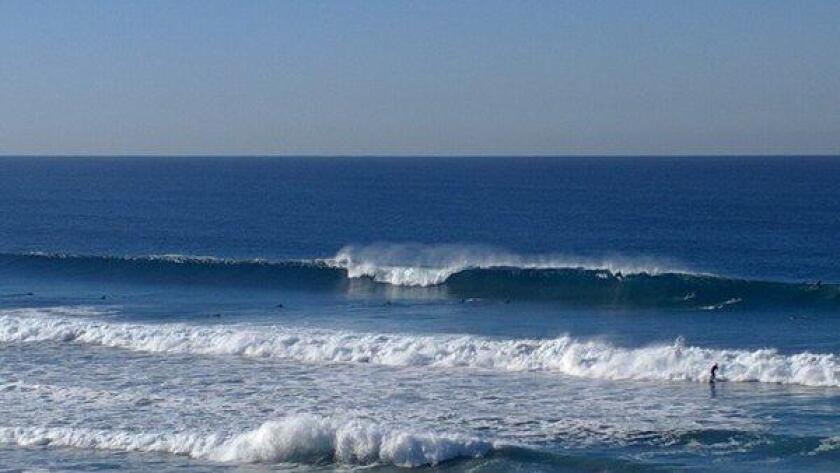 As bigger-than-usual surf hits the San Diego coast, the National Weather Service has issued a high surf advisory.
Surf's up!
A large northwest swell will arrive at the beaches of Southern California today. The swell will create big surf and... Posted by US National Weather Service San Diego California on  Monday, December 7, 2015
https://www.facebook.com/NWSSanDiego/posts/1112744358737559:0
Taking effect Monday morning at 6 a.m. and extending through 6 p.m. Tuesday, waves up to 10 feet are expected, which is minuscule compared to what's hitting the North Shore of Hawaii right now.
North Shore waves in Hawaii
North Shore Big Waves Hawaii pic.twitter.com/ydN4MMhDlM - Best Surfer Pics (@BestSurferPics) December 7, 2015
Regardless, much like sporadic rainfall or weather colder than 70 degrees, San Diegans - in and out of the water - freak out over sizable surf.
With bigger waves on the way, here's a recent collection of images pulled from Twitter's lineup, dude.
Waves on Twitter
Big #Waves make #FunDays. #Surfing in North County #SanDiego. pic.twitter.com/wu24MvhURF - Lawrence Teschmacher (@lteschmacher) December 5, 2015
Mid-80s all this week. 9-foot waves. Decorate and celebrate #Christmas? #SanDiego pic.twitter.com/hAiFKMf5yB - amys_bus_ticket (@amys_bus_ticket) December 5, 2015
The swell is coming in. Should be a fun week of surf. #SanDiego #surf #torreypines #surfing #waves #SanDiegosurf pic.twitter.com/qBqllmn0bh - William Youngblood (@Youngbloodmft) December 4, 2015
Surf's up! #nicesurf #beachrun #SanDiego #MissionBeach pic.twitter.com/bD1kKoM5ZB - Abbie Alford (@AbbieCBS8) December 5, 2015
Source: DiscoverSD
---