Play ball: 8 things to know about the Padres 2018 season
The San Diego Padres enter the 2018 season with a new face of the franchise and skyrocketing optimism about the future.
That future is not quite now.
"We're still a long ways from where we want to be, and that's playing games in October," manager Andy Green said recently. "We're nowhere near that."
That doesn't mean this season doesn't promise to have its moments. Far from it.
In honor of first baseman Eric Hosmer's eight-year contract, the richest in Padres history, here are eight things to know about the Padres that should provide an entertaining 2018 season.
1. Hos
Few around baseball — or San Diego — could believe it when the Padres were first mentioned as suitors for Hosmer, a 28-year-old who has already been a World Series hero and an All-Star Game MVP. But there the Padres were in February, introducing their new first baseman, who can make $144 million over the life of the deal. Hosmer was signed for his ability to get on base and play exceptional defense, but also for his skill and willingness as a leader. He is always smiling, always talking and is interested in helping the Padres grow into what his Kansas City Royals team became — World Series participants in 2014 and World Series champions in 2015.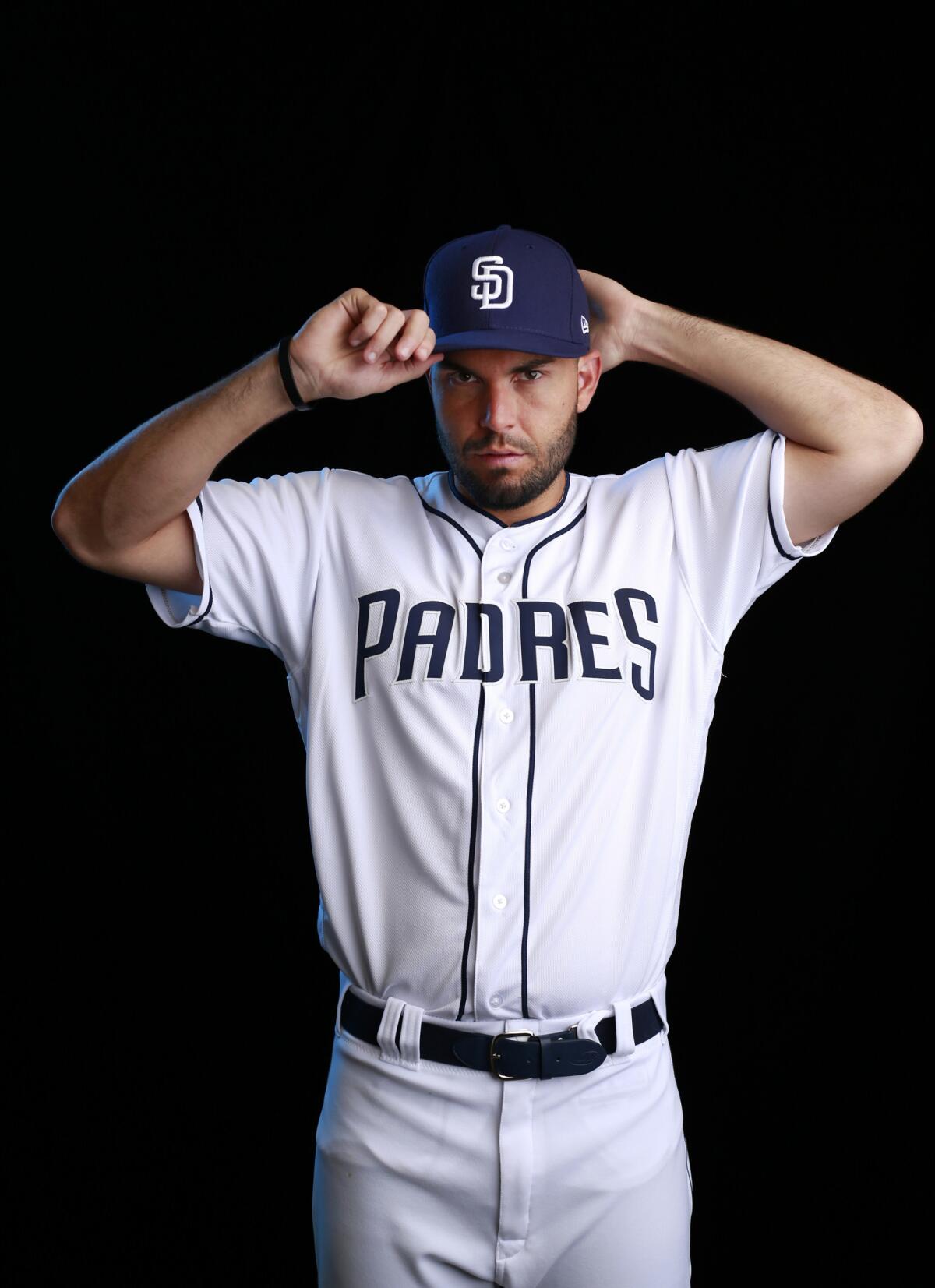 2. Hot Lava
At Hosmer's introductory press conference, his agent, the loquacious Scott Boras, said the Padres' farm system was full of "hot talent lava" that would benefit from Hosmer's presence as the young players grew into "major league rock." The phrases took off with both fans and people in the organization. A few days later, Hosmer bought T-shirts for his teammates, coaches and others in the organization. On the front: #HOTTALENTLAVA. On the back: #MAJORLEAGUEROCK. It is expected that several of the organization's top prospects will make their major league debuts throughout the season, some sooner than later. Among the names to look for: second baseman Luis Urias; shortstop Fernando Tatis Jr.; and starting pitchers Joey Lucchesi, Eric Lauer and Cal Quantrill.
3. No longer the man, thankfully
Wil Myers gave it a try, and he will still try to be the best teammate he can be. But he can now just concentrate on baseball rather than working to be a vocal leader. Myers, just 27 years old, gamely jumped into the leader role on a young team after signing what at the time was the franchise's largest-ever contract in 2017. But he has been up front about being pleased that Hosmer and other veterans have been brought in to fill that role now. Many around the team expect the lifted burden — as well as Hosmer's presence in the lineup — to help Myers' performance.
4. Trevor Time
Former Padres closer Trevor Hoffman will be inducted into the Baseball Hall of Fame on July 29, and the Padres are celebrating his enshrinement throughout the season with various giveaways and special events. Foremost, prior to a game on a yet-to-be-determined date in the summer, a bronze statue of the pitcher will be unveiled to go along with the one of Tony Gwynn in the Park at the Park. Numerous Hoffman bobbleheads will be given away throughout the season, including Hoffman's inclusion in a set of four bobbleheads to be given away at successive games, May 10-13, honoring the team's 1998 World Series team. Those bobbleheads will fit together at the base and are of Hoffman, Gwynn, Ken Caminiti and Greg Vaughn.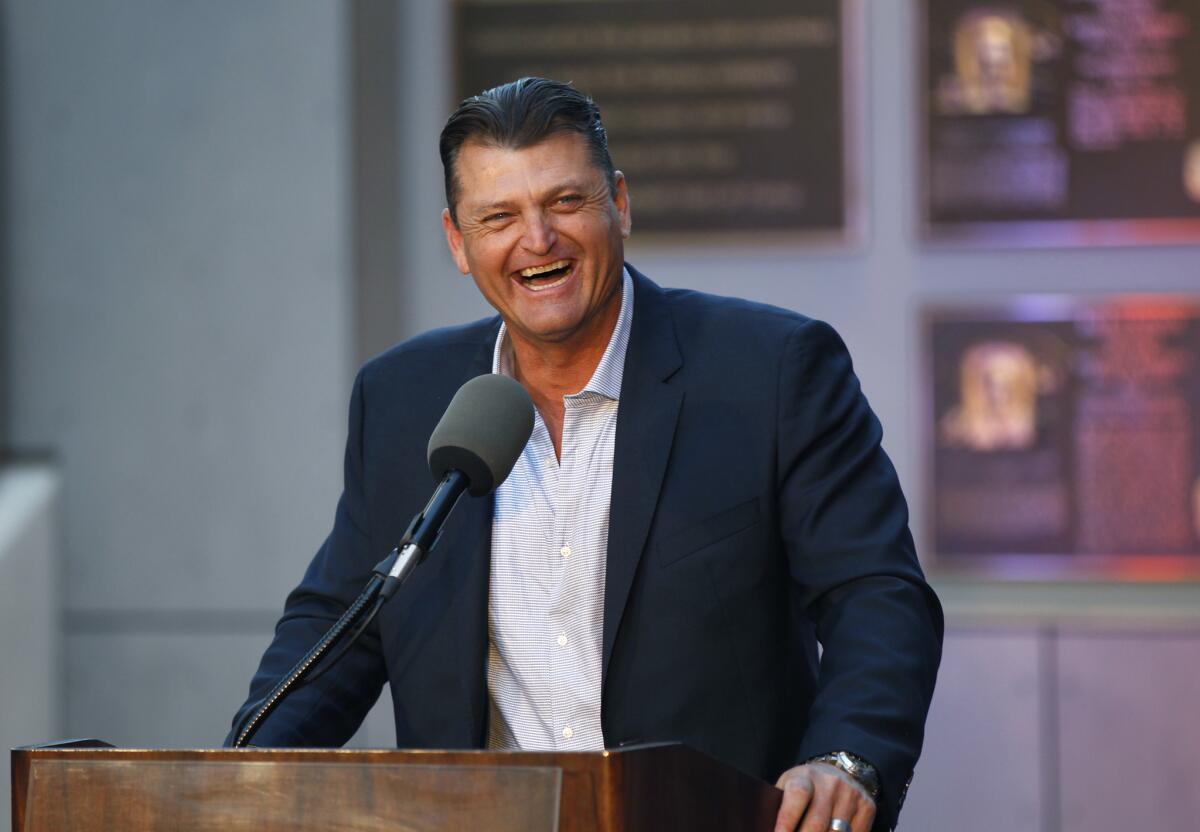 5. Viva Monterrey
The Padres play just 78 home games this season, as they gave up a three-game home series with the Dodgers. That set will be played in Monterrey, Mexico, as part of Major League Baseball's ongoing campaign to entice fans globally. It is the first of six series MLB plans to play in Mexico over the next four seasons. Teams will also play regular season series in England and Asia in the next few years.
6. No longer green
Andy Green, 40, is still the second-youngest manager in the big leagues (five months older than Tampa Bay's Kevin Cash). But he is entering his third season and has hand-picked his staff so that it is now largely made up of guys who are wired like him — that is, intense and relatively young. The Padres are still not to the point talent-wise that Green can be solely judged on wins and losses. That will come. But they are better, so 2018 should provide Green more opportunities to make in-game maneuvers that affect games in a positive way.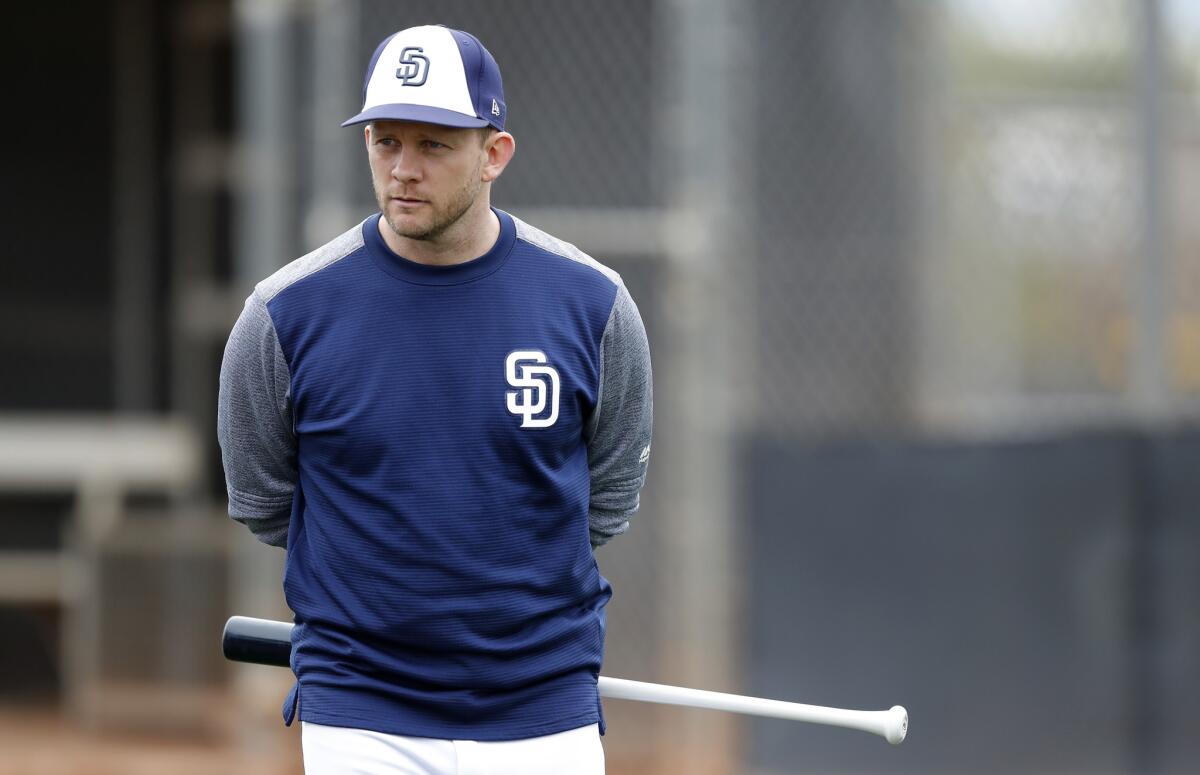 7. Watch him
Jose Pirela was called up from Triple-A last June 6 and from that point to the end of the season led the Padres in batting average, on-base percentage and slugging percentage. After spending most of the previous nine seasons in the minor leagues, he has earned an abundance of major league at-bats as the Padres will get him in games in the outfield and at second base. He's a good hitter, yes. But the real joy is in watching his joy. He runs out every ground ball, seeks to take an extra base whenever possible and seems to always be smiling. Said shortstop Freddy Galvis of Pirela: "It's like when you see it, you say, 'Oh wow! I want to play like him.' … Pick somebody who plays harder than him. Just try."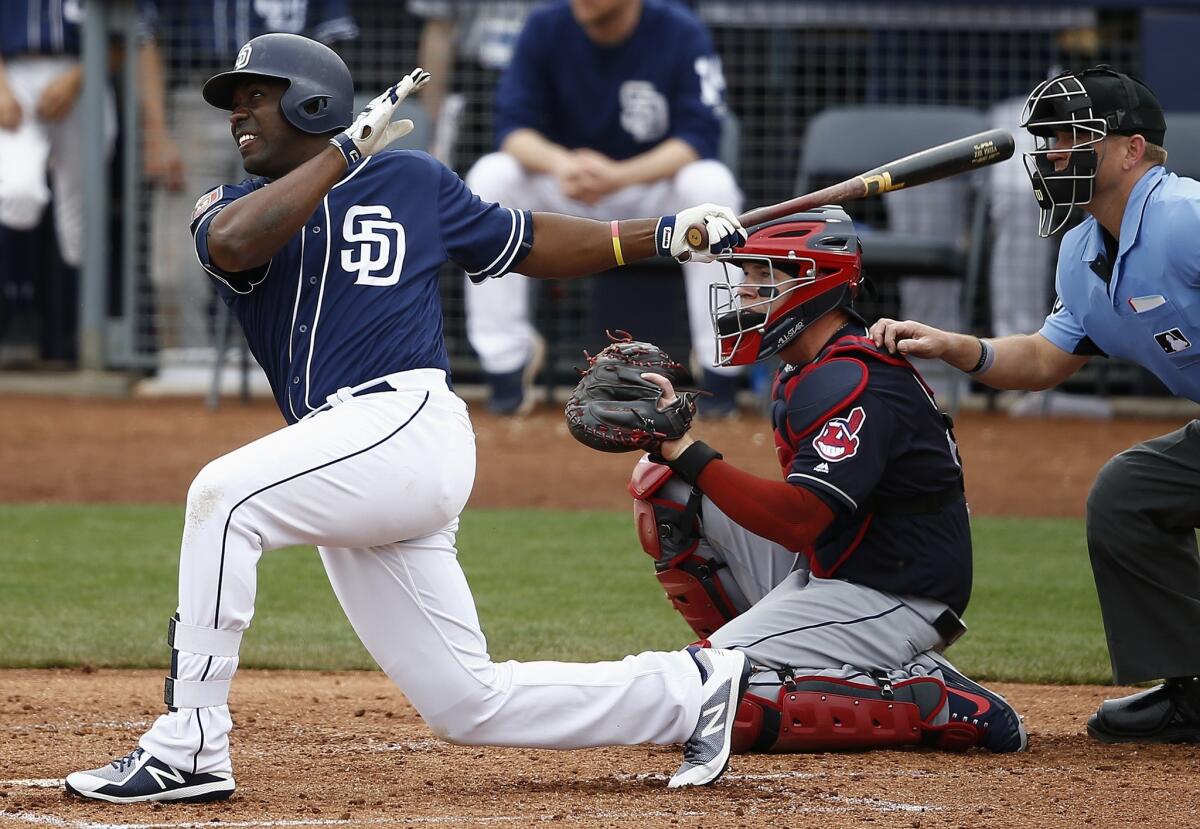 8. Skipping
The Padres have enough team speed to be among the leaders in stolen bases in the National League and to generate more runs. They have sometimes been hamstrung by poor fundamentals. That shouldn't be the case anymore; or else someone is getting in trouble. The Padres hired Skip Schumaker as their first base coach, with his duties primarily being working with outfielders and baserunners. Schumaker, who retired following the 2015 season, his 11th as a player, is exacting and intense. Said outfielder Travis Jankowski: "We're afraid to not touch the base with the right foot."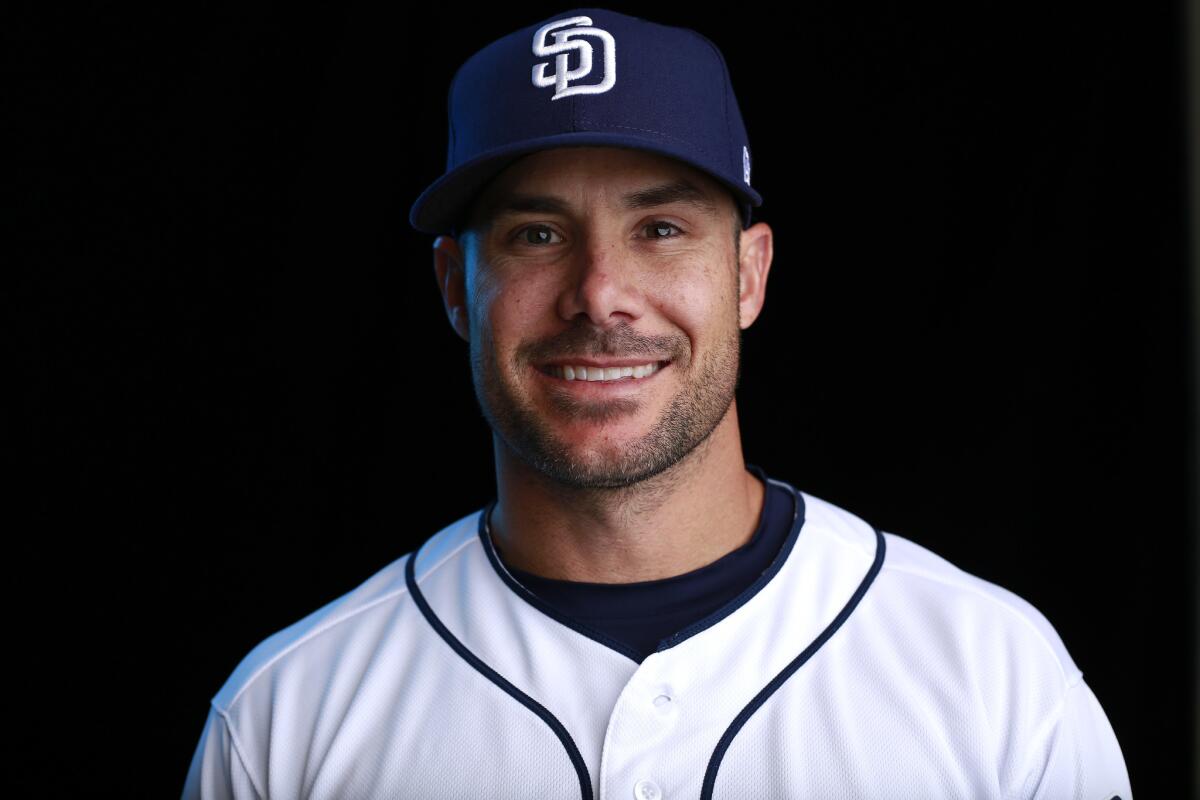 April Padres home games
4.2-5 vs. Colorado Rockies
4.12-15 vs. San Francisco Giants
4.16-18 vs. Los Angeles Dodgers
4.27-29 vs. New York Mets
More...
Petco Park: New food, additions for 2018