Saison's greetings - and other hoppy holiday brews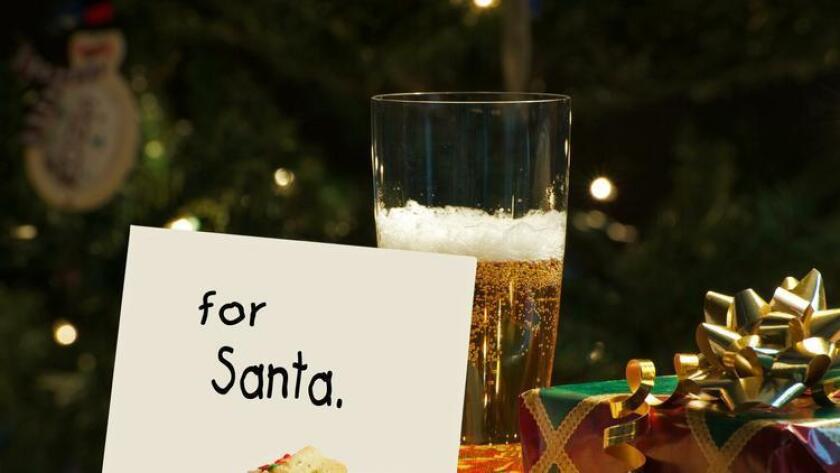 Traffic jams, endless lines, credit card debt, inappropriate family members and an obligatory fruitcake that could possibly sink a battleship. The holidays can be stressful to the psyche and the stomach. Slow the seasonal insanity with this list of delicious craft beer remedies to calm the nerves and soothe the spirit. You'll be caroling in no time.
Alesmith Noel, 12 percent ABV: A Belgian holiday ale with a proprietary blend of spices, this exceptional treat is yet another reason to visit the new Alesmith digs. Using the award-winning 2012 Decadence as a base, the Noel is an expertly melded arrangement. As Marketing Manager Brandon Hernandez notes, "it becomes one seamless flavor, but each element plays a part." Like a perfectly orchestrated seasonal symphony.
Bagby Beer 'Tis the Saison, 6.2 percent ABV: A beer made for the SoCal climate, Bagby makes a "holiday" beer for the locals. Grab one of these refreshers after a day of surfing, shopping and dealing with the in-laws.
Karl Strauss Six Suits A- Hangin', holiday imperial Belgian brown, 8.5 percent ABV: Halfway through their 12-year odyssey, Six Suits is a tribute to our surf culture and easygoing lifestyle. Think coffee, brown sugar, caramel, spice and vanilla from the use of French oak.
Port Santa's Little Helper, 10.5 percent ABV: As eternal as Santa Claus, the helper is one of San Diego's most popular imperial stouts. Scoring a perfect 100 on ratebeer.com, it dominates with notes of chocolate and cocoa with notes of caramel, vanilla, roasted malt and tobacco, and a bit of smoke that intensifies with aging. Start your own vertical collection or gift set of Santas.
The Lost Abbey Gift of the Magi, 10 percent ABV: The perfect gift for the craft beer lover in your life, the annual classic from Lost Abbey is one for the cellars. Fresh batches display vibrant aromas of orange peel with coriander, apricot, hay, yeast, faint herbs and a mild presence of Brett. Aging develops the citrus to candied orange, dried fruit, brown sugar and a pleasant earthiness from the Brett.
Alesmith Double Red Ale (formerly Yulesmith), 9.5 percent ABV: The holiday veteran gets a name and label makeover, but keeps its original recipe. Also with a perfect 100 score on ratebeer.com, it's vibrant with a hoppy character, but perfectly balanced with caramel maltiness. Enjoy aromas and flavors of caramel, cardamom, vanilla and toasted nuts mingled with piney and citrusy hops.
Mission Holiday Ale, 8.6 percent ABV: In the category of Belgian dark strong ale, the Holiday will have you singing, "Bring us some figgy pudding," with its candied and dried fruits, alongside Belgian yeast and spice, plums, brown sugar and dark caramel.
Legacy Brewing Sleighwreck, 5.3 percent ABV: The popular Oceanside brewery offers a mulled ale, blending its Chesty Red and Clan Ross Scotch Ale, while incorporating cinnamon, clove, orange peel and allspice. With its lower alcohol, you won't be "wrecked" if you enjoy more than one.
Twisted Manzanita Enlightenment, 7 percent ABV: This stout brewed with peppermint and chocolate is your cool craft beer version of hot cocoa and Rumple Minze. Inspired by an intellectual movement, the Enlightenment might just spawn your own philosophical moment of genius this holiday season.
Happy Holidays!
With 18 years in the restaurant and beverage industry and more than 850 reviews under her belt, Laurie Delk is a one-stop guide to all things craft beer, wine and spirits. You can follow Delk on Twitter @100beers30days or Instagram @sandiegobeer. Send ideas for featured drinks to 100beers30days@gmail.com.
Source: DiscoverSD
---