Krystal clear: 'Bachelor' alum opens up about life, love and plans for 2019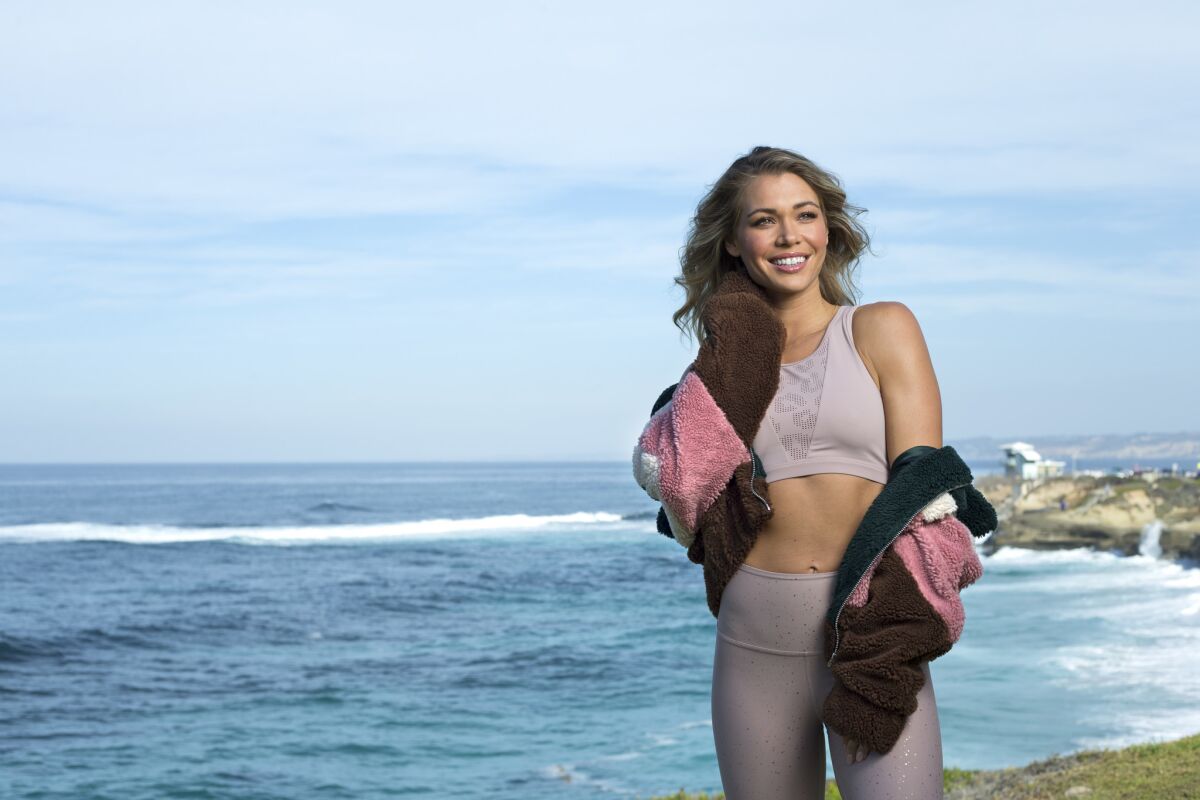 Expansion.
It's a word that Krystal Nielson has been contemplating of late.
"I spent a lot of time getting to the point where I'm at and I think now it's time to really spread my wings and fly."
Building on what she calls a "year of strenuous growth," the Bachelor franchise alum and San Diego transformation coach is sprinting into the New Year with the launch of a YouTube channel, a book in the works and a destination wedding to plan.
The expansion has already started, as she and her fellow Bachelor in Paradise castmate and fiancée, Chris Randone, recently traded in a 300-square-foot bungalow for a more spacious place in Little Italy.
And can we expect an expanding belly after the wedding?
"Definitely," Nielson, 31, told PACIFIC. "I want to start a family with Chris right away."
It seems a lot to fit into the coming year, but not impossible when considering the rollercoaster of a year that got the duo here.
Nielson, who had bartended at the Tipsy Crow in the Gaslamp Quarter and was coaching at Orangetheory Fitness in Point Loma, was fresh out of a four-year relationship and looking for a self-discovery adventure when the Bachelor called up. But, in vying for race car driver Arie Luyendyk Jr.'s heart during Season 22, Nielson found herself in a role she didn't expect — the villainess.
During the nearly three months between Luyendyk letting her go in Paris and the show's premiere in early 2018, Nielson battled anxiety over how she would be portrayed to her friends and family — and to Bachelor Nation, the rabid fan base of the reality show.
The stress affected her health so much that she was hospitalized.
She would come to dread Monday nights, when new episodes aired. The alerts on her cellphone would start in at 6 p.m. as East Coast viewers tuned in.
"People would write horrific things," she said. "It was tough. My 83-year-old grandma got on Instagram just to stick up for me." Late night host Jimmy Kimmel even poked fun at her soft, come-hither voice — which Nielson said was the result of "vocal distress."
While it wasn't the self-discovery retreat she'd expected, it's one that she embraced.
"The show is a magnifying glass for the good and bad qualities," she reflected. Raised by a single, working mother in Montana on government assistance, Nielson said she overperformed and overcompensated as a child. She brought some of that persona to the Bachelor mansion, she said. "I wanted to present a more polished, packaged version of who I was. It wasn't me."
When invited to try for love again on the frothy, late summer escape Bachelor in Paradise Season 5 (which premiered in September), she flew to Mexico with a renewed sense of self and no expectations. (She also flew with two 10-pound dumbbells, lots of skimpy bikinis and her can't-live-without apple cider vinegar.) Her approach worked with viewers — and Randone.
She immediately bonded with the Orlando sales trainer — who was sent home on Becca Kufrin's Season 14 of The Bachelorette (ironically, she originally won the final rose from Luyendyk, the same season Nielson participated in) in similar dramatic fashion — but their on-air romance took a while to blossom. Once it did, it was intense.
"You spend 20 hours a day with the person," Nielson said. "The producers guide you on a deep, emotional level through the process."
By the time they returned to their regular lives as an engaged couple, they'd worked out lots of big stuff but needed to learn the little stuff.
"I didn't know what Chris looked like in regular clothes," Nielson joked.
Their courtship is documented on their popular Instagram feeds, including a cruise on the Hornblower and kisses in Balboa Park. The couple — and their two Papillons, Wayne and Chucky — will be giving their fans even more access to their continuing journey via a YouTube channel that plays off their nicknames, "Glitter" and "The Goose."
Nielson also plans to continue to coach her "Glitter Gang" through her Total Body Guide programs, teaching some lessons she had to experience herself — in front of millions of viewers — to truly understand.
"Those hard moments are where you grow and learn the most." She added: "Once you can take that ownership and acceptance, the transformation can begin."
GlitterGoose might be joined by some Bachelor reinforcements soon. Kufrin and her Bachelorette pick, fiancée Garrett Yrigoyen, announced plans to move from Minnesota to San Diego during a recent Instagram live.
"Come on over!" Nielson said.
Bits of glitter
Notable San Diego Bachelor alums:
Season 10's Bachelor Navy Dr. Andy Baldwin moved from Hawaii to San Diego.
Encinitas businessman Kiptyn Locke, who appeared on The Bachelorette (Season 5) and Bachelor Pad (Season 1).
Locke's former girlfriend, Tenley Molzahn Leopold (another Bachelor contender), also resides in Encinitas.
Former San Diegan and PACIFIC cover model Becca Tilley (February 2017 issue), two-time Bachelor contestant in 2015 and 2016.
Newly engaged off the Bachelorette in 2011, Ali Fedotowsky and Roberto Martinez moved to San Diego, but later broke up.
Why San Diego?: "It's so close but far enough removed (from Los Angeles.) San Diego offers such a great quality of life," said Nielson. "It's chill. But those who hustle really shine."
Date night go-to: Cocktails at Ironside Fish & Oyster. Dinner at Barbusa or Juniper & Ivy. Or stay in with a homemade charcuterie board and bottle of Cabernet.
"Friday night we make a point to have date night. ... As an entrepreneur and business owner it's hard to create those boundaries for yourself, especially with social media. It never stops."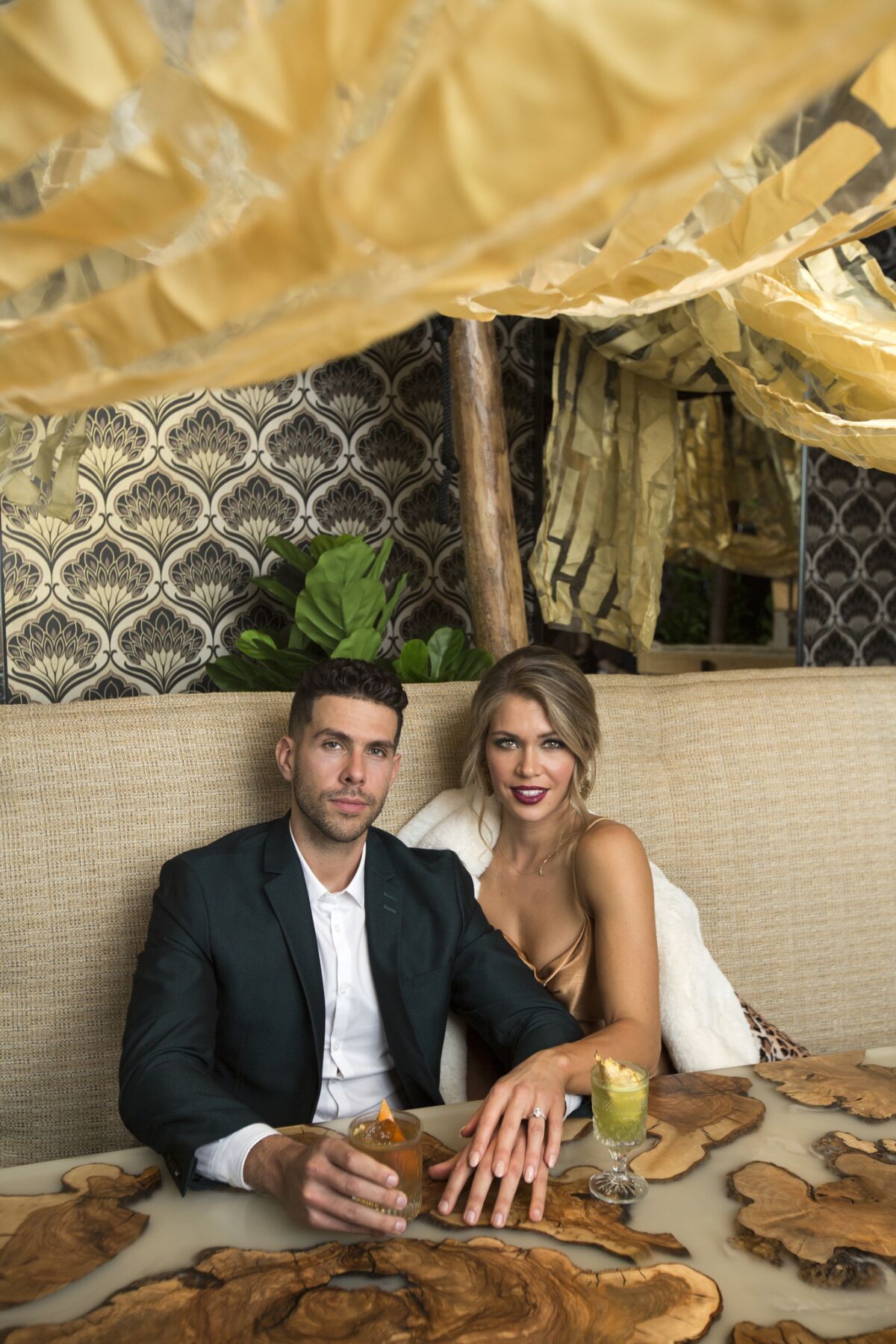 Advice for someone stuck in a rut: Have a plan, work with a mentor and get accountability. "It's the little wins every day. … Baby steps eventually turn into milestones," said Nielson.
Favorite workout: At home, in the morning, full-body circuit training, followed by a nutrient-rich smoothie.
Fat-burning tip: An elixir of apple cider vinegar, cayenne pepper, lemon juice and water.
Instagram: @coachkrystal_ (480,493 followers) and @chrisrandone (225,723 followers)
Sign up for the Pacific Insider newsletter
You may occasionally receive promotional content from the Pacific San Diego.