Duo re-energizes cosmetics brand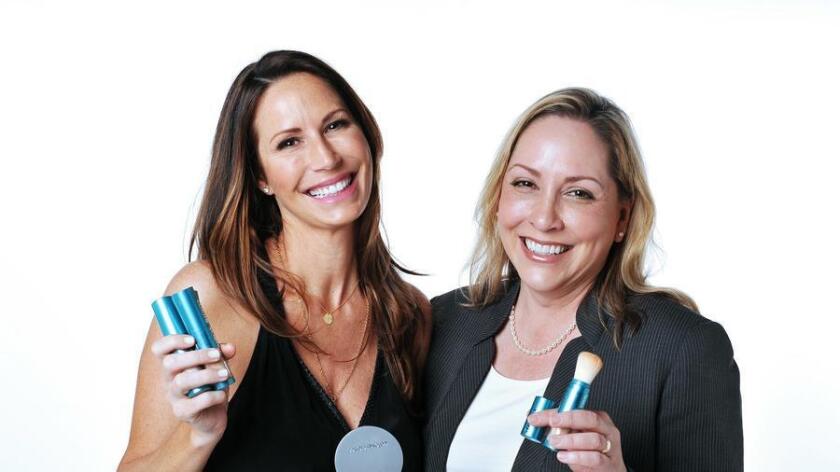 When a woman has both beauty and brains she can rule the world, and that's exactly what Mary Fisher and Josie Juncal intend to do. Both women came from SkinMedica, an award-winning physician line of skin care products, and they understand how to keep skin healthy. Both are also passionate about women not having to compromise health for long-lasting beauty and that's where Colorescience comes in. In 2012, Mary stepped in as CEO and Josie as CCO and they have managed to re-energize the brand.
Colorescience is a healthy, breathable cosmetics line formulated with sun protection and skin-nourishing benefits. And with summer around the corner, the ladies are excited to introduce Tint Du Soleil to their Sunforgettable Collection of products. Sunforgettable is a celebrity favorite line that matches your complexion while also protecting you from the sun. You can check out all their products online at colorescience.com/
Related
Colorescience CCO Josie Juncal reveals her top 5 spring/summer beauty products
Q: Who or what inspired you to create Colorescience?
Juncal: First , because I am a beauty junkie and second, because I have worked so closely with dermatologists throughout my career. We knew there had to be a better way to create multitasking products that provide serious sun care and skin care in beautifully elegant cosmetic formulations.
Fisher: The idea that makeup could be good for your skin. We already appreciated that improving appearance -- especially on the face -- contributes to confidence. Why compromise your skin to wear makeup? It is inconsistent with feeling better about yourself.
Q: The one accessory that you refuse to leave home without?
Juncal: Since amazing shoes don't count as an accessory, I will say a watch. I've been a watch wearer since college and feel completely naked without one.
Fisher: My wedding ring.
Q: Best part about doing business in San Diego?
Juncal: This is my hometown and I love everything about it. Our brand fits so perfectly here because sun protection is in everything we do and that is a huge necessity in this beautiful, sunny city!
Fisher: Access to top talent and key opinion leaders in dermatology and aesthetics medicine.
Q: If you were a superhero who would you be and why?
Juncal: Sounds cliché, but Wonder Woman. There aren't that many female superheros, which is a shame, but more specifically her because she was able to strike a balance between power and grace. She's an ambassador of peace that's smart, strong and independent.
Fisher: What do you mean if?
Q: The biggest makeup mistake you see most women make?
Juncal: Wearing the wrong color foundation. Many times women use a darker foundation to look more tan when really they should use a color that matches their skin tone and a bronzer to give tan highlights or women often select a lighter shade trying to tone down pigmentation or imperfections. The best answer to that is to use a primer or correcter product in conjunction with your foundation.
Fisher: Wearing product with dyes, alcohol, mineral oil, fragrance and harsh chemicals. Otherwise, I love to see women experiment with a variety of looks and don't see any of them as a mistake.
Q: The motto you try to live by?
Juncal: "Be kind, everyone you meet is fighting a hard battle"-- Plato. This probably ties back to my psychology background but I think kindness and compassion are essential elements to success personally and professionally.
Fisher: Do some good, have some fun, make a difference.
Q: The first few websites you look at the minute you wake up?
Juncal: Does email count? I immediately jump into my inbox.
Fisher: Google News and Weather Underground. I travel a lot, and it helps me orient to the city that I'm in.
Source: DiscoverSD
---