A cut above
I may be dating myself a bit, but remember that Wendy's commercial from the '80s with three sweet-looking blue-haired ladies examining a hamburger on a table and when more bun than meat is seen, one exclaims with some force, "Where's the beef?!" (If you don't know, YouTube it.) It used to be I couldn't help but think of that very commercial every time I wanted to go out for a steak dinner in San Diego.
Lately, however, beef seems to be in abundance around town (sorry my vegan and vegetarian friends). Steakhouses are popping up left and right and more are still to come. And not only are the carnivorous choices more bountiful, but the level to which they are being elevated is highly noteworthy.
It would be a shame to write about San Diego steakhouses without first giving a nod to the old-school staples. Places like the Red Fox Room, Bully's East and the now-departed Albie's Beef Inn have provided countless quality steak dinners to diners with a full plate of retro vibes. Walk into these places and you can almost still see wisps of cigarette smoke of yesteryear swirling with the dim lighting above red-leather tufted booths.
Some of San Diego's newest steakhouses have gone the way of their predecessors, with luxe seating nestled among rich wood trims and backdrops (see Born & Raised in Little Italy), but many are now choosing to shine a light on steaks with big, open dining areas with nearly floor-to-ceiling windows and large decorative chandeliers (see Del Frisco's Double Eagle Steakhouse on the waterfront or the new Bull and Bourbon at Sycuan Casino Resort, which we cover further here).
To home in on the growing steakhouse movement around San Diego County, here are a few new-school and soon-to-come restaurants to put on your radar.
Cowboy Star, East Village
Cowboy Star opened the door and set the bar for steakhouses in San Diego when the restaurant and butcher shop (that didn't intend on being labeled a steakhouse) opened in the East Village. In a 2016 interview with its trio of owners, Jon Weber explained, "In 2008, we were putting linen on tables when everyone was taking them off and going bistro style." The recipe seems to have worked — very well in fact, as the restaurant pushes on through its 11th year in the ever-evolving downtown neighborhood.
640 10th Ave., East Village, 619.450.5880, cowboystarsd.com
Born & Raised, Little Italy
This swanky, no-expenses spared $6.5 million steakhouse from CH Projects (Polite Provisions, Craft & Commerce) was explained perfectly in a 2017 article from PACIFIC's parent company, The San Diego Union-Tribune, when food writer Michele Parente wrote, "It's where the snazz-o-meter veers off the charts, as the city's most dapper denizens clink martini glasses, toss around bon mots and revel in their good fortune of snagging a reservation at this clubby chophouse."
1909 India St., Little Italy, 619.202.4577, bornandraisedsteak.com
STK, Gaslamp
After much delay, this steakhouse opened on the street-level floor of the Andaz hotel in 2017. The restaurant is part of The One Group, which has STK locations across the country including in Las Vegas, New York City and South Beach. The brightly lit space switches on the fuchsia mood lighting and turns up the music when the sun goes down. Try the dry-aged Delmonico steak here.
600 F St., Gaslamp, 619.354.5988, stksteakhouse.com/venues/san-diego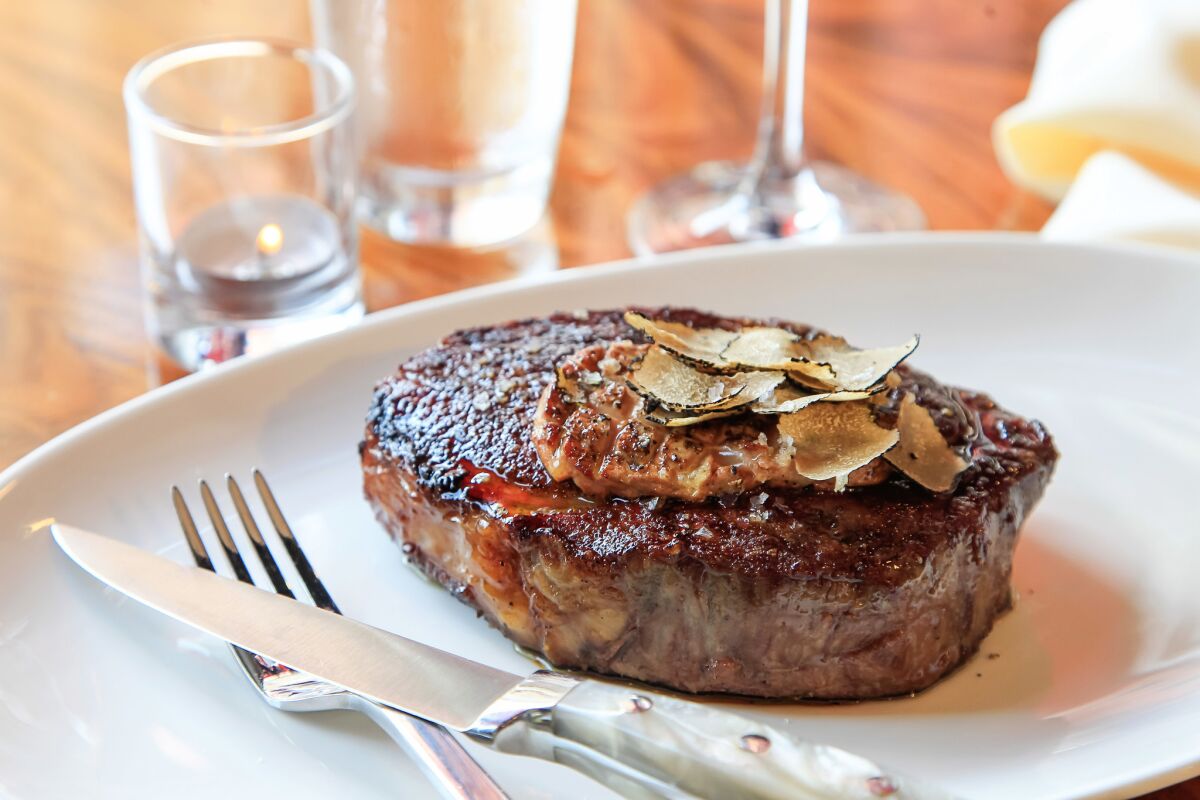 Del Frisco's Double Eagle, Embarcadero
Floor-to-ceiling windows with views overlooking the San Diego Bay is part of the luxe atmosphere at this recently opened steakhouse inside the InterContinental Hotel. The high-end restaurant has several locations along the Eastern Seaboard, throughout Texas and scattered west of the Rockies. The signature dish here is "The Double Eagle" 45-day dry-aged double bone prime ribeye.
901 Bayfront Ct., Suite 105, Embarcadero, 619.272.5060, delfriscos.com/steakhouse/sandiego
Lou & Mickey's, Gaslamp
By no means a newbie to the San Diego steakhouse scene, it's worth a mention that this Gaslamp restaurant, which opened in 2002, recently add a state-of-the-art dry-aging room where steaks will be butchered in-house then aged for up to 60 days.
224 Fifth Ave., Gaslamp, 619.237.4900, louandmickeys.com
The Butcher's Cut Steakhouse, Gaslamp
Filling the space of the short-lived Route 29, this steakhouse is in good company among beef-forward sister restaurants Greystone and Osetra. Open just a short time now, the space boasts tall ceilings with iron and wood accents and plenty of opportunities for private party dining. The menu pulls from San Diego's beer scene with an IPA Top Sirloin Steak on its dinner menu.
644 Fifth Ave., Gaslamp, 619.235.8144, butcherscutsteakhouse.com
Huntress, Gaslamp
San Diego's RMD Group (Side Bar, Rustic Root) will open a "sophisticated steakhouse and whisky society" lead by executive chef James Montejano (formerly of Cardiff Seaside Market). With a planned opening sometime this summer, the restaurant's website promises "every steak goes through a special dry-aging process for mouth-watering texture, and is butter-poached for tenderness before being cooked to perfection using a Japanese Binchotan coal-fired grill."
376 Fifth Ave., Gaslamp, 619.955.5750, huntresssteak.com
Get out and steak your claim!
Leslie Hackett
Sign up for the Pacific Insider newsletter
PACIFIC magazine delivers the latest restaurant and bar openings, festivals and top concerts, every Tuesday.
You may occasionally receive promotional content from the Pacific San Diego.