Fresh air
In addition to being blessed with 72 degrees and sun most of the year, San Diego also boasts some of the most diverse terrain in the country. You can kick off the morning watching the waves crash against the shoreline, have lunch in the tree-lined mountains, then end the day staring in wonder at a star-filled sky in the desert.
And speckled throughout these varied regions are countless trails on which to explore them. I'm not usually one to set forth resolutions that I will inevitably cast aside after the glow of the new year wears off, but this year it must be done. And, to help keep myself accountable, I am putting it here, in writing, for everyone to see.
In 2019, I resolve to spend more time outdoors.
Seems like a pretty simple resolution, right? Well, in a world where I am totally guilty of spending 12-plus hours daily staring at a screen, I find a lot of excuses not to get up from my desk or couch to let the fresh air hit my face.
So, how exactly am I going to make this happen? To get things started I have compiled the following brief list of places and activities to get me out into the fresh air.
4 ways to get outside more
Balboa Park: With all of its gorgeous architecture, diverse gardens and endless people watching, the 1,200-acre park is an obvious choice for enjoying some fresh air. But aside from the main walkways connecting numerous museums, did you know that there is a vast maze of trails that traverse the hills, valleys and plateaus of the area? Five gateways — Marston Point, Park Boulevard, Sixth and Upas, Golden Hills and Morley Field — are the starting point for trails that vary in length from 0.5 to 6.8 miles. To see the full network of trails, go to balboapark.org/enjoy/trails.
5-Peak Challenge: Nestled among the 7,200 acres that make up Mission Trails Regional Park are 65 miles of trails and the City of San Diego's tallest points. Launched in 2015 by park rangers Levi Dean and Heidi Gutknecht, the 5-Peak Challenge encourages explorers to ascend to the summit of five points throughout the park. For those who love trinkets that offer bragging rights, this is your challenge. Participants are encouraged to take a selfie at each summit and submit all five once completed. Upon verification, participants can receive an official 5-Peak Challenge certificate and logo pin. For more details about the challenge, go to mtrp.org/5-peak-challenge.
Lagoons and bays: Mission Bay is an obvious choice for enjoying some salty air, but San Diego County's coastline is also speckled with numerous protected lagoon areas, all of which have designated trails to explore coastal wildlife. One such place is the San Dieguito River Park in Del Mar, which has trails that range from less than a quarter of a mile for a casual stroll up to nearly 9 miles for the more ambitious hiker. Here, the Coast to Crest Trail, which will eventually stretch nearly 70 miles from the ocean at Del Mar to the San Dieguito River's source on Volcan Mountain near Julian, has a variety of offshoot paths. Talk about hitting all the terrains San Diego has to offer! For more info about this network of trails, go to sdrp.org/wordpress/trails.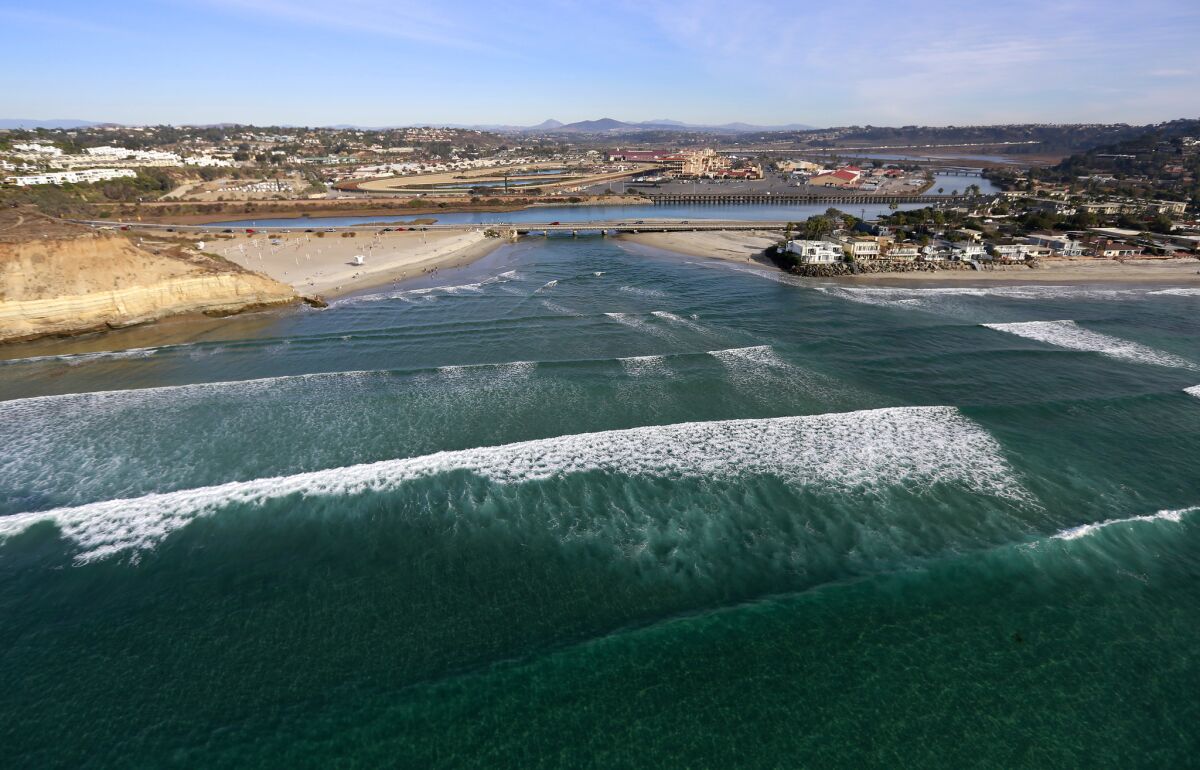 Camping: Some of my favorite childhood memories were centered around the campfire during annual camping trips outside the Lake Tahoe area. Just as diverse as the aforementioned hiking trails, there are San Diego-area camp sites located in every type of terrain as well (plus most also have trails, too). Head to the Laguna Mountains for fresh, pine tree-scented air or Cuyamaca Rancho State Park where hundred-year-old oak trees and a lake await explorers. And don't forget the countless beach campgrounds along the coast, which are great for those who also love to surf. For a list of recommended sites around the county, head to pacificsandiego.com/camping.
As good as this list is to start from, in honor of this resolution, I really want to hear from you, dear reader: What are your favorite outdoor activities around San Diego?
Help hold me accountable and, in turn, hold yourself accountable to disconnecting from the digital world and getting out and enjoying nature and the local beauty of the area a bit more often.
Cheers,
Leslie Hackett
Sign up for the Pacific Insider newsletter
PACIFIC magazine delivers the latest restaurant and bar openings, festivals and top concerts, every Tuesday.
You may occasionally receive promotional content from the Pacific San Diego.