April daters take a spin in Encinitas at CLAY + CRAFT, followed by dinner with wine at Valentina Restaurant
The 1990 movie Ghost gave us many things: It gave us a timeless love story between the luminous Demi Moore and the sultry Patrick Swayze. It gave us Demi's chic boy haircut and Patrick's razor sharp jawline. It gave us an Academy Award-winning performance from the great Whoopi Goldberg, who uttered classic lines like, "You in danger, girl." And it gave us the perfectly normal idea that you could still carry on a romantic relationship with your loved one and solve crimes from beyond the grave — with the help of a skeptical but lovable psychic.
But the movie Ghost also gave us one more thing: one of the most romantic scenes in cinema history. Demi's character Molly sits behind a potter's wheel in the middle of the night, throwing a vase. Patrick's character, Sam, who plays her boyfriend, sidles up behind her, and wraps his arms around her to help, their messy hands grazing the spinning clay as they shape and mold it while the haunting Unchained Melody by The Righteous Brothers plays. It's an almost perfect scene, dripping with chemistry, and it's this energy that we're hoping to bring to tonight's blind date at CLAY + CRAFT, a newly opened pottery studio and gift shop in Encinitas.
Side note: Now, dear PACIFIC readers, I know this film was released in 1990, when many of you weren't even born yet. However, has pottery-throwing been a central romantic theme in any other contemporary film that you can think of? None that I know of. Have two actors smoldered with the same passion and intensity behind a potter's wheel onscreen the way Demi and Patrick did? No. So until Hollywood catches up, this date will continue to be compared to Ghost. Also, go watch Ghost. It's a classic!
Let's get back to the date: Tonight's Blind Daters are Carina, a vivacious and impulsive dog-lover who works in tech marketing, and David, a fit South African finance guy who's also an avid cricket player. These two singles are willing to risk it all for a chance at love — literally. This blind date took place during the second week of March, just before coronavirus quarantines started. But nothing could stop these two in their quest for love!
An Epic Limo has picked up the two and transported them to Encinitas for an evening of pottery throwing and a romantic dinner for two. They haven't been told what their date activity will be, only that they shouldn't wear anything they wouldn't mind getting a little dirty.
Before we find out if these two will make a masterpiece together or if there are some cracks in their potential relationship, let's get to know them better via their pre-date interview.
Where are you from and where do you live now?
CARINA: I'm originally from the Bay Area, a small-ish town called Walnut Creek. I moved to North Park by way of L.A. about five years ago. I've been in love my little 'hood ever since!
DAVID: I grew up in South Africa and moved to San Diego with my family when I was 16. I am still South African at the core, and I still have an accent. (Laughs) The South African accent was recently voted the second sexiest accent in the world, only behind the New Zealand accent, but we are the current rugby world champions so we have that over them. I live in UTC these days.
What do you do for a living?
CARINA: I work for a large tech company doing product marketing.
DAVID: Finance and accounting at a biotech company.
What's your Instagram handle?
CARINA: @cococarina3
DAVID: @davidpieters75
How long have you been single?
CARINA: Since the end of last summer.
DAVID: Around two years now.
Currently, what dating apps can be found on your phone?
CARINA: Hinge.
DAVID: (Laughs) Bumble is probably the only consistent one I log in on.
Where can you be found on the weekends?
CARINA: Working out, at the beach, cooking, at a dog park or checking out some of San Diego's cool pop-up events that are always happening. It's also pretty likely that I'm out of town (I'm a bit of a travel/adventure junkie).
DAVID: Definitely the gym in the morning and out with friends at night.
What are you best at?
CARINA: Making simple things fun, creating adventures out of the mundane.
DAVID: Caring about other people and being inclusive.
What do you suck at?
CARINA: Researching! I have a bit of an "it'll all work out" attitude in life, so I tend to not research or look into things much — less thinking, more doing! Plus, it leaves room for spontaneity.
DAVID: Pop culture.
What are you looking for in a date, physical or otherwise?
CARINA: Someone to have fun with, who is up for anything. Someone easygoing and who is active — it's hard for me to sit still for too long.
DAVID: Someone who is active and fit and complements it with a good personality.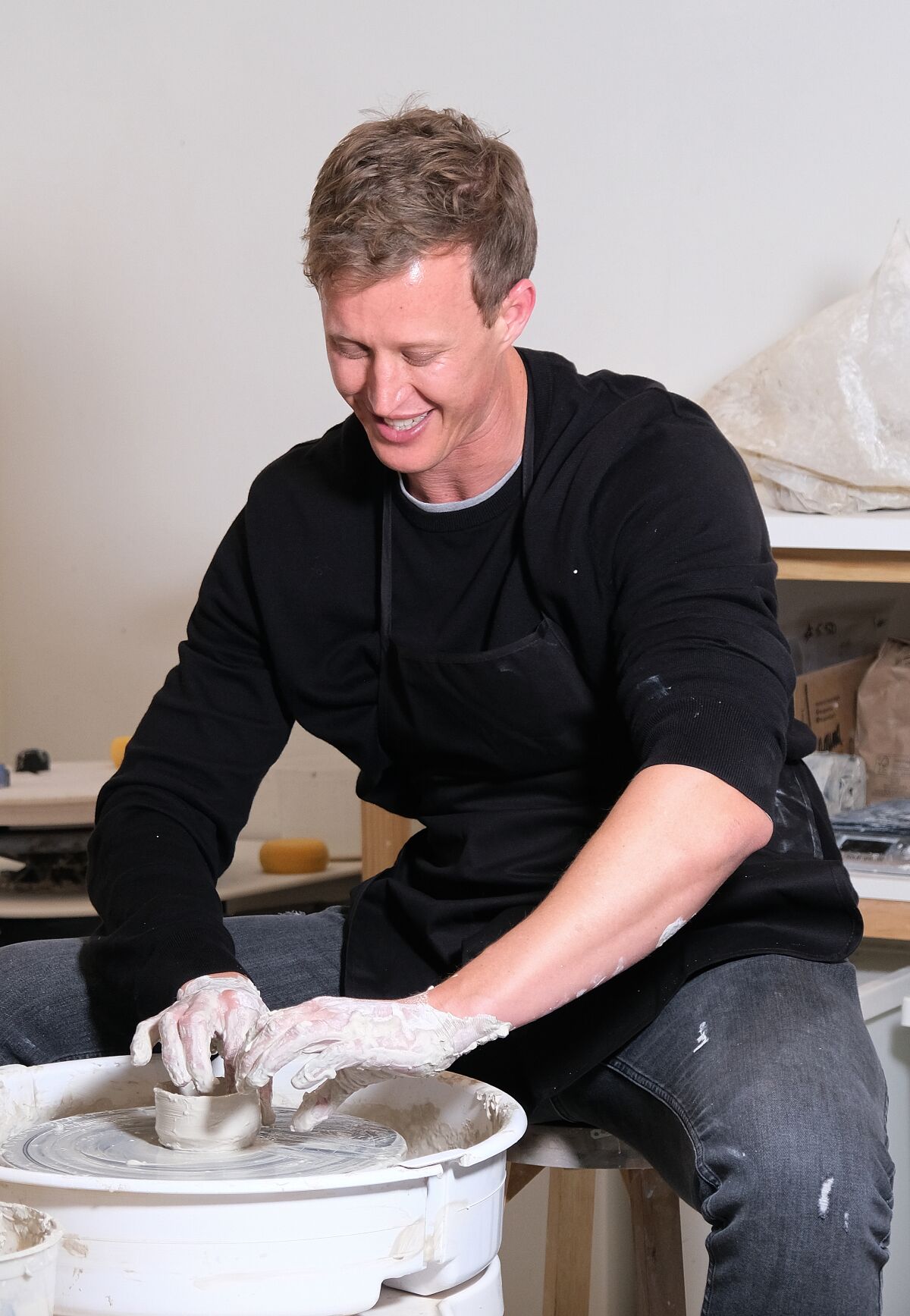 Why do you think you'll be a good date?
CARINA: I'm a social butterfly, so things don't usually get too awkward and I should be checking off my 30th country this year (**shakes fist at coronavirus**), so I'm sure we can find something to talk about!
DAVID: I'm a different breed, I guess.
Describe your special brand of sex appeal in a tweet.
CARINA: Free spirited & feisty — ready for all sorts of adventures ;)
DAVID: Is this referring to how I'd advertise myself in a tweet? I would tweet Ah Zabenya (the song from The Lion King) or play the song itself out to the girls.
Rate yourself on a scale from one to 10 for looks.
CARINA: I think there's so much more to me, and everyone, besides what you offer on the outside. If you're going twist my arm, I'd say a nine — I love the way I look, but nobody's perfect.
DAVID: Seven/eight.
Rate yourself on a scale from one to 10 for personality.
CARINA: (Laughs) Hmm, I'm humble so I'll say 9.5!
DAVID: Eight/nine.
What's your cocktail of choice?
CARINA: Depends on the vibe really. Usually a really fresh margarita hits the spot or big ol' glass of wine.
DAVID: Gin and tonic.
What's a total deal-breaker on a date?
CARINA: Smokers! Or worse, they don't like dogs!
DAVID: Someone who is inconsiderate.
Fill in the blanks: I want my date to be "blank" and "blank."
CARINA: Authentic and funny.
DAVID: Fun and outgoing.
Will the night end with a kiss, something more or something less?
CARINA: I'm no fortune teller, we'll see how it goes?!
DAVID: It all depends, let's see where the night goes, but a kiss or more would be a cherry on top for sure.
By the looks of their pre-date interview, these two have a little in common, like being active and into fitness. Carina seems pretty spontaneous, and she's hoping for a partner who is also. David describes himself as a "different breed" with the world's second-sexiest accent, while Carina notes that she is a social butterfly who never lets things get too awkward.
We'll be testing that on this date tonight, since, let's face it, first dates can sometimes be awkward.
David and Carina have just arrived at CLAY + CRAFT, a pottery studio and gift shop owned by Nicole Novena. After the daters pose for some photos outside, Nicole gets them acquainted with her space. It's cozy and filled with all of Nicole's creations for sale, including mugs, wine carafes and glasses, ornaments and more, plus there's a workspace with two pottery wheels. The studio is calming, and the soundtrack of Vance Joy, Led Zeppelin, Florence + The Machine and The Black Keys matches the vibe.
Carina and David tie on some aprons (Carina even thoughtfully steps in to help David tie his when he has some trouble) and are seated for a quick lesson from Nicole, who goes over the various steps, including wedging the clay, then centering it on the wheel and pulling the edges when it's ready to be formed. It's an intricate art and it looks much easier than it actually is. It takes muscle and some concentration as well.
After the rundown, Nicole steps aside and the daters are seated behind pottery wheels of their own. Unfortunately, the studio isn't big enough for David to sit behind Carina, a la Patrick and Demi, but since David says he sucks at pop culture, he probably wouldn't get that reference anyway.
The daters are focusing intently on the clay, and Carina takes to it a little faster than David. She breezily handles the clay, throwing two different types of bowls and only getting a little bit of clay on her jeans. David has a bit of trouble, but seems up to the challenge. It's a somewhat intimate experience, with the wet clay and dirty hands and whatnot. In the end, they both create two different pieces, which they'll be able to pick up in a couple weeks after Nicole trims, fires, glazes and paints them.
But what about our daters' connection? It's still a little soon to tell what they're feeling, although they seemed very at ease during their session, playfully teasing each other over their pottery-throwing skills and sweetly encouraging one another.
Let's see if they can keep the momentum going through dinner.
Seize the Clay
Daters wine and dine at new bistro
David and Carina have cleaned up after their pottery-throwing session and they've worked up an appetite after an hour behind the wheel. Lucky for them, Valentina Restaurant is right next door. Valentina is described as a casual neighborhood bistro and wine bar where the menu is "an eclectic mix of seasonal plates [that] has been inspired by the owners' passion for travel, reflecting the style of the classic bistros of Mexico City, Spain and France." It's a rainy night and the daters are tucked inside at a comfortable, candlelit table.
But before they're able to satisfy their appetites, we separate them for their mid-date interviews.
How's it going so far?
CARINA: It's going good. I'm really enjoying it. He's really nice and easy to talk to. The clay thing was really cool. I liked it a lot.
DAVID: It's been good, it's been a lot of fun so far. Met her in the car, had a good chat on the way over. I had a drink and a half, I think. (Laughs) I asked her not to judge me. She's like, 'No, you're fine.' So we got to know each other a little bit in the car. And then we were both excited for the activity. We kind of figured it out a little bit on the way over here.
At first glance, would you swipe right or left on your date?
CARINA: Right.
DAVID: Yeah, I probably would have swiped right.
Is this the type of person you'd normally date?
CARINA: (Quickly) No. He's totally attractive, but not my usual type.
DAVID: (Hesitates) Yeah, maybe. I'm not so sure. That's a tough one. I don't think she's 100 percent my type, but she is fun and outgoing, which I like. I don't think, if I were to bump into her, I would go for her necessarily.
How has your experience at CLAY + CRAFT been?
CARINA: Super good, I liked it. I'll probably be back. Probably on my own. It's really mesmerizing. And then the competitive part of me is like, 'I want to go back and get this.'
DAVID: It was amazing, it was a lot of fun. Just both of us being in the zone and enjoying our time there and just learning something for the first time — that was a great experience.
What's the most attractive thing your date has done so far?
CARINA: He's been a good sport about the clay. It didn't turn out so well, but he was really patient and persistent about it. He doesn't take things too seriously.
DAVID: (Laughs) Seeing her working the clay was good. Also when she helped me put on my apron.
What's the least attractive thing your date has done so far?
CARINA: Nothing. Everything's been fine.
DAVID: No, there's nothing that was least attractive.
Rate your date on a scale from one to 10 for looks.
CARINA: I don't believe in that.
DAVID: I would say seven-and-a-half.
And for personality?
CARINA: Nine.
DAVID: She has a good personality. Eight.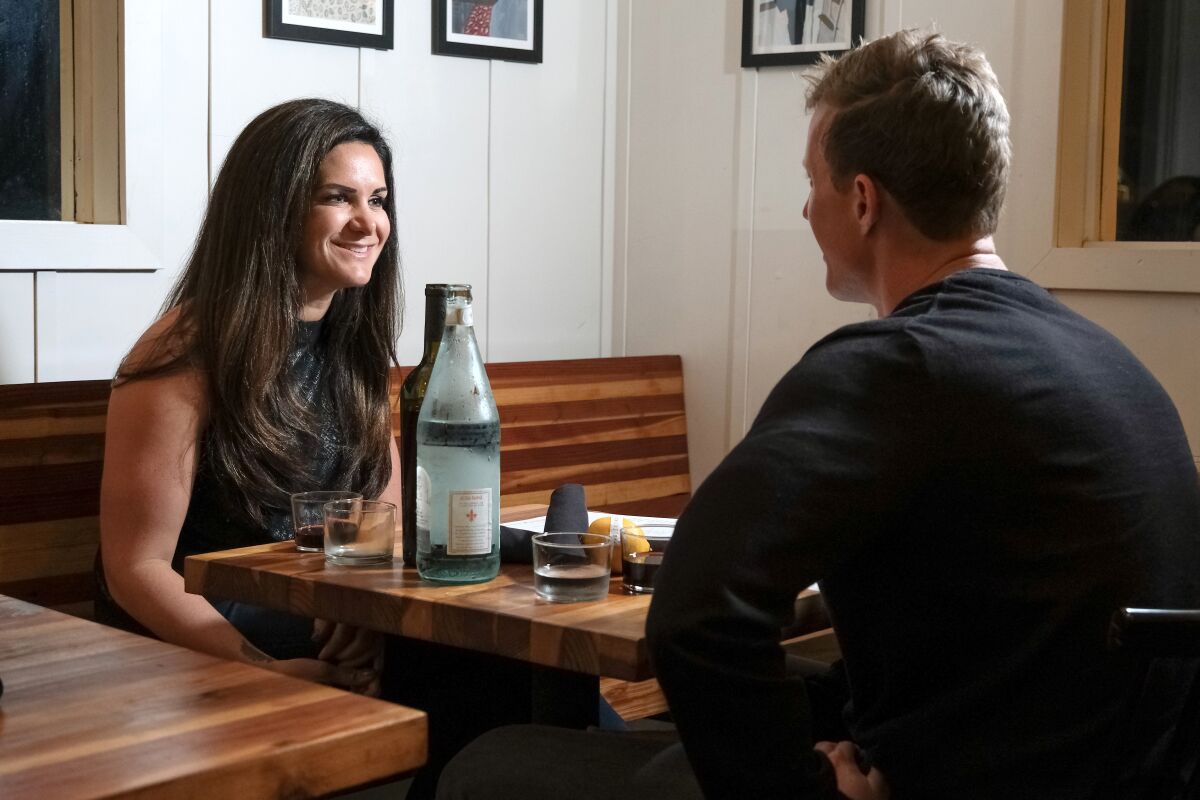 What's your date's most attractive physical quality?
CARINA: He's tall and he's blonde. He's like a little surfer boy. Oh, and his accent's cute.
DAVID: Her eyes.
What's your date's least attractive physical quality?
CARINA: I don't have one.
DAVID: I don't want to answer that.
Do you want to kiss your date right now?
CARINA: No, not right now.
DAVID: Right now? Probably not right now. But there's potential.
Does your date want to kiss you?
CARINA: Um, I don't know. We were just playing with clay, so I don't think I did anything super sexy.
DAVID: Not right now.
Is this someone you'd take home to mom, or just take home?
CARINA: I don't know. I mean, he's a respectable human. I would take him home to mom.
DAVID: She's a good person. She has [mom potential].
How and when will the date end?
CARINA: I don't know. We'll see.
DAVID: She's fun to be around, but I'm not sure how and when it's going to end. We'll have dinner and see what happens after that.
It seems like David and Carina aren't quite sure what page they're on tonight. While they are physically attracted to each other, they both admit that the other isn't quite their type. They're both a little vague about why as well. But David said Carina's, um, clay-making skills were attractive, while Carina says his good attitude about his less-than-perfect pots made her like him more. Just not enough for her to want to kiss him, and vice versa. Carina doesn't think she's done anything "super sexy" while throwing the clay, but she'll be pleased to know that David likely thinks the opposite.
This isn't exactly Patrick and Demi-level chemistry, but maybe they need a little wine and some food to loosen things up.
A seafood appetizer at Valentina in Encinitas
(Misael Virgen/PACIFIC Magazine)
A meat entree at Valentina in Encinitas
(Misael Virgen/Misael Virgen/PACIFIC Magazine)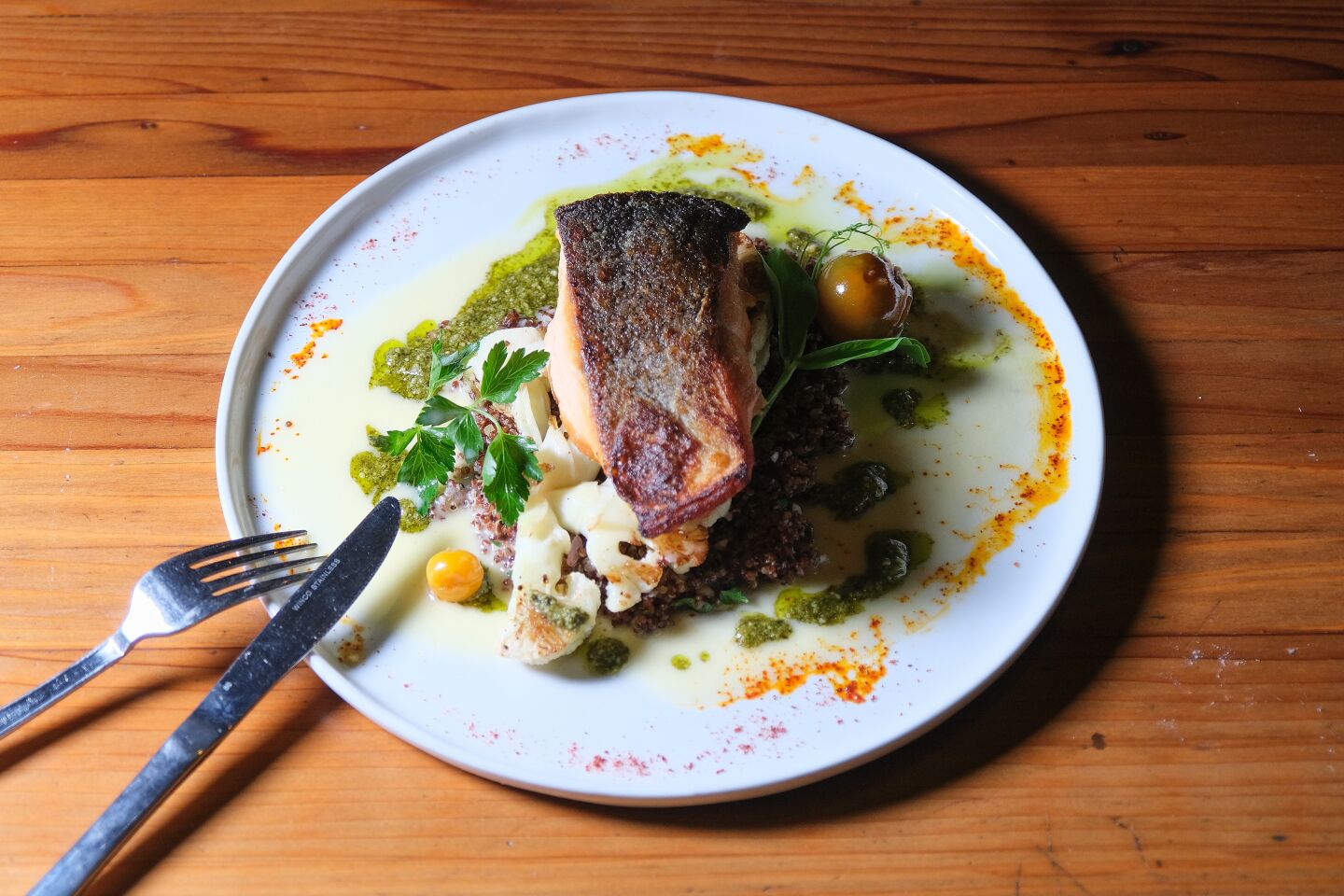 A fish entree at Valentina in Encinitas
(Misael Virgen/Misael Virgen/PACIFIC Magazine)
The two order a bottle of red wine and the pulpo and papas appetizer (octopus and potatoes with olive oil and paprika) to start. We're guessing adventurous Carina picked that one out.
For their main courses, David picks the braised lamb shank with creamy-cotija polenta, spring vegetables and jus, while Carina goes for the salmon with roasted cauliflower, quinoa and cashew pesto. Both daters rave about the food and it looks like they're really hitting it off during their dinner.
The PACIFIC crew finally says goodbye to these two potential lovers and leaves them to finish their dinner alone.
Gone to Pot
Daters go home empty-handed
After a romantic evening of throwing pottery and dinner at a cozy bistro, we're hoping our daters went home with a little bit more than just some clay-stained clothes. We check back in with them the next day to see how the rest of their night went.
How did everything go last night?
CARINA: It went really good.
DAVID: It was a lot of fun. We had a good time. While I don't think there was a spark, but yeah, it was still a good time.
Where did you go and what did you do for the rest of the evening after dinner at Valentina?
CARINA: We just went home. I work out pretty early, and he still had to go to work the next day.
DAVID: So, after dinner, I was still open to do something else, but I asked her if she wanted to do anything, and she was like, 'No, I think I'm just going to go home. I need to go check on my fur baby.' So she had to go home to her dog. We just called the limo, got in the car and were driven home. Even in the car on the way back, we had another Corona Seltzer and kept chatting and joking. It was fun. We were joking around quite a bit there at the end. Definitely got to know her pretty well, and I think vice versa.
Did you guys exchange numbers?
CARINA: He got my number, yeah.
DAVID: Yeah, I got her number in the car on the way back. Before I got out, I was like, 'Let me grab your phone number.' She gave it to me and said, 'We'll chat soon,' but I haven't texted her.
Was there any kind of hook-up or romantic exchange?
CARINA: Nope, just a hug goodbye.
DAVID: No, there wasn't. Just a hug at the end. (Laughs) We had a few high fives at dinner.
What was the best part of the date and why?
CARINA: The best part of the date was at dinner. Just really getting to finally talk and get to know him. He's actually good at cricket. He plays on an L.A. team, so he was explaining everything to me about cricket.
DAVID: I would say all of it was good. The activity was really fun. Making the clay. But then also, dinner was fun as well. We shared each other's food, we gave each other a bite. Overall, it was good. I had a good time.
What was the worst part of the date and why?
CARINA: I don't think there was a worst part of the date. (Laughs) Maybe getting clay on my jeans?
DAVID: That's also a tough one. Not to blame her for anything, but it felt like she was a little uncomfortable with the camera, not that that was the worst part of the date.
Will there be a second date? Why or why not?
CARINA: I don't know, we'll have to see if he asks for one. He got my number. I don't know, I think there will be, maybe. But yeah, I don't know. If there was, I'd be open to it.
DAVID: I might text her to hang out, but I don't think there will be anything more than that, to be honest.
Do you have any dating tips for your date?
CARINA: No, I think he was himself, which is the most important part. Being authentic to who you are, so people really get to know you. I wouldn't tell him to change anything.
DAVID: No, she's experienced. If I had to give any advice, it would just be, I was just kind of surprised when she said she just wanted to go home. If she wasn't into me, then I get it. But if she felt like this could go somewhere, then I would just be more open.
Any final thoughts, parting words, shout-outs or anything else to add?
CARINA: I would just say, stay open to all aspects of life. Because I met Colleen [the PACIFIC matchmaker] at a Valentine's Day singles workout, and even though nothing came from the workout, this came from the workout, so you never know what life's going to bring you.
DAVID: I just want to thank PACIFIC for making the experience happen. It was really fun. It was a good time. Not quite the girl, but still a good time.
We're scratching our heads on this one, dear readers. Seems like David is, too. Even after they risked spreading germs by sharing bites of each other's meals, Carina still decided that her fur baby was top priority. Maybe she just wanted to practice some social distancing — away from David?
David was surprised that Carina declined to hang out after dinner, especially after he felt like they were starting to hit it off. Even after getting to know each other better in the car back home, the night only ended with a friendly hug (not even a high five).
David says he got her number, but hasn't texted her yet (maybe he's afraid of getting Ghost-ed). And Carina says she'd be open to another date, but he needs to ask. It seems like some signals may have gotten crossed here. While it seems like these two won't be hanging out romantically again, they do need to go back to CLAY + CRAFT to pick up their finished pieces.
Maybe another spin around the potter's wheel would spark some romance? We may never know.
In the meantime, if you're stuck at home for a while, watch Ghost and, instead of thinking of David and Carina and their romance that never was, let Patrick and Demi's classic love story keep you warm until we're allowed to go outside again.
Editor's Note: Daters' answers may have been edited for length and clarity.
Special thanks to and promotional consideration from:
---