Blind date: Ice to meet you
December Blind Daters skate around the edges of romance at Liberty Station.
San Diego winters can be brutal. The days are shorter. It's freezing, with daytime highs sometimes barely breaking 65 degrees. We have to wear coats. It might even rain. Which is why, during the winter months, most people prefer staying indoors, where all they need is a warm blanket, a roaring fire in the fireplace (even candles will do), a cozy cocktail and a Netflix subscription.
That can get lonely, though, so why not try to find a partner during "cuffing season?"
With this in mind, PACIFIC set out to save two singles from another cold winter alone. Meet Logan, a man who knows his way around (and behind) a bar, and Katlyn, a sassy native who's looking to heat things up.
We met Logan on our November blind date at The Guild hotel, where he worked as the hotel's beverage manager. Logan eyed the situation and gamely offered to participate in the next date, showing the kind of blind confidence we look for in a dater.
Which leads us to our current date: Logan and Katlyn have met for the first time in an Epic Limo that's about to shuttle them to their first destination: pre-date cocktails at Moniker General in Liberty Station.
But before things warm up, let's get to know the daters better via their pre-date interviews.
Where are you from and where do you live now?
KATLYN: Born and raised in San Diego. I currently live in Kensington.
LOGAN: Vernalis, Calif. I currently live in Golden Hill.
How old are you?
KATLYN: 31 years old.
LOGAN: 32 years old.
What do you do for a living?
KATLYN: I work for a digital marketing agency.
LOGAN: Beverage manager at The Guild Hotel.
What's your Instagram handle?
KATLYN: @missconnolly
LOGAN: @loge_a_saurus
How long have you been single?
KATLYN: About a year.
LOGAN: About 10 months.
Currently, what dating apps can be found on your phone?
KATLYN: None. I'm taking a sabbatical.
LOGAN: Hinge.
Where can you be found on the weekends?
KATLYN: Either gallivanting on rooftop bars with my fabulous girlfriends, or sucked into a Netflix true crime documentary on my couch.
LOGAN: Working — industry life.
What are you best at?
KATLYN: Spending money.
LOGAN: Making cocktails/golf.
What do you suck at?
KATLYN: Remembering to blow out my candles before I leave the house.
LOGAN: Anything artistic.
What are you looking for in a date, physical or otherwise?
KATLYN: A handsome gentleman who is unapologetically himself, appreciates good sarcasm and doesn't take himself (or the date) too seriously.
LOGAN: Physical?!?
Why do you think you'll be a good date?
KATLYN: I can keep up, and have no problem having the best damn time while doing so.
LOGAN: Confidence.
Describe your special brand of sex appeal in a Tweet.
KATLYN: Sassy & classy.
LOGAN: I don't Tweet.
Rate yourself on a scale from one to 10 for looks.
KATLYN: 10. I'm my biggest fan. My heart, soul and ass are on point.
LOGAN: 4.634.
Rate yourself on a scale from one to 10 for personality.
KATLYN: 11. Ain't another out there quite like it.
LOGAN: 5.872.
What's your cocktail of choice?
KATLYN: Skinny margarita. (Three limes, please.)
LOGAN: Tequila.
What's a total deal-breaker on a date?
KATLYN: If our energy doesn't align. If it feels forced, it's not for me. (I may or may not have climbed out of the back door of a restaurant on a bad date once before.)
LOGAN: Don't be mean to others.
Fill in the blanks: I want my date to be "blank" and "blank."
KATLYN: Spicy and spontaneous.
LOGAN: Non-nervous and fun.
Will the night end with a kiss, something more or something less?
KATLYN: No, but the second will (insert awkward wink).
LOGAN: Anything is possible.
Just based on these answers, it's clear that Katlyn and Logan need each other this winter: Katlyn needs someone to make her a cocktail while she's bingeing true crime docs on her couch this winter (and also to remind her to blow out her candles). And Logan needs Katlyn to help him with his Twitter and also hang out with him when he's not working crazy industry hours.
Before Katlyn jumps out a back window, let's jump back into their date, shall we?
On Thin Ice?
Daters cool down at the rink
Katlyn and Logan settle in for some pre-date cocktails at Moniker General in Liberty Station. Moniker General is a storefront that combines retail, coffee and cocktails all under one roof. Katlyn decides to try the Sunday Candy, a blend of grapefruit liqueur, Tito's Vodka, lime and sparkling rosé. Cocktail expert Logan decides that the St. Lucy's Passion — a special seasonal cocktail made with cinnamon whiskey, bourbon and Demerara syrup mixed into a chai latte — will get him into the spirit.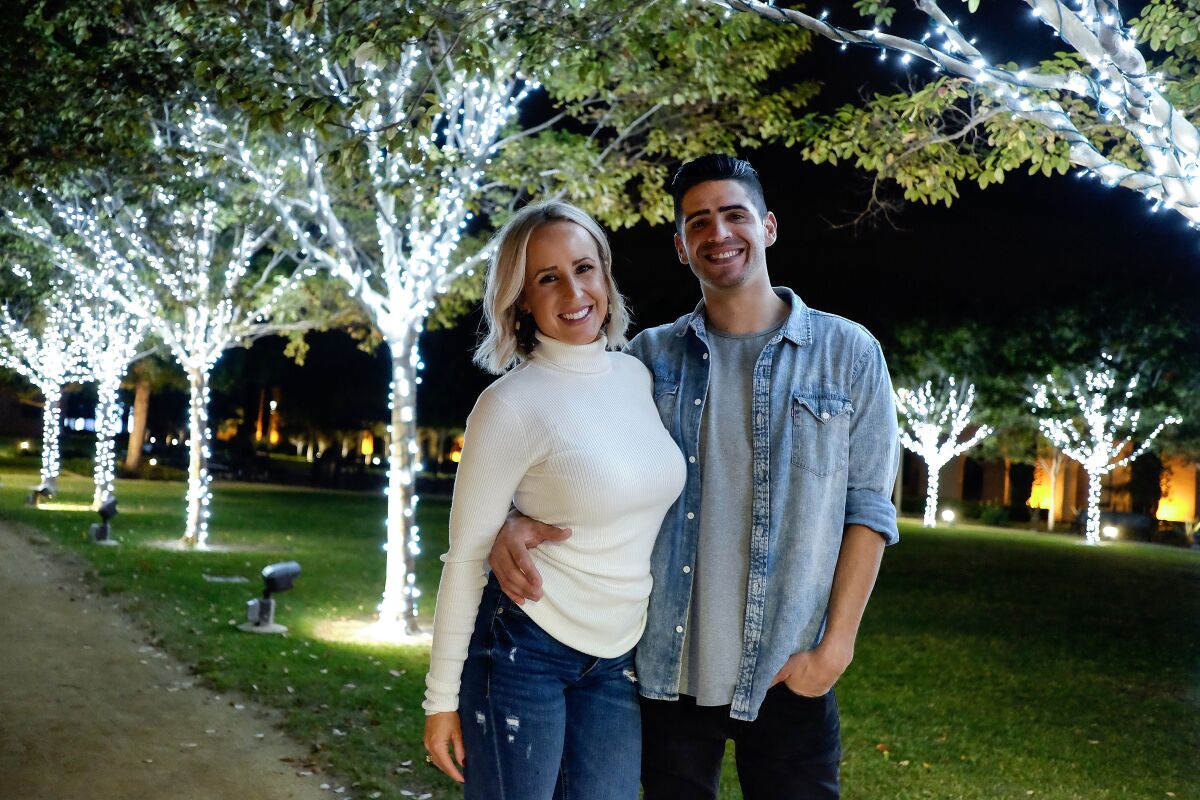 After a couple of cocktails, the daters walk to the nearby Rady Children's Ice Rink. Liberty Station is decked out for the holidays. The trees are wrapped in bright white lights, which makes for a perfect photo opp. The ice rink technically isn't open to the public yet, but they agreed to open up especially for our daters for a private skate sesh. It's a holiday miracle!
Logan and Katlyn start lacing up their skates, but Logan quickly breaks one of this laces. Hopefully this isn't a precursor to how they'll do on the ice, or how this date will turn out. Logan gets a replacement skate and soon, he and Katlyn are whizzing around the rink like expert skaters.
They aren't exactly skating in sync, but they do hold hands while rounding the corners.
Katlyn is the only one to take a fall on the ice, but Logan is there to pick her right back up. They're loving every minute of it, with the lights and the speakers blasting Christmas classics like Mariah Carey's All I Want for Christmas is You and Wham!'s Last Christmas adding to the magic of this date.
After they've worn themselves out skating, we separate Katlyn and Logan for their mid-date interviews.
How's it going so far?
KATLYN: It's going really well. I'm having a blast. I really am.
LOGAN: It's going good. I've never been on a blind date, let alone one for a magazine, so it's been going good.
At first glance, would you swipe right or left on your date?
KATLYN: I would have swiped right.
LOGAN: Right's the good one? I haven't been on Tinder in a long time. Right, for sure. She's pretty.
Is this the type of person you'd normally date?
KATLYN: (Pauses) No…
LOGAN: No. She's very well-dressed. I've dated all kinds, but seeing each other in a bar, I'd probably think she wouldn't be into some tatted-up guy.
How has your experience at the Rady Children's Ice Rink been?
KATLYN: It's been so fun. It's very Christmas-y, Mariah Carey is on, I'm in ice skates.
LOGAN: That was epic. It reminded me of Billy Madison.
What's the most attractive thing your date has done so far?
KATLYN: He picked me up off the ice when I fell down. That was very attractive. Besides the lower hand grab that he does when he escorts me into any room. I love that. I think that's sexy.
LOGAN: Made me laugh. That's the key right there.
What's the least attractive thing your date has done so far?
KATLYN: I don't know, I don't have an answer for that.
LOGAN: Honest to God, having cameras around, it's a little awkward. It's a nice warmup, it's not a full first date. It's a nice warmup.
Rate your date on a scale from one to 10 for looks.
KATLYN: Eight.
LOGAN: Seven.
And for personality?
KATLYN: I give him a nine. He has a good personality.
LOGAN: Eight.
What's your date's most attractive physical quality?
KATLYN: It's a mix between his tattoos and his teeth. He has really good teeth.
LOGAN: Her smile.
Do you want to kiss your date right now?
KATLYN: Maybe.
LOGAN: Right now? No.
Does your date want to kiss you?
KATLYN: Yes.
LOGAN: No.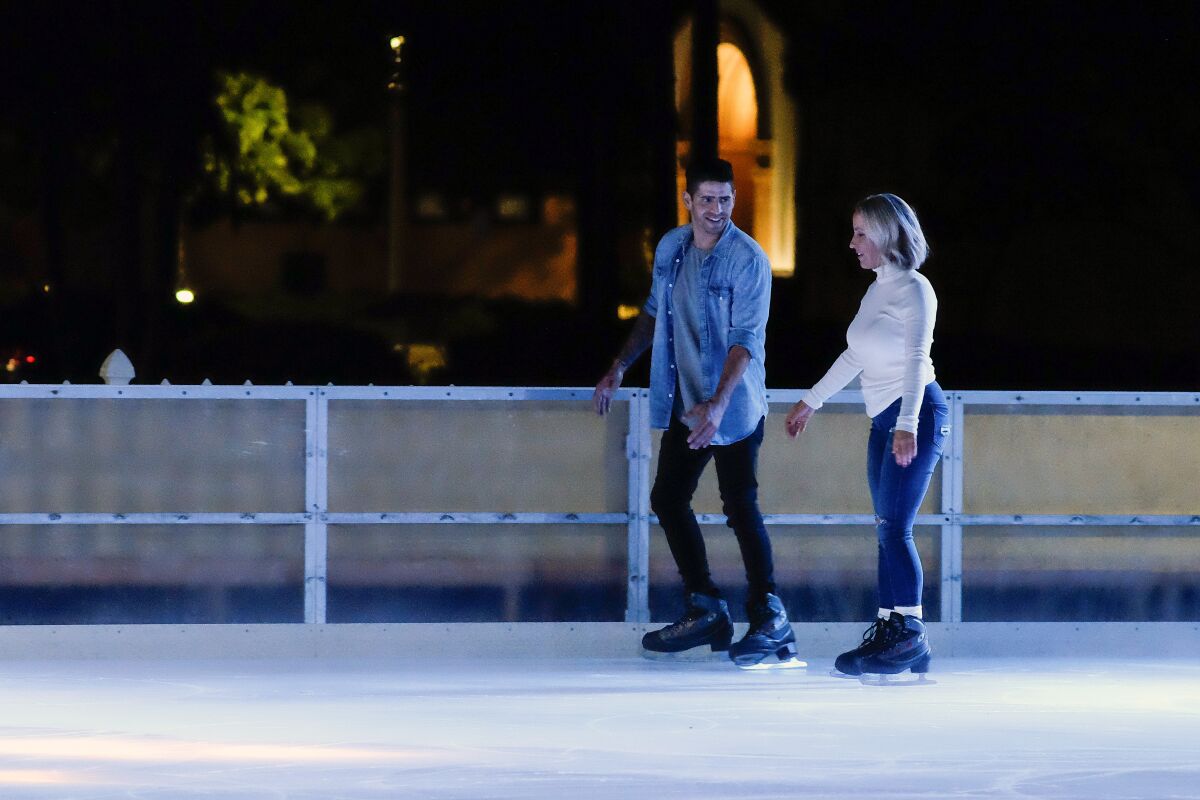 Is this someone you'd take home to mom, or just take home?
KATLYN: I think I would take him home to mom.
LOGAN: She seems like someone I could take home to mom.
How and when will the date end?
KATLYN: The sky's the limit, baby.
LOGAN: I think we still have another half to go, so we'll see.
Katlyn and Logan are having a blast on the date and enjoyed skating around the rink like they were kids again. They can't stop laughing, which is good, since Logan says that Katlyn's sense of humor is the most attractive thing about her and Katlyn says Logan's teeth are his most attractive physical quality. And while they both think this is someone they could potentially take home to mom (maybe next Christmas?), Logan's having a little trouble warming up to the cameras and the presence of the PACIFIC crew.
But he shouldn't worry because before Logan knows it, they'll be left alone for a cozy Italian dinner for two.
Cold Feet
Blind date freezes over
The daters are still in good spirits as they walk toward dinner at Officine Buona Forchetta. The Liberty Station location is the second iteration of the famed San Diego restaurant, following the original in South Park. It's known for Neopolitan-style pizzas served in an authentically Italian environment.
Katlyn and Logan are given the entire back patio to enjoy their dinner. They're immediately served prosecco, and their meal starts off with artichoke hearts, followed by an Angelica pizza for her and a calzone for him (and more wine, naturally).
The conversation is flowing and before long, the PACIFIC crew leaves the two to enjoy the rest of their evening. We checked in with them the next day to see where things stood.
How did everything go last night?
KATLYN: It was so much fun.
LOGAN: It was fun. I had a good time. Good company.
Where did you go and what did you do for the rest of the evening after Officine Buona Forchetta?
KATLYN: We chatted on the patio alone, and then we went home. I had an early day.
LOGAN: We hung out for a little bit longer and then we went to her house and then I went home after.
Did you guys exchange numbers?
KATLYN: Yes, we did.
LOGAN: We did. I got her phone number.
Was there a kiss or romantic exchange?
KATLYN: No, there wasn't. I don't even think I hugged him, I don't know.
LOGAN: No, nothing like that.
What was the best part of the date and why?
KATLYN: Best part of the date was ice skating because we had the whole rink to ourselves, which was pretty cool.
LOGAN: Ice skating was pretty cool. It was fun. It reminded me of Billy Madison, like I said earlier. It was great.
Will there be a second date? Why or why not?
KATLYN: I didn't get the romantic vibe, but Logan was a ton of fun to hang out with.
LOGAN: I don't think we're going to have a second date. I might reach out later, but besides having jokes, there wasn't much time to really get intimate. So I don't think there will be a second one. Great company, though. It was not a bad night.
Any final thoughts, parting words, shout-outs or anything else to add?
KATLYN: Shout out to PACIFIC magazine for having me on the date. I've always wanted to do it and I'm glad I did. I had a blast.
LOGAN: Thanks for the whole night. It was a great experience.
It's hard to be mad at a date where the daters enjoyed each other's company, but didn't spark any romance. Katlyn and Logan both loved ice skating and managed to do so without any major injuries. And even though these two daters won't be cuddling up this winter, we hope they at least went home with their bellies filled with pizza and a little more holiday spirit than before.
So let's raise a glass to another cuffing season in San Diego. We hope you find your own seasonal relationship, and that all you good boys and girls get exactly what you want this year. Cheers!
Editor's Note: Daters' answers may have been edited for length and clarity.
Special thanks to and promotional consideration from:
EPIC Limo: 858.270.LIMO (5466), epiclimo.com
Moniker General: 619.255.8772, monikergeneral.com
Rady Children's Ice Rink: 619.221.1970, radyfoundation.org/icerink
Officine Buona Forchetta: 619.548.5770, officinebuonaforchetta.com
Matchmaker Colleen Perone: naturalselectionsd.com
Sign up for the Pacific Insider newsletter
You may occasionally receive promotional content from the Pacific San Diego.