Blind Date: A Perfect Pair
November Blind Daters sample wines (and each other).
Stop me if you've heard this one: A personal trainer and a chiropractor walk into a wine bar on a Wednesday evening, hoping for a connection, preferably of the romantic variety. OK, so there's no punchline to this joke, but it turns out, this month's blind daters are full of laughs, and they both have a great sense of humor about themselves, each other and this crazy little thing called a PACIFIC magazine Blind Date.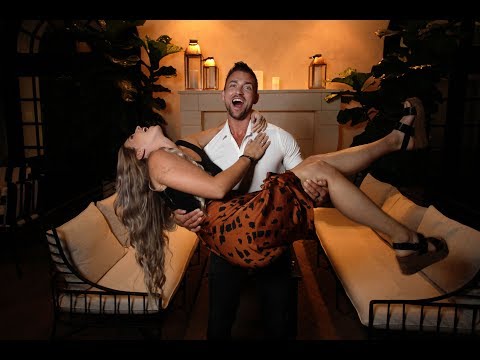 Meet Austin, a personal trainer who's looking for something authentic, and Vince, a chiropractor who thinks he might have the magic touch. Austin and Vince meet for the first time in an Epic Limo that doesn't have very far to go before dropping them off at their first destination: Pali Wine Co., a gem of a wine bar in Little Italy that happens to be just steps away from Vince's house.
It's a perfect night and the scene at Pali Wine Co. is set for romance: twinkling lights are strung on the bar
's rooftop patio, and a romantic table for two is waiting for our daters.
Will these two find out they pair best with each other? Before we uncork this bottle, let's get to know them a little better via their pre-date interviews.
Where are you from and where do you live now?
AUSTIN: I am from Madison, Wisconsin (go, Pack, go!), and currently live in Hillcrest, baby!
VINCE: Alaska à San Diego (Little Italy).
How old are you?
AUSTIN: I just turned 28, but in reality, I feel like I'm 15 going on 67.
VINCE: 31.
What do you do for a living?
AUSTIN: I am the head trainer at a functional (fitness) training studio.
VINCE: Chiropractor. [I] own my [own] clinic in Point Loma.
What's your Instagram handle?
AUSTIN: @austin.muchacha
VINCE: @drvincesd
How long have you been single?
AUSTIN: I have been single for almost three years now. The hustle never sleeps, so dating has not been a main focus for me these last few years.
VINCE: Three years.
Currently, what dating apps can be found on your phone?
AUSTIN: (Laughs) Eeeeek, Bumble. I was determined to be rid of dating apps forever a few months ago … and three days ago, I got bored.
VINCE: Hinge.
Where can you be found on the weekends?
AUSTIN: At the gym lifting or coaching a class in the mornings, and then afternoons either hiking, cooking, drinking coffee and eating acai bowls, watching movies and cuddling with my roomie's dog or out and about with friends. Once in a while, I like to shake what my momma gave me and honestly with how extroverted my job is, sometimes I need a weekend day to recharge alone (as much as I love people!).
VINCE: Beach, gym, hiking, dinner and drinks with friends.
What are you best at?
AUSTIN: Connection and being authentically me.
VINCE: Healing people and cooking!
What do you suck at?
AUSTIN: Leaving my comfort zone routinely. My anxiety tends to control my life sometimes.
VINCE: Questionnaires about myself make me cringe.
What are you looking for in a date, physical or otherwise?
AUSTIN: I have to say, the tall dark and handsome thing does it for me. But outside of that, a genuine, funny, outgoing, smart human who loves life and will accept me for all that I am, including my highway-driving anxiety, grandma tendencies and ability to sweat super easily.
VINCE: Someone who is fit, healthy and has similar values.
Why do you think you'll be a good date?
AUSTIN: I really love to connect with people. No matter what, there is so much beauty in meeting new humans and learning their story. I also love to laugh and have fun in any scenario, even one as awkward as getting set up on a blind date for a magazine article.
VINCE: Because I'm easy to talk to and moms love me.
Rate yourself on a scale from one to 10 for looks.
AUSTIN: (Laughs) Oh my gosh … do people really answer this?
VINCE: Nine, because there is no perfect 10, except Ryan Gosling.
Rate yourself on a scale from one to 10 for personality.
AUSTIN: 12. My mom tells me I'm amazing every day, so I must be, right?
VINCE: 10/10.
What's your cocktail of choice?
AUSTIN: Pina coladas, but only if I get caught in the rain at the same time.
VINCE: Depends on the vibe, but I love wine.
What's a total deal-breaker on a date?
AUSTIN: Someone who is inconsiderate/rude.
VINCE: If the girl is rude to the server, bartender.
Fill in the blanks: I want my date to be "blank" and "blank."
AUSTIN: Open and funny.
VINCE: Beautiful and kind.
Will the night end with a kiss, something more or something less?
AUSTIN: A woman never kisses and tells, right?
VINCE: Will totally depend on how we hit it off.
Well, well, well, right off the bat, Austin and Vince have a lot in common. They're both SD transplants and they've both been single for three years. They're active and physically fit (they could even share clients, if need be: Austin can train them and Vince can adjust them). They both like to cook and are both turned off by rudeness to wait staff.
And while Austin considers herself to be a bit of a grandma and Vince feels that only Ryan Gosling is a perfect 10, perhaps they can find some common ground over a bottle of wine or two.
Read Between the Wines
Daters take flight during private wine tasting
Lucky for wine-lover Vince, our daters are dropped off at Pali Wine Co. for a private tasting. Pali Wine Co. was started in 2005 and named for the hometown (Pacific Palisades, or Pali for short) of founders Tim Perr and Scott Knight. With tasting rooms in Santa Barbara, Los Angeles, Lompoc, Anaheim and San Diego, Pali is known for its Pinot Noir varietals.
Austin and Vince are led up to the rooftop patio. They're given a sampler flight of different varieties of red wine and a decadent charcuterie board to cleanse the palate. A friendly Pali employee walks them through the "Five S's" of wine tasting: see, swirl, sniff, sip and savor.
Austin and Vince are instantly comfortable with each other, joking around one moment and engaged in deep conversation the next. They definitely have chemistry, although it's too soon to tell if it's romantic chemistry.
After a few more rounds, we separate them to check in on how the date is going.
How's it going so far?
AUSTIN: I would say it's going good overall. Initially, I didn't really have any idea what to expect or what the situation was going to be like, especially because it's a blind date and blind everything. But what I really respect about him already is the fact that we've already gotten into open, deep conversations. He said to me, "I'd rather spend today connecting on something authentic and real than the bulls**t stuff," which really resonates with me because when I meet people, I would much rather skip the weather conversation and connect in some way.
VINCE: It's going good, it's going very well.
At first glance, would you swipe right or left on your date?
AUSTIN: I would swipe right. He has a very good smile
VINCE: I would probably swipe right.
Is this the type of person you'd normally date?
AUSTIN: (Laughs) No. I tend to go for tall, dark and handsome. So typically, it's like dark features, dark hair, dark eyes, dark everything. It's just different for me, and not different in a bad way. Just different.
VINCE: Yes, I think so.
How has your experience at Pali Wine Co. been?AUSTIN: I love this place. I've been here a few times before, and for a few other dates, actually. I love this winery, I think it's a perfect date spot because it's quiet and it's quaint and it's sweet. But it also has charm and they're so knowledgeable. I've learned so much about wine already. VINCE: Amazing. Incredible. I live in Little Italy, almost across the street. This is the one place on India Street that I haven't been to before, and I'm so glad I came here. Food's been awesome, service is amazing, wine's delicious.
What's the most attractive thing your date has done so far?
AUSTIN: Be vulnerable and open. It's been about his ability to be open and authentic with me this quickly.
VINCE: Right off the bat, the conversation came up about how both of us would so much rather be real and genuine with each other and not beat around the bush and not bullsh*t, just be honest and genuinely get to know each other. I'd so much rather have a genuine connection with another human being, and if it doesn't work out, that's fine. At least we got to know each other on a real level. So I appreciate that about her, that she's comfortable enough to be herself.
What's the least attractive thing your date has done so far?
AUSTIN: (Laughs) Yeah, so far, I don't think I've been turned off by anything yet, but it's early.
VINCE: I have nothing.
Rate your date on a scale from one to 10 for looks.
AUSTIN: I hate this question. Do I have to answer that? (Laughs) Skip.
VINCE: Eight, but I don't like this question. It reduces someone to their physical appearance, so I don't like that.
And for personality?
AUSTIN: He's definitely unapologetically who he is. He's a 10, from what I know of him so far.VINCE: I'm still feeling her out, but she's such a sweetheart. She seems like a really good girl. I have to do one to 10? This is what I do all day long. "What's your pain level, one to 10." Personality? Eight.
What's your date's most attractive physical quality?
AUSTIN: I would say his eyes or his smile.
VINCE: Her hair. She has beautiful hair. And I like it, I'm into hair.
What's your date's least attractive physical quality?
AUSTIN: (Laughs) I guess I'm just not used to the gelled-back hair.
VINCE: This is so mean. Her elbows are too pointy. Can we say that's a joke?
Do you want to kiss your date right now?
AUSTIN: Not right now, but I also don't usually kiss on first dates ever, just because to me, it's like the first time you actually get to connect at all. Now that I'm 28, I don't kiss any stranger in the bar that I think is hot. It's like, I want to kiss someone and I want it to be for a reason.
VINCE: Would I kiss her right now? No.
Does your date want to kiss you?
AUSTIN: I think we're both still navigating things. I think we know that we get along, but I don't know where we stand physically.
VINCE: I don't know.
Is this someone you'd take home to mom, just take home or none of the above?
AUSTIN: I don't know yet. He seems like someone that can genuinely connect with anybody. So far, he has good intentions. We'll see what happens.
VINCE: I'm not a "just take home" guy at this stage in my life. She definitely has substance to her. Is there potential for "take home to mom?" Yeah, I think so. Definitely.
How and when will the date end?
AUSTIN: I'm pretty traditional when it comes to that kind of stuff, which is very rare now. You know, like the not really kissing on the first date and also, I have to work tomorrow, so I'm going to be responsible about the time frame. I would see it ending whenever you guys tell us it ends. For now. But we were talking about this: whether or not we have physical chemistry or a romantic connection, we just want to try and connect in some way and make this a fun experience. How much would it suck if someone was just like, "Well, f**k, I think you're ugly and I'm not going to do this." Because that is what this is. The ability to do something you really probably won't have a chance in life to do, and that is the whole reason I wanted to do it.
VINCE: It's going to end after dinner. I'm going to wake up at 5:30 a.m. tomorrow and I'm going to go to my clinic. I have patients I'm seeing tomorrow at 6:30, so that's my priority, for sure. But we're going to have a nice dinner and I'm enjoying every minute.
So far, Austin and Vince are on the same level. They're enjoying experiencing a human connection, regardless of whether they end up connecting in other ways. They're both reluctant to rate each other's physical appearance (although Vince manages to) and they each admire the other's ability to be immediately authentic. They're also both super responsible adults who are mindful of the clock because they both have to get up insanely early the next day.
The only major difference between the two so far might be what's growing out of their heads: Vince thinks Austin's long blond locks are beautiful, while she's not as into Vince's gelled look.
No matter, the two still seem to be vibing (and imbibing). Since Austin has been on a few dates at Pali (so much for us being original!), we're hoping this one at least ranks as one of the better ones.
Put a Cork in It
Pour one out for these daters
Austin and Vince finish their wine tasting at Pali and get ready to head to a late dinner at Luca, the restaurant at The Guild Hotel, which just opened in the former Army-Navy YMCA building in downtown San Diego.
The courtyard at Luca is decked out in chic black-and-white striped umbrellas, black iron furnishings and soft lighting, perfect for a photo shoot where Austin and Vince attempt to out-flex each other by picking each other up. The wine has kicked in and they're super comfortable with each other, so comfortable, in fact, that Vince tries to steal a playful kiss from Austin, but ends up licking the side of her face instead. It's all in good fun (although nobody would have blamed Austin if she shoved Vince off with her sharp elbows).
Instead, our daters delight in posing for the camera and teasing each other before settling in for a dinner from Luca's executive chef, Justin Vaiciunas. The menu is described as being "creative and contemporary Mediterranean cuisine," which is fitting because dining at Luca feels like you're dining somewhere on the Amalfi coast. The menu includes items like pork tenderloin with goat cheese and chocolate mushroom sauce, meatballs with Tunisan tomato sauce and gruyere cheese and duck breast with olive oil poached vegetables and maple and Greek yogurt.
Also on the menu for the evening? More wine, of course.
The PACIFIC crew finally leaves Austin and Vince to enjoy their dinner. We called them the next day to see how their night went.
How did everything go?
AUSTIN: I think for going into it trying to have zero expectations and really just being open-minded, it was a really awesome experience. I was definitely super nervous at the beginning, but Vince is so easy to talk to, super outgoing and charismatic, so that made me feel comfortable really quickly. And [the PACIFIC crew] being there was awesome too. I think that creates a space so you don't feel like you're stuck with someone. It was fun to have mystery to a date, because usually you know who you're meeting and where you're going, but to not know either was kind of exciting. And just the idea of getting to connect with a stranger is always fun in some way, whether or not you hit it off or not, you at least learn something or meet a new person or make a new connection or learn something about yourself.
VINCE: It was an absolute blast. Such an adventure. It's something I never would have done, but so glad I did.
What did you order for dinner at Luca?
AUSTIN: So we got a couple of appetizers, we got the meatballs, a fig jam toast with cheese. And then he got steak and I got the salmon. It was amazing.
Where did you go and what did you do for the rest of the evening after Luca?
AUSTIN: We went our separate ways. So he went back home and I actually hopped to a friend's house really quick before I went home.
VINCE: We went home after. It was pretty late. Both of us get up ridiculously early for work, so we called it a night at like 11 p.m.
Did you guys exchange numbers?
AUSTIN: He grabbed my phone, or put his phone right at me at dinner and was like, "Here you go." And then right after that was like, "What's your Instagram? Let me stalk you right here."
VINCE: Yes, we did.
Hook up?
AUSTIN: No, a hug. A nice little hug at the end.
VINCE: I mean, I licked her face during the photo shoot. If that's not romantic, I don't know what is. No, no hook up at all. Good night kiss on the cheek, which I was definitely happy with.
What's the funniest thing that happened during the date?
AUSTIN: I would say the whole flexing attempt on camera was like, him trying to smile and look handsome and I'm over here just attempting to kiss my arm while I flexed it … I don't even know. Also, our banter in general was pretty funny, just the back-and-forth sh*t-talking we had.
VINCE: Probably when I licked her face. Probably that. Honestly, we were cracking up and laughing the entire time. She was a really cool girl, so it made it easy just to laugh and joke. There was hardly any awkwardness at all.
What was the best part of the date and why?
AUSTIN: At Pali, that's where we had our first deep conversation, plus the cheese board was amazing, so that didn't hurt. I guess the atmosphere was probably the coolest part of that whole thing. You felt like you were in a different country.
VINCE: The whole thing was so much fun. We had no clue what we were getting ourselves into. The wine tasting was awesome. The dinner was incredible. I think just the adventure of not knowing what you're going to do next was super fun.
What was the worst part of the date and why?
AUSTIN: (Laughs) I don't know if I would say the worst, but I was the most thrown off when I got licked on the face, when we were trying to do that kissing shoot, he licked close to my ear and I was like, "What is happening?" I wouldn't say that was the worst, but it was the most surprising. Where you're like, "Oh, my face is wet. What just happened?"
VINCE: Honestly, the only bad part of the date was that we couldn't stay out later because we both had to get up at, like, 5 in the morning.
Will there be a second date? Why or why not?
AUSTIN: He seems like such a great guy. He has an awesome head on his shoulders, really fun, great conversationalist. We have a lot of things in common. I just don't know if the romantic chemistry was there for me. I would say there's possibility for some sort of connection. For sure, an awesome friend, if not something else. Right now, I haven't developed any romantic chemistry towards him at this point, but I definitely feel like we connected as humans.
VINCE: So I don't think that we had the romantic chemistry, I don't think we had that spark. I think she's someone I want to be friends with. Genuinely, she's so cool, I would love to go chill with her. I'd invite her to come out with my friends and, I think, vice versa. I'm very grateful because I think I made an awesome friend, but I don't think that the romantic chemistry was necessarily there. I wasn't as excited, in that aspect of it. So I don't think there will be a second romantic date.
Do you have any dating tips for your date?
AUSTIN: No, he was pretty great. (Laughs) Maybe just don't lick his date the first time he meets them. No, he was great. It seems like he'd be great at dating in general. I feel like I'm the one who's more awkward and needs more help than he does.
VINCE: We had the conversation, as far as the date, like, "Were you nervous?" and I was like, "No, I really wasn't." I knew I was going to have a good night, regardless. Even if the girl sucked, I'm still going to enjoy myself and have fun. But I know she was pretty nervous. And I get it, most girls would be nervous in that situation. The only thing I would tell her is that she's such a cool girl, I hope that she recognizes that about herself and doesn't ever have insecurities or fear or anxiety about going on a date. Honestly, whoever she ends up with is going to be lucky to have her. I hope that she's maybe a little more comfortable and confident in who she is.
Any final thoughts, parting words, shout-outs or anything else to add?
AUSTIN: I would just say that everybody attempting to date in San Diego, we all know it's rough out here in these streets, but just be a good person. Be open and vulnerable and authentic right when you meet someone. It's possible to find love, it's just a little bit more of a challenge here, so be open to new experiences. For example, if you get asked to go on a blind date, just say yes.
VINCE: Shout out to Pali Wine Co. Pali was incredible. I love that place. The dinner at the Guild hotel was amazing. I'm literally going to go back to both those places with weekend with my friends.
Well, there you have it, dear readers. Despite Vince's smooth moves and Austin's ability to take a licking and keep on ticking, our daters went their separate ways at the end of the night, and it doesn't seem like there's going to be a second date.
But Austin doesn't appear to be sweating it too much. Her advice to would-be San Diego daters is sound: It's rough out there in these streets, but just be a good person and be vulnerable and open to new experiences, and you too might get your face licked on a blind date for a local magazine.
Editor's Note: Daters' answers may have been edited for length and clarity.
Special thanks to and promotional consideration from:
EPIC Limo: 858.270.LIMO (5466), epiclimo.com
Pali Wine Co.: 619.569.1300, paliwineco.com
Luca at The Guild: 619.795.6000, theguildhotel.com/eat-drink/luca
Matchmaker Colleen Perone: naturalselectionsd.com

Sign up for the Pacific Insider newsletter
You may occasionally receive promotional content from the Pacific San Diego.