Blind date: One Date Wonder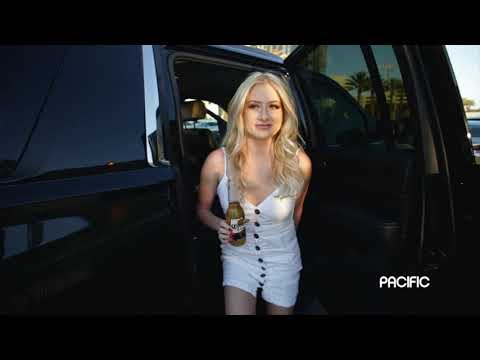 Blind daters take an artistic trip to another space at Wonderspaces.
Blind daters take an artistic trip to another space
A quick scroll through Instagram proves that the Wonderspaces phenomenon is showing no signs of slowing down. In case you aren't familiar, Wonderspaces is a pop-up, interactive art exhibit (happening in San Diego, Arizona and Austin) that seems ready-made for the influencer set. With elaborate backdrops, eye-catching light displays and bold representations, Wonderspaces attracts a diverse crowd of people who want to experience the wonder of Wonderspaces firsthand (and also capture it for the 'gram, naturally).
Wonderspaces is also a very popular date spot. So much so that we assumed this month's blind daters, Khayri and Kelsie, would also like to experience Wonderspaces. However, it turns out, Khayri's already been there, done that. He works part-time at Wonderspaces, and was surprised when the Epic Limo driver informed him that he'd be dropping them off at the San Diego location on the B Street Pier for their blind date.
Imagine having to go on a blind date in front of all your coworkers. Lucky for us, Khayri was a good sport and was game to show them how it's done.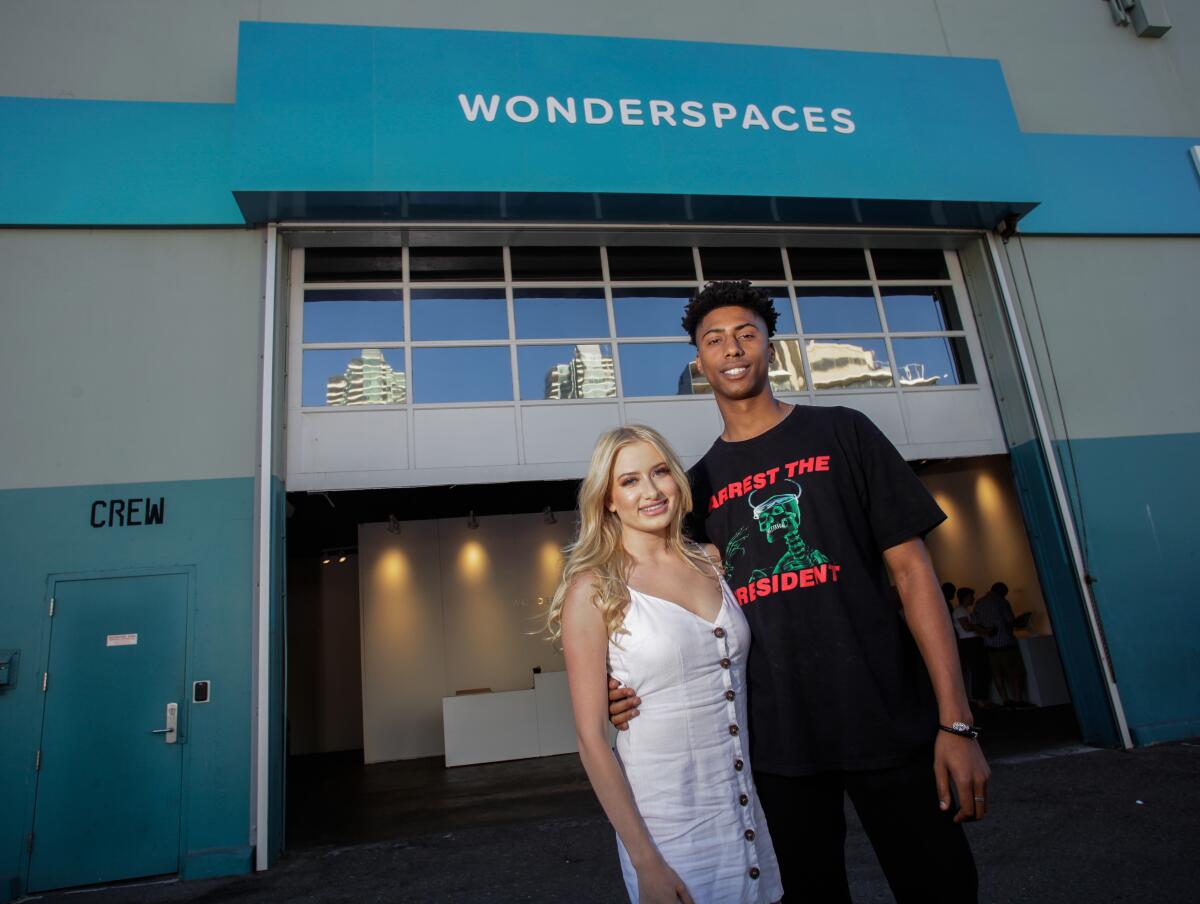 The theme for San Diego's Wonderspaces is in common and it turns out, Khayri and Kelsie have a lot in common. They're both freshly graduated from college and they're both trying to figure out what their next move in life is. Maybe they'll get lucky and figure out that their next move should involve getting closer to each other.
But before we ahead of ourselves, let's learn more about Khayri and Kelsie via their pre-date interviews.
Where are you from and where do you live now?
KELSIE: I am from Arizona. I was born and raised in Yuma, but I was living in Tucson for the last four years for college. Now I'm permanently in San Diego.
KHAYRI: I grew up in Sacramento and currently live in San Diego.
How old are you?
KELSIE: I actually just turned 22 on the 25th of June. I feel so old now.
KHAYRI: 22.
What do you do for a living?
KELSIE: Currently, I am a personal assistant for a really good friend of mine.
KHAYRI: Just graduated from college. Working two part-time jobs; looking for a full-time position.
What's your Instagram handle?
KELSIE: @kelsie_beltran
KHAYRI: @khayricarter
How long have you been single?
KELSIE: Probably about a year or so.
KHAYRI: (Laughs) Since birth.
Currently, what dating apps can be found on your phone?
KELSIE: Maybe Tinder.
KHAYRI: None.
Where can you be found on the weekends?
KELSIE: On the weekends, I'm probably downtown at OMNIA, Oxford Social Club or El Chingon.
KHAYRI: PB or downtown or at home or one of my friends' places.
What are you best at?
KELSIE: I'm good at a lot of different things.
KHAYRI: Finding flaws or inefficiencies in a situation and improving it.
What do you suck at?
KELSIE: I'm not the best at texting people back.
KHAYRI: Communicating my feelings/emotions with others.
What are you looking for in a date, physical or otherwise?
KELSIE: I think that I really just would like to find someone who is down to earth and just a good person. I really don't know what I want in a guy. I just think when I find the right guy, I'll know.
KHAYRI: Someone who is extremely beautiful and knows it, but doesn't use it as a tool. Someone who can keep a good conversation.
Why do you think you'll be a good date?
KELSIE: I believe I'll be a good date because I'm easygoing and get along with just about anyone.
KHAYRI: Because I can talk to anyone about pretty much anything and I like to have fun.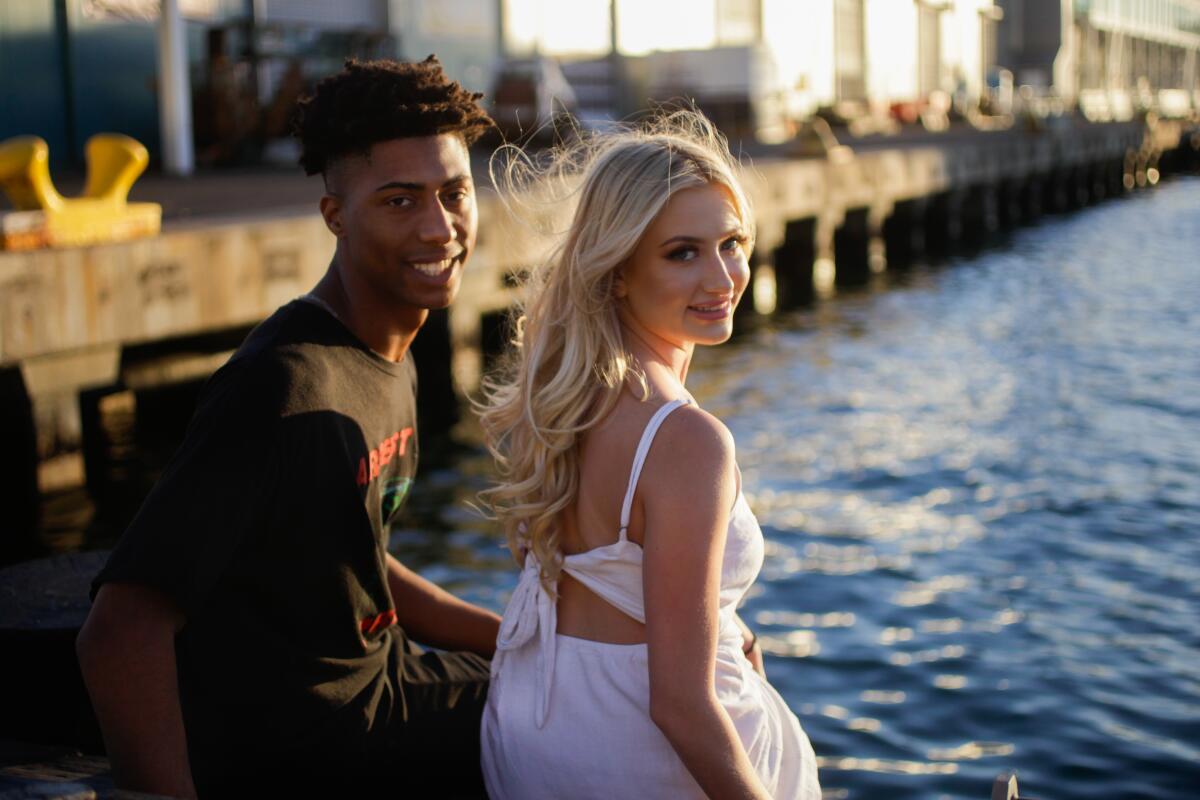 Describe your special brand of sex appeal in a Tweet.
KELSIE: Starfish.
KHAYRI: Not sure how to answer this. I usually just go for something that is funny/will get me a lot of likes. So humor, I guess?
Rate yourself on a scale from one to 10 for looks.
KELSIE: I think I'm pretty.
KHAYRI: Seven.
Rate yourself on a scale from one to 10 for personality.
KELSIE: My personality is stellar.
KHAYRI: 10.
What's your cocktail of choice?
KELSIE: I love a good spicy marg with jalapeños and a Tajin rim.
KHAYRI: Marg.
What's a total deal-breaker on a date?
KELSIE: The thing that bothers me the most is someone who doesn't say please or thank you. Manners are important to me.
KHAYRI: Bad eating habits, bad or insensitive jokes, lack of intellect/bad at conversation, lack of attractiveness.
Fill in the blanks: I want my date to be "blank" and "blank."
KELSIE: I would like my date to be attractive and outgoing.
KHAYRI: I want my date to be "cool" and "hot."
Will the night end with a kiss, something more or something less?
KELSIE: You will just have to wait and see.
KHAYRI: That depends on how the date goes, I guess.
From the looks of our daters' pre-date interviews, there's huge potential for this would-be couple. Both Kelsie and Khayri are 22 (so old, we know), like hanging out downtown and love a good marg. They are also both convinced they'll be a good date because they can talk to or get along with just about anyone.
But it's not all puppies and rainbows for Khayri and Kelsie. Neither are the best at communicating (for Kelsie, it's only via text, but for Khayri, it's in general). Also, Kelsie curiously describes her particular brand of sex appeal as being a "starfish" (you're gonna have to head to Urban Dictionary to find out what that means), but luckily Khayri is good at improving situations that might be flawed or inefficient, so all hope is not lost.
Let's see if these two have enough in common to pull it together, shall we?
Behind the Scenes
Daters play at Wonderspaces, then jet off to Louisiana
Khayri and Kelsie are dropped off at Wonderspaces and are given VIP status throughout the entire exhibit. They're given free rein to roam around and partake in exhibits like Harmony of Spheres, an interactive musical installation where guests are encouraged to gently touch wooden spheres, which then triggers the sound of a human voice singing.
They also spend some time on the floor, er, FLOOR, a metallic walkway with a wave that runs through it, encouraging visitors to "ride the wave," so to speak.
Kelsie and Khayri even make their way into a different reality: virtual reality. They both participate in Where Thoughts Go, a VR experience where previous participants' thoughts, hopes, secrets and dreams are shared, and current participants are prompted to share their own.
They both seem to be enjoying themselves, and Khayri shares some behind the scenes tidbits about the inner workings of Wonderspaces.
After their time at Wonderspaces comes to an end, the duo are whisked away to dinner at North Park's buzzy new restaurant, Louisiana Purchase. Open since March, Louisiana Purchase specializes in elevated Cajun cuisine. With dishes like The Bayou, which consists of catfish (fried or blackened) with sausage and fried cabbage and Louisiana spicy tartar sauce, Mr. Q's BBQ Shrimp (head on, tail on jumbo shrimp, New Orleans style BBQ sauce and sweet potato corn bread) and its famous Alligator Andouille Cheesecake (a savory cheesecake with alligator, andouille and crawfish cream), this restaurant brings New Orleans comfort food to San Diego.
After our daters place their orders, we separate them for a quick mid-date interview.
How's the date going so far?
KELSIE: It's going good, I didn't really know what to expect going into this, because I wasn't given much information. But I'm having a lot of fun. I've always wanted to go Wonderspaces and I'm excited to try the food right now.
KHAYRI: It's going well. I didn't really have any expectations at all of her or the date or anything. But it's pretty good.
At first glance, would you swipe right or left on your date?
KELSIE: I would swipe right. That's the right way, right? That's the nice way? Yeah, I definitely would.
KHAYRI: Right.
Is this the type of person you'd normally date?
KELSIE: Probably not, actually. He's my age. He's age appropriate and I usually don't go for guys my age. I usually date older guys.
KHAYRI: I don't normally date, so yeah. This is new for me.
How was your experience at Wonderspaces?
KELSIE: I loved it, it was so fun. It was interesting to see the art pieces and installations. It was kind of funny that he works there, so I got the inside scoop on everything.
KHAYRI: It was fun. I work there, as you know. So it's good being on the other side of the wall. It's a great place for a date spot.
What is the most attractive thing your date has done so far?
KELSIE: He gave me a behind the scenes tour of Wonderspaces and I thought that was nice.
KHAYRI: Responding to my banter.
Rate your date on a scale from one-to-10 for looks.
KELSIE: Eight.
KHAYRI: Seven and a half.
Rate your date on a scale from one-to-10 for personality.
KELSIE: 10.
KHAYRI: Eight.
What is your date's most attractive physical quality?
KELSIE: I don't know, I'm really bad at picking just one thing. I think he's cute. I like his overall appearance.
KHAYRI: Her hair.
Pecan prailine filet at Louisiana Purchase
(Misael Virgen)
The Alligator Andouille Cheesecake at Louisana Purchase
((Misael Virgen))
The Urban Sombrero cocktail at Louisiana Purchase
((Misael Virgen))
The Mojito at Louisiana Purchase
((Misael Virgen))
Do you want to kiss your date right now?
KELSIE: I don't know. It's too soon.
KHAYRI: Right now? Sure.
Is this someone you'd take home to mom, just take home or none of the above?
KELSIE: Yeah, I would take him home. I think my parents would like him.
KHAYRI: My mom's special, so I'd have to learn a lot more first. Just take home — for now.
How and when will the date end?
KELSIE: I'm not sure yet. It's not over!
KHAYRI: We're going somewhere after this, either my house or her house. So I don't know whether we'll do anything further from there, I don't know.
Kelsie and Khayri seem to be vibing on their date. They're excited to try out the food at Lousiana Purchase and seem to be hitting it off.
From our mid-date interview, we learned that Khayri and Kelsie are into each other, enough to say they'd right-swipe the other, if they had the chance. And although Kelsie admits she normally doesn't date guys that are "age appropriate" and Khayri isn't sure if Kelsie is the type of girl he'd introduce to his mom, they're both taking this date in stride.
See You Later, Alligator
Khayri and Kelsie call it a night
With no set plans for after dinner ended, we're curious to see how things panned out for Khayri and Kelsie. After an impromptu photo shoot under a cheeky pink fluorescent sign in the bathroom at Louisiana Purchase, the PACIFIC crew last left them to enjoy their alligator cheesecake and the rest of their evening.
We checked in with them the next day to see how their night went.
How did everything go?
KELSIE: I thought it went pretty good. I was really happy with him. I had fun with the whole experience. I don't know where it's going to go, but I think it went well.
KHAYRI: Everything went well. It was super fun. I liked the order of things, go hang out and then go eat, sit down, talk more. Having a driver was cool. Taking pictures along the way as well. It was fun.
Where did you go and what did you do for the rest of the evening after Louisiana Purchase?
KELSIE: We just went home. There really wasn't anywhere to go on a Sunday night. I had a job interview the next day, so we called it a night.
KHAYRI: We both went home. I dropped her off, took her home with a little kiss, but that was about it.
Did you guys exchange numbers?
KELSIE: We did not.
KHAYRI: We did not.
Hook up?
KELSIE: I wouldn't say a hook up. We both went home separately. We kissed and that was it.
KHAYRI: We kissed. That was it.
What's the funniest thing that happened during the date?
KELSIE: The fact that he worked at Wonderspaces was kind of funny. And then we went to this room, the one with the smoke in it. And then he told me in the morning, they get a bunch of kids in there and they all start smoking Juuls and that's how they get all the smoke. That was funny. (Laughs) I almost believed him for a second.
KHAYRI: (Laughs) Showing up at my job, probably. That was pretty funny.
What was the best part of the date and why?
KELSIE: Probably when we finally got to eat our food. That was pretty good. That was exciting. And eating the alligator cheesecake, because I've never had alligator before. That was fun.
KHAYRI: Probably the meal at the end, just because that's the best way to connect with someone, to share a meal with them. It was an amazing meal.
What was the worst part of the date and why?
KELSIE: The not knowing wasn't fun, but it also was fun, not knowing. Does that make sense? It's kind of a good and a bad thing, the suspense.
KHAYRI: Probably having to photograph the meals, when we were hungry. But it's part of the deal.
What did you think of Louisiana Purchase?
KELSIE: I liked it. It was something different. The shrimp was so good. All the sauces were really good, the drinks were both really good. And the alligator cheesecake was really good. I liked it a lot and it's cool that it's so close to my house.
KHAYRI: I liked it a lot. I liked the ambiance as well.
Did you follow each other on Instagram?
KELSIE: We didn't. (Laughs) Honestly, I don't think we'll ever contact each other again. I just didn't think of it.
KHAYRI: Yes.
Will there be a second date? Why or why not?
KELSIE: I don't know, maybe if I can find him on Instagram or get his number.
KHAYRI: I'm not sure, honestly. We'll kind of just let the experience digest a little bit and go from there.
Do you have any dating tips for your date?
KELSIE: I had a fun date with him. I don't think there's anything he needs to change. I thought he was really good. There's nothing I can recommend, really.
KHAYRI: Not really. Just continue to be herself. She's pretty good at keeping the conversation going, keeping things light.
Wow. Sadly, this date doesn't appear to have resulted in a love connection. Despite sharing an after date kiss, Khayri and Kelsie didn't even bother to exchange phone numbers. And while there's some discrepancy over whether they followed each other on Instagram, it doesn't really matter. Kelsie says she doubts she'll ever see Khayri again. Maybe he's just not age inappropriate enough for her.
Even though it looks like these two won't be making it official any time soon, they both enjoyed their time at Wonderspaces and Louisiana Purchase.
And it just goes to show you that even if you end up inadvertently going on a blind date at your place of work, you can still go home with your dignity intact. And isn't that really all we can ask for in the cutthroat world of dating?
Editor's Note: Daters' answers may have been edited for length and clarity.
Special thanks to and promotional consideration from:
Epic Limo, 858.270.LIMO (5466), epiclimo.com
Wonderspaces, sandiego.wonderspaces.com
Louisiana Purchase, 619.255.8278, louisianapurchasesd.com
Status Update
Checking in with last month's blind daters
Dedicated PACIFIC readers might remember blind daters Brittany and Kyle ("All's Fair in Love and War," July 2019 issue), who spent their evening canoodling at the San Diego County Fair.
We checked in with our fair daters to see what's happened since being featured in PACIFIC. Here's what they had to say about their current status.
Are you still seeing your blind date?
BRITTANY: I'm not. We did go out a second time but haven't talked much since.
KYLE: No.
What were the reactions of your friends/family after you went on the date?
BRITTANY: Being a hairdresser, it was a great story for my clients. They loved it!
KYLE: They laughed.
Has your opinion of the date changed since you went on it?
BRITTANY: Nah, he's a cool guy.
KYLE: No, nice girl who was fun to hang out with, just too far away.
After reading your blind date story, did any of your dates' answers surprise you?
BRITTANY: (Laughs) Not really! Kind of what I expected.
KYLE: I have been out of town for the past few weeks and have not seen it.
What did you learn?
BRITTANY: I learned a kiss isn't a kiss if there's no tongue (per his reaction on our video, oh my God!). (Editor's note: Blind date videos can be viewed at pacificsandiego.com.)
KYLE: Don't drink a bottle of tequila in the limo ride to pick up your date.
Anyone slide into your DMs since the blind date went to print?
BRITTANY: Not really.
KYLE: Nope.
Would you ever go on another blind date, either in a magazine or otherwise?
BRITTANY: Sure, why not!
KYLE: Yes, it was a fun experience. Sign me up for round two.
Sign up for the Pacific Insider newsletter
You may occasionally receive promotional content from the Pacific San Diego.