Blind Date: Whatever floats your goat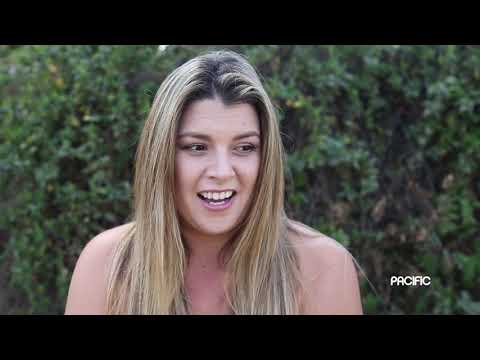 While it's not entirely unheard of for a PACIFIC blind dater to end their evening on all fours, it's rare that both daters begin the night on hands and knees. And even less frequently are farm animals involved. Yet that's what's happening tonight, a
While it's not entirely unheard of for a PACIFIC blind dater to end their evening on all fours, it's rare that both daters begin the night on hands and knees. And even less frequently are farm animals involved. Yet that's what's happening tonight, as Ashley and Kyle are about to do yoga with a herd of hooved creatures before going boating on Lake San Marcos. But before this amateur yogi and yogini meet, let's review their pre-date interviews.
Where are you from and where do you live now?
ASHLEY: I was born and raised in San Diego. I grew up in Chula Vista, and now I live in Bay Park with my two dogs.
KYLE: I grew up in the Coachella Valley, went to college at Chico State and have lived in San Diego ever since.
What do you do for a living?
ASHLEY: I work for myself as a business consultant. I'm always either working from home or traveling with my clients for events around the world.
KYLE: I work in wealth management, but I also volunteer in the adoptions department of a local animal center.
Why are you going on a blind date in PACIFIC?
ASHLEY: I've never been on a blind date, but I think having someone who knows me vetting another person is a really great idea.
KYLE: The only reason anyone should go on a date — I'm looking for my one true love.
What do you do for fun?
ASHLEY: Go on hikes or ride bikes with friends, sail on Mission Bay or take my dogs to Fiesta Island. I also love cooking, so I'm always having friends and family over to cook them meals, play games or watch a movie.
KYLE: I enjoy experiencing new places with friends and taking advantage of all the great activities San Diego has to offer. There are so many great beaches, parks and places to see; new restaurants to try, and old favorites to go back to.
What are you best at?
ASHLEY: I'm really good at meeting new people and connecting with them in a positive way, which, in turn, makes me a great networker for my line of work.
KYLE: I try to do my best at everything. I'm competitive like that. But I am fairly skilled in the kitchen and have been told I'm a great cook.
What do you suck at?
ASHLEY: Time management and saying no.
KYLE: Unfortunately, I'm bad at singing. I really wish I was better, but it's not happening.
What are you looking for in a date?
ASHLEY: Someone who has common interests: an independent entrepreneur, intellectual, funny, likes to work out, is family-oriented, loves to travel and loves dogs.
KYLE: Someone who has a pretty face, takes care of herself, carries herself like a lady and has great self-confidence.
Describe your special brand of sex appeal in five words or fewer.
ASHLEY: I need more than five.
KYLE: Deep, meaningful and intelligent conversations.
What do you like least about yourself?
ASHLEY: My gunshot scar that I got when I was 8 years old.
KYLE: I have a really bad sweet tooth, so I'm a sucker for candy and dessert.
Rate yourself on a scale from one to 10 for looks.
ASHLEY: Eight.
KYLE: My mom taught me to be humble, so I guess like a 9.5.
Rate yourself on a scale from one to 10 for personality.
ASHLEY: 10.
KYLE: I'll just answer by saying I believe I am a virtuous person.
What's your biggest fear?
ASHLEY: Going on a blind date.
KYLE: Snakes.
What traits might your date exhibit that would be complete deal-breakers?
ASHLEY: Smoking. Hates dogs.
KYLE: Cigarette smoker, I guess.
How many people have you slept with?
ASHLEY: A lady never kisses and tells.
KYLE: Keeping a tally on that figure would be really arrogant, and even more so sharing it publicly. So, for that reason, I will respectfully decline to answer.
Fill in the blanks: I want my blind date to be "blank" and "blank."
ASHLEY: Fun and smart.
KYLE: Fun and energetic.
Will the night end with a kiss, something more or something less?
ASHLEY: I would have to be really moved to kiss on a first date. And if there was a kiss, it would end there.
KYLE: That remains to be seen. Hopefully the chemistry will be just right, and who knows where that can lead.
What's the most important thing in the world?
ASHLEY: Keeping my relationships strong with family and friends.
KYLE: Perspective, family and intention.
So both Ashley and Kyle like to cook, and they appear to have a few other things in common. But will their shared interests translate into actual chemistry? We're about to find out as the daters meet for the first time in an EPIC Limo bound for Blissful Goat Yoga at Star's Farm in San Marcos.
OUT TO POSTURE
Ashley and Kyle check out each other's asanas
A quartet of quadrupeds rush to greet tonight's daters upon their arrival at Star's Farm. This is the home of Blissful Goat Yoga, the only spot in the county where locals can do downward dog with domesticated ungulates. Ashley and Kyle are already dressed for the occasion, and after spending a few minutes meeting the cuddly, cloven kids, they unfurl their yoga mats and prepare for a private class with the creatures.
The instructor begins by guiding the daters through some light stretches while the goats scamper around them. Next, Ashley and Kyle drop down to tabletop position, putting them face to face with the furry foursome. Without much hesitation, the adolescent goats take turns jumping on and off the daters' backs, and with plenty of smiles and lots of laughs, Ashley and Kyle appear to be getting along famously.
The session continues for the better part of an hour before it's time to get cleaned up for a cruise on Lake San Marcos. Ashley and Kyle swap their activewear for evening attire, then crack open a couple cans of Modelo and some shots of Sailor Jerry during a limo ride to Lake San Marcos Marina.
Once at the water's edge, Ashley and Kyle board a private boat provided by the Lakehouse Hotel & Resort. The two cozy up to one another while their captain coasts along the water's surface, showing off some of North County's stunning scenery. The daters pop open a bottle of bubbles, and, as the sun continues its descent toward the horizon, Ashley catches a chill, and Kyle offers his coat.
Soon, the boat returns to shore, delivering the daters to their dinner destination: Decoy Dockside at The Lakehouse Hotel. With stunning fireplaces, a floating lakefront bar and two floors of incredible architecture, Decoy specializes in waterfront views paired with American cuisine inspired by the great outdoors. Ashley and Kyle take their seats and continue getting closer as they order drinks, apps and entrees. After witnessing the daters lock lips at the table, we split them up for mid-date debriefings.
How's it going so far?
ASHLEY: It's going really good.
KYLE: Things are going really nice.
What were your first impressions of your date?
ASHLEY: That he's really good looking and a very well-dressed, well-mannered gentleman.
KYLE: Ashley is a really nice girl. We have quite a few things in common, and I enjoy speaking with her so far.
Is this the type of person you'd normally date?
ASHLEY: Well, it's interesting. He's different than someone I would normally date, but I'm definitely attracted to him, which is a surprise. It's definitely a nice surprise. I'm pleasantly surprised.
KYLE: Absolutely.
What do you think of the way your date is dressed?
ASHLEY: He's very well-groomed, very appropriate. Definitely my style, 100%.
KYLE: Ashley did a good job with what she wore for goat yoga. It was 100% on point with what we're doing. She's definitely wearing a gorgeous dress now.
How are you enjoying Decoy Dockside Dining so far?
ASHLEY: Oh my gosh, aesthetically, it's beautiful! It's warm, it's welcoming. You have a wood-fire fireplace, games, a nice open bar. The service is friendly and attentive. Plus, the view is phenomenal — there was even a light show! And the food is outstanding.
KYLE: The atmosphere has been unbelievable. From the moment we walked in until we started dinner, everyone has been beyond nice, which is an awesome thing to experience. It's been a great time so far, and I really have enjoyed every second of the experience.
What did you order to eat and drink?
ASHLEY: An Old-Fashioned, some champagne and a gin and tonic, so different types of drinks that were all very good. For food, we've had little bit of everything: calamari, cioppino, gnocchi, oysters and rainbow trout. Everything was savory, fresh and done to perfection.
KYLE: We ordered the full plate of oysters, which both of us had already discovered we enjoyed together. The food's been nothing short of amazing. It's almost surreal because neither of us knew that this existed in San Diego. It's been a fun time and everything that we've expected that a first date should be.
How was your experience at The Blissful Goat?
ASHLEY: I didn't know what to expect from that place, but it was amazing, actually. It was such a great experience. We didn't do much yoga, but it was great to interact with the goats. They were super friendly and had such great personalities. And in certain poses when the goats hop on your back, I was like, "Oh, there's no way. These goats must weigh a ton." But they didn't, they were light, playful, and super cuddly. It was like playing with your dog. It was the coolest thing ever and I think everybody should try it.
KYLE: Goat yoga was awesome. Frank was my favorite goat, hands down. The other one, Cowboy, was my other favorite. And once Ashley and I were able to sit down and not be in the front of the goats, talking about the goats, we both had almost the same experience. It was fun having them jump up on my back. It was surreal being there and understanding the way that they interacted with us and what our expectations were.
What's the most attractive thing your date has done so far?
ASHLEY: He gave me his coat when I was cold. That was such a gentleman move. I was freezing and unprepared for the weather, and he has a nice wool coat he put on me immediately without any question. And then he made sure I was taken care of; he poured me champagne and made sure I had a drink and pulled my chair out — total gentleman moves every step of the way. He's a great communicator and it's really easy to get along with him. I just feel really good in his presence.
KYLE: Honestly, her personality. Not only her experience of being who she is, but representing everything she's been through in life, both professionally and personally. Going through the boat ride and getting to know each other was really fun, and not something you really get to experience on a normal date, whether you know somebody going into it or whether it's somebody unknown coming from a swipe app. But the fact that we were both open to going on a blind date in PACIFIC and really getting to know each other has been awesome.
Rate your date on a scale from 1 to 10 for looks.
ASHLEY: Oh, definitely a 10.
KYLE: This is a terrible question. 1-10 for looks. You know what, I think she's doing a really good job representing herself well. She's been everything that I expected that she would be. I think she is a gorgeous girl inside and out.
And for personality?
ASHLEY: Definitely a 10.
KYLE: See previous answer.
What's your date's most attractive quality?
ASHLEY: That's a tough one. His eyes are really great; I love his eyes. But his build is nice. He's got a really nice body, but you can get lost in his eyes real quick. And he's got a great smile.
KYLE: Easily, how often she smiles, because once she smiles, it's 100% genuine. It's really nice to see somebody as self-confident as she is.
What's your date's least attractive quality?
ASHLEY: Haven't seen one yet.
KYLE: I haven't really come across anything that so far has been least attractive. I'll just say everything we've done so far has been fun.
Do you want to kiss your date right now?
ASHLEY: Yeah, I think I already have.
KYLE: We might have already.
Does your date want to kiss you?
ASHLEY: I think he already has and, yes, I think he wants to do it again.
KYLE: I really hope the answer is yes, but I'm not going to be judgmental and guess this way or that way.
How and when will the date end?
ASHLEY: We've already discussed that we want to have a second date and that we are clicking pretty well. So, we shall see.
KYLE: I don't know, but hopefully on a positive note.
DOCK AND AWE
Ashley and Kyle keep the party going in PB
With Ashley and Kyle hitting it off like a pair of smitten kittens, the PACIFIC crew departs Decoy and follows up the next morning to find out what we missed.
How was your experience and dinner at Decoy?
ASHLEY: It was phenomenal. What an amazing restaurant. It was warm and inviting, and the architecture and view were beautiful. The light show was really cool, the service was impeccable, and the food was just so tasty. We tried a little bit of everything, and there wasn't one bad dish. I would definitely go there again.
KYLE: Dinner was actually really good. And I've never known about that venue the entire time I've lived in San Diego, so that was a pretty cool place to go check out.
Where did you go and what did you do for the rest of the evening after dinner?
ASHLEY: After dinner, we went into the P.B. area, and we went to TapRoom just to grab a beer and talk more, because it was finally just he and I instead of cameras and everything. So it was really cool. We got to talk more and get to know each other better, so that was great. We just had a beer, and that was the end of the night.
KYLE: We ended up coming back down (to P.B.) after dinner, and then just got another drink. And that was about it.
When did you get home?
ASHLEY: Gosh, I don't even know. I have no idea. I didn't really have my phone on me, so I couldn't really track the time. I just knew it was...it felt late, but I knew it was still an early evening. We both had work the next day, so we weren't trying to like, you know.
KYLE: Shoot, I don't even know.
Was there a kiss or romantic exchange?
ASHLEY: There was a kiss — he leaned in and kissed me at dinner. And then, just before the night ended, he gave me a kiss goodbye. It was really great. We're making plans to see each other again. So it went really well.
KYLE: There might have been.
What's the funniest thing that happened during the date?
ASHLEY: Oh, my gosh, the goats! The goats. We got to tabletop position, and Cowboy and Frankie, the tiny, cute little goats, kept mounting us! It was just hilarious. At first, they were only mounting me, and they weren't even paying attention to him. And then all of a sudden ... all the goats, all four of them, were trying to get on top of us. Obviously there wasn't enough room, so you just had hooves all over you and it was so hilarious, because they're all trying to eat your shirt and paw at your head. But it's really gentle; it doesn't hurt at all and almost like if someone were to lightly scratch your back.
KYLE: Everybody that's around definitely looked at you while you were getting pictures taken, and we got a good kick out of that. And then also the lady with the goats, we thought she was pretty funny too.
What was the best part of the date and why?
ASHLEY: I would say, the sunset. That was my favorite part — just being on the boat, relaxing with the gorgeous view. Kyle and I got to get really close to each other and actually started talking and being more comfortable with each other, which just led into an amazing dinner.
KYLE: The little sunset boat ride was pretty cool. It was a really nice boat. I didn't know that whole area was up there with the houses, like, right on the lake. So that was just a really unique, cool experience.
What was the worst part of the date and why?
ASHLEY: Um, not gonna lie, stepping on the grass where the goats peed and pooped was not my favorite part. It was a real challenge for me, but I pushed through and I'm really glad because we ended up having a great time. But yeah, I felt like I needed to take a shower after, I was freaking out. I was like, "They're pooping and peeing around me." But other than that, I would do it again, it was cool. But I would say, that was the only uncomfortable part.
KYLE: For me, not knowing where we were going or what was in store for us was definitely the most challenging part.
Will there be a second date? Why or why not?
ASHLEY: Yes, there will be a second date.
KYLE: I believe that we made some plans to go hang out and to get to know each other without photographers or anybody else around.
What's one thing your date really should know before going on another date?
ASHLEY: No, he was pretty amazing. He was a gentleman. I got cold, he lent me his coat. He was very attentive, made sure I was taken care of the whole time, so I mean, I would say he did all the right things. I wouldn't change anything about it.
KYLE: Nothing.
What could have made this date better?
ASHLEY: Nothing, you guys nailed it.
KYLE: I don't think anything would have made it better. We really had a good time and enjoyed each other's company.
Anything else you'd like to add?
ASHLEY: I'm really happy that I did this. It was out of my comfort zone and I'm really glad I challenged myself to go on an experience like this. It was a really positive experience, so I'm really happy. Thanks for putting this together. I think more people should try this.
KYLE: Nope, I think we're pretty good.
AFTERMATCH: In her pre-date interview, Ashley said she'd have to be "really moved" to kiss on a first date, so it's a good thing having her strike a few yoga poses worked in Kyle's favor. It's a little disappointing neither dater will confess when exactly they got home, but we're chalking this one up as a win, and hope the relationship bleats the odds and goats the distance. Good luck, kids!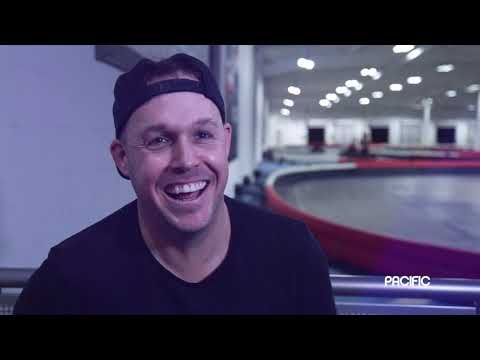 On Now
On Now
Blind date: The cold and the beautiful
On Now
On Now
Blind Date: Being supportive
On Now
Blind date: In distill of the night
On Now
Blind Date: Getting their axe together
On Now
Blind Date: SUP to no good
On Now
Blind Date: Build it and they will come
On Now
Blind Date: Something in the air
Special thanks and promotional consideration to
EPIC Limo: 858.270.LIMO (5466), epiclimo.com
The Blissful Goat: San Marcos, 760.518.1139, theblissfulgoat.life
Decoy Dockside Dining: 1035 La Bonita Dr.,San Marcos, 760.653.3230, lakehousehotelandresort.com
MatchAnd Magic: matchandmagic.com
Sign up for the Pacific Insider newsletter
You may occasionally receive promotional content from the Pacific San Diego.