Blind date: Throne together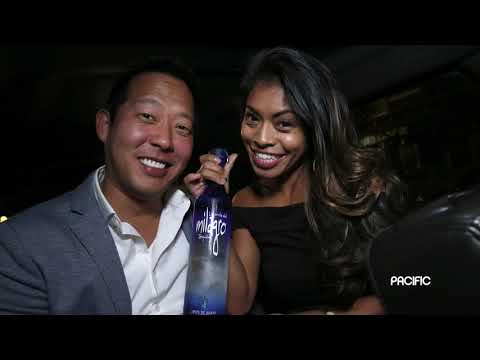 Daters enjoy the royal treatment before a risqué revue.
Blind daters Megan and Jason just met in the Epic Limo that's taking them to dinner downtown at the newly opened Monkey King restaurant. She's an award-winning interior designer, and he helps run a vacation rental business.
So is it only a matter of time until she's picking out accents to upgrade his properties? Or will a lack of sizzle lead this date to fizzle? Let's find out after reviewing the pre-date interviews of these eligible singles.
PACIFIC: Where are you from and where do you live now?
MEGAN: Born and raised in San Diego — first generation. Whoop whoop! I'm now soaking in the sunshine in BayHo, one of the cutest little neighborhoods just west of Clairemont, for those who aren't familiar.
JASON: Atlanta, and I live in East Village.
What do you do for a living?
MEGAN: I'm an interior designer, constantly seeking shiny objects and beautifying spaces, one home at a time. I started my own business, M Studio Interior Design, about three years ago. It's been the wildest three years of my life, but also the most gratifying. I never thought in a million years that I would be my own boss, let alone earn a living doing what I absolutely love to do while serving amazing people.
JASON: Director of Operations for a vacation rental company.
Why are you going on a blind date in PACIFIC magazine?
MEGAN: Because… why not?!
JASON: I got in the wrong Uber.
What do you do for fun?
MEGAN: I love planning getaway trips with friends. Also love Pilates, yoga, exploring new bars or restaurants, snowboarding, beach days, rollerblading… I love a good laugh at a comedy show, concert or festival — except for Stagecoach and similar country music events, sorry, just not my jam. Really anything with live music, sing-a-longs and dancing involved.
JASON: Traveling, VAVi league sports and playing with my pup.
What are you best at?
MEGAN: Keeping the energy up and spreading good vibes with my enthusiasm! I've been nicknamed "Filipina Jumping Bean" and "Pocket Rocket."
JASON: Connecting people and making people laugh, but mostly, killing it at karaoke.
What do you suck at?
MEGAN: Flying. I once missed a flight because I was having a beer while studying for a Spanish exam at the airport bar. True story. I am now very much encouraged by my friends to have a travel buddy on trips.
JASON: I'm that guy that has to go back home because I forgot something. Name it — concert ticket, wallet, phone, a shoe, etc.
What are you looking for in a date, physically and/or otherwise?
MEGAN: A laid-back, yet fun gentleman who can make me smile and laugh, takes interest in my work and is goal-oriented and passionate about his career. Team Jesus is a plus. Tall, dark and handsome, maybe with muscles… extra plus… major bonus points.
JASON: Great eyes and smile. Can hold a conversation. Someone who's genuinely interested in getting to know me as much as I am with them.
Describe your special brand of sex appeal in five words or fewer.
MEGAN: Amazing chemistry and juicy lips!
JASON: Why, yes, that's my Frenchie.
What do you like least about yourself?
MEGAN: That I'm just not a morning person… Rise I shall, but shine I shan't. You can call me Ms. Grumpy Pants.
JASON: That I can't grow facial hair.
Rate yourself on a scale from one to 10 for looks.
MEGAN: Totally depends on the time of day and the day of week. On a good day, when I'm feeling pretty confident in my cutest pumps, I'd give myself at least an eight.
JASON: San Diego seven, but a Sacramento nine.
Rate yourself on a scale from one to 10 for personality.
MEGAN: What I lack in height, I'd like to think I make up for in personality. I'm pretty short, so that must put me up there!
JASON: ∞
What's your biggest fear?
MEGAN: Failure and disappointment.
JASON: That my parents won't have enough for retirement. Or that they'll ask me to create a Facebook profile for them. Both haunt my dreams.
What traits might your date exhibit that would be complete deal-breakers?
MEGAN: Lack of manners and cigarette smoke breath. Yuck, it's such a huge turn off for me.
JASON: Rude. Self-absorbed. Smokes crack well before appetizers.
How many people have you slept with?
MEGAN: Pleading the fifth on this one.
JASON: Ha, nice try! That's between me and my iCloud.
Fill in the blanks: I want my blind date to be "blank" and "blank."
MEGAN: Respectful and fun.
JASON: "Down for a casino heist" and "own an updated passport."
Will the night end with a kiss, something more or something less?
MEGAN: If he's lucky.
JASON: I'm pretty traditional and don't kiss on the first date. But if it does happen, tequila was involved.
What's the most important thing in the world?
MEGAN: Loving yourself first so that you can love others. Cheesy, but true!
JASON: Life is all about relationships, so be good to people. We all have things that we're going through, insecurities, flaws, etc. However, having hot sauce is a close second.
Ask an average San Diegan if our city has a Chinatown, and many will just shrug. Most locals have no idea that in the late 19th and early 20th centuries, an eight-block expanse stretching from Market Street to J Street between Second and Sixth avenues was home to a thriving community of Chinese immigrants. And in the late 1800s, the hottest spot in our city's Chinatown was Monkey King, an illegal lottery house where yesteryear's locals went to drink, gamble and puff on opium pipes.
More than a century later, and a new Monkey King now fills the same space that once housed the original. This is where Megan and Jason are headed for the first half of tonight's date, though instead of indulging in the many sinful activities offered here 100 years ago, the modern-day Monkey King will treat them to a flurry of farm-fresh, Pan-Asian plates paired with handcrafted cocktails served in large punch bowls.
MONKEYING AROUND
Megan and Jason hit it off while hanging out
Megan and Jason take their seats at the restaurant's Dragon Table, and they spend a few moments scanning the exposed brick walls and attention-grabbing garden that define the venue's decor. The two order a few rounds of drinks and opt to split some shareable plates instead of getting their own entrees.
An hour flies by, and before long, it's time to head to the next stop, Little Italy concert venue Music Box, for a performance by the SuicideGirls' Blackheart Burlesque troupe. The daters exit Monkey King and hop back into the limo for a quick sip of Milagro chased by an icy cold Corona on the way.
Once at Music Box, Megan and Jason are whisked away to the Owner's Box, where they have the best seats in the three-level house. Tonight's show marks the first stop in a 3-month, 60-city tour for these SuicideGirls, who'll perform their pop-culture inspired burlesque routines for tens of thousands of people across the country. The show begins, and both Megan and Jason appear to be getting into the sexy stripteases and dance performances. When intermission arrives, we grab the daters and split them up for mid-date debriefings.
How's it going so far?
MEGAN: It's going f**king — oops, it's going fantastic. Should I refrain from cursing? Could I just say mother**ker and you'll just bleep it out?
JASON: It's going really good. I think we're having great conversations and getting to know each other. Neither of us have ever been to Monkey King, Music Box or a burlesque show, so yeah, we're having a great time.
What were you first impressions of your date?
MEGAN: Appearance-wise, I was not expecting an Asian gentleman, I don't typically date Asian gentlemen, but at the same time, he was very courteous, very polite, hilarious and, off the bat, very sociable and approachable. That was enjoyable for me.
JASON: She's very outgoing, bubbly, fun and energetic. Everything you could wish for in a date. She's really engaged, especially for a blind date.
Is this the type of person you'd normally date?
MEGAN: No, never. But in a positive way, let me say that. I've never just looked in that direction, that's all.
JASON: Yeah, I think so! I have a wide range of preferences, as some people may know, but she fits in that range for sure.
What do you think of the way your date is dressed?
MEGAN: Oh my gosh, he's on point. I mean, first off, it's a Thursday night. We had no expectation as to where we were going, but he's very clean and chic and polished, I must say. Yeah, I love the suit with the chains—great pairing. Very fashionable.
JASON: Perfection. Perfect.
How was your experience at Monkey King?
MEGAN: I've never been there before, but the venue was spectacular! I'm an interior designer, so I'm constantly looking around and checking out my environment and seeing what's going on with the surfaces, the textures, the textiles and everything. And as much as I was attempting to enjoy my date, I was also checking out my environment. And seeing the branches along the walls, I thought that was pretty crazy! But like a really good risk, as far as design is concerned. I was pleasantly surprised, as far as interior design.
JASON: So, I think I was there one time casually for a drink, but I never really noticed the décor. Megan's actually into interior design, and the detail put into Monkey King was really cool. There was an upside down tree with roots within the rafters. Little details like that were really cool.
What did you eat/drink/do there?
MEGAN: The shrimp — bomb as sh*t! The waitress gave us some advice, I think we were both pretty indecisive with what to order. And she was like, either the crispy honey shrimp or the spicy shrimp. And we said, let's order that! And it was on point. Monkey King, damn good. Damn good shrimp!
JASON: So, when we got there, they first brought us the punch bowl — I'm still not sure what was in that. But then we decided to surprise each other with a drink, so based on what our preferences were when we got to know each other in the car, so I got her something called All Tied Up. I have no idea what she got me, so you have to ask her. But then we decided we didn't want a big heavy meal, so we split a bunch of plates.
How is your experience at Music Box so far?
MEGAN: The customer service has been spectacular from the get-go. They're like, "What can we do for you? Where can we direct you? Let me take this for you." They're awesome and attentive. And as far as the venue itself, the entertainment is superb. And they gave us posters and T-shirts! What more could I ask for?
JASON: It's great, I've never been here. And I know some people who have worked here before or been here before, but this is actually a really cool spot. I definitely will be here again soon.
Describe the burlesque show at Music Box.
MEGAN: I'm very much an artistic type. I was telling Jason about the beautiful pieces of art in my home, which are these old-school '50s pin-up girls printed on dictionary paper. And I was like, "Oh, I would love to post this gorgeous piece of artwork that they provided to us, the burlesque watercolor naked ladies on my wall." This is pretty badass. I'm having a great time. And as far as the entertainment on the stage, this is just my opinion, but I'm having a f**king phenomenal time seeing these gorgeous women doing their thing, expressing their own opinions and showing off their style on stage.
JASON: It's great, and she's totally cool with it, so that's cool. Yeah, it's very artistic and tasteful, but I've never been to a burlesque show, this is fun. It might have been weird to be on a blind date with a girl looking at naked girls, but Megan's totally into it. It seems like she's more into it than I am! But she's totally into it (laughs). That makes it more comfortable.
What's the most attractive thing your date has done so far?
MEGAN: The most attractive thing, I think just being open and honest and telling me exactly what it is that he likes and what he doesn't like as far as food, culture, relationships and music. He was very open and honest about his love for country music, being from Atlanta, and I'm like, "Well, that's not really my thing," but at the same time, just because we have different opinions about something doesn't mean that we can't continue to have an amazing evening.
JASON: I think… most attractive thing that she's done so far? I think just being totally engaged in our date and our conversation because, that's not attractive if they're not engaged, right?
What's the least attractive thing your date has done so far?
MEGAN: There hasn't really been a least attractive thing that he has taken action upon. I mean, if I were to just close my eyes and just hang out with him, he's a really cool guy. There's not a dull moment. He's super chill. We get along… swimmingly? Can I say that? Is that the right adjective? I'm a little tipsy, so I don't know if my words make sense right now. He's a super cool guy. I feel like that's all I have to say.
JASON: I couldn't say anything. She's down for whatever. There's nothing.
Rate your date on a scale from one to 10 for looks.
MEGAN: 9.
JASON: 9.
And for personality?
MEGAN: 10. I'm gonna say 10. He's super f**king awesome.
JASON: 9.
What's your date's most attractive physical quality?
MEGAN: Physical? This is only because I'm not naturally attracted to an Asian type of person, but I'm going to say that the way that he dresses is on point. The way he puts himself together, he's very well-presented. And if he weren't even to say a single word, and I just saw him, I'd be like, "Damn, man, you put yourself together so well. You know how to pair that jacket with those jeans and those shoes." He was meticulous and very thoughtful about his attire. I'm going to be extremely honest here, I've never gone out with another Asian person. Ever in my life. And Jason, so far, everything has been f**king spectacular, and so, as far as what I can base off the most attractive qualities, he's super f**king cool to talk to and the way that he perceives himself to me is also very much attractive.
JASON: She's fun-sized?
What's your date's least attractive quality?
MEGAN: He likes country music.
JASON: Absolutely nothing. She was a cheerleader, so I'm attracted to that. She's got a bangin' body.
Do you want to kiss your date right now?
MEGAN: Right now? Maybe not. But, a little bit later? Posiblemente.
JASON: Yeah, I could see that happening.
Does your date want to kiss you?
MEGAN: I don't know! Yup, possible. ¿Posible? Yeah. Tell him to pucker up!
JASON: I'm not sure yet.
How and when will the date end?
MEGAN: Oh, oh, I have this whole game plan in my head! The show is going to end, and then we're gonna appear on stage, and we're gonna do our own burlesque show! Wouldn't that be so much fun? Maybe it's just more of like a twirl, he could be twirling me. I don't necessarily need to strip or anything. I mean, if there's a request, we shall see….
JASON: So, I know she says it's a school night, and she apologized like a hundred times because she was looking at her phone, but the only reason why was because of her flight. She's flying to Mammoth to snowboard, she's a big snowboarder. So, I don't think it will be a late night, because her flight is at 9 in the morning. But the alcohol is flowing, so you never know. She may just stay up all night...
Anything you'd like to add? Would you recommend this to your friends?
MEGAN: Oh, hell yes! I would recommend this to a ton of my single girlfriends and single guy friends. As far as PACIFIC magazine and what you guys can offer, I feel like you guys are very confident in finding matches that can be very compatible with each other. Seriously, I had no idea what any of this was all about. I was completely clueless. I went in blind — very, very blind! The blindest you can expect! Hell yeah, there will be a second date! Why the bleep not?
JASON: I would totally recommend this to my friends. This was dope. The whole date was great. Thank you PACIFIC magazine for setting all this up. Hopefully I'm photogenic enough. Can you Photoshop like, David Beckham?
So it turns out this foul-mouthed Filipina isn't attracted to men of the Asian persuasion, but the daters still seem to be getting along famously, so perhaps the booze mixed with the burlesque show could lead somewhere interesting....
BURLESQUE IS MORE
Did a flesh-filled show lead to something more?
With the evening drawing to an end, the PACIFIC crews packs up for the night and leaves the daters to enjoy the rest of the Blackheart Burlesque show unchaperoned. We follow up a few days later to find out what we missed.
How was your experience and dinner at Monkey King?
MEGAN: The experience was great, the service was awesome, the environment was really fun and cool. The dinner was delicious.
JASON: Monkey King was really good. I actually went there a long time ago, just casually, for like a drink. So I never really tried the food or really paid attention to the décor, but it was really nice. The food was good, the staff were really attentive and on top of it, and the drinks were really, really good, too. Overall, a great experience.
What did you eat and drink there?
MEGAN: We shared a dim sum plate and a couple of shrimp appetizers the waitress suggested. I actually ordered a Ring of Fire drink for Jason, and he ordered me a tequila drink of some sort — I didn't catch the name of it. The guys at Monkey King surprised us with, I think it was called the Scorpion Crown or the Scorpion King drink? We were trying to figure out what alcohol was in there, but I honestly don't recall. It was cool because they served it in a crown. It was a large crown of alcohol. It got me pretty tipsy.
JASON: They brought us out a punch bowl, and it was in a crown, so that was really cool because we didn't know what was in it. I think it was called the Scorpion King or something like that. We ordered a bunch of small plates like shrimp, and I think it was like a sampler, but I can't remember the name of it. I know we decided to order each other a cocktail, and surprise each other based on what we knew of each other. I ordered her something called All Tied Up.
How was your experience at Music Box?
MEGAN: Oh, that was a lot of fun. That was a fun surprise. It was a great show. Again, everybody was extremely friendly, and the service was great. The entertainment was so much fun to watch
JASON: Music Box was awesome. That was actually both of our first times there, so it was a great venue. I would definitely like to go back again. That was our first burlesque show, too. So, yeah, we had tons of fun.
What did you drink there?
MEGAN: Yes, I had a couple glasses of their sparkling rosé. And I'm pretty sure he had a few mule cocktails.
JASON: Yeah, I had the mule and she had the rosé. She was keeping it classy.
Where did you go and what did you do for the rest of the evening after dinner?
MEGAN: Well, it was a school night. Our driver picked us up probably around 11 o'clock, so it wasn't too late, but it wasn't too early, I guess. We ended up just going home. I was supposed to catch a flight in the morning, so there was that. It ended up getting canceled because of the winter storm. I was supposed to go to Mammoth. There was an avalanche up there, so it's kind of a good thing I didn't go.
JASON: Well, actually, she had an early morning the next day, so we couldn't really stay out too late. We both understood that. She had to fly out to go snowboarding for the weekend. So basically after the show, we both went home, but we exchanged numbers. So that was good.
When did you get home?
MEGAN: I'm guessing probably around 11:15 or 11:30.
JASON: Probably 11:30.
Was there a kiss or romantic exchange?
MEGAN: Romantic exchange? Well, I don't recall a kiss. I don't recall a romantic exchange. I don't think there was one.
JASON: No, we just exchanged numbers. There wasn't really a right time for it because, you know, we were at a bar and we're not in college anymore. And then, right after that, we got into the car and I live like 5 minutes away, so there really wasn't any time for us.
Fill in the blanks. I wish my date had a bigger "blank" and a smaller "blank."
MEGAN: Ooh la la, what kind of questions are these? I wish my date had a bigger… Oh my gosh, I don't even know how to fill in these blanks. Oh, you know what? I wish my date had a bigger appetite. Looking back at what we ate, we shared a dim sum plate and then we shared these two shrimp appetizer things. I kind of wanted to eat some more. So, there you go. I wish my date had a bigger appetite and a smaller amount of alcohol. Actually, for the both of us. I got pretty boozed up.
JASON: Hmm. That's an interesting question. Let's see… I would say, probably a bigger, let's see, I want to say, bigger… No, there's really nothing to say about her wanting to have something bigger. I would say maybe a smaller tolerance, because I think she drank me under the table.
What's the funniest thing that happened during the date?
MEGAN: We had a lot of fun the entire time, but one of the funny things I recall is, we had a blast with our crown of alcohol. We were trying to put the crown of alcohol on my head, and I was trying to wear it like a queen. I'm an interior designer, so I was getting such a huge kick out of the ambience and décor at Monkey King. We saw this really huge chair and we started taking photos in it. I can't remember if that was our own thing or if the photographer told us to do that, but I had a great time.
JASON: I don't remember any one thing standing out, because we were laughing the entire date. I don't think there was a moment of silence between us during the entire date.
What was the best part of the date and why?
MEGAN: Man, they were all really good parts. We had fun conversation, I think we were both just wrapped up in the moment of, not necessarily being on the date together, but just being on a blind date with PACIFIC magazine. He was getting a kick out of the experience of the food, being at Monkey King and the burlesque show. I definitely enjoyed the burlesque show; I've never seen the Suicide Girls. They were pretty badass!
JASON: The burlesque show. Because for both of us, we've never been to one, and it was nice that she was comfortable with both of us there with (nearly) naked women on stage. That was good. I think that was probably the best part of the night.
What was the worst part of the date and why?
MEGAN: There weren't really any terrible parts. I guess, maybe just the very end because it had to end. I really wanted to see the remainder of the burlesque show, but our driver picked us up.
JASON: Probably that we had to cut it early, just because she had to go catch a flight the next morning. That's got to be it, because everything else was perfect.
Will there be a second date? Why or why not?
MEGAN: I would say there could be a second friend hangout. I definitely enjoyed Jason's company, he was a lot of fun. It was really cool hanging out with him and checking out Monkey King and watching the burlesque show. I don't know that I'm attracted to… I just have a specific type and he just wasn't it. But he was great to be around.
JASON: I think so. I guess we'll have to wait and see.
What's one thing your date really should know before going on another date?
MEGAN: Maybe ask a little more personal questions about your date.
JASON: I don't think there's anything. She's a good dater, she was open to anything. She ate just as much as I did. At one point, we were trying to divvy up the appetizers evenly so that no one was left out. She was the perfect date.
What could have made this date better?
MEGAN: I had a great time. I mean, like I said before, if we had stayed until the end of the burlesque show, that would have been cool (the limo picked up the couple just before the end of the show). But other than that, I was in great company, enjoyed the food at Monkey King, loved the burlesque show, so that was the only thing. I just wish I could have seen the end (of the show).
JASON: If we had a little more time. I think with both of our energies and everything, it could have been a late night for both of us.
Anything else you'd like to add?
MEGAN: Well, all in all, I had a fabulous time. And Jason was pretty cool to chill with.
JASON: I think she was a perfect date. She was fun, energetic. The staff at both places, Monkey King and Music Box, and even the driver, they were on point. They were taking care of us.
AFTERMATCH: While we were secretly hoping for the burlesque show to amplify our daters' hormones, it seems like Jason's stuck in the friend-zone for the time being. So unless Megan suddenly discovers a newfound appetite for Asian dudes, Jason's just going to have to try his luck elsewhere. At least he now knows a "fun-sized" interior decorator should one of his vacation rentals need sprucing up.
Editor's Note
Daters' answers may have been edited for length and clarity.
Special thanks and promotional consideration to
EPIC Limo: 858.270.LIMO (5466), epiclimo.com
Monkey King: 467 Fifth Ave., Gaslamp, 619.359.8897, monkeykingsd.com
Music Box: 1337 India St., Little Italy, 619.795.1337, musicboxsd.com
Blackheart Burlesque: blackheartburlesque.com
Matchmaker Jessica Pelligra: matchandmagic.com
Sign up for the Pacific Insider newsletter
You may occasionally receive promotional content from the Pacific San Diego.