Blind Date: Something in the air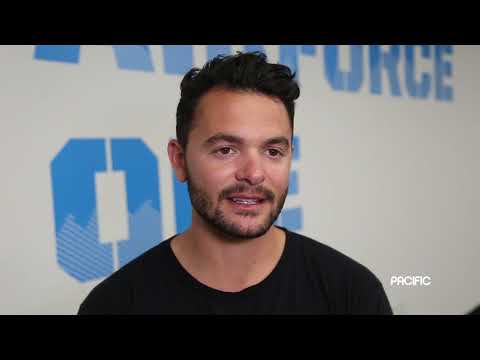 Blind Daters spend the better part of an hour jumping and rock climbing, and they ultimately attempt the House of Air's unforgettable 20-foot freefall experience before heading to dinner at Pisco Rotisserie & Cevicheria.
Pacific Beach locals Brittany and Nate are about to meet for the first time in what might be the longest car ride of their lives. First, the EPIC Limo picked up Brittany, a budding event planner. And minutes later, it arrived at Nate's place, where the jetpack instructor's roommates strummed guitars and serenaded Brittany as their fun-loving friend climbed inside the luxurious ride.
With the ice now sufficiently broken, the daters buckle up and crack open a couple beers to enjoy during the drive to tonight's first destination: Carlsbad's House of Air trampoline park. While Brittany and Nate spend some time getting to know each other in the limo, let's review their pre-date interviews to learn more about each of them.
Where are you from, and where do you live now?
BRITTANY: I'm originally from a little town in Maryland called St. Michaels. I moved to Pacific Beach about three and a half years ago and definitely plan on staying in California.
NATE: I'm from Oregon. Now I live in Pacific Beach.
What do you do for a living?
BRITTANY: I'm an administrative assistant, but I've recently started transitioning into events. I just threw my first event at the Hard Rock Hotel San Diego. It was called Canines & Cocktails, and it benefited the organization I adopted my pup from. It was a huge success!
NATE: I film and fly jetpacks at Mission Bay Sportcenter.
Why are you going on a blind date in PACIFIC?
BRITTANY: Well, this isn't something I would normally do, but 2018 is all about trying new things.
NATE: PACIFIC's matchmaker wants to laugh at me.
What do you do for fun?
BRITTANY: I recently started becoming more of a morning person, so I love waking up early and going to yoga. That really helps to start my day off right! But my favorite thing to do since getting my dog Roo back in December is taking her to the dog park with friends.
NATE: I love to surf, and I try to play drums in my roommates' band, but they say I'm not good enough to join.
What are you best at?
BRITTANY: I may or may not be a pro at making sandwiches.
NATE: It wasn't chosen, but I'm best at the technological side of the world. But I still think my Creed impression is the most talented thing I can do.
What do you suck at?
BRITTANY: Keeping up with the Kardashians. I'm not really your go-to person for celebrity gossip or pop culture.
NATE: I'm usually the guy that ruins it for the team in Flip Cup. My heart is racing just thinking about it.
What are you looking for in a date, physically and/or otherwise?
BRITTANY: I'm a sucker for tall men with dark hair and pretty eyes, but if you're driven, have a sense of humor and don't take yourself too seriously, then looks don't really matter. Bonus points if you're active and enjoy doing things outdoors! Oh, and you have to love animals.
NATE: I sometimes have a dark sense of humor, so it would be great if that doesn't make it awkward. Physically. I like feminine necks, which sounds weird…
Describe your special brand of sex appeal in five words or less.
BRITTANY: Umm, what?
NATE: Easy. Mysterious.
What do you like least about yourself?
BRITTANY: My indecisiveness. Trying to work on it!
NATE: Putting too many eggs in too many baskets. That isn't sexual innuendo, I just seem to spread myself pretty thin with too many "great" ideas that I think I have.
Rate yourself on a scale from one to 10 for looks.
BRITTANY: Well, damn, I don't know, an eight?
NATE: I was pretty hot, like 10 years ago, now I'm sliding down the scale. Currently at a seven and falling.
Rate yourself on a scale from one to 10 for personality.
BRITTANY: Probably also an eight. Honestly, who would write 10s for these questions?
NATE: I can be pretty hard-headed at times, so I'm going with a seven.
What's your biggest fear?
BRITTANY: Shark-infested tidal waves. I'm not afraid of the ocean or anything, but I have these strange recurring nightmares where giant waves with sharks swimming in them are about to drown me on a beach.
NATE: What if you just lost your mind and were living a nightmare you couldn't stop? Try to sleep now, I dare ya.
What traits might your date exhibit that would be complete deal-breakers?
BRITTANY: How they act in a restaurant. If they don't know how to treat a waitress, then they definitely don't know how to treat a woman.
NATE: If she begins every sentence with "me" or "I." I won't leave the date, but you'll see me ordering a lot more alcohol.
How many people have you slept with?
BRITTANY: (Laughs) Nice try! A lady never tells.
NATE: Enough to know where that pesky clitoris thing is.
Fill in the blanks: I want my blind date to be "blank" and "blank."
BRITTANY: Weird and fun.
NATE: Fun and quick-witted.
Will the night end with a kiss, something more or something less?
BRITTANY: If there's a spark, then a kiss might be on the table. Who knows!
NATE: My wife is going to hate me, but I'm usually OK with a kiss if sparks fly.
What's the most important thing in the world?
BRITTANY: Family and my friends who have become my family. I wouldn't be where I am today without them!
NATE: Is this question mocking me for not being in love? Very funny.
What's typically a 30- to 40-minute drive in light traffic from P.B. to Carlsbad stretches to well beyond an hour thanks to the countless other cars on the road. The once colorful sky is now darkening shades of blue, and Nate's bladder is about to bust from all the beer he's imbibed. Who could've guessed traffic on the 5 would be this bad during rush hour?
Finally, though, the red river of brake lights thins and the limo arrives at the House of Air in time for Nate to relieve himself. Now it's time for the daters to slip into some grippy socks before the bouncing begins.
Jumping for Joy
Brittany and Nate test their aerial acrobatics
Carlsbad's House of Air is a recreational facility offering indoor rock climbing, ninja obstacle courses and tons of trampoline-centric activities including trampoline dodgeball and a trampoline dunk zone.
It doesn't take long for Nate for find his footing and start flipping across dozens of connected trampolines surrounded by equally elastic angled walls. Brittany is also quick to get the hang of things, though she's a bit more reserved than her adrenaline-addicted date. The two spend the better part of an hour jumping and rock climbing, and they ultimately attempt the House of Air's unforgettable 20-foot freefall experience.
When Brittany and Nate are equally exhausted (and the House of Air is about to close for the night), the daters quickly change into their evening attire and get back into the limo for a short trip to Pisco Rotisserie & Cevicheria, Carlsbad's hot new Peruvian restaurant.
Upon arrival at Pisco, Brittany and Nate are whisked away to a cozy table, where they begin to feast on a world of flavors known as Novoandina, an emerging style of Peruvian cuisine that puts a fresh spin on indigenous ingredients. After the daters have time to throw back a few drinks and nosh on some shared plates, we split them up for mid-date debriefings.
How's it going so far?
BRITTANY: It's going really well. I'm having fun.
NATE: It's going very well. I think she's a nice lady.
What were you first impressions of your date?
BRITTANY: Well, he brought out his roommates to play guitar and serenade me. So I could tell he had a sense of humor, so that was good. That was funny.
NATE: My first impression is that she was very pretty and she seemed down to earth.
Is this the type of person you'd normally date?
BRITTANY: Um, yeah. I would think so, I guess. I haven't really figured out exactly my type of person, but they have to be funny and adventurous, and he seems to be both of those things.
NATE: No. She's kind of a "downtown girl," it seems like. She works downtown, chills downtown. So probably not normally, because I would never run into her.
What do you think of the way your date is dressed?
BRITTANY: I like the way that he's dressed. I will say, I came prepared for the trampoline park first, so he appeared overdressed at first. But he brought a change of clothes, so he has good style.
NATE: I don't like her shoes. No, I'm just kidding, I've never seen her shoes. I have no idea what she's wearing… She is dressed lovely, I like her dress right now. And she came in workout clothes, which is cool.
How was your experience at House of Air?
BRITTANY: It was really fun! It was cool that we had the place pretty much to ourselves. I liked the big drop part; that was fun. And rock climbing at the end was really fun too, because I haven't done that in a while.
NATE: It was so much fun! I feel like I ignored her most of the time. I was just having so much fun that I didn't even pay attention to her. I felt kind of bad. I wanted to do flips and tricks and stuff. I feel like I could have paid more attention to her.
How is your experience at Pisco so far?
BRITTANY: It's awesome. The Prickly Pear Pisco Sour is pretty amazing and the ceviche is awesome. I like Peruvian food. I haven't had it in a long time. It's really good.
NATE: It's good, I'm full, sitting at the table right now and I'm very full.
What's the most attractive thing your date has done so far?
BRITTANY: Hmm... He always lets me go first when we go through a door. I feel like that's important.
NATE: I felt like the most attractive thing is that she just took that big leap off of that big drop, and I thought that was really, really attractive because she wasn't scared to take risks.
What's the least attractive thing your date has done so far?
BRITTANY: I don't know if I would say anything is least attractive. Now that I'm thinking about it… I don't know.
NATE: (Jokes) She farted really loud and that was a little bit weird. Oh, she does do the whole, "I," "I," "I," "me," "me," "me," "me" thing. Like, I feel like I'm asking all the questions, and she's like, "Oh, me," "Oh, I," "Oh, me," "Oh, I," "Oh, me," "Oh, I." It's never like, "Oh, how did you do with that thing?" I just keep asking her questions about everything that she does, and she doesn't. That's the least attractive thing, but she doesn't do it that much.
Rate your date on a scale from 1 to 10 for looks
BRITTANY: I would say a 9.
NATE: 9.
And for personality?
BRITTANY: I'd say a 9 too.
NATE: She has a great personality. I'd say a 9.
What's your date's most attractive physical quality?
BRITTANY: Physically? He has good hands.
NATE: Just physical? She has nice teeth.
What's your date's least attractive quality?
BRITTANY: Least attractive quality? That's a hard one. Well, I don't know… I would say, that he did reveal to me that he kissed a guy, and that it hurt because he had a beard and it was prickly.
NATE: I don't find her unattractive, except for the "I," "I," "I" thing.
Do you want to kiss your date right now?
BRITTANY: Maybe after I drink one more drink… I don't know, I might be a little prickly. Maybe after the fried rice, I could handle it.
NATE: Like, with you staring at me? I'd probably kiss her. I'm a slut.
Does your date want to kiss you?
BRITTANY: I don't know. We might have to get one more drink in us before we figure out the vibe.
NATE: I don't really know.
How and when will the date end?
BRITTANY: Probably after one of us finishes the "brown hole"? (Editor's note: The "brown hole" became an inside joke on the date after the daters were served cotton candy with cinnamon on top that looked like a brown hole.)
NATE: I hope we can have some beers in the limo. And then have anal sex in there on the way back.
Anything you'd like to add?
BRITTANY: I have a tip for next time: Maybe don't do beer and long car rides plus traffic so the date doesn't have to potentially pee out the window. That didn't happen, but he wanted to. He was close. He asked me to finish my beer so just in case, he could have two bottles, because he didn't think he could stop at just one.
NATE: I recommend the Capitan cocktail. It's quite nice.
AS PERU USUAL
Brittany and Nate finish dinner at Pisco before heading back to P.B.

With thoughts of cotton candy and the "brown hole" swirling around, are Nate's back-door ambitions about to take shape? The daters return to their seats to finish what's left of their meal and, since it's getting late, we give the daters some space and follow up the next day to find out what we missed.
How was your experience and dinner at Pisco?
BRITTANY: It was great. Everything was really good, the food was really different and interesting. It was cool. It was a good change of pace.
NATE: Good! The food was really, really good. I had a really good drink. I think they stopped serving alcohol at 9:30 or 10, I can't remember. That was the only thing.
What did you eat and drink there?
BRITTANY: We had the ceviche, and we had empanadas. We also had a pork-fried rice with a sunny-side up egg on top that was really good. And we had the grilled octopus, and I got the Prickly Pear Pisco Sour, and that was awesome.
NATE: I had the Capitan, which was basically a whiskey drink. And then we had the empanadas, and the ceviche was really good. And then they brought out cotton candy.
Where did you go and what did you do for the rest of the evening after dinner?
BRITTANY: After dinner, it was kind of late, so I ended up going back to my friend's benefit in Mission Beach. Her dad passed away of prostate cancer, so she had a charity fundraiser at Single Fin Surf Grill. Nate went home.
NATE: Afterward, she had a memorial thing to go to. She invited me to go to that, but I don't know, that's kind of morbid. So we drank some tequila in the car and parted ways.
When did you get home?
BRITTANY: I got home probably at midnight.
NATE: I think 11? Maybe 10:30?
Was there a kiss or romantic exchange?
BRITTANY: No kiss, but there was a hug.
NATE: No, she gave me her number. That was it.
What's the funniest thing that happened during the date?
BRITTANY: Funniest thing was probably when we had the super long car ride in traffic and he had to pee really bad. It was kind of funny watching him struggle through that.
NATE: The funniest thing was at my own expense. There was a car on the way there that had a flag on it, and it was waving a lot in the distance, and I thought it was a bird. I was like, "What is that bird doing?" And she was like, "That's a flag." And I was like, "OK, I'm dumb."
What was the best part of the date and why?
BRITTANY: The best part was definitely the freefall part at the trampoline park. That was really fun and something I've never done before. It was cool because it was kind of scary and it puts you out of your comfort zone. But I kind of went ahead and jumped. I didn't really give myself enough time to think about it.
NATE: I thought the best part was the jump thing at House of Air, where it's a big fall, like 15 feet. I thought that was cool because I got to see how she's cool with pushing her limits and she's a risk taker.
What was the worst part of the date and why?
BRITTANY: Honestly, probably sitting in traffic on the long car ride.
NATE: The worst part was the drive up to House of Air, because I almost peed my pants.
Will there be a second date? Why or why not?
BRITTANY: Probably. I've talked to him today. He was a cool guy, so hopefully we'll link up again after. He lives near me, too, so we'll most likely run into each other anyways.
NATE: Maybe. I don't really know. We just texted, we're kind of texting already. I'll probably ask her on a second date.
What's one thing your date really should know before going on another date?
BRITTANY: Use the restroom before getting in the car.
NATE: I think she did fine. I only have positive things to say. She's down to earth and cool to talk to. She should be like how she was on our date.
What could have made this date better?
BRITTANY: Colder beers and more tequila.
NATE: I felt like we didn't really get a whole lot of alone time, I guess, like, the drive back and the drive there, really. But there wasn't really alone time, you know what I mean? We were always around somebody. We didn't really have alone time to hang out. I mean, we could have obviously done it afterwards, but I didn't really want to go to a funeral thing.
Anything else you'd like to add?
BRITTANY: It was really fun, it was an awesome idea for a date. It was cool. I think it's fun. Something that people don't normally do, so it was a good experience.
NATE: No, I think that pretty much sums it up.
AFTERMATCH: It's a shame Brittany's charity fundraiser killed Nate's buzz, otherwise who knows how this date would've ended. It sounds like they're both already thinking about date number two, though, so perhaps talk of the "brown hole" is still on the table. Hopefully, Nate will keep us posted. Bottoms up!
Editor's Note
Daters' answers may have been edited for length and clarity.
THANK YOU!
EPIC Limo
858.270.LIMO (5466), epiclimo.com
House of Air
6133 Innovation Way, Carlsbad
760.201.1313, houseofair.com

Pisco Rotisserie & Cevicheria
5970 Avenida Encinas, Carlsbad
760.438.1212, piscorotisserie.com
Matchmaker Jessica Pelligra
matchandmagic.com
Sign up for the Pacific Insider newsletter
You may occasionally receive promotional content from the Pacific San Diego.