Blind date: Mission improv-ible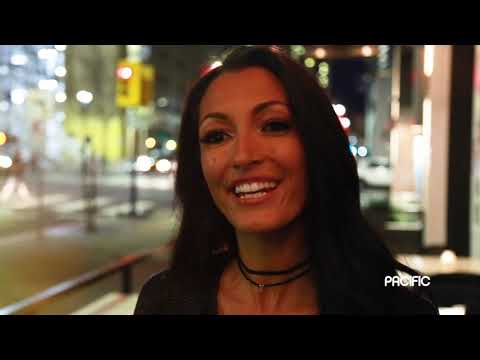 Pacific Magazine sent Blind Daters Omid and Ashley to WhipHand American Brasserie + Beer Bank for dinner, the pair then took the stage at a live performance at the National Comedy Theatre in Mission Hills.
Once upon a time, in a sunny seaside town filled with beaches, craft breweries and great Mexican food, a man and a woman agreed to be set up on a blind date for PACIFIC magazine. They agreed to do so in the hopes of finding their one true love, or at the very least, having a fun night out on the town. Both daters were ready to head into the date with open hearts and open minds, hoping that the person they were being set up with might be the one to break their single streak and take them off the market.
So what are the odds that this pair of star-crossed lovers already knew each other, albeit unknowingly? Well, if you're 28-year-old Ashley or 37-year-old Omid, the odds were in their favor.
For the first time ever, according to PACIFIC's matchmaker, the two daters that were selected to go on the PACIFIC blind date had already been introduced (via text), only days prior. And in an even more stunning twist of fate, these two daters had their second date planned before they even went on their first.
Talk about meant to be.
Before the daters have their moment of serendipity in an Epic limousine, let's meet them, via their pre-date interviews.
Where are you from and where do you live now?
ASHLEY: I am from Silverdale, Wash., and I currently live in San Diego.
OMID: I grew up in Los Angeles, but moved to San Diego in 1999 and have been here since. Currently reside in north Pacific Beach.
What do you do for a living?
ASHLEY: I run an online branding and consulting company. I help brands amplify their web presence so they can make more money and impact.
OMID: I am a partner at Five Marketing & Management, a nightlife-based company providing a variety of services to nightclubs, bars, restaurants and hotels. We also curate experiential-based small festivals like Horizon, Barks N Brews and Bayked.
What's your Instagram handle?
ASHLEY: @ashley.hann
OMID:@omidsabet
Currently, what dating apps can be found on your phone?
ASHLEY: (Laughs) All of them and I use none of them. My friends told me to try them, so I created profiles and then forgot about them. Whoops.
OMID: Bumble.
Where can you be found on the weekends?
ASHLEY: Mostly my house. I'm a bit of a homebody. Otherwise, you can find me at the beach or pool; if it's nice out, the park with my dog, the gym or out enjoying a nice dinner with friends.
OMID: I try to be active with a hike, bike ride or workout. I definitely try to get some uncle time in with my 1-year-old nephew. I also usually go out one night with dinner, drinks and wherever the night takes me.
What are you best at?
ASHLEY: Always elevating and growing. Also, I'm really great at always figuring things out. I'm super resourceful and I believe there is always a solution to anything and everything.
OMID: I'm a great listener, (I'm) understanding and like to think I give good advice.
What do you suck at?
ASHLEY: Singing. But I will 100% do it anyway. Karaoke is one of my favorite things.
OMID: Long-term commitment, but I'm working on it.
What are you looking for in a date, physical or otherwise?
ASHLEY: Physically, I'd like them to be taller than me and have a nice, kind smile. I tend to prefer dark features, however, I wouldn't say I have a solid physical "type." What I am really looking for in a date is someone who is respectful, honest, genuine, open, loving, emotionally intelligent, highly conscious and playful.
OMID: Physical attraction definitely grabs the attention, but depth of conversation keeps it. If you're into yourself too much, I'm good! A strong go-getter personality is a plus.
Why do you think you'll be a good date?
ASHLEY: I'm authentic, confident, genuine and I'm great at creating connection, fun and playfulness! I'm also a total goofball.
OMID: I don't think I've ever been a bad date.
Describe your special brand of sex appeal in a Tweet.
ASHLEY: Sweet and silly with a side of spice!
OMID: (Aladdin voice) Hop on my carpet and I can show you the world.
Rate yourself on a scale from one to 10 for looks.
ASHLEY: Nine.
OMID: 8.12756.
Rate yourself on a scale from one to 10 for personality.
ASHLEY: 10.
OMID: 7.49 — sarcasm problems.
What's your cocktail of choice?
ASHLEY: A nice glass of wine.
OMID: Dirty (vodka) martini on the rocks.
What's a total deal-breaker on a date?
ASHLEY: Being rude to myself or other people, negativity, complaining or gossiping.
OMID: A girl that lights up a cigarette.
How many people have you slept with?
ASHLEY: I am currently abstinent.
OMID: Nice try.
Fill in the blanks: I want my date to be "blank" and "blank."
ASHLEY: Authentic and fun.
OMID: I want my date to be easygoing and ready to have some fun!
Will the night end with a kiss, something more or something less?
ASHLEY: Probably something less. I typically do not kiss on first dates.
OMID: No expectations at all. It'll end how it should.
Ashley and Omid appear to have a lot in common. Omid says that having a "go-getter personality" is a plus in his book, while Ashley appears to be ambitious and, yes, a go-getter. They've both dabbled in dating apps, but haven't been lucky in love.
There are, however, some key differences: While Ashley claims she's an abstinent homebody, Omid is a nightlife veteran who likes to hit the town and struggles with long-term commitment.
As it turns out, PACIFIC's matchmaker Jessica wasn't the only person (or the only Jessica) who thought Omid and Ashley should meet. See, Ashley and Omid have a lot of mutual friends, and completely separate of this blind date, they were set up by another friend (also named Jessica) and already had plans to meet up for a coffee date.
Imagine Ashley's surprise when, upon arriving at her blind date's house, the limo driver called and Omid showed up.
Let's see if this crazy coincidence alone can get Ashley to break her "no kissing on the first date" rule.
Whip it real good
Ashley and Omid take in dinner, then take center stage
Ashley and Omid are dropped off for dinner at WhipHand American Brasserie + Beer Bank, a hip spot that recently opened in East Village. The trendy eatery is the latest from Grind + Prosper Hospitality, the team behind other notable hotspots such as Park 101 and Miss B's Coconut Club.
It appears that Ashley and Omid are getting along famously, with the conversation (and the drinks) flowing naturally. They dig into a menu filled with elevated comfort foods like Short Rib Fondue and Zucchini Truffle Fries, and before long, it's time to head to Mission Hills for an improv show at the famed National Comedy Theatre.
An improv show differs from a standard comedy show in that the performers, plotline and characters are made up on the spot, with suggestions taken from the audience to keep the show fresh, off-the-cuff and entertaining (think Whose Line Is It Anyway?). Many of the biggest names in comedy (like Amy Poehler, Tina Fey, Will Ferrell and Keegan Michael-Key) got their start in improv comedy.
Ashley and Omid are given priority seating at the show, and are eventually pulled up on stage to participate in several improv games with the cast. They are teamed up against each other in a game that requires them to do slow-motion activities like laundry, as other cast members commentate.
The daters are earning their improv stripes, but has Omid earned that kiss? During intermission, the daters are separated for their mid-date debriefing.
How's it going so far?
ASHLEY: It's going amazing, I'm having so much fun.
OMID: So far, so good.
At first glance, would you swipe right or left on your date?
ASHLEY: Wait, what's the good one? Right, I would have swiped right. The good one.
OMID: Definitely right.
Is this the type of person you'd normally date?
ASHLEY: I don't know how to answer that. I don't have a normal type, to be honest. I love that he's open and we've had really deep conversations, as opposed to being surface. So, yeah, I wouldn't say he's the typical guy, I would say he's his own guy and I'm enjoying getting to know him.
OMID: Yes.
How was your experience at WhipHand American Brasserie + Beer Bank?
ASHLEY: The atmosphere was casual, nice and intimate. We had good food, great conversation and the drinks tasted really good as well.
OMID: We tried the zucchini fries, the short ribs and the lobster. All of it was delicious.
How was your experience at National Comedy Theatre?
ASHLEY: That was really fun. I had a great time, I had fun with it. I was trying my best not to laugh while I was up there, but I was definitely cracking up.
OMID: I think I tweaked my neck (on stage), trying too hard to be funny. I think it was fun.
What's the most attractive thing your date has done so far?
ASHLEY: I would say opening up. Opening up and being willing to talk about deeper stuff.
OMID: Her smile is pretty attractive.
What's the least attractive thing your date has done so far?
ASHLEY: I'm trying to think of something he's done that's not attractive. Honestly, nothing that I can think of right now, but I might come back to it.
OMID: Can't think of anything.
Rate your date on a scale from one to 10 for looks.
ASHLEY: He's a nine or a 10 for me.
OMID: 10.
And for personality?
ASHLEY: An eight or a nine.
OMID: 10.
Did you have a chance to social stalk them?
ASHLEY: No.
OMID: Nope. Should I?
What's your date's most attractive physical quality?
ASHLEY: His skin. I really like his skin.
OMID: She's in great shape.
What's your date's least attractive physical quality?
ASHLEY: I don't have anything that's really sticking out as unattractive.
OMID: Pass.
Do you want to kiss your date right now?
ASHLEY: I don't kiss on the first date. He's very attractive.
OMID: Sure.
Does your date want to kiss you?
ASHLEY: I don't know.
OMID: Probably.
Is this someone you'd take home to mom, or just take home?
ASHLEY: He could definitely be someone I'd take home to mom. He's got good values and he's a family man. From what I know about him so far, he's a good guy.
OMID: I'd take her home to mom.
How and when will the date end?
ASHLEY: I think it's going to end great. I'm having an awesome time. (Laughs) And he already has my number, so I was going to say, I'll give him my number, but he already has it.
OMID: After a couple more drinks and a little more conversation.
These two seem to really be vibing with each other. They have a natural chemistry, and it's easy to see why more than one person thought to set them up.
Neither can name anything unattractive the other has done, or name a least-attractive physical quality about the other. Both claim that this is the type of person they'd definitely bring home to mom. And, as Ashley pointed out, they've already exchanged phone numbers.
This seems like a match made in heaven. After the comedy show wraps up and Omid and Ashley make their final curtain call, the PACIFIC crew leaves the daters to see where the night takes them.
Manifest destiny
Already dreaming of the future to come
If ever there were pair of daters who seem like they could go the distance, it's Ashley and Omid. Everything about the date seemed, well, as Ashley would say, serendipitous. It's almost as if these two were destined to meet, one way or another.
And after the PACIFIC crew left, Ashley and Omid spent more time together, having deep conversations and getting more comfortable with each other. Comfortable enough for Omid to score that kiss?
Let's find out.
How did everything go?
ASHLEY: Everything went really well. I really enjoyed myself. I enjoyed the conversation and I really loved the comedy show. That was a lot of fun.
OMID: Everything went really good.
Where did you go and what did you do for the rest of the evening after the improv show?
ASHLEY: We went to Herb & Wood, and we just had a bite to eat there and a glass of wine and just continued our conversations and got to go a little deeper, which was cool, and connect further. And then I went home and he went home.
OMID: We went and grabbed a drink and some bites in Little Italy.
Did you guys exchange numbers?
ASHLEY: We actually already had each other's numbers. It's super serendipitous and really crazy, but basically, we have a mutual friend, a different Jessica, not Jessica (PACIFIC's matchmaker), (who) put (Omid and me) in a group chat. So we ended up scheduling a coffee date. I put it in my calendar and I kind of just forgot about it, you know?
Then Jessica (PACIFIC's matchmaker) calls me and sets me up on the blind date. We're driving over to go pick him up and we arrive at his place, and the driver calls him and says, "Hi, Omid, we're here." And when I heard that name, I was like, "Wait. Why does that name sound so familiar? There's not many Omids." And so he walks out to the car, and initial impression, I thought he was very handsome. And he gets in and we hug and I go, "Are you friends with Jessica?" And he knew right away.
What are the odds that we were set up on two different blind dates by two different Jessicas in the same week? It was super serendipitous and really bizarre. Both Jessicas do not know each other and had no idea. He texted me the next day, after our date, and said something like, if you're up for it, I'd like to upgrade our date to a dinner.
OMID: We had exchanged phone numbers the week before our blind date. You can't make that up at all. We literally have had one text conversation, and we had set a time and date. We only knew each other's names and phone numbers. Someone had given me a hint beforehand, because we have a mutual friend who was like, "Hey, I hear you're going on a blind date, I hear (Ashley) is going on a blind date," so like an hour before, I had a hint. But she didn't know until the driver called me and said my name.
Hook up?
ASHLEY: No. I mean, we kissed. Which, by the way, I'm not a first-date kisser, at all. I never kiss on first dates. So rare. It was an innocent kiss. We didn't make out or anything. It was a nice, end-of-the-night kiss, right when I was being dropped off. He was a gentleman.
OMID: We had an end-of-the-night kiss. I'll leave it at that.
What's the funniest thing that happened during the date?
ASHLEY: That's hard, because the funniest thing initially was obviously the small-world, crazy serendipitous thing, but also the comedy show. We were both cracking up. I manifested it. I kept saying to myself, I really want to go to a comedy show. Another serendipitous thing that we ended up going to a comedy show, because I'd been saying I wanted to go.
OMID: Well, besides the initial encounter where we realized we were supposed to meet, we hopped on stage at the improv show and each had to perform a little piece. That was pretty funny.
What was the best part of the date and why?
ASHLEY: Our conversation, overall. Starting from when he first got in the car. We had so much to talk about. We have a lot of mutual friends, so it was easy conversation.
OMID: I think the whole thing was great. The vibe and the conversation was super free-flowing. There was no awkwardness at all. And it seemed very effortless.
What was the worst part of the date and why?
ASHLEY: Nothing off the top of my head really.
OMID: The worst part of the date was being rushed through our dinner. I mean, you made me choose a worst part, so I had to give you one.
Do you follow each other on Instagram?
ASHLEY: Now we do, yeah.
OMID: Sure do.
Will there be a second date? Why or why not?
ASHLEY: Yeah, definitely a second date. We already had one scheduled, and it's now upgraded to a dinner date.
OMID: I think there will definitely be a second date.
Do you have any dating tips for your date?
ASHLEY: He told me that he's not usually as open as he was when we were on our date, so my advice would be to keep being open because that works. When you're open, that paves the way for connection. So staying open.
OMID: No, (just) do her. She dressed amazing. Had a great attitude. And she's really fun to be around.
Any final thoughts, parting words, shout-outs or anything else to add?
ASHLEY: Shout out to the National Comedy Theatre for putting on an amazing, fun and entertaining show. I had a great time there and would definitely go back.
OMID: I was very apprehensive going into the date and Jess [PACIFIC's matchmaker] told me not to worry and she was right. She nailed it on the match. I guess my parting words would be sometimes, go outside of your comfort zone.
And that, dear readers, is what they call destiny. Or coincidence. Or happenstance. Or, of course, serendipity. Whatever you call it, like Omid said, you really can't make this stuff up. Ashley and Omid certainly make a cute couple. And this whole thing makes for a great story.
We can just see Ashley and Omid sitting around one day, 50 years from now, telling their grandkids the story of how they met: they were set up, two different times, by two different Jessicas, in the same week. And their first date was featured in a magazine, recorded for posterity and as a testament to the fact that, if you keep an open mind, are willing to step out of your comfort zone, or if you at least trust in the way the universe works, you could wind up meeting the person you were destined to be with.
And, by the way, if Ashley and Omid do end up living happily ever after, PACIFIC expects an invite to the wedding.
EDITOR'S NOTE:
Daters' answers may have been edited for length and clarity.
SPECIAL THANKS TO AND PROMOTIONAL CONSIDERATION FROM:
Epic Limo
858.270.LIMO (5466), epiclimo.com
WhipHand American Brasserie + Beer Bank
619.450.5515, whiphandsd.com
National Comedy Theatre
619.295.4999, nationalcomedy.com
Matchmaker Jessica Pelligra
matchandmagic.com
Status update
Checking in with last month's blind daters
Dedicated PACIFIC readers might remember blind daters Ian and Katrina (February 2019 issue), who spent a busy day learning about bees – but by date's end, they were not calling each other "honey."
We checked in with our not-so-sweet-on-each-other duo to see what's happened since being featured in PACIFIC magazine. Here's what they had to say about their current status.
What were the reactions of your friends/family after you went on the date?
KATRINA: Most of my close friends knew I was going on the blind date ahead of time. There definitely were several who reached out to me once they saw it in print. Everyone thought it was funny and that I was a great candidate for going on a blind date.
IAN: They said that she's not my type. I agreed.
Has your opinion of the date changed since you went on it?
KATRINA: My opinion of our date has not changed, Ian is a very nice guy and I wish him the best in his search for love.
IAN: No.
What did you learn?
KATRINA: That I can go on a nine-hour blind date and enjoy myself knowing from the beginning there was no love interest.
IAN: Katrina is a good person and enjoyable to be around. And everyone has their moments, but if someone can't accept you for the person that you are, even when wearing a lab coat for the purpose of the activity, then she is not for you.
Anyone slide into your DMs since the blind date went to print?
KATRINA: No one has slid into my DMs since the date printed.
IAN: No. But I contacted Katrina on Instagram about the article on our date just to clarify a few things about what she said about me because I believe PACIFIC embellished on her responses about me from some of the questions that were asked.
Would you ever go on another blind date, either in a magazine or otherwise?
KATRINA: I would definitely go on another blind date. I am open to finding love.
IAN: I would go on another blind date (for) a magazine or other source as long as they abide and honor how I've described what I am seeking for my ideal girl. In case you are wondering, I'm into Latina women with curves that are brunette because they have special powers that they cast magical spells on me. And I like it. So if I get an opportunity, I promise not to wear a lab coat, unless there is chemistry.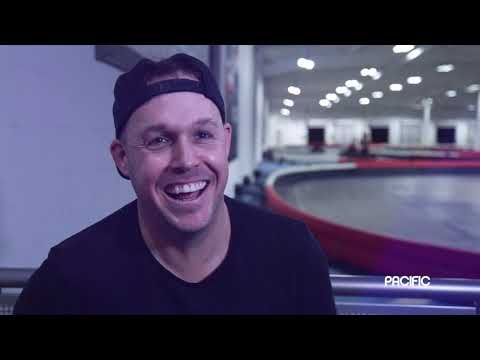 On Now
On Now
Blind date: The cold and the beautiful
On Now
On Now
Blind Date: Being supportive
On Now
Blind date: In distill of the night
On Now
Blind Date: Getting their axe together
On Now
Blind Date: SUP to no good
On Now
Blind Date: Build it and they will come
On Now
Blind Date: Something in the air
Sign up for the Pacific Insider newsletter
You may occasionally receive promotional content from the Pacific San Diego.