Blind date: Mezcal me maybe
It was a cold and rainy night in San Diego, the kind of night you just want to stay in, cuddled up under a blanket and getting your Netflix and chill on.
But blind daters Jessica, 30, and Jimmy, 26, aren't the kind of people to let a little rain get in the way of a good time. Instead, they put on their finest outfits (well, at least one of them did) and braved the cold in order to meet each other on PACIFIC magazine's blind date. Not even wet stuff falling from the sky could drown their hopes of finding love, or at least someone to lay close to for warmth during this long San Diego winter.
The pair first meet in an Epic Limo that picks up Jessica at her place in Hillcrest, followed by Jimmy at his spot in La Jolla, giving them plenty of time to get acquainted before being dropped off at this evening's first stop: Fort Oak in Mission Hills.
Before we check in on how the date's going, let's get to know the daters better, via their pre-date interviews.
Where are you from and where do you live now?
JESSICA: I am from Sacramento originally and now I live in Hillcrest. I absolutely love Hillcrest, lots of restaurants and you can walk to them all.
JIMMY: From La Jolla and haven't found a reason to leave.
What do you do for a living?
JESSICA: I have a salon suite in Bird Rock. I do upscale men's haircuts and grooming. It's been my passion for a few years. Working for myself has been an amazing experience.
JIMMY: I run a gourmet-flavored popcorn company called Partypop, which makes the greatest popcorn this world has ever tasted. I also coach JV baseball at La Jolla High School and enjoy passing on my knowledge.
How long have you been single?
JESSICA: I have been single about two years now.
JIMMY: I have been single since October after dating a Swedish girl for four years, on and off.
What's your Instagram handle?
JESSICA: @jessicaleslieharper
JIMMY: @jimmeyerott
Currently, what dating apps can be found on your phone?
JESSICA: I recently was told to check out Hinge! Haven't really started using it.
JIMMY: Bumble and Tinder.
Where can you be found on the weekends?
JESSICA: Weekends are always different. Could be relaxing around Hillcrest, brunch with the girls or exploring new things to do around S.D. The events are endless in San Diego.
JIMMY: Farmers markets, deep house/techno clubs or somewhere outside like Balboa Park or Kate Sessions Park or the beach.
What are you best at?
JESSICA: Home decor, men's hairstyling and putting together charcuterie boards.
JIMMY: I'm really witty and good at having a conversation with anybody and making people feel like they've known me for 10 years.
What do you suck at?
JESSICA: Using my calendar, responding to emails and anything to do with my car.
JIMMY: I procrastinate so much and rush myself a lot.
What are you looking for in a date, physical or otherwise?
JESSICA: Someone genuine who is as social as I am. Extra points if they work as much as I do! Also, some spontaneity and a great sense of humor.
JIMMY: Obviously, someone good-looking, but I need someone who is adventurous and not afraid to try new things. Someone who isn't stressed about the little things all the time and DGAF (don't give a f**k).
Rate yourself on a scale from one to 10 for looks.
JESSICA: I hate this game. I'm feeling myself today, so I'm gonna go ahead and say I'm an 8.
JIMMY: 7.5.
Rate yourself on a scale from one to 10 for personality.
JESSICA: 10, 100%.
JIMMY: Hard 10.
What's your cocktail of choice?
JESSICA: Skinny spicy marg, extra jalapeños please.
JIMMY: Margarita, baby.
What's a total deal-breaker on a date?
JESSICA: On your phone the whole time. Nothing less attractive than not being attentive on a date.
JIMMY: Someone who talks about their past relationship and what they are looking for now. The past is the past.
How many people have you slept with?
JESSICA: 23. Michael Jordan. It's a great number.
JIMMY: 32 confirmed, with a few extras that were questionable if you'd count them or not —depends who is keeping score.
Fill in the blanks: I want my date to be "blank" and "blank."
JESSICA: Confident and ready to laugh with me!
JIMMY: I want my date to be down-to-earth and have a sense of humor.
Will the night end with a kiss, something more or something less?
JESSICA: We will have to find out! I love a good kiss on a first date.
JIMMY: If everything goes right, something more.
By the looks of it, these two have a lot in common: they both work for themselves, they both love margaritas and they both have zero problem disclosing to a local magazine how many people they've slept with, which we salute them for.
There's one other thing that Jimmy and Jessica both love and that's, well, themselves, as they each rated themselves a 10 in the personality department.
Let's check in with these two to see if all this common ground is enough to make Jimmy's prediction for the end of the night come true.
Fort Nite
Daters have an out-of-this-world dinner at Fort Oak
Jessica and Jimmy are dropped off for dinner at Fort Oak in Mission Hills, the newest jewel in the Trust Restaurant Group crown. Open since early 2019, Fort Oak carries on the tradition of upscale, innovative dining that patrons have come to know and expect from the proprietors of other spots like Trust and Hundred Proof.
The daters continue to hit it off, diving into the menu and ordering a plethora of fresh seafood, including clams, mussels and oysters. Unfortunately for Jimmy, popcorn isn't on the menu, although he does take a liking to the Walrus Pops, Fort Oak's spin on the classic childhood Otter Pop dessert. Maybe it's an age thing?
Read on, dear readers.
How's it going so far?
JESSICA: It's going really well. Food's good, conversation's really good. We actually have a lot in common, which is amazing. He lives really close to my salon where I work in Bird Rock, like two blocks. And he makes flavored popcorn for a living, which is like my ultimate favorite snack. All my friends know that flavored popcorn is my thing.
JIMMY: It's going great. She's an amazing girl.
What were you first impressions of your date?
JESSICA: First impression was good. He was on time, ready to go. Came in, I guess I was a little nervous. We had a little beer to break the awkward silence a little bit. We just got to talking, and within five minutes, we were doing business.
JIMMY: Obviously, looks-wise, oh my God. And then we started to feel each other back. We're both very easy-going. It's a good, natural flow of conversation.
Is this the type of person you'd normally date?
JESSICA: I was thinking about that. I don't know if we'd ever cross paths, and I don't know if we'd ever talk to each other if we did. But aside from that, after meeting him, yeah, absolutely. I think he's somebody I would date.
JIMMY: Yes, absolutely.
What do you think of the way your date is dressed?
JESSICA: You can tell he's definitely laid back, from La Jolla. He has his Converse on. And I'm wearing my leather leggings and stilettos. So, it's a little opposite, but I live in San Diego, so I'm used to guys dressing casual. I think he looks good. He dresses well for himself.
JIMMY: She's dressed very nice. Relatively conservative, she didn't have any cleavage showing or anything.
How was your experience at Fort Oak?
JESSICA: I live really close to here, a couple blocks away. I didn't know this restaurant was here. This is amazing. Staff was really great. Venue is pretty cool. It's very unique, I've never seen anything like this in San Diego. It's definitely seafood-oriented. So, we're sitting right in front of the chefs and there's a raw bar right in front of us. We definitely did some seafood tonight. Everything was absolutely delicious. They recommended a couple things on the menu for us. And everything they did, we loved. Very unique stuff, down to the desserts. The homemade popsicles — the flavors were out of this world.
JIMMY: Service is amazing. They explain everything on the menu so well. The recommendations were amazing. I had mussels, I had clams, I had a really good chorizo and mussels mix, which was out of this world. And one of the coolest things was the Otter Pop-like dessert, which is something I haven't had since I was a kid, so brings back memories there. I can't say enough about this place. Amazing. Atmosphere is great.
What's the most attractive thing your date has done so far?
JESSICA: Just be confident and talk about his business. Right away, he was confident in what he does. He's not afraid to be himself. He's not trying to be someone he's not. He's just being himself and that, for me, is the most attractive.
JIMMY: Her willingness to be herself. That's something I really like. I can tell she's not trying to put on a front. She's real, she's down-to-earth. And for me, that's the most attractive thing.
What's the least attractive thing your date has done so far?
JESSICA: I would say talking about the prices of things on the menu. I don't think he was meaning to. I think it's just an age thing.
JIMMY: She was responding to her friends a little bit while we were hanging out, which is not a big deal. It's not a deal-breaker, by any means. But I got a couple phone calls and I just blew them off and she was responding to some friends. Not a big deal. Not ruining my night, by any means. But I had to pick something.
Rate your date on a scale from one to 10 for looks
JESSICA: For looks, I would say he's probably a 9.
JIMMY: For me, 10. She's beautiful. Gorgeous. Beautiful eyes.
And for personality?
JESSICA: Personality, 10.
JIMMY: 10 also. We're clicking pretty hard right now.
What's your date's most attractive quality?
JESSICA: I'm going to say his hair. He's got great hair.
JIMMY: Physical? She has amazing boobs. I looked in her eyes, and then someone dropped something, and I was on my way down, so yeah. I caught a glimpse.
What's your date's least attractive quality?
JESSICA: The not-cleaned-up facial hair. All about facial hair, but gotta tighten those lines up. If you're going to have facial hair, you gotta clean up the edges.
JIMMY: She had on a lot of eye makeup.
Do you want to kiss your date right now?
JESSICA: Yeah. I'd say so.
JIMMY: Oh, yeah.
Does your date want to kiss you?
JESSICA: I think so.
JIMMY: I think so.
How and when will the date end?
JESSICA: I don't know. He has an insane weekend, so our night will end well, but maybe not a late night.
JIMMY: I could see us definitely doing something more than just kissing. I could see it happening, yeah. I'll be a little tired tomorrow. I'll work through it.
Things certainly seem to be heating up for Jessica and Jimmy. Jessica says flavored popcorn is her thing, and Jimmy is the unofficial popcorn king of San Diego. And both daters used the same phrase to describe the food at Fort Oak: "out of this world."
Jessica and Jimmy also praise each other for being themselves and not putting on a front. And they both say they think the other would like to kiss them.
And even though Jessica spent a little too much time on her phone (according to Jimmy), and Jessica thinks Jimmy could tighten up his lines and his date-night wardrobe, all was forgiven when Jimmy claimed that Jessica's top physical feature are her boobs, despite her not even showing any cleavage.
By the end of dinner, Jimmy's pretty confident that the night will end with "more than just kissing." Does Jessica agree? Maybe if she gets a little mezcal in her…
Shots Fired
Jimmy and Jessica throw back a few at Tahona
Jessica and Jimmy's date isn't over after their dinner. Instead, they're whisked away to Tahona in Old Town. The traditional mezcal cocktail bar and restaurant offers more than 120 different varieties of the smoky agave Mexican spirit to sip on.
Tahona opened in late 2018 and it's a place that takes its mezcal seriously, offering tasting experiences that can include blindfolds and meditations (oh, my).
And, as our daters soon find out, the mezcal tastings at Tahona can also include cricket chasers.
Hey, it ain't flavored popcorn, but hopefully Jimmy and Jessica will still be happily chirping away when it's over.
After the mezcal tasting experience at Tahona, the PACIFIC crew leaves the daters alone to enjoy the rest of their evening. We called Jimmy and Jessica the next day to see how their night ended up.
How did everything go last night?
JESSICA: It was really great. The food was great. The mezcal tasting was great.
JIMMY: It was great. The food was good. The bar was amazing. And Jessica was super chill, down-to-earth and fun to be around.
Where did you go and what did you do for the rest of the evening after Tahona?
JESSICA: We actually went and made flavored popcorn after and watched movies for a little bit.
JIMMY: We went back to her place. We watched some stand-up comedy, hung out, had a great rest of the night. Had a couple drinks and had to have some popcorn, of course. It was great.
Did you guys exchange numbers?
JESSICA: We did.
JIMMY: Yeah, we're planning on seeing each other again. She works two blocks from where I live, so it's pretty convenient.
Hook up?
JESSICA: We did not.
JIMMY: We, I mean, just a kiss good night, but nothing past that. We were both getting pretty tired.
What's the funniest thing that happened during the date?
JESSICA: I would say that when we ate crickets for the mezcal tasting. It was the funniest, most interesting thing. I've never eaten crickets before.
JIMMY: Definitely when we were taking pictures, looking up poses and stuff. We had a lot of fun with that, just messing around. The crickets at Tahona were cracking us up, too. We both liked that. They (pulled out all the stops). It was top-notch, 10 out of 10.
What was the best part of the date and why?
JESSICA: We just had a lot of fun, we had a lot of fun ordering the food, trying everything out, posing for the pictures. We were giving the camera guy better poses, because we're so similar in coloring, he was doing us shoulders up, and we look like brother and sister! So we were just having fun with everything.
JIMMY: Best part of the date was probably when we got these Otter Pop desserts from Fort Oak. And we'd been looking up all these pictures of all these poses we could do, and there was this one with a banana and a guy and a girl, having it both in their mouths. So we were joking around about putting the Otter Pops in our mouths. That was funny because I could tell she was super down-to-earth and had a good sense of humor. For me, that was the best part of the night. She was super cool, down to make fun of herself.
What was the worst part of the date and why?
JESSICA: I don't know if there was a worst part, honestly. There really wasn't.
JIMMY: There was a little bit of time where she was sending messages to her friends about what was going on. It wasn't a big deal.
Do you follow each other on Instagram?
JESSICA: We did exchange Instagram (handles).
JIMMY: Oh, yeah. We went through all her Instagram pictures last, so I got her entire life story, back at her place. She got to see what I do, the places I've been. We got the socials going.
Will there be a second date? Why or why not?
JESSICA: I think so. He has a lot going on, but we made plans for next Wednesday, and we've already talked about doing a little business together too, which is pretty awesome.
JIMMY: I would say yes, because we connected on a lot of things. She owns a business, I own a business. We're both thinkers, which is important. We have that in common. Always thinking of new ideas and stuff like that.
Do you have any dating tips for your date?
JESSICA: I would say maybe dress up a little bit more. I mean, he was a great date, but I would say that's probably it. A little fancier.
JIMMY: I guess I have to say just the phone thing. I had a really good time, but if I had to nit-pick, I would say the phone thing.
Any final thoughts, parting words, shout-outs or anything else to add?
JESSICA: (The matchmaker) did such a good job.
JIMMY: Shout out Jessica for just being an awesome time. Very happy to have been able to meet her. You never know what's going to happen on a blind date.
Jimmy's right: You never know what's going to happen on a blind date. You could end up eating crickets or you could end up doing "more than just kissing." Jimmy seemed to be as taken with his date as he was with Fort Oak's nostalgic desserts. And although neither dater will cop to anything more than a goodnight kiss, we're confident these two will hang out again. Or maybe these brilliant minds will even end up as business partners.
Either way, if Jessica and Jimmy's next hangout involves Netflix and chilling, you know Jimmy will bring the popcorn.
EDITOR'S NOTE: Daters' answers may have been edited for length and clarity.
SPECIAL THANKS TO AND PROMOTIONAL CONSIDERATION FROM:
EPIC LIMO: 858.270.limo (5466), epiclimo.com
FORT OAK: 619.722.3398, fortoaksd.com
TAHONA: 619.255.2090, tahonabar.com
MATCHMAKER JESSICA PELLIGRA: matchandmagic.com
Status Update
Checking in with last month's blind daters
Looking back to last month's blind daters, Omid and Ashley ("Mission: Improv-ible," March 2019), we can't help but wonder if these two lovebirds are still dating or if the fairy tale ended when the blind date did.
We checked in with the duo to see where things stand.
Are you still seeing your blind date?
ASHLEY: I am in Southeast Asia traveling right now, but yes, we have still been talking pretty much every day that I've been here.
OMID: Yes! She's traveling in Bali currently, but we are still in touch.
What were the reactions of your friends/family after you went on the date?
ASHLEY: They were happy for me and thought it was really fun. Many of them have met him already as well.
OMID: Almost everyone is shocked I'd accepted going on a blind date, but think I'm pretty lucky to have been set up with a girl like Ashley.
Has your opinion of the date changed since you went on it?
ASHLEY: Nope!
OMID: No, it was great! Thanks (to PACIFIC and matchmaker Jessica) for setting it up and getting me out of my comfort zone.
Anyone slide into your DMs since the blind date went to print?
ASHLEY: Yes! (Laughs) So many people messaged me about it.
OMID: A couple, but not in a creepy way.
Would you ever go on another blind date, either in a magazine or otherwise?
ASHLEY: Let's just say that Omid set the bar pretty high there.
OMID: Honestly, probably not. There is no way the next blind date would come close to this one and I'll naturally have some unrealistic expectations going into it.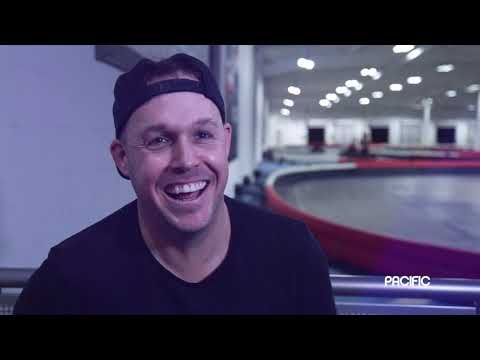 On Now
On Now
Blind date: The cold and the beautiful
On Now
On Now
Blind Date: Being supportive
On Now
Blind date: In distill of the night
On Now
Blind Date: Getting their axe together
On Now
Blind Date: SUP to no good
On Now
Blind Date: Build it and they will come
On Now
Blind Date: Something in the air
Want to be featured on the blind date? Or know someone you want to set up? Send an email to lifescool@pacificsandiego.com.
Sign up for the Pacific Insider newsletter
You may occasionally receive promotional content from the Pacific San Diego.