Blind date: An international adventure to Baja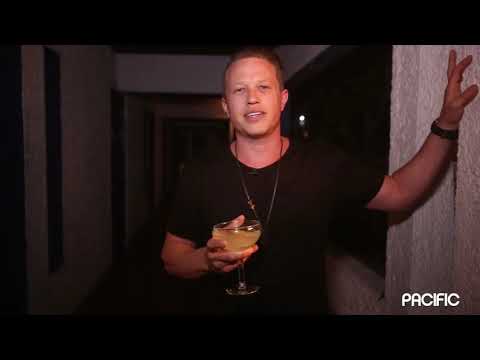 Blind daters Zack and Cassie travel down south to Tijuana and Rosarito for fine dining and a massage.
Photos & video by Alejandro Tamayo
Matchmaking by Jessica Pelligra
Cassie and Zach met for the first time less than an hour ago in the Epic Limo that's headed south to the Mexico border. Although these two blind daters knew nothing about each other before stepping into the car, they've agreed to spend the night together in a foreign country.
A section of Interstate 5 is blocked on the drive to the border, so traffic is intense. During the delay, let's review the couple's pre-date interviews.
PACIFIC: Why are you going on a blind date in PACIFIC magazine?
CASSIE: Because my friend asked if I wanted to go to Mexico, and I don't usually work on Thursdays.
ZACK: I am Jewish and really enjoy free stuff.
What do you do for a living?
CASSIE: I go to grad school full time, working on my doctorate in acupuncture and oriental medicine. I also bartend at Florent Restaurant & Lounge and serve at Draft Republic.
ZACK: Save small animals from burning buildings.
What do you do for fun?
CASSIE: Go to the beach, work out, hang with friends.
ZACK: Read poetry to blind puppies.
What are you best at?
CASSIE: Making people smile.
ZACK: Destroying my friends' relationships.
What do you suck at?
CASSIE: Small talk.
ZACK: Pulling out.

What are you looking for in a date, physically and/or otherwise?
CASSIE: I usually go for skinny white guys, someone with a great sense of humor who is intelligent and respectful.
ZACK: Five hundred thousand or more fake Instagram followers with a bunch of Photoshopped pictures who is actively selling skinny tea while using 20 or more hashtags - ideally, #blessed #fitpro #lit #model - and an email in her bio.
What do you like least about yourself?
CASSIE: I don't really dislike anything about myself.
ZACK: How big my dick is.
Rate yourself on a scale from one to 10 for looks.
CASSIE: Solid eight.
ZACK: 6.9.
Rate yourself on a scale from one to 10 for personality.
CASSIE: Ten.
ZACK: Boring.
What's your biggest fear?
CASSIE: Being in a crowd of people with umbrellas.
ZACK: Getting killed by my friends' crazy ex-girlfriends, or a crying baby next to me on a flight.
What traits might your date exhibit that would be deal-breakers?
CASSIE: Throwing up on the table wouldn't be a good move.
ZACK: Has more than one cat, wears high-waisted shorts or owns Snapchat glasses.
Will the night end with a kiss, something more or something less?
CASSIE: Who knows?
ZACK: Depends what strip club we end up at.
What's the most important thing in the world?
CASSIE: Happiness.
ZACK: Memes.
When their limo finally takes the last U.S. exit before Mexico and stops at the southernmost drop-off point, Cassie and Zach jump out and walk across the border, where a driver named Chuy is waiting with a van to take them to downtown Tijuana and beyond. First stop: La Encomienda (The Entrustment), a high-end restaurant where dinner is served with a side of live music. As Cassie and Zach peruse the menu, a tableside bartender arrives with tequila tasters and the makings for craft cocktails.
Love on the Rocks
The blind date continues at Las Rocas
The daters get acquainted as course after course emerges from the kitchen at La Encomienda. Nearly two hours and countless house specialties later, they jump back into the van and head south to Las Rocas Resort & Spa in Rosarito, drinking tequila and Pacificos along the way.
With a breathtaking cliff-top location overlooking the Pacific, Las Rocas is the ideal place for romance. Cassie and Zach were offered separate rooms at the resort, but they elected to share one instead. During their overnight, they will enjoy the complete VIP treatment, beginning with a couple's massage. Before the rubdowns begin, the couple is split for mid-date debriefings.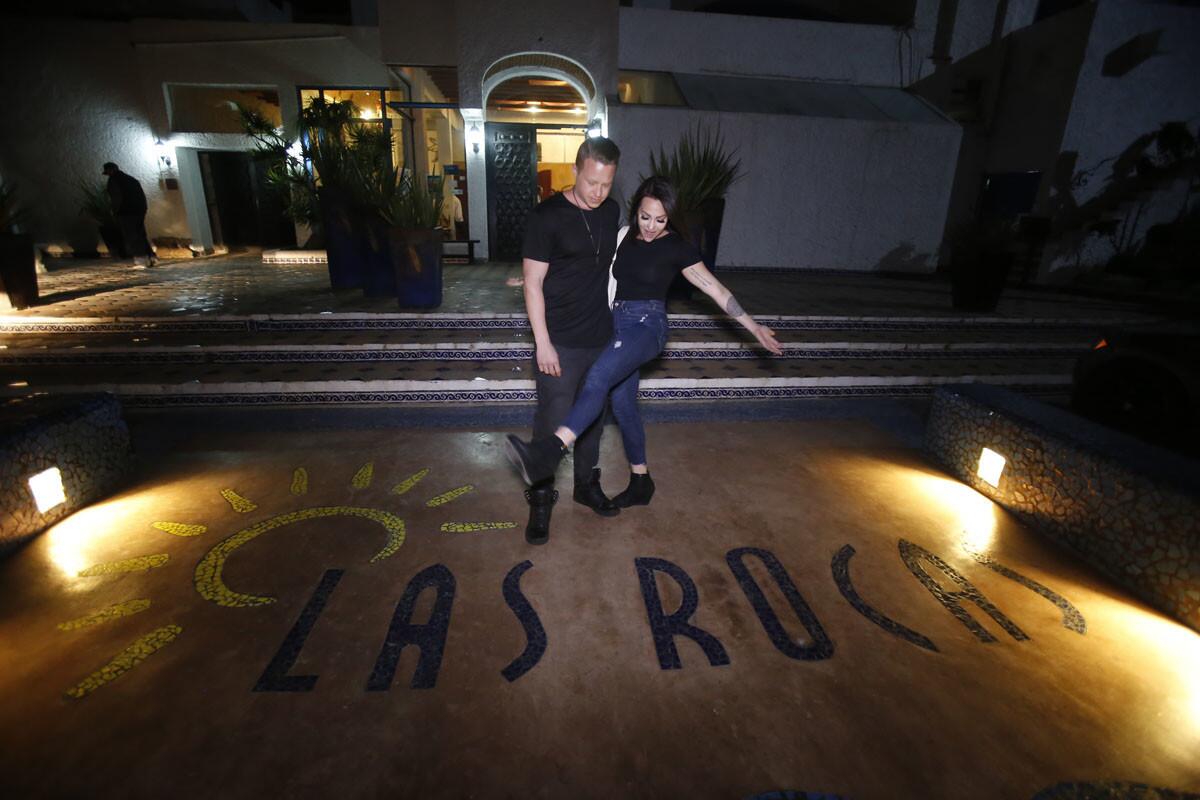 PACIFIC: How's it going so far?
CASSIE: We made it! It was really fun. We had a good time.
ZACK: Going great so far.
What were you first impressions of your date?
CASSIE: He's my type - skinny white-boy. He is good-looking; nice bod.
ZACK: She is a cool, down-to-earth chick.
Is this the type of person you'd normally date?
CASSIE: I haven't really dated anyone in about three years, so I don't really know what all that's about, but we're getting along and having a good time.
ZACK: No, not really. She's an awesome, cool chick, I guess, just not necessarily my type.
What do you think of the way your date is dr essed?
CASSIE: It was funny. He got in the limo and was like, "Oh, thank God, you didn't dress up." And I was like, "Alright, perfect."
ZACK: I was excited because I didn't have to dress up myself.
How was your experience at La Encomienda?
CASSIE: The restaurant was awesome. The cocktails were great; they brought a drink cart with juices and bottle-service to the table. Kinda weird having cameras at the table, but I guess we signed up for that.
ZACK: It was great; really cool vibe and staff. They had a dope musician and really good food.
What's the most attractive thing your date has done so far?
CASSIE: He was very down-to-earth and being himself. It was cool we actually have a lot of friends in common, so it was surprising that we didn't already know each other.
ZACK: Her easygoing personality.
What's the least attractive thing?
CASSIE: I don't think he really did anything unattractive.
ZACK: Smokes cigarettes.
Rate your date on a scale from 1 to 10 for looks.
CASSIE: He's a solid eight.
ZACK: I'll give her an eight.
And for personality?
CASSIE: Personality, he is a 10.
ZACK: Eight.
What's your date's most attractive quality?
CASSIE: He was super easy to talk to; it came naturally.
ZACK: Personality.
What's your date's least attractive quality?
CASSIE: He was on his phone for a bit, which I understand, but come on.
ZACK: Her cigarettes.
Do you want to kiss your date right now?
CASSIE: Maybe?
ZACK: Maybe, if she stopped smoking cigarettes.
Does your date want to kiss you?
CASSIE: I am not sure at this very moment.
ZACK: Hopefully?
A Lotta Colada
One tequila, two tequila, three tequila... door
After the mid-date break, Cassie and Zach head into the massage room, reappearing an hour later in swimwear. When they step into the hot tub, the magazine crew finally leaves these gringos alone to enjoy the rest of their evening away from the camera. A couple of days later, we call to find out what we missed.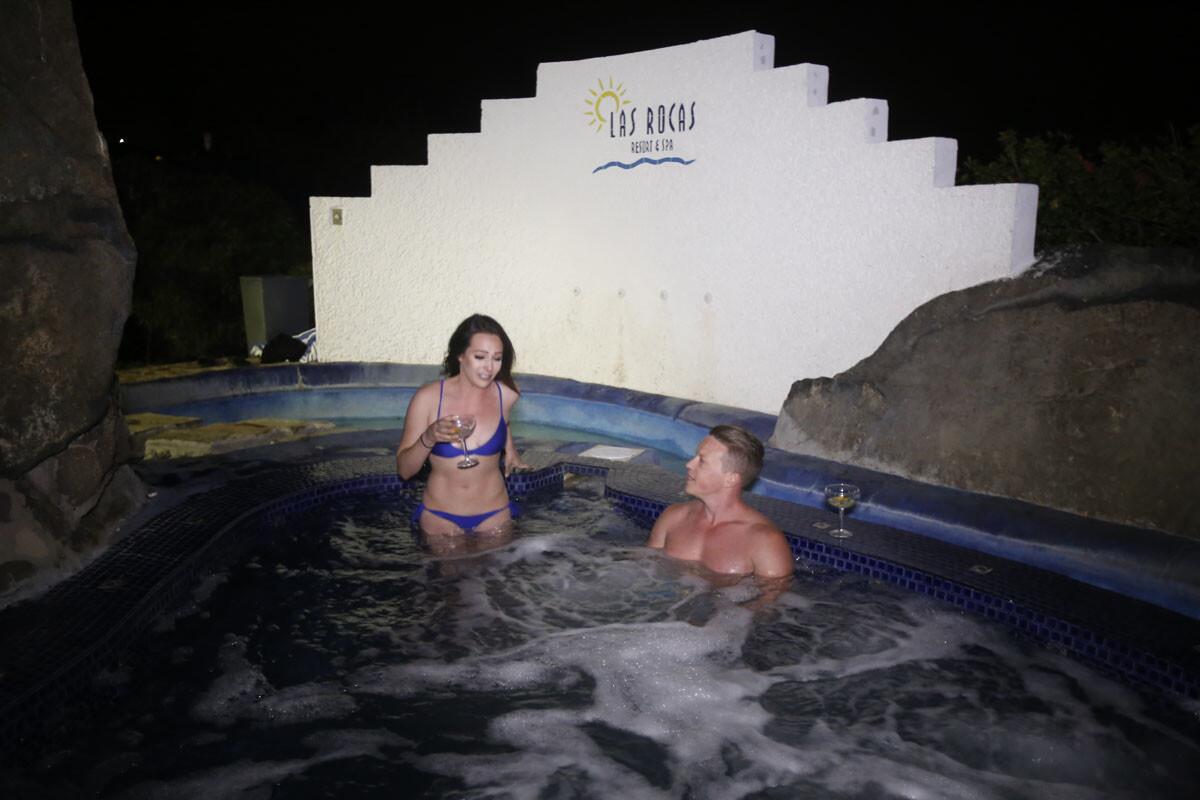 How was your stay at Las Rocas?
CASSIE: The resort was really cute and had a great view. The owner was super friendly and accommodating.
ZACK: Amazing, all the staff was fun. It's a cool little getaway.
Describe the resort.
CASSIE: Really great view. Staff was super friendly.
ZACK: Get a massage, trust me. Trini is the best.
Was there a kiss or romantic exchange?
CASSIE: Yep.
ZACK: No, but she did fart in her sleep.
Fill in the blanks. I wish my date had a bigger "blank" and a smaller "blank."
CASSIE: I feel like this is setting me up to say something rude. There were no size issues.
ZACK: Boobs and lungs.

What's the funniest thing that happened during the date?
CASSIE: I thought it was pretty funny when I smashed my face into a sliding glass door and spilled my piña colada everywhere.
ZACK: She ran into the sliding glass door and spilled piña colada all over herself.
What was the best part of the date?
CASSIE: The massage at the resort.
ZACK: The massage. Trini worked her magic.
What was the worst part?
CASSIE: Driving to the border and having to use the gross bathroom at Jack in the Box.
ZACK: The drive home, because I was the only sober one.
Will there be a second date?
CASSIE: Probably not. The only contact we've had since is him liking a picture of my butt on my Facebook.
ZACK: Probably not. I didn't get her number.
What's one thing your date really should know before going on another date?
CASSIE: I think you should take your next date to Mexico again. He's good at drinking expensive tequila.
ZACK: Smoking is bad.
What could have made this date better?
CASSIE: If you flew us in a helicopter down the coast to Mexico.
ZACK: Private jet to the venue.

AFTERMATCH: Cassie said there was a kiss; Zach said she smelled like smoke... and other unmentionable fumes. She's into acupuncture and getting a PhD; he's into not pulling out - unless it's puppies from flaming buildings. The only spark between these two, it seems, came from Cassie's lighter. This was not a match made in heaven, or even one hecho en Mexico. Better luck manaña.
THANK YOU to (and promotional consideration provided by): Epic Limo, 858.270.LIMO (5466), epiclimo.com; La Enconmienda, +52 664.634.3545, laencomienda.com.mx/tijuana; Las Rocas Resort & Spa, +52 661.614.9850, lasrocas.com/en/.
Sign up for the Pacific Insider newsletter
You may occasionally receive promotional content from the Pacific San Diego.