Blind date: A high-flying look at life and love in San Diego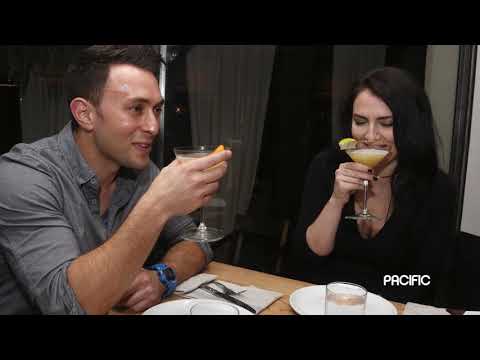 A high-flying look at life and love in San Diego.
Video by David Brooks
Matchmaking by Jessica Pelligra
In keeping with this issue's home-front theme, Zlata and Scott will soon take a helicopter tour of the coast, soaking in sights of the ocean, skyline and cranes that are taking residential life in San Diego to new heights. At the moment, these two blind-daters are cruising in an Epic Limo to Montgomery-Gibbs Executive Airport in Serra Mesa. Before they get dropped off to take flight, let's review their pre-date interviews.
PACIFIC: Where are you from and where do you live now?
ZLATA: I was born and raised in Moscow, in Russia. I moved to the U.S. when I was 16 and lived in Alaska. I have been thawing out in San Diego for almost four years now. It was a spontaneous move from AK to SoCal, and I have never looked back.
SCOTT: I'm a native San Diegan, third generation, and a recovering Chargers fan. I live downtown.
What do you do for a living?
ZLATA: I am an author, speaker and lifestyle coach. A few years ago, I escaped the 9-to-5 grind, made my hobby my career and founded a virtual fitness coaching company called Sexyfit. Sexyfit was created out of the notion that every woman is sexy in her own way and deserves to feel confident in her body. And with every woman we coach, we deliver a lasting mind and body transformation. I recently released a book called "The Sexyfit Method" and I host a weekly podcast featuring the leading health, fitness and lifestyle experts.
SCOTT: I'm a business and real estate attorney and left the practice of law to partner with the commercial real estate firm The Irving Group. I love my job and being able to help business owners with their real estate — and my legal experience distinguishes me from the rest of the pack.
Why are you going on a blind date in PACIFIC magazine?
ZLATA: Butterflies of anticipation.
SCOTT: I'm a "yes" man.
What do you do for fun?
ZLATA: I've traveled the world for fun and for work, so traveling adventures are always the best way for me to have fun. I also enjoy falling out of perfectly good planes with friends or exploring the deep seas in a scuba suit. Honestly, I can have fun anywhere, at any time.
SCOTT: I like to be as active as possible and make the most of what San Diego has to offer, but also enjoy recharging the batteries on the couch with my guitar and a good Netflix show. I have a lot of fun teaching spin Monday nights at Fit downtown, and like yoga, golf, snowboarding and eating Mexican food. Music is my first love.
What are you best at?
ZLATA: Having fun and finding joy in every moment. While this sounds cheesy, that's just me.
SCOTT: Negotiating and making people feel comfortable in uncomfortable situations. Eating Mexican food over 66.66 percent of the time.
What do you suck at?
ZLATA: Riding a bike — terrible.
SCOTT: Multitasking and listening attentively.
What are you looking for in a date, physically and/or otherwise?
ZLATA: I am looking for a man with ambition, drive and a vision. Also, squats are a man's best friend, if you know what I mean.
SCOTT: I am looking for someone with a great smile and sharp wit. I'm drawn to blondes and like a girl with a sense of humor who doesn't take herself too seriously.
Describe your special brand of sex appeal in five words or less.
ZLATA: Love, sex and magic.
SCOTT: "Smedium" shirts and sense of humor.
What do you like least about yourself?
ZLATA: That, despite my best effort, I'm useless to the world before 9 a.m.
SCOTT: My inability to say "no" to opportunities and focus on what's important.
Rate yourself on a scale from one to 10 for looks.
ZLATA: It really depends on the time of the day.
SCOTT: My mom thinks I'm a 10. Grandma thinks I'm more like an eight and "need to stop trying to find the perfect woman."
Rate yourself on a scale from one to 10 for personality.
ZLATA: I'd hang out with me, but again, it really depends on the time of the day. Before 9 a.m. or a morning coffee, that's questionable.
SCOTT: I go for the baseball approach with humor. If three out of 10 jokes hit, then I'm batting .300 and a Hall of Famer. So, I'd say, on a scale from one to 10 for personality, I'm batting .300.
What's your biggest fear?
ZLATA: My biggest fear is leaving this planet without making a meaningful contribution to the world.
SCOTT: Snakes, divorce, disappointing my family.
What traits could your date exhibit that would be complete deal-breakers?
ZLATA: Acting like a f***-boy man or chewing with his mouth open.
SCOTT: Lack of eye contact, no sense of humor, being on their phone, asking for a salad with no dressing.
Fill in the blanks: I want my blind date to be "blank" and "blank."
ZLATA: Respectful and adventurous.
SCOTT: Engaging and adventurous.
What's the most important thing in the world?
ZLATA: Love.
SCOTT: Being true to yourself.

When their limo drops them off at Corporate Helicopters at Montgomery Field, Zlata and Scott talk over glasses of champagne as they prepare to take flight. Then, as the sun approaches the horizon, they board the chopper for a tour down the coast, from La Jolla to downtown.
What the Hake?
A magical meal and a design do-over
Less than an hour after takeoff, Zlata and Scott return to terra firma, hop back into the limo and head to PROOF, the new cocktail bar and lounge at La Jolla's recently remodeled oceanfront restaurant The Hake. Once they've had a chance to look over the menu and enjoy a round of drinks, they're split for mid-date debriefings.
PACIFIC: How's it going so far?
ZLATA: Going really well. I'm actually kind of surprised. Never thought that I would enjoy a blind date because I am such a control freak.
SCOTT: Good. We're having a lot of fun. She's really funny.
What were you first impressions?
ZLATA: He's really funny. Really funny; like really, really funny, which is a good ice-breaker.
SCOTT: Very pretty. Very proper.
Is this the type of person you'd normally date?
ZLATA: He freakishly looks exactly like my ex-boyfriend, so... ya nailed it.
SCOTT: Not really, but I am really glad that we're here. My mom and my family always give me a hard time for this, but I really like blondes and normally date them. But she has some fire and humor and wit and charm. She's pretty cool to hang out with.
What do you think of the way your date is dressed?
ZLATA: I love the outfit, and he told me that his mom picked it out. So, well done, Mom!
SCOTT: I think she looks beautiful, very sexy.
How was your experience at Corporate Helicopters?
ZLATA: It was amazing. I truly never thought San Diego was that beautiful. I mean, you see it flying in and over the airport, but when you can actually hover and you see the beauty over, like, La Jolla, Mission Bay and downtown, it's just gorgeous. Honestly, it was one of the coolest experiences in San Diego.
SCOTT: I really wanted to be a pilot when I was a kid, so it was very cool to be able to go up there. I kept asking if he would let me fly, but he wouldn't let me. But we had a great time. We could communicate through the headphones. It was super fun, funny — and when she dropped a "that's what she said" joke, I was just like, "This is going to be a great night."
What's the coolest thing you saw from the helicopter?
ZLATA: I think it is really interesting to see downtown from that view, and the bay is so still. Still water, beautiful boats and it was sunset, so it was timed so nicely.
SCOTT: It was really amazing to see the cliffs by Blacks Beach, and the Torrey Pines cliffs were really cool. Also, I have been here 23 years. I was born here — third generation; very rare to be a third generation. It was very cool to see a city that I know so well from a perspective that I've never seen, especially because I am in real estate, so I also got to see the real estate that I put people into from an aerial perspective, which was very cool.
What have you had to eat and drink so far?
ZLATA: I am dying over this restaurant. I have no idea how I have never been here before. It is the best seafood I have tasted in San Diego, by far. And I am from Alaska, so I am a seafood snob, and it's amazing. The charred poke tuna tostada was off the charts, the Hamachi was insanely amazing, octopus was really good and they make a fish chorizo. Fish chorizo? Like, come on — it is amazing. Everything is amazing.
SCOTT: We had the tuna tostadas, which were one of top 10 things I ever had in my life. We had the Hamachi, which was great, then the bone marrow, which was a delicacy. They have lots of tequila drinks, too, so I am happy.
What's the most attractive thing your date has done so far?
ZLATA: He ordered; he took the lead. I like that.
SCOTT: She's just so funny. I laughed more on this date than I have laughed on cumulative dates in the past.
Rate your date on a scale from 1 to 10 for looks
ZLATA: Nine.
SCOTT: Nine.
And for personality?
ZLATA: Ten.
SCOTT: Nine.
Do you want to kiss your date right now?
ZLATA: I would, but not tonight.
SCOTT: Twenty minutes ago and 20 minutes from now.
Does your date want to kiss you?
ZLATA: Hopefully.
SCOTT: Yes.
Oh, so is that like an in-the-limo type of thing? Is that the vibe I'm getting?
SCOTT: We already thought about it. She doesn't know that, but we did.
So you guys have kissed?
SCOTT: No, not yet, but we thought about it. It helps when there is a whole bottle of champagne in the helicopter. Yeah, the sunset and the helicopter, really, it's a recipe for kissing.
Do you think there will be a second date?
ZLATA: Up to Scott. I hope so, though.
SCOTT: Yeah, I think so. She's cool. And we live close to each other.
Sea You Later
The motion of the ocean, a four-legged Greek god and the chance of a second date
After the mid-date break, Zlata and Scott enjoy a lavish dinner, sitting close to each other as plate after plate emerges from The Hake's kitchen. When dessert arrives, the magazine crew finally leaves the couple alone to enjoy the rest of their evening away from the camera. The next morning, we call to see what we missed.
How was the rest of your experience at PROOF at The Hake?
ZLATA: Ah-mazing! Their seafood everything is to die for. Their staff was very accommodating and knowledgeable. I honestly didn't look at the menu, and everything that we had was phenomenal.
SCOTT: Awesome. I really like the remodel, and the ambiance was on point. Our server was professional and kind. The food was amazing.
What's the best thing you had there?
ZLATA: My favorite dish was the octopus, and the strawberry dessert was to die for.
SCOTT: Everything and anything. Pretty sure the tuna tostadas are in my top 10 of all time. They had quite the array of tequila and mezcal drinks.
Where did you go and what did you do for the rest of the evening after dinner?
ZLATA: We walked my dog together.
SCOTT: We went back downtown and took her dog, Zeus, out for a walk.
When did you get home?
ZLATA: Shortly after 10
SCOTT: Around 10.
Was there a kiss or romantic exchange?
ZLATA: What's a romantic exchange?
SCOTT: Romantic Exchange would be a great band name, and a true gentlemen doesn't kiss and tell. Chivalry is not dead.
How and when did the date end?
ZLATA: As silly as this might sound, we walked my dog together.
SCOTT: After we took Zeus for a walk.
What's the funniest thing that happened during the date?
ZLATA: It was a really fun experience as a whole.
SCOTT: We laughed the whole time. I'm a pretty goofy guy, and it was fun to be with someone who can throw it back at me and laugh off the seriousness of life and awkwardness of having a camera around. The funniest thing was probably when our limo driver kept the divider down, and I just nonchalantly closed it while he was talking to us. Either that or us talking like truckers over the microphone on the helicopter ride.
What was the best part of the date?
ZLATA: I really enjoyed the helicopter tour, because it was a totally new experience to me.
SCOTT: Helicopter ride. It was so amazing to see the city from that perspective, and she was really fun.
Will there be a second date?
ZLATA: I would go on a second date with Scott, yes. I appreciated his sense of humor and easygoing attitude.
SCOTT: Definitely. She's very cool, down to earth, intelligent and has an amazing sense of humor. That and we live five blocks from each other, so why not?
What's one thing your date really should know before going on another date?
ZLATA: That I am going to ask him all these questions on our official first date.
SCOTT: I usually have a thing for blondes.
What could have made this date better?
ZLATA: It was a perfect blind date.
SCOTT: If it wasn't a school night, and I could have added an energy drink to my tequila.
AFTERMATCH: Despite Scott's blond ambitions, it seems he may be open to turning to the dark (hair) side. "I think she looks beautiful, very sexy," he said of Zlata during the mid-date break. He also laughed all night and said the helicopter and champagne were "a recipe for kissing." Zlata, on the other hand, got what she was used to. "He freakishly looks exactly like my ex-boyfriend, so... ya nailed it," she said. The fact that both daters look forward to a second date suggests Zlata didn't catch Scott, "acting like a f***-boy man or chewing with his mouth open." He did roll up the divider while the limo driver was talking to him, though, which may not have been a deal-breaker for Zlata, but does count as a small mark against his karma... or maybe a "smedium" one.
For your own high-flying blind-date adventure, email a photo and a couple sentences about yourself and what you're looking for in a date to setmeup@pacificsandiego.com.
Thank you to (and promotional consideration provided by): Epic Limo, 858.270.LIMO (5466), epiclimo.com; Corporate Helicopters, 858.505.5650, corporatehelicopters.com; PROOF at The Hake, 858.454.1637, thehake.com.
Sign up for the Pacific Insider newsletter
You may occasionally receive promotional content from the Pacific San Diego.