Blind date: Let it bee
It's February in San Diego and love is in the air. The sun is shining, the birds are singing and, most importantly, the bees are buzzing in anticipation over this blind date.
This month's daters are Katrina, 34, a wine expert who eschews popular dating apps and chooses to spend her free time outdoors, and Ian, 38, a hopeful courier with a unique sense of style and humor who has reached out to PACIFIC (a few times, actually) to make his blind date dreams come true.
This date stands out for a few reasons, one being that this was the blind date that almost never was. From weather concerns to last-minute drop-outs and favors cashed in, this day seemed doomed from the get-go (and nearly caused the PACIFIC crew to break out in hives). But, like Ian, the cupids at PACIFIC are persistent, and for the sake of finding our San Diego singles true love, we never gave up.
Because of the nature of the date, we made an exception to the rules and informed the daters beforehand about what their activity entailed, which, if you hadn't noticed from earlier puns, involves bees. Both brave daters gamely signed on, and Ian even wore his finest white lab coat, perhaps in an attempt to prove to his date that he is a doctor of love?
It's the big day and an Epic Limo is about to drop Ian and Katrina off at Girl Next Door Honey in National City for a beehive tour neither will soon forget.
Will Ian find out he can catch more bees with honey, or will he end up getting stung in his attempts at lasting love?
Sit back, relax and let's meet our daters, via their pre-date interviews.
Where are you from and where do you live now?
KATRINA: I was born in Portland, Ore., but mainly grew up in Vancouver, Wash. I currently live in South Park.
IAN: I'm from Kensington, small town in Northern California located in the East Bay. I've lived in San Diego since 2003. I currently reside in Tierrasanta — "The Island in the Hills."
What do you do for a living?
KATRINA: I am in wine sales and currently looking into future entrepreneurial opportunities.
IAN: Courier for Amazon Flex.
What's your Instagram handle?
KATRINA: @hurricane_katrina84
IAN: @coolguy9000
What dating apps can be found on your phone currently?
KATRINA: I can happily say, I do not have one dating app on my phone.
IAN: Dating apps? Aren't those apps just to boast your ego and get more attention?
Where can you be found on a weekend?
KATRINA: Gym, farmers market, hiking, cooking at home, brunching, enjoying food and wine, concerts, sailing, really wherever the fun takes me. I do really want to get into mountain biking.
IAN: On the weekends, I can be found shooting hoops at either Bub's or Coin Op Game Room in downtown San Diego to throwing strikes at Aztec Lanes at San Diego State. Working out or playing basketball at my alma mater, San Diego State, to people watching in P.B. and/or downtown.
What are you best at?
KATRINA: Networking, design, event planning and organization.
IAN: I am best at taking constructive criticism.
What do you suck at?
KATRINA: Water sports, push-ups and sitting still.
IAN: I suck at reading social cues.
What are you looking for in a date, physical or otherwise?
KATRINA: Chemistry, sense of humor, good social skills, spontaneous, open-minded and honest.
IAN: In a date, I'm looking for a person that is bubbly, friendly, genuine and sweet with a beautiful smile and sense of humor. Being interested in sports would be a plus. But similar interests are a must.
Why do you think you'll be a good date?
KATRINA: Because I have great energy, I'm enthusiastic, happy and open to adventure and new experiences.
IAN: I would be a good date because I am honest and genuine, as well as sweet and a good listener.
Describe your special brand of sex appeal in a Tweet.
KATRINA: #SinInASundress
IAN: I am simply "Ian-isistible."
Rate yourself on a scale from one to 10 for looks.
KATRINA: I'd say I'm a solid eight.
IAN: With my smile and beautiful blue eyes, my looks are through the roof.
Rate yourself on a scale from one to 10 for personality.
KATRINA: 10.
IAN: To infinity and beyond.
What's your cocktail of choice?
KATRINA: A good rendition of a Paloma.
IAN: Cabernet.
What's a total deal-breaker on a date?
KATRINA: Loud or obnoxious laugh. Being rude to service industry. Dirty nails. Bad breath.
IAN: A total deal-breaker on a date would be the complete opposite of what I am looking for in a date.
How many people have you slept with?
KATRINA: Not enough to find the one!
IAN: Not enough to have a track record.
Fill in the blanks: I want my date to be "blank" and "blank."
KATRINA: Funny and charismatic.
IAN: I want my date to be affectionate and bubbly.
Will the night end with a kiss, something more or something less?
KATRINA: This being my first blind date ever, I have no expectations. In my opinion, the chemistry will direct this outcome, but it will definitely be kept PG considering he's a complete stranger.
IAN: Depends. If the date goes well and there are positive vibes amongst us, the night will either end with a kiss, an undercover hug and/or both. If not, at best, the night will end with a regular hug.
So, here's what we know so far: Ian thinks quite highly of himself (you might say he thinks he's the bee's knees) and Katrina relies on chemistry to dictate whether she kisses on the first date (even if Ian believes himself to be "Ian-isistible"). That's okay, though, because Ian is DTH (down to hug), and he even has a mysterious undercover hug that Katrina might learn more about, if she's lucky.
And while Ian admits he's not the best at reading social cues, and Katrina prefers a partner with good social skills, both began their answers to the dreaded "How many people have you slept with?" question with the same words: "Not enough." Maybe it's time these two learned a little more about the birds and the bees?
Let's keep the buzz going.
Meant to Bee?
Blind daters take a hive tour, and then a detour before dinner
Once the daters arrive at Girl Next Door Honey, beekeeper Hilary Kearney takes them under her wing. Girl Next Door Honey is a local business that promotes "bee-centric" programs like beekeeping, hive tours, bee removal and management and other educational endeavors.
The daters suit up in traditional beekeeping gear, with their bodies, heads, hands and feet covered to protect them from any errant stings. During the hive tour, Hilary breaks open a beehive to show Katrina and Ian where the honey is made and even manages to find the queen bee. Immediately following the tour, the daters get to partake in some organic honey tasting. Sweet!
Both daters find the entire experience to bee entertaining and educational.
Eventually, the daters wave goodbye to Hilary and make the long journey up to North County for a surprise trip to a secret speakeasy that specializes in buzz-worthy cocktails that are sure to wet their whistles.
Entering Beekeeper Bar is no easy feat. Hidden next to an unassuming Outback Steakhouse in San Marcos, Beekeeper Bar is accessed by entering a secret PIN at an ATM machine outside. Once entered, a photo is taken, a password is given and then a prompt appears instructing the daters to flip a switch that alerts the bar that guests have arrived. A small window opens at the door and, once the correct password is given, entrance is finally granted.
Inside, the daters are treated to a curated hour of intricate, intoxicating drinks, all bee-themed, of course, and by the end, they're famished and ready to chow down on some dinner at Urge Gastropub + Commonhouse, a sprawling restaurant and bowling alley at North City in San Marcos.
The daters might be hungry after a long day of chasing bees (and chasing drinks), but are they feeding off of each other as well?
Well, not quite.
How's it going so far?
KATRINA: It is going great. I'm really enjoying the date. The experience is awesome. I don't think the match is the best.
IAN: I think it's going pretty well. The venues themselves are somewhat out of the ordinary as far as a typical date.
On first glance, would you swipe right or left on your date?
KATRINA: I think left is moving on, right? That's what I would do.
IAN: I would swipe left. My date is pretty, but I have a different perception of who I like to date.
What do you think of the way your date is dressed?
KATRINA: The lab coat was aggressive. He could be the date doctor, we don't know. (Laughs) But he didn't put the moves on.
IAN: I think she's dressed very nicely. She managed to dress well for all the venues.
How was your experience at Girl Next Door Honey?
KATRINA: Really awesome. Hilary was amazing. She was informative and great. I had always hoped to beekeep one day, but never thought I'd actually do it. So, it was a really awesome experience to do it and see all that. There was a real awesome beauty behind it, so I really enjoyed that aspect of it.
IAN: I would say it's something out of the ordinary, something I would never expect to do on a first date.
How was your experience at Beekeeper Bar?
KATRINA: Fantastic. Absolutely amazing. I highly recommend it. The cocktails, the demeanor, the owner, the bartenders, the design. I was really impressed. It was really great. All the drinks were delicious.
IAN: I'm speechless. The layout, the overview of the establishment. The drinks are phenomenal.
What do you think of the menu at Urge?
KATRINA: The menu has a lot to offer. Really good food. The tortilla soup was great. Chicken wings were fantastic. The sliders were really yummy. Exceptional. And then the venue overall, the lighting, the style, the design, the bowling alley. It's a really great place.
IAN: I saw it as typical bar food. It was fine. It will suffice.
What's the most attractive thing your date has done so far?
KATRINA: I would say be really polite. Good manners.
IAN: The most attractive thing she's done is just being easy-going and been a good listener.
What's the least attractive thing your date has done so far?
KATRINA: He seems very nervous.
IAN: Nothing.
Rate your date on a scale from one to 10 for looks.
KATRINA: Six.
IAN: Seven.
And for personality?
KATRINA: Six.
IAN: 10.
What's your date's most attractive physical quality?
KATRINA: His eyes.
IAN: Her eyes.
What's your date's least attractive physical quality?
KATRINA: I would have to say his uncomfortable-ness (sic). You can tell there's not an ease with social skills.
IAN: None.
Do you want to kiss your date right now?
KATRINA: No.
IAN: No.
Does your date want to kiss you?
KATRINA: I don't think so.
IAN: I'm not entirely sure.
Is this someone you'd take home to mom, or just take home?
KATRINA: None of the above.
IAN: I would say neither.
How and when will the date end?
KATRINA: I'm hoping it ends once we finish our meal and then that's it.
IAN: I think the date will end with possibly exchanging numbers or social media and a hug.
Wow. It appears Ian has high standards for both his dinner and his date, which might be why Katrina said she didn't want to kiss him (or give him an undercover hug, presumably). She also said she felt Ian's nerves were getting the best of him.
Both daters claim they would swipe left on the other, but they also both complimented each others' eyes. And you know what they say: beauty is in the eye of the bee-holder.
It doesn't appear that this date resulted in a love connection, but let's see what the daters had to say the next day.
Don't Worry, Bee Happy
A fun date doesn't equate to a love connection
While this blind date appears to have been a bust, romance-wise, it turns out, it was also a bust, bar-wise. In the days following the date, Beekeeper Bar mysteriously shut down and, while there's no word on whether it will return, the daters both said the speakeasy was their favorite part of the date.
That stings.
How did everything go?
KATRINA: Overall, I had a fun day. I don't think the date went very well…
IAN: I must say, it was one of the most unique and intriguing dates I've ever been on, as far as the activities go, with the beekeeping and the top-secret bar. That was the icing on the cake. That was very different and something I would never think to do.
Where did you go and what did you do for the rest of the evening after dinner?
KATRINA: We both went home. It had been a long day. We were together for, like, eight hours. It was cool, I liked the whole idea of the bees and honey and the whole process of that was really cool.
IAN: After dinner, we decided to call it a night. Our driver dropped us off at our separate places.
Did you guys exchange numbers?
KATRINA: No, we did not.
IAN: No, we exchanged Instagram handles.
Hook up?
KATRINA: No, he did follow me on Instagram. That's about it.
IAN: No.
What's the funniest thing that happened during the date?
KATRINA: I would have to say the fact that he was wearing a lab coat. I'm not sure if it was a joke or what. He took it off to put the beekeeping outfit on, but that's what he chose to wear. (Laughs) I don't know. So that was that.
IAN: I think the funniest thing that happened on our date was that we didn't get stung, but our beekeeper tour guide got stung. (Laughs) The bee was making a little twirl trying to get off and the guts exploded.
What was the best part of the date and why?
KATRINA: The best part of the date was the Beekeeper (Bar) speakeasy because they had some really eccentric cocktails, the way they were made with the fire and the devices. There were all sorts of really cool things with the different cocktails that they had us try, which was really awesome.
IAN: I think the best part was Beekeeper Bar. Just being exposed to the different smells and textures and tastes of the drinks and the chemistry behind all of it was pretty awesome.
What was the worst part of the date and why?
KATRINA: There just wasn't any chemistry, so it was just like hanging out with a friend. You could kind of tell that immediately, and I felt like that was on his part also. I don't think he was interested in me either. We didn't hate each other, we still had a great time and enjoyed the date for what it was. But I did definitely think from the get-go, there wasn't really any romance. It happens.
IAN: The duration of the date. It was enough time, but it was longer than necessary and we didn't get enough privacy.
Do you follow each other on Instagram?
KATRINA: Yes, I'm following @coolguy9000.
IAN: Yes.
Did your opinion of your date change once you saw their social media profile?
KATRINA: Well, I could tell that he was slightly socially awkward, and I picked up on that on the date. So when I saw his social media with very limited photos and followers and likes and friends, it made me know that my first judgment was pretty accurate.
IAN: No, my opinion of Katrina didn't change at all. She was the same person when I first met her initially.
Will there be a second date? Why or why not?
KATRINA: No, there will not be, because he's not really my type.
IAN: No. I don't believe there will be. I didn't really feel a strong physical connection with her. I felt like friendship would be most suitable. There weren't any fireworks or romantic connection, in my opinion, at least.
Do you have any dating tips for your date?
KATRINA: Don't wear a lab coat and maybe work on being a better conversationalist.
IAN: No tips for her whatsoever. Continue to be her warm and charming self.
Any final thoughts, parting words, shout-outs or anything else to add?
KATRINA: Shout out to (matchmaker) Jessica for giving me this opportunity. Hopefully I can have another opportunity to maybe go on a successful blind date. This was my first one ever, so it was a little bit discouraging. And to Ian, he was a very nice guy and we did enjoy the date and the activities together, so it wasn't a total wash at the end of the day. And to PACIFIC magazine for giving us a fun, active day and some really amazing cocktails.
IAN: I'd like to thank PACIFIC magazine for allowing me to enjoy this blind date experience. It was something out of this world; something I'll probably never get to experience ever again.
In the end, despite PACIFIC's best efforts, these two won't be calling each other "honey." And even though there was a lack of romance, the fact that they were still able to enjoy the date and part as friends (at least on Instagram) does take the sting out of it a bit.
And what did we learn, dear readers? We learned that sometimes, blind dates that appear doomed actually are. We learned that even beekeepers get stung. We learned that cool hidden speakeasies in the back of an Outback Steakhouse sometimes disappear into thin air.
We did not, however, learn what an undercover hug is.
Another important lesson to take away from this date: Dating attire is important and you should
bee-ware that just because your date shows up wearing a white lab coat, it doesn't mean there will be any chemistry.
EDITOR'S NOTE:
Daters' answers may have been edited for length and clarity.
SPECIAL THANKS TO AND PROMOTIONAL CONSIDERATION FROM:
Epic Limo
858.270.LIMO (5466), epiclimo.com
Girl Next Door Honey
619.921.8189, girlnextdoorhoney.com
Beekeeper Bar
(No longer open)
Urge Gastropub + Common House
760.798.8822, sm.urgegastropub.com
Matchmaker Jessica Pelligra
matchandmagic.com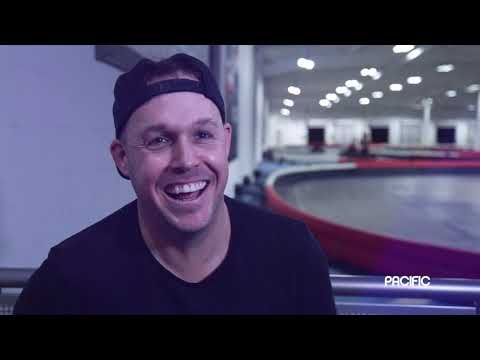 On Now
On Now
Blind date: The cold and the beautiful
On Now
On Now
Blind Date: Being supportive
On Now
Blind date: In distill of the night
On Now
Blind Date: Getting their axe together
On Now
Blind Date: SUP to no good
On Now
Blind Date: Build it and they will come
On Now
Blind Date: Something in the air
Sign up for the Pacific Insider newsletter
You may occasionally receive promotional content from the Pacific San Diego.