Blind date: Perfect strangers pose for passion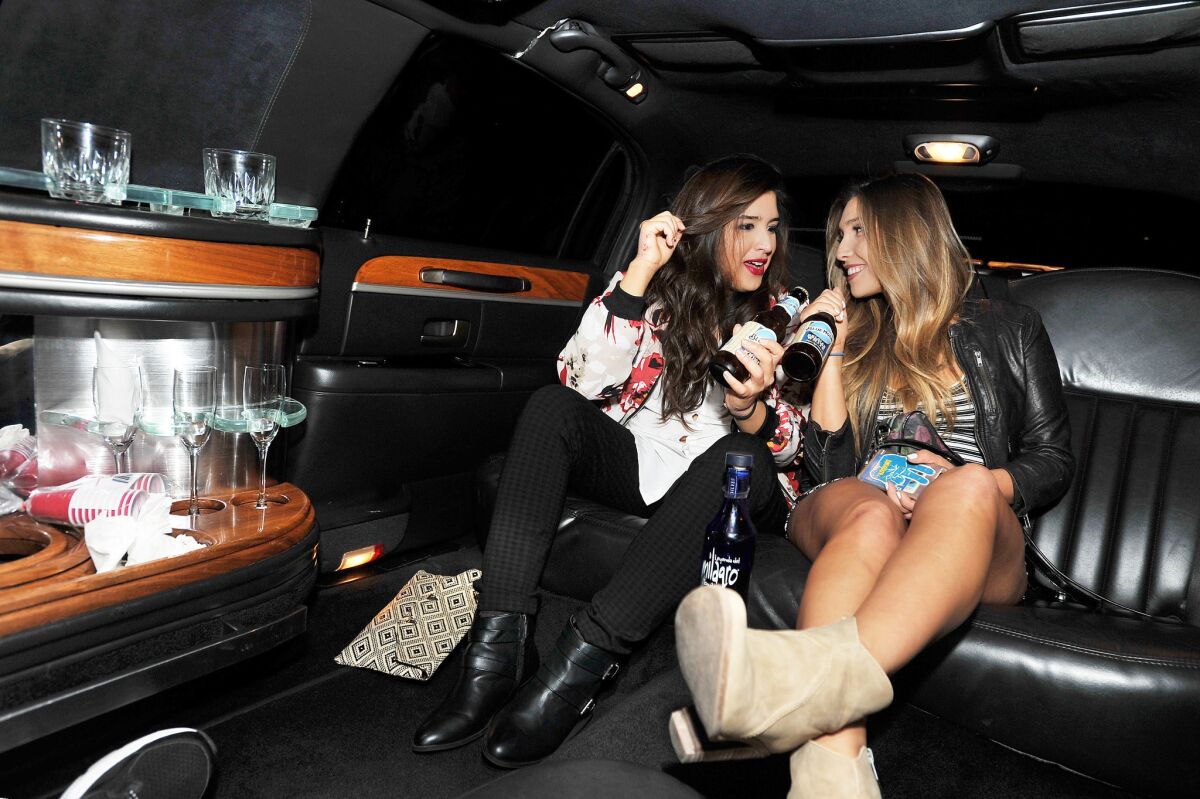 Matchmaking by Jessica Pelligra
Bekah and Jennie met less than an hour ago in the Epic Limo that's about to drop them off for a sexy boudoir photo shoot. Neither of these two blind daters knows that disrobing will be tonight's first activity. Before they arrive, let's review the pre-date interviews.
PACIFIC: Where are you from and where do you live now?
BEKAH (darker hair): Initially, I'm from Albuquerque, New Mexico. But, over the years, I ended up in Oceanside, California, where I have been living for over 16 years now and loving it.
JENNIE: I'm from San Diego. I've lived in almost every neighborhood south of the 8, currently downtown, in "East Village," as they call it.
What do you do for a living?
BEKAH: I'm a server within the Urge restaurant family while I go through school. It's a really fun job, and I love food and drinks, so it works out great.
JENNIE: I'm a bartender on the weekends, full-time student during the week.
What do you do for fun?
BEKAH: I love eating and sleeping. I also enjoy movies, music, hiking, science, video games, et cetera. I try new things often as to avoid stagnant living.
JENNIE: Any night off, I'm trying to see some sort of live music or art show.
What are you best at?
BEKAH: I would say I'm good at getting people together, keeping my word and being a total dork.
JENNIE: I don't know if I'm best at it, but definitely the thing I am most passionate about is film photography.
What do you suck at?
BEKAH: Probably lying and online strategy games. I cannot do either to save my life.
JENNIE: I'm an absolutely horrid driver.
What are you looking for in a date, physically and/or otherwise?
BEKAH: I think what I look for in a date is someone who initially has that spark in their eyes. Having a great mind and loving to laugh is important, too. At the end of the day, I have to really like who you are. I'm also a sucker for unique eye colors.
JENNIE: I always say intelligence and humor are prerequisites. Looks are a plus - especially if you look like you listened to a lot of My Chemical Romance as a teenager.
Describe your special brand of sex appeal in five words or less.
BEKAH: Photographic food memory.
JENNIE: Focused predatory sensuality.
What do you like least about yourself?
BEKAH: My temper. I don't get mad too often, but when I do, that inner Latino fire rages for sure. I'm working on it, though.
JENNIE: I can be massively disorganized.
Rate yourself on a scale from one to 10 for looks.
BEKAH: I don't like rating looks, so I'll say that I'm pretty happy with what my parents gave me.
JENNIE: I don't rate looks.
Rate yourself on a scale from one to ten for personality.
BEKAH: I'd say, for my personality, a nine or 10, definitely. And now I have to live up to that.
JENNIE: Nine - point off for lack of subtlety.
What's your biggest fear?
BEKAH: Dying in space before I get to see Daft Punk live. And also getting stung by those thumb-sized jellyfish - not fun.
JENNIE: Loss of loved ones.
What traits could your date exhibit that would be deal-breakers?
BEKAH: I'm pretty easygoing, so they'd probably have to be a total jerk, rude, obnoxious, boring - the typical deal-breakers. And if you don't like "Star Wars," that's definitely a problem.
JENNIE: Being rude to servers or bartenders.
How many people have you slept with?
BEKAH: Some secrets are best kept under lock and key. I think that is sexier, anyway.
JENNIE: Between five and 10.
Fill in the blanks: I want my blind date to be "blank" and "blank."
BEKAH: I would like my date to be fun and interesting; anything else is just a plus. Also sort of weird. I like weird.
JENNIE: Smart and funny.
Will the night end with a kiss, something more or something less?
BEKAH: If everything goes well, I'd say probably a kiss.
JENNIE: Definitely a kiss, if I'm feeling it.
As they arrive at an unassuming business park in Kearny Mesa, Bekah and Jennie emerge from the limo and head inside The Boudoir Divas photography studio. After learning that they'll be this evening's models, they slip into something more (or less) comfortable.
In a Flash
Romance, at the speed of light
Despite being thrust into the awkward position(s) of posing a la boudoir with a stranger, Bekah and Jennie appear to be having a blast as they get dolled up for the photo shoot. They definitely seem into each other.
Once they're (un)dressed and ready to rock, they head into the main studio, where The Boudoir Divas' founder and photogra-preneur Marissa captures the moment.
After making eyes at the camera and each other for half an hour or so, the couple changes back into their civilian clothes and jumps back into the limo. Next up is dinner at Indigo Grill in Little Italy.
When they arrive at the restaurant, they head inside and grab a seat. Once they've had a chance to sample a few of the chef's modern Latin house specialties and get further acquainted over a glass of wine, they're split for mid-date debriefings.
PACIFIC: How's it going so far?
BEKAH: Honestly, I think it's going really, really good. For a first date and blind date, which I have never been on, I don't think it could be going better. I'm happy about that.
JENNIE: Fantastic. She's amazing.
What were your first impressions?
BEKAH: She's very real, very honest. I like her personality a lot, and she's beautiful.
JENNIE: She's beautiful and she's smart.
Is this the type of person you'd normally date?
BEKAH: I don't know if I have ever gone out with anybody quite like her, but she's kind of like something I never knew that I was looking for.
JENNIE: Definitely.
How was your experience at Boudoir Divas?
BEKAH: I thought it was interesting and fun. Marissa, the photographer, was very nice. It was something I have never done before, but it was an adventure.
JENNIE: I had a blast. I had so much fun. (Bekah) looked amazing with the red lipstick and the coat. I loved Boudoir Divas. I have actually shot with them before.
What's the most attractive thing your date has done so far?
BEKAH: She's just attractive in general, but I like the fact that she is very much herself.
JENNIE: Made sure that I was comfortable. She was very sweet.
Rate your date on a scale from one to 10 for looks.
BEKAH: I don't rate looks, period. She's beautiful, and that's all that matters.
JENNIE: Ten. She's gorgeous.
How about for personality?
BEKAH: Fifteen to 20.
JENNIE: Ten.
What's your date's most attractive quality?
BEKAH: She's compassionate and very genuine.
JENNIE: Genuine, down to earth.
Do you want to kiss your date right now?
BEKAH: Yes.
JENNIE: Not yet.
Does your date want to kiss you?
BEKAH: I'm going to take a shot in the dark and say, 'Sure.'
JENNIE: I'm not sure.
How and when will the date end?
BEKAH: I think the date will end with us talking more, and we will see where it goes from there.
JENNIE: Sooner than I would like it to, because I have to go earlier than I'd like. But I would love for it to end with a kiss. I definitely think there will be a second date.
You Go, Grill
Dinner is served at Indigo
After the mid-date break, the magazine crew finally leaves Bekah and Jennie alone to enjoy the rest of their evening away from the camera. Rick, PACIFIC's photographer, spots the couple kissing, but he has already packed up his gear and misses the shot. The next morning, we call to see what else we missed.
PACIFIC: How was your experience at Indigo Grill?
BEKAH (darker hair): I had never been, but my first experience was good. The atmosphere was warm, and (our server) was great as well.
JENNIE: Fantastic. Everything was delicious.
What did you have to eat and drink there?
BEKAH: We started with a bottle of Malbec, and then had a few appetizers - popcorn shrimp I believe, which was good. After that, we moved on to a sea bass entree and desserts, which were beautifully plated.
JENNIE: Some sort of fish, a shrimp appetizer and some truly incredible desserts.
What did you do for the rest of the evening after dinner?
BEKAH: We stayed at Indigo for a bit, and then went home. We were both pretty tired and had prior commitments.
JENNIE: I had to leave shortly after dinner.
When did you get home?
BEKAH: I would say around 11 p.m., not too late.
JENNIE: Right after dinner.
Was there a kiss or romantic exchange?
BEKAH: There was. And anyone would be lucky to get one with Jennie.
JENNIE: We'll let you guys wonder.
How and when did the date end?
BEKAH: The date officially ended when she was dropped off at her place. It ended really well.
JENNIE: After dinner.
What's the funniest thing that happened during date?
BEKAH: When the fan was turned on during the photo shoot. I couldn't help but laugh.
JENNIE: Surprise lingerie was pretty hilarious.
What was the best part of the date?
BEKAH: Definitely the limo rides in-between places, when we could just talk and have more of a normal date. I liked that.
JENNIE: Laughing with Bekah.
What was the worst part?
BEKAH: Getting changed into our outfits for the photo shoot - definitely awkward, because we weren't expecting that.
JENNIE: Mixing tequila with red wine. We both had some killer headaches the next day.
Will there be a second date?
BEKAH: Yeah, I think so. We got along pretty well and have a lot of things in common.
JENNIE: I'm sure I will be seeing her again.
AFTERMATCH: A pre-Valentine's Day date that begins with boudoir and ends with decadent desserts and a kiss - it doesn't get much sweeter than that. If you'd like to be so lucky at love (in a PACIFIC blind date), email a photo and a couple sentences about yourself and what you're looking for in a date to setmeup@pacificsandiego.com.
A big hug and huge thanks to (and promotional consideration provided by): Epic Limo, 858.270.LIMO (5466), epiclimo.com. The Boudoir Divas, 10025 Huennekens St., Kearny Mesa, 858.485.0443, theboudoirdivas.com. Indigo Grill, 1536 India St., Little Italy, 619.234.6802, cohnrestaurants.com/indigogrill.
Sign up for the Pacific Insider newsletter
PACIFIC magazine delivers the latest restaurant and bar openings, festivals and top concerts, every Tuesday.
You may occasionally receive promotional content from the Pacific San Diego.