Blind date: An up-tempo interlude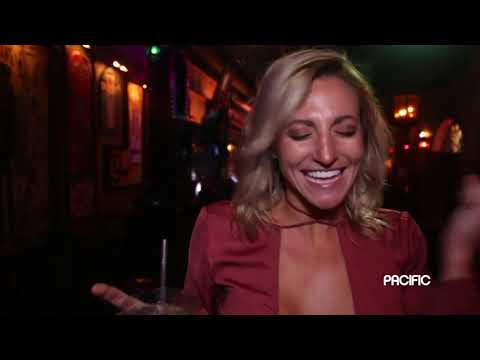 Blind daters Andrea and local DJ Schoeny enjoyed a limo ride to Lionfish at the Pendry hotel in downtown San Diego where they enjoyed drinks and fine dining.
Photos and video by David Brooks
Matchmaking by Jessica Pelligra
A mainstay on America's Finest music scene, DJ/producer Schoeny (aka Justin) spins at Analog, Backyard Kitchen & Tap, Bootlegger, Florent, Oxford Social Club and Vin de Syrah, among other popular local venues. In March, he also had show dates scheduled for New York, Chicago and Tucson. This evening, however, Justin's got a big date - a blind one - with Andrea, a yogi from the Midwest. The two met half an hour ago in the Epic Limo that's about to drop them off at downtown's new Lionfish for dinner. Before they arrive, let's review the pre-date interviews.
PACIFIC: Where are you from and where do you live now?
ANDREA: I'm from a small, one-stop-light town in Indiana. I currently live in Little Italy, San Diego.
JUSTIN: I'm from Northern California, Hayward to be exact, and I'm currently living in San Diego.
What do you do for a living?
ANDREA: I sell tea on Instagram .
JUSTIN: Music producer, DJ, Instagram model and meme god. Check me out on Instagram @schoenypony.
Why are you goi ng on a blind date in PACIFIC magazine?
ANDREA: Because I didn't get accepted on "The "Bachelor."
JUSTIN: Because I'm single and 33 - the f*** you think? Ha! Who am I? What am I doing with my life? But seriously, let's make some babies. I'm joking. Chill out.
What do you do for fun?
ANDREA: I spend most of my time being active, whether it's outdoors hiking or dancing on the tables at Parq.
JUSTIN: Play golf, travel, stalk my exes on Facebook - normal-guy stuff.
What are you best at?
ANDREA: Taking tequila shots with no hands
JUSTIN: Gettin' liiiiiit.
What do you suck at?
ANDREA: Adulting.
JUSTIN: Being attentive.
What are you looking for in a date, physically and/or otherwise?
ANDREA: Abs - a guy who is fit and active is sexy. Also, someone who makes me laugh. If you know how to change a tire, that's pretty cool, too.
JUSTIN: I'm looking for someone that's well put together and confident. A woman that is comfortable in her own skin - you'd be amazed how hard that is to find in San Diego. Shout out to my exes. Physically, she's got to be fit, or at least be into herself enough to take pride in what she looks like. Basically, I want to date Lady Gaga.
Describe your special brand of sex appeal in five words or less.
ANDREA: A ball of sloppy seduction.
JUSTIN: Jeff Goldblum meets Nick Cage.
What do you like least about yourself?
ANDREA: My ability to lose everything. Like, thankfully my head is attached.
JUSTIN: Being right all the time. It gets really annoying and makes it hard to be humble. I'm really, really, really humble.
Rate yourself on a scale from one to ten for looks.
ANDREA: Sixty-nine.
JUSTIN: Pi.
Rate yourself on a scale from one to ten for personality.
ANDREA: Ninety-six.
JUSTIN: A solid 3.5. That's a nine on the f***-boy scale, by the way.
What's your biggest fear?
ANDREA: My parents seeing my phone photo album.
JUSTIN: Chris Hansen walking into my kitchen.
What traits could your date exhibit that would be complete deal-breakers?
ANDREA: Being boring or a virgin. I don't know which is worse.
JUSTIN: Selling Fit Tea on Instagram is a deal-breaker.
Will the night end with a kiss, something more or something less?
ANDREA: I don't kiss and tell, but I cleaned my sheets... in case.
JUSTIN: Not sure. I don't usually kiss on the first date, but this is PACIFIC mag, so maybe I gotta step out my comfort zone. Or take my shirt off - either, or.
What's the most important thing in the world?
ANDREA: Love. And money, because money can buy yoga pants.
JUSTIN: Send nudes.
When their limo pulls up to the new Pendry San Diego hotel, Andrea and Justin step out onto Fifth Avenue and head inside Lionfish to enjoy a seafood-forward presentation by Chef Jose "JoJo" Ruiz. Oysters, a Big-Eye Tuna Pizza and Maple-Sriracha Pork Belly BLTs arrive at their table as they talk over cocktails for an hour or so.
KISS
Not the band, something that happened in the limo
By the time they're ready to leave the restaurant, the daters appear to be on-track to making sweet music together. They jump back into the limo and head up the street to House of Blues to see a concert. Before heading inside, they're split for mid-date debriefings.
PACIFIC: How's it going so far?
ANDREA: Going great. I have had a fantastic time. He has been super enthusiastic, fun and witty - very witty - which is exactly what I wanted.
JUSTIN: It's going spectacularly.
What were you first impressions?
ANDREA: My first impression when he opened the door was actually very relieved, because he was tattooed. I like that, like a lot. That means he is very open to everything. I have a few tattoos, too, so I thought, "We are going to have a great time together."
JUSTIN: She's cute. She's wearing a really nice dress.
Is this the type of person you'd normally date?
ANDREA: Absolutely.
JUSTIN: No. I don't know what my type is, just a little different, I guess? But, I mean, she's bangin'. I don't know, just not really my style, but at the same time, I can see myself being with her.
What do you think of the way your date is dressed?
ANDREA: I like the way that he is dressed. I think he could have dolled it up a little bit more for a date, however, casual is always good.
JUSTIN: Really nice f***in' dress.
How was your experience at Lionfish?
ANDREA: It was amazing. The food was so fantastic, I don't know if there is any place in San Diego that can top it. The appetizers were amazing.
JUSTIN: Everything was great. We had a lot of appetizers. I actually didn't know it was more seafood, but I love seafood, and it was great.
What did you eat/drink/do there?
ANDREA: We had this tuna appetizer pizza. The lobster was amazing; the oysters were fantastic. The drinks - oh, my gosh - beyond amazing. I had a few vodka cucumber drinks that were great.
JUSTIN: We had some oysters - not sure what kind; they were exotic oysters. The drinks were really good; I was really impressed by the drinks. Everything else was good. I think we had sea bass and some pork; both were spectacular dishes.
What's the most attractive thing your date has done so far?
ANDREA: I think feeding me my food at one point was attractive. We had a fun time feeding each other and playing around with it and the sushi and the chopsticks.
JUSTIN: Shove some seafood down my throat - she fed me.
What's the least attractive thing?
ANDREA: That he was saying he doesn't drink; that's a bummer - not necessarily unattractive, but bummed me out. Something else unattractive is he doesn't really say "please" and "thank you." He could use a little more pleases and thank-yous.
JUSTIN: She grabbed my dick while we were walking to the bathroom, which could be on either end of the spectrum - it could be on the "that was really hot" or it could be "least attractive." I'll leave that up to the audience that's reading.
Rate your date on a scale from one to 10 for looks.
ANDREA: Nine.
JUSTIN: Eight, solid eight.
And for personality?
ANDREA: 9.5.
JUSTIN: Solid eight.
Do you want to kiss your date right now?
ANDREA: I think it is questionable. I could possibly kiss him.
JUSTIN: I do. I don't think I am going to have to make the move. I feel like she is going to do it.
Does your date want to kiss you?
ANDREA: I think he is thinking about it.
JUSTIN: Oh, 100 percent. Now if I'm going to kiss her back, I'm not sure. I might just turn the cheek and let her know what time it is, keep it interesting. TBD. Actually we already kissed in the bathroom. We told you we were leaving the table to go make-out.
How and when will the date end?
ANDREA: I think it will end with either a good night kiss or him in my bed - because I am not ending up in his bed, that's for sure.
JUSTIN: Not sure. It's kinda whatever is going to happen is going to happen, but it's looking pretty promising for me. I don't know about her.
Rapping it Up
A live show and a surprise ending... or is it?
When Andrea and Justin arrive at House of Blues after the mid-date break, they grab a table on the balcony. Then, as rapper Shwayze takes the stage, the crowd goes wild - and the magazine crew finally leaves the couple alone to enjoy the rest of their evening away from the camera. The next day, we call to see what we missed.
PACIFIC: How was your experience at House of Blues?
ANDREA: House of Blues was a great vibe. It was my first time there, so I was really excited. The music was fantastic. I'm a huge Shwayze fan.
JUSTIN: Great. I've always loved that venue.
Where did you go after the concert?
ANDREA: After leaving House of Blues, we went to the opening of the Oxford Social Club in the new Pendry.
JUSTIN: We went to the grand opening of Oxford Social Club, and it was amazing.
When did you get home?
ANDREA: At some point between 2 a.m. and sunrise.
JUSTIN: Late
Was there a kiss or romantic exchange?
ANDREA: My memory is a little hazy, but I believe there was a kiss or make-out session in the limo for the camera. Oh, wow - I can only imagine how sloppy it was. Sorry, Justin.
JUSTIN: Yeah, she forced a kiss on me at the House of Blues. I felt like I was kissing my cousin. Not into it.
How and when did the date end?
ANDREA: It ended as soon as we arrived at the Oxford Social Club. We split after I found my friends and forgot his name while introducing him.
JUSTIN: It ended at Oxford. I ditched her five minutes after we arrived.
Fill in the blanks: I wish my date had a bigger "blank" and a smaller "blank."
ANDREA: Bigger feet and a smaller neck tattoo.
JUSTIN: I wish my date had a bigger tolerance for alcohol and a smaller appetite for drinks.
What's the funniest thing that happened during the date?
ANDREA: I forgot his name, maybe a few times. I thought it was funny. I don't think he did.
JUSTIN: She grabbed my crotch while I was walking to the bathroom.
What was the best part of the date?
ANDREA: It was really fun trying out the new restaurant Lionfish. The food was amazing, and I had a guy hand-feeding me oysters.
JUSTIN: Oxford Social Club, because that's where I ditched her, and I love that place.
Their slogan is "be sophisticated, or not." Obviously, I chose the latter.
What was the worst part of the date?
ANDREA: My date being completely sober; me drinking double. The hangover sucked.
JUSTIN: She tried to feed me dessert and jammed the f***in' fork into my teeth.
Will there be a second date?
ANDREA: No. He was really cool, don't get me wrong, but I don't do DJs. They always one-up me with the AUX cord.
JUSTIN: Are you serious? I could barely make it through the first one. She seems like a rad chick, just not my type.
What's one thing your date should know before going on another date?
ANDREA: Warn her you don't drink, so that, when you show up, she can already be drunk.
JUSTIN: Don't get so drunk. Or, if you're going to get drunk, be nice and don't yell at the limo driver.
What could have made this date better?
ANDREA: Roofies.
JUSTIN: Drugs.
Anything else you'd like to add?
ANDREA: Hey, guys, I'm still single. Hit me on the DM.
JUSTIN: For more updates on my incredible single life, follow me on Instagram @schoenypony.
AFTERMATCH: Whoa. This music issue blind date sure had more face-biting, d***-grabbing and cousin-kissing than previous episodes, huh? Andrea and Justin may not have found love in each other, but these two hard-rockin' singles are sure to be back in the swing soon enough - probably before the next song comes on. And the beat goes on...
Sign up for the Pacific Insider newsletter
You may occasionally receive promotional content from the Pacific San Diego.