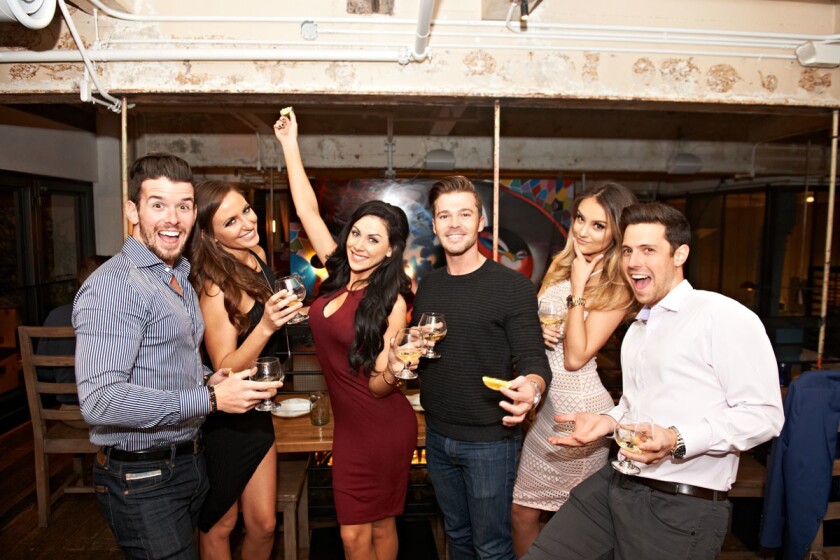 For the 10th year in a row, PACIFIC's illustrious matchmaking team set out in January to create love connections across the city. Out of the 11 blind dates they set up in 2016, 3.5 ended with a kiss (that we know of). That's three couples who answered "yes" when asked if there had been a kiss or romantic exchange - and one blind dater woman who said, "I honestly couldn't tell you. I don't think so. But then again, you never know." (Her date said there was a "casual goodnight kiss.")
In most cases, even the daters who didn't find romance had a blast, at least for part of the night. In one case, though, a woman said of her date, "I wish he had a bigger filter and a smaller mouth. At the end of the night, he got really drunk and got really loud. I wanted to separate myself from him, so I did. His friend and I left to OMNIA."
PACIFIC's official marriage-to-blind-date ratio is now 2:116, and the two were nearly a decade ago. It's high time to make some magic happen here. To that end, if you or someone you know is PACIFIC blind-date material, email a photo and a sentence or two about yourself and what you're looking for in a date to setmeup@pacificsandiego.com.
In the meantime, let's have a round of applause for 2016's blind daters, many of whom are still single, despite their favorite magazine's best efforts.
January 2016
Ice to Meet You, Two: A second chance at finding romance

Lindsay (who had also gone on PACIFIC's September 2015 blind date) met Tellas for drinks at downtown's The Local Eatery & Drinking Hole before further breaking the ice at Liberty Station's holiday season skating rink. After slip-sliding away, the couple enjoyed a fireside dinner at Soda & Swine (also in Liberty Station). When asked about a kiss during the mid-date debriefings, Lindsay said, "I think that already happened." Tellas said, "Her lips are pretty epic." When asked about a second date, she said, "Yes, there will be." He said, "Hell, yes." They saw each other for a couple of months after the date, but then things fizzled. "Tellas and I casually dated for a little bit," Lindsay said in a follow-up interview.
February 2016
Three-way of Love: Take a ride in the speed-dating fast lane
Danielle, Jenn and Rebecca met Casey, Stephen and Taylor for a triple blind date, which began with margaritas and tacos at Puesto at The Headquarters (by Seaport Village). Next, the group spiced things up with a shopping excursion to Hustler Hollywood in East Village before heading to the Gaslamp for dinner at Café Sevilla. Between the sex shop and Sevilla, Casey disappeared, returning later with his dog. While no love connections were formed, everyone had a good laugh. When asked about the funniest thing that happened during the date, Danielle said, "Watching how everyone reacted to certain items at Hustler, you could tell a little bit about their sex life." Jenn said, "The boys nerding out about science." Rebecca said, "I made fun of people from Orange County, and one of the guys was from there. Oops." Casey said, "We had a good time taking photos and browsing items at the Hustler Store. I mean, how can you not have fun at a sex-toy store?" Stephen said, "Casey's impromptu posing session was by far the most hilarious thing that happened. Guy sure knows how to make love to the camera." And Taylor said, "I think a lot of funny things went down at Hustler. Electrocuting each other was interesting."
March 2016
Hair of the Dog: A blind dater returns to the scene of the K-9
Casey, the guy who brought his dog to the February 2016 blind date, got a second chance at love in the March 2016 issue, when he and Nikala went to see a San Diego Gulls game - during which they smooched on the Kiss Cam, met the team mascot, and then stepped onto the ice to compete (and win) against another couple in building a giant artificial burrito. Afterward, they went to Harney Sushi in Old Town for dinner, getting along famously throughout the evening. When asked if there'd be a second date, Nikala said, "I would be surprised if he didn't want one, seeing as how he proposed already." Casey said, "We're getting married next weekend. I guess that will technically be our second date."
April 2016
Flying High: Romance Takes Flight After Dark
After going indoor skydiving at iFly in Mission Valley, London and Andrew headed to North Park to enjoy drinks and food at neighborhood hot spot, Waypoint Public then over to University Heights for drinks at Park & Rec. When asked if she wanted to kiss her date at the mid-date break, London said, "Yeah." Andrew said, "Already did. It was in the limo; it was pretty nice. It's been a very good date." Despite the apparent connection, however, a second date seemed unlikely. When asked what could have made the date better, she said, "If we had a little more in common." He said, "I was attracted to her, but if I had to say anything, maybe a little hotter and a little older. She was a little green."
May 2016
Unsung Heroes: Vocal locals go coastal
House music DJ/producer Lana met Christian music hip-hopper Graham for sunset cocktails and appetizers at Wonderland Ocean Pub before heading up the street for dinner at O.B. Warehouse. Next, PACIFIC took the couple to Lamplighter in Mission Hills to sing karaoke, but they refused to pick up the mic. While these two might make beautiful music, they didn't end up doing so together. When asked which song best summed up their date's personality, Lana said, "'Sharp Dressed Man,' by ZZ Top," and Graham said, "'Get the Party Started,' by P!nk."
June 2016

Are You Shore?: 'Twas a hot night out, if memory serves...
Jessica and Cesar embarked upon a beach-area hospitality tour that began at Miss B's Coconut Club in Mission Beach, then moved on to Pacific Beach Ale House, Pacific Beach Shore Club and Level 2 at George's in La Jolla. Before the date, when asked what kind of guy she was looking for, Jessica said, "I don't mess with vanilla f***boys." After the date, although she and Cesar seemed to get along well throughout the evening, her memory became hazy. Regarding whether or not there was a kiss, she said, "I honestly couldn't tell you. I don't think so. But then again, you never know." He said, "Casual goodnight kiss. Kept it respectful. I wouldn't say there was a romantic exchange, but we seemed to vibe. She's a little young for me."
July 2016
Lofty Aspirations: The search for love reaches new heights
Michelle and Justin soared above the North County coastline in a Hendrick's Gin hot air balloon, and then headed to Carmel Valley for dinner and drinks at Westroot Tavern. Despite shooting for the stars, however, PACIFIC failed to create a love connection. When asked about the worst part of the date, Michelle said, "He got really drunk and got really loud. I wanted to separate myself from him, so I did. His friend and I left to OMNIA." Justin said, "Me and her didn't click really well, but we had fun enjoying San Diego's nightlife." Regarding what they learned about themselves during the date, she said, "That I have more patience than I thought." He said, "Tequila, vodka and whiskey cause a horrible hangover."
August 2016
Fire and Ice: How a hot night on the town hits the deep freeze
After soaking in drinks, appetizers and the view at Coasterra on Harbor Island, Frances and David disrobed for full-body cryotherapy treatments at Chiltonic in Hillcrest. Once they had their clothes back on, the couple headed to Little Italy for dinner at BARBUSA. These two warmed up to each other quickly. She said, "I thought he was super cute and sweet. And we wore matching shirts." He said, "She is nice, she's pretty and she's a lot of fun." By the end of the date, however, there may have been some cooling. When asked about the likelihood of a second date, Frances said, "Yes, if he's lucky." David said, "I'm sure that we will see each other again - under what circumstances TBD."
September 2016
Open and Clothes: A story of matchmaking and matching colors
Blind daters Julia and Alex rocked rolls and cocktails at H2O Sushi & Izakaya in Hillcrest before heading to Fashion Valley for a fashionable shopping spree at Scotch & Soda. After the mall, they got (arcade) game at Coin Haus in La Mesa. The two seemed to connect, but not in the way Julia was used to. When asked if Alex was the type of guy she'd normally date, she said, "Yes and no. He's definitely a lot sweeter than what I'm normally used to.... And, no - he doesn't have that bad-boy personality, but there's something about him that's actually really attractive." When asked if Julia was his usual type, Alex said, "Yes." As for the likelihood of a second date, she said, "Maybe, maybe not. We'll see." He said, "I'd be surprised if there wasn't. I think we got along great."
October 2016
Bettor Believe It: Imagine hitting the dating jackpot

Jolie and Trey's blind date took place at Sycuan, beginning with drinks and appetizers at the casino's snazzy-ish restaurant, Wachena. Next they had a meet-'n'-greet with the bands co-headlining the evening's concert - Naughty by Nature, All 4 One and Coolio (En Vogue also performed but didn't participate in the meet-'n'-greet) - before heading to their front-row seats and getting on-stage props from the performers. Post-concert, the couple played blackjack at Game Day Sports Bar. After Sycuan, they took their Epic Limo to the beach for a midnight stroll. Regarding a kiss or romantic exchange, Jolie said, "There was an incredible romantic vibe. He was holding me so sweetly on the beach. I absolutely loved being in his energy. We are going to explore our chemistry and connection on date Number Two." He said, "We kept it tooootally platonic." As for the likelihood of a second date, she said, "There will absolutely be a second date. He made me feel so honored and adored." He said, "Yeah, there will be a second date. We got along great and have a lot in common."
November 2016
Stepping Up to the Plates: Taking a swing at a culinary fling
In celebration of PACIFIC's 10th annual dining issue, blind daters Savannah and Rob enjoyed chef-selected small plates and paired cocktails at four new restaurants: The Lot at Liberty Station, Sally's Fish House & Bar in the Marina District, Pacific Standard Coastal Kitchen in Little Italy and Cold Beers & Cheeseburgers in the Gaslamp. The couple seemed to hit it off from the start. Savannah said, "I am having so much fun. This is one of the best experiences I have ever had." And Alex said, "It's going great. She is a very sweet girl, outgoing." Despite the heat of the kitchens, however, a spark between these two didn't take. In the end, she said she wished he had, "bigger opinions and smaller questions." He said, instead of going to five restaurants, "It might be a fun idea to have gone on a date with five different girls."
---