A San Diego triathlete is behind Oscar-winning 'All Quiet on the Western Front'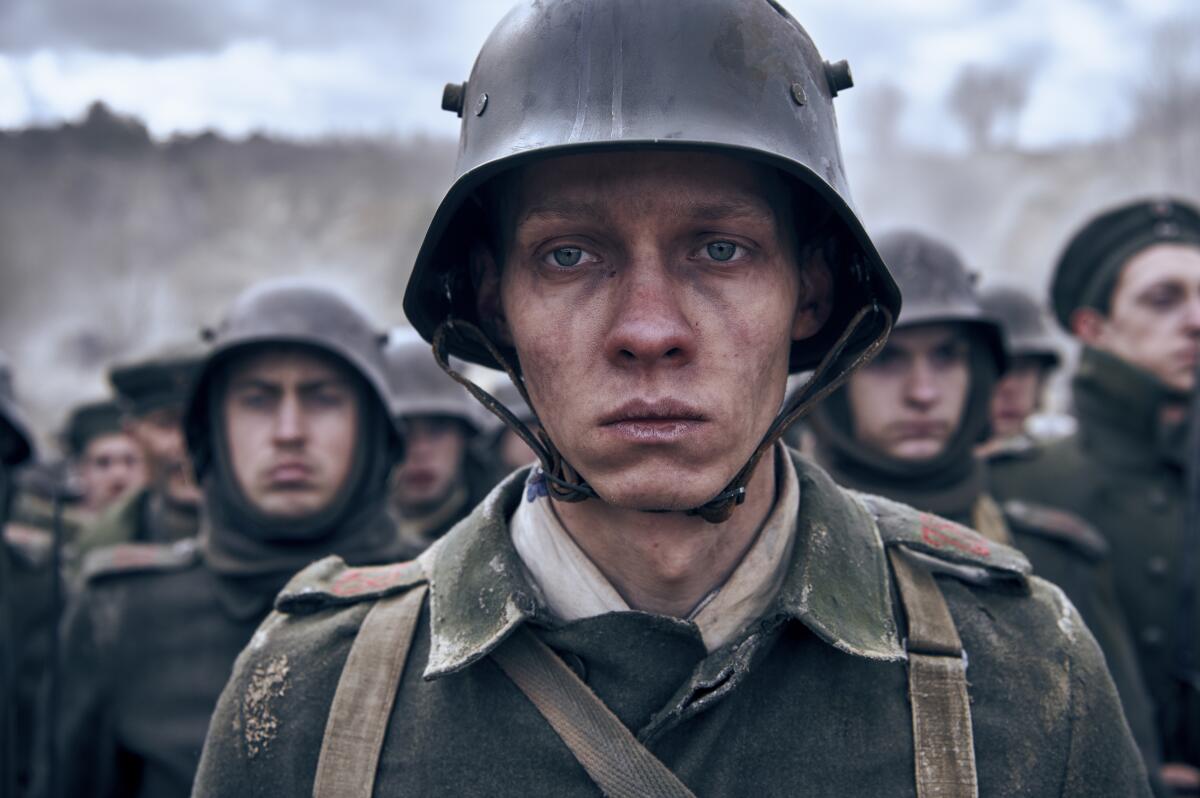 "All Quiet on the Western Front" won seven BAFTAs and has nine Oscar nominations, including one for San Diegan Lesley Paterson.
Which of the following is true?

A San Diego five-time world champion triathlete is executive producer of an epic film up for nine Academy Awards.
She mentally "wrote" the screenplay while on cycling and running workouts on the streets and trails of San Diego County.
She used money from winning races over 16 years to pay for renewing the movie option rights.
If you answered "yes" to all three, give yourself a gold star.
That's only a small slice of the story of Lesley Paterson, a 5-foot 2-inch, 100-pound dynamo who is co-scriptwriter and executive producer of the modern re-make of the movie, "All Quiet on the Western Front."
The longtime San Diegan's tenacity and competitiveness have paid off big time.
Her antiwar film, streaming on Netflix, was nominated for 14 BAFTAs, the British Academy of Film and Television Arts version of the Oscars, and shocked the cinematic world when it collected seven of them last month. Included were best picture, best director and best adapted screenplay, an award jointly shared by Paterson, co-writer Ian Stokell and movie director Edward Berger.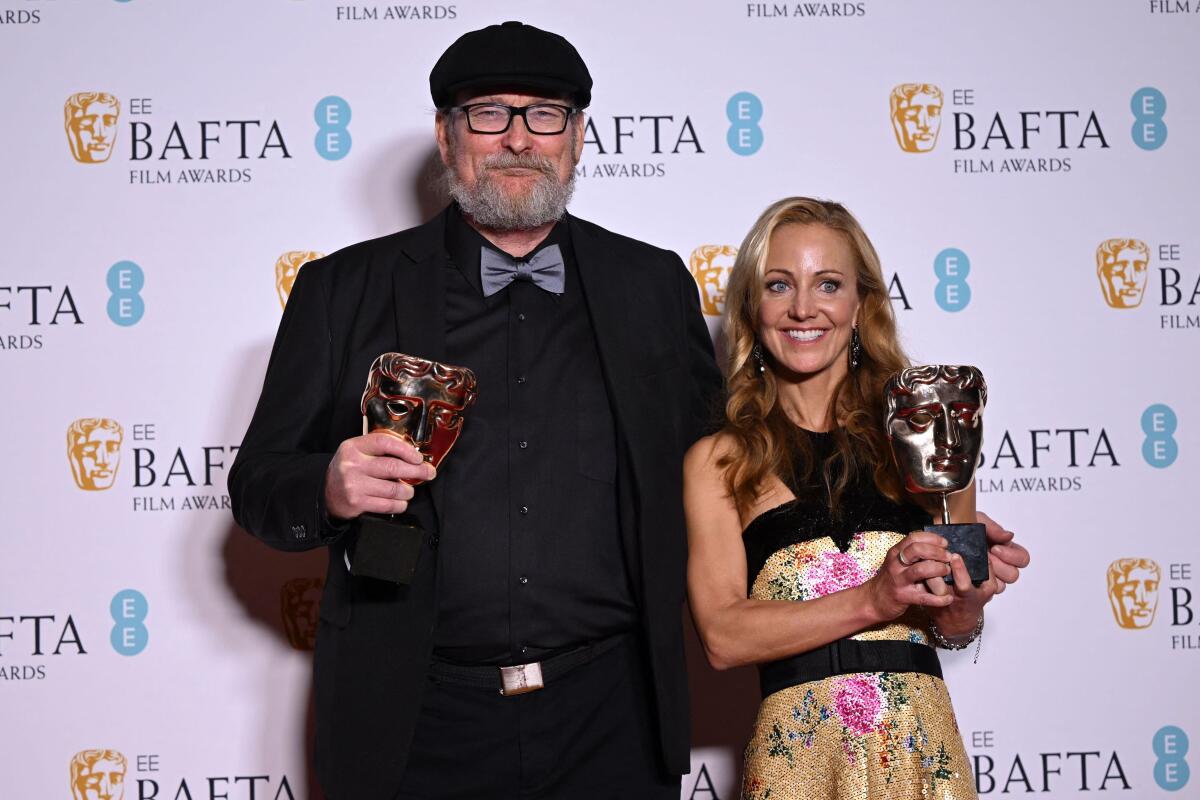 Now the German-language movie is up for nine Oscars, including nominations for best picture, best international feature, cinematography and adapted screenplay, heading into Sunday's Academy Awards ceremony.
"It's unbelievable. We have to keep pinching ourselves," says the Scottish-born Paterson, who moved to San Diego in 2002.
I caught up with her Thursday by phone in Los Angeles, where the British Broadcasting Corp. was filming the fitting for her gown by British couturiers Kolchagov Barba.
"We designed it together," Paterson says.
The "P" in Paterson also stands for perseverance. She has won the XTERRA World Championship three times — in 2011, 2012 and 2018 and the ITU Cross Triathlon World Championship in 2012 and 2018. She triumphed in the 2015 XTERRA Costa Rica triathlon with a broken shoulder.
A day before the competition, she took a nasty tumble on her bike, then strategized as to how she still could compete in the race. She needed the prize money to help pay for the five-figure option renewal fee for book rights to "All Quiet on the Western Front" — her dream project.
"In order to retain the option for the novel, I had to win races," she says.
Paterson rationalized that she could still bike and run with her injury — but swimming nearly one mile competitively with one arm?
Her husband, former San Diego State sports psychologist associate professor, Simon Marshall, who moved over to UC San Diego as an associate professor in family medicine in 2012, convinced her she could do it.
Coming out of the initial swimming portion, she was 12 minutes behind, rose to second place after the mountain biking event, then ran to victory. The winner's purse was hers.
Paterson springboarded from a master's degree in theater, television and film at San Diego State University and acquired the option rights to the 1929 novel by Erich Maria Remarque with co-writer Stokell in 2006.
Selling the idea of making a World War I film from the perspective of German soldiers in German with subtitles proved a challenge.
"We tried to get it made 12 years ourselves, and it was like pushing a boulder up the hill. Everybody was scared of it," Stokell told journalists covering the BAFTA awards.
"When we finally found Edward Berger it was like a dream come true, then, obviously, Netflix came on board," Paterson added. "We've really fought to get this film made."
Many of the scenes of "All Quiet on the Western Front" were formulated during Paterson's daily four-hour workouts on local running and biking paths — through San Diego Mission Trails, the Laguna Mountains, Palomar Mountain, Mount Soledad, Pacific Coast Highway and elsewhere.
"Most of my ideas, to be honest." She credits the workouts with stimulating the creative part of her brain.
Paterson had wanted the movie to portray the horror and futility of war through the eyes of a 17-year-old German soldier. It was not fun and games as many of the young, gullible German boys were encouraged to believe.
She focused on the image of a girl in a red coat, which viewers of "Schindler's List" might remember as a symbol of innocence of Jews being slaughtered in the Holocaust.
In her opening sequence she followed the imagery of the recycling of a dead soldier's uniform. It was washed, bullet holes were stitched up and it was carefully folded to be re-issued to an unsuspecting recruit. The messsage was that it was the uniform, not the man, what was important.
Bob Babbitt, co-founder of Competitor Magazine and member of both the Ironman and USA Triathlon Halls of Fame, calls Paterson an amazing runner and tenacious competitor. "She is just so tough," he says, noting that, as a youngster, she joined an all-boy rugby team. She even became team captain.
There is much more to come from Paterson. "Today Simon and I write and produce and have our own production company. We have various projects in different stages of production," she says. Simon contributed to the script, although he wasn't given a screenwriting credit.
Paterson is juggling three careers — triathlete, their Braveheart Coaching business, which just ran a sports camp in San Diego in January, and several new film projects that are in the works.
The couple have written a new script set in the Scottish Highlands between World War I and World War II. She hints that the plot centers on a married couple on the run from something suspicious.
"All Quiet on the Western Front" has been streaming on Netflix, but with all the award buzz, it now is returning to theaters for big-screen viewing.
"A lot of my friends' children are telling their parents to watch this film – the themes are universal," Paterson says.
On March 20, she and her husband, who moved into a rental in Los Angeles last year, will return to SDSU to share their movie screenwriting story. The free event will be at 2 p.m. at the Conrad Prebys Aztec Student Union theater. It is open to the public and will be followed by a Q & A.
"The whole thing is incredibly authentic, and that's why it resonates with people," Paterson says.
Sign up for the Pacific Insider newsletter
You may occasionally receive promotional content from the Pacific San Diego.