Lessons learned from a new hobby helped me grow during stay-at-home orders
It all started with a quarantine birthday.
On March 30, the world was in a state of panic. My boyfriend Connor and I had been sheltering in place for 15 days and only left our apartment to stock up at the grocery store downstairs. COVID-19 anxiety was at an all-time high and "the new normal" still had a murky definition.
Our 2020 resolutions were to travel, be more social and start making ceramics. So when the pandemic hit, it felt like the year collapsed in my hands — just like my pieces of clay from our first (and only) pottery class we took back in January.
When my birthday rolled around, Connor knew I was very close to a quarter-life quarantine crisis. He thoughtfully gifted me a pottery wheel so we could attempt at least one of our 2020 resolutions while indefinitely stuck at home.
I was ecstatic — maybe the year wouldn't be a waste after all! We could get off the couch and behind the wheel, spin our clay and worries away, and become ceramics experts in the process.
... Or so I thought.
At first, I couldn't wait to get my hands dirty. As I wedged my clay, I thought back to that pottery class we took three months prior at Art Wheel School & Studio in Imperial Beach. I haphazardly watched a few YouTube videos about centering and opening, and read online that we could temporarily use a microwave kiln while professional facilities were shut down.
Armed with all this knowledge, I was bound to be successful, right?
Not so fast.
My hands were either covered with too much water or not enough. My palms forgot to apply a consistent amount of pressure. I'd use too much force when forming the dome, causing the clay to rip off its base; I'd overestimate the thickness of the piece and poke holes in it with my fingers; I'd slice the entire bottom surface of the item when I attempted to remove it from the wheel. The $30 microwave kiln proved unpredictable and arduous, with the guessing-game approach often resulting in cracked or shattered pieces.
The few ceramics I somehow salvaged looked sad, lopsided and like a five-year-old made them. Instead of channeling more quarantine time and energy into improving my craft, I walked away (like a five-year-old).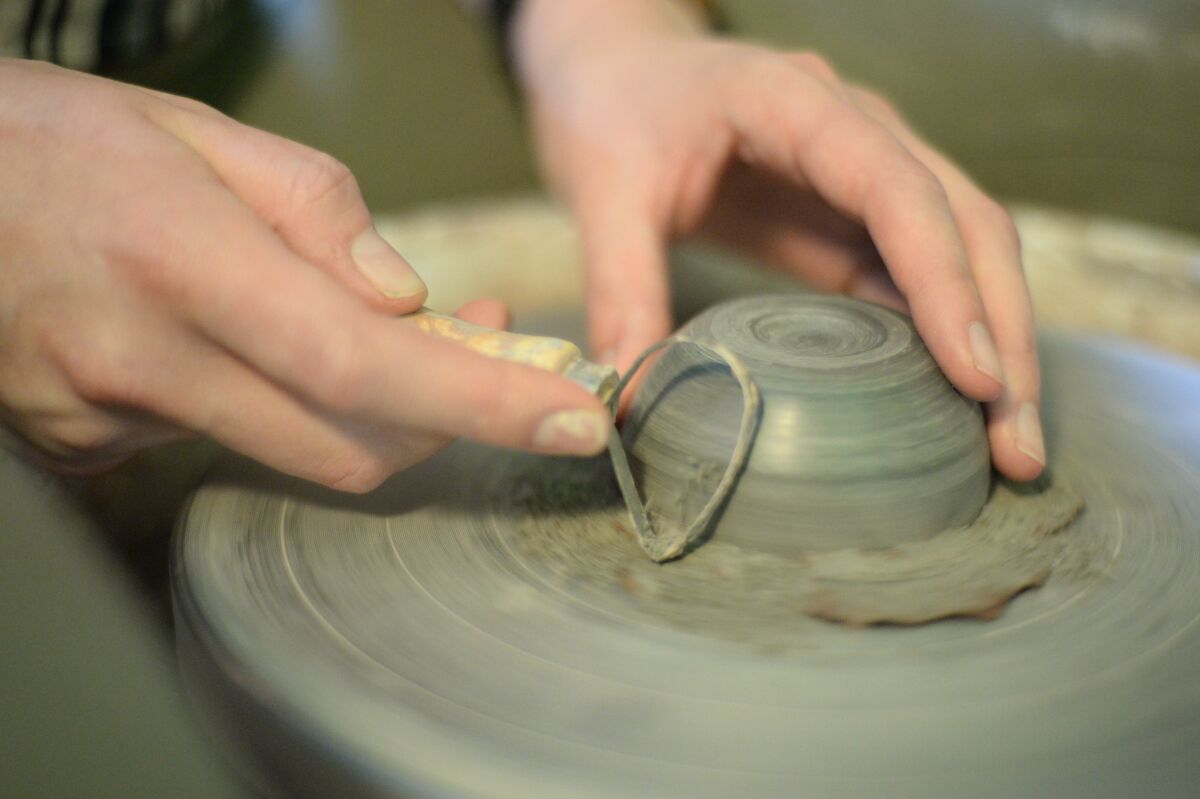 For about three months, I scowled every time I walked past the pottery wheel taunting me in the hallway. I was especially annoyed when Connor, who has much more self-discipline than me, was using it. How could he deal with the feeling of failure when the world was falling apart around us?
Once summer hit and I realized that COVID-19 wasn't going away anytime soon, I knew something had to change. I refused to waste all of 2020 harboring resentment for the situation — of both the uncontained virus and unsuccessful ceramics endeavor.
So I forced myself back on the pottery wheel. And since then, that's where I've spent most of my time after 6 p.m. every day.
Three of my favorite pieces that I display on my WFH desk. I usually keep small office supplies, like paper clips and staples, in the yellow and purple ones, and the blue tray serves as a coaster for my coffee mug.
(Sara Butler)
The lopsided white bowl and small black plate are my pride and joy. Even though it isn't my best work, the bowl is the first piece I made that survived all of the steps; I now fill it with water and use it to clean my watercolor brushes. The plate, made much later, is my most symmetrical item and holds my rings.
(Sara Butler)
Two of my experimental pieces. I tried carving the sides of the green bowl, and turned the oddly shaped cylinder into a pen holder with a decorative stripe.
(Sara Butler)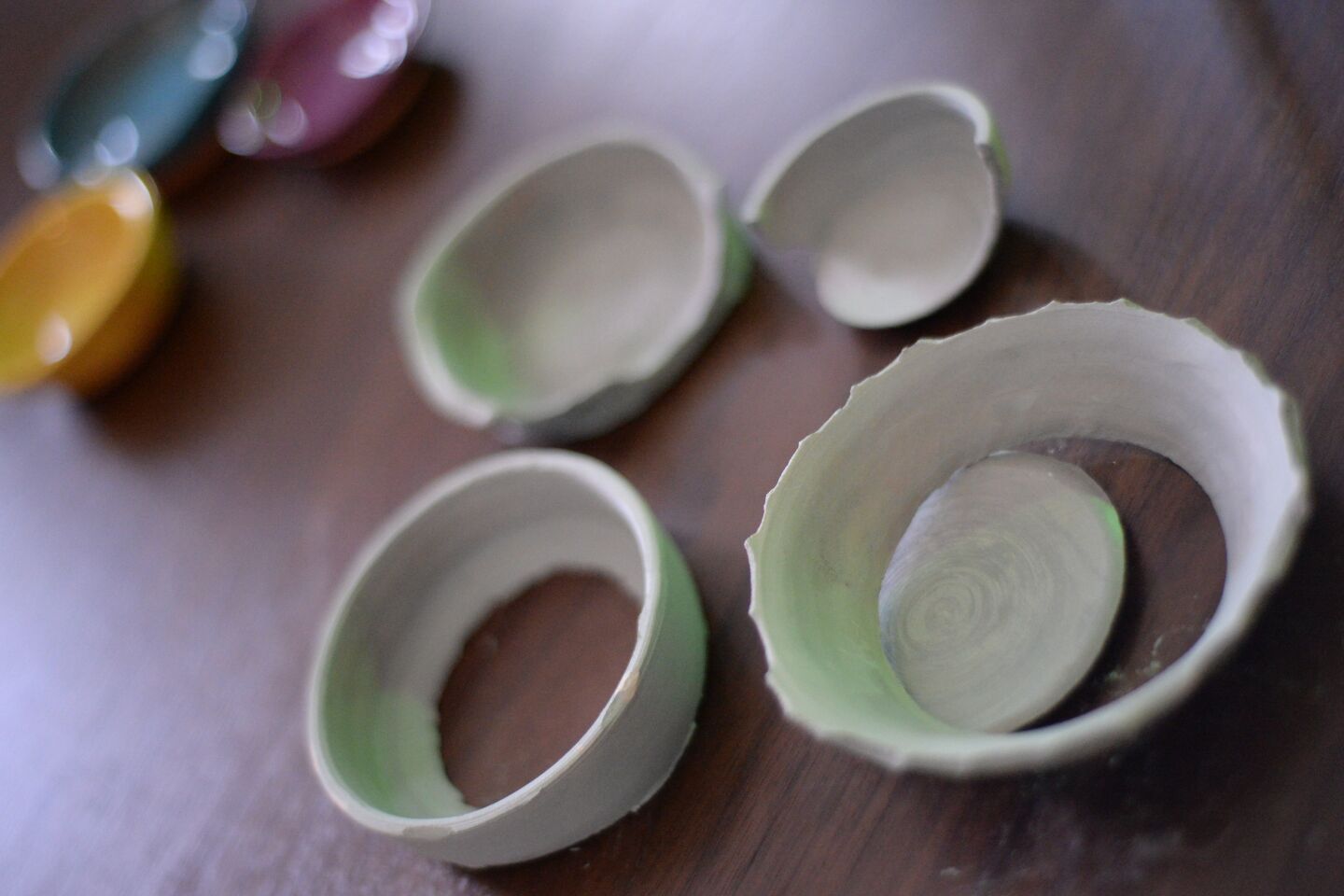 ... and a humble reminder of all the failed attempts. These pieces didn't make it past the wheel, and were tossed after the photo was taken.
(Sara Butler)
I can now throw, trim, bisque, glaze and fire my creations ... with about a 70 percent success rate. I learned the hard way not to trim my greenware when it's bone dry, and that there is such a thing as too much glaze. I replaced Instagram scrolling with leafing through a pamphlet listing glaze colors and clay types, and currently keep track of the hours spent in quarantine by the kiln's firing schedule.
No, I'm not a ceramics expert — not even close — but I am improving. And turns out that pottery lessons weren't the only things I learned in the process.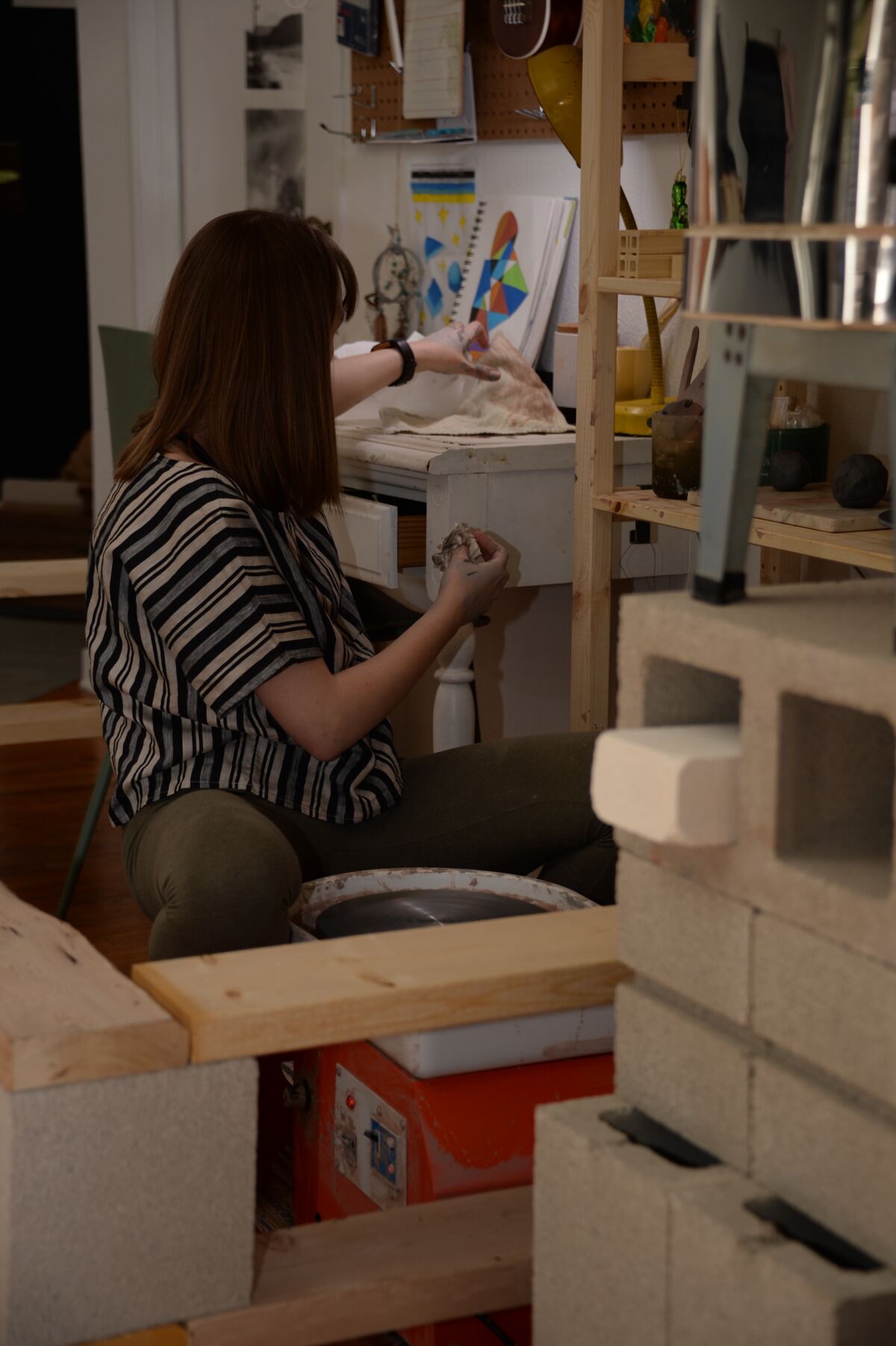 Schedule time for creativity
I take pride in being a creative person. For years, I convinced myself that trait meant I had to be the "spontaneous, free spirit artist" type. Scheduling in time for artistic projects always felt like cheating. Because of that, I waited around for a burst of creative energy to lead me to the wheel ... but it never came. Instead, I clocked in hours on my couch bingeing Hulu.
Truth is, I'm a Type A individual who needs to have a set plan in order to accomplish something — especially during a global crisis, when my emotional energy is at an all-time low.
So I let go of the notion of being spontaneous and started scheduling time behind the wheel. At first, it felt uncomfortable and forced, but after a few days the routine started to feel like a rhythm. More time at the wheel meant more chances to create something.
With time, my skills began to improve and I had more finished ceramics to show for it. Plus, while I may still be Type A, I've slowly abandoned my need for perfection and began taking more risks, even if it ultimately destroys the piece.
Now I feel more inspired than I have since 2019. I finally realized that setting a schedule doesn't mean I'm not creative, it just means I need a little structure to get there.
Use the buddy system
I've tried an embarrassing amount of hobbies in the past, but none of them stuck. On my best days I thought it was because I hadn't found the right fit yet; at my worst I believed I was a failure at everything.
Through my ceramics trial, I've found that I've been missing a key element in all of these artistic attempts: a buddy. Because I didn't have anyone watching me while I weaved, painted or played ukulele, I didn't feel obligated to continue once I became distracted, disinterested or discouraged.
Obviously, a partner is not requirement for a hobby. But I realized that in order for me to complete a task, my brain needed to know someone was keeping tabs on me. I meet my article deadlines at work because my editor is expecting me to complete my writing ... why would a hobby be any different? Having my boyfriend by my side to hold me accountable in my ceramics journey inspired me to keep at it.
Bonus points: Our new joint hobby can be done both together and alone — the perfect combination for a couple stuck at home indefinitely in a single room apartment.
Invest in the craft
After the initial investment of the pottery wheel, we wanted to be conservative in our spending during a pandemic. We bought cheap supplies, set up an ugly blue tarp, and filled a YouTube playlist with mediocre instructional videos. Once the novelty of the pottery wheel wore off, the makeshift hallway art studio quickly became a place I didn't feel inspired to visit.
As Connor improved his pottery skills, he wanted to start investing in the hobby. I initially resisted ... therefore, he researched better techniques and bought new supplies without me. Naturally that made me curious (and admittedly a bit bitter) so eventually I was inclined to join him.
We planned at-home, weekend coffee dates accompanied by an edited YouTube playlist of pottery tutorials. Connor introduced me to ceramics companies that we could buy materials from to avoid giving our money to Amazon. By mid-July, I found myself on a six-hour road trip to Yuma, Arizona to buy a professional kiln from a pawn shop that didn't know its value.
Once I invested — both emotionally and financially — in the hobby, I became much more attached to it. I now have my own ceramics uniform, an upgraded art studio, and a socially-distanced excursion to Freeform Clay & Supplies in National City on my calendar. Every weekend I look forward to our morning dates with Earth Nation Ceramics' YouTube channel and Chemex coffee — knowing that one day we'll drink those cups of coffee out of our own handmade mugs.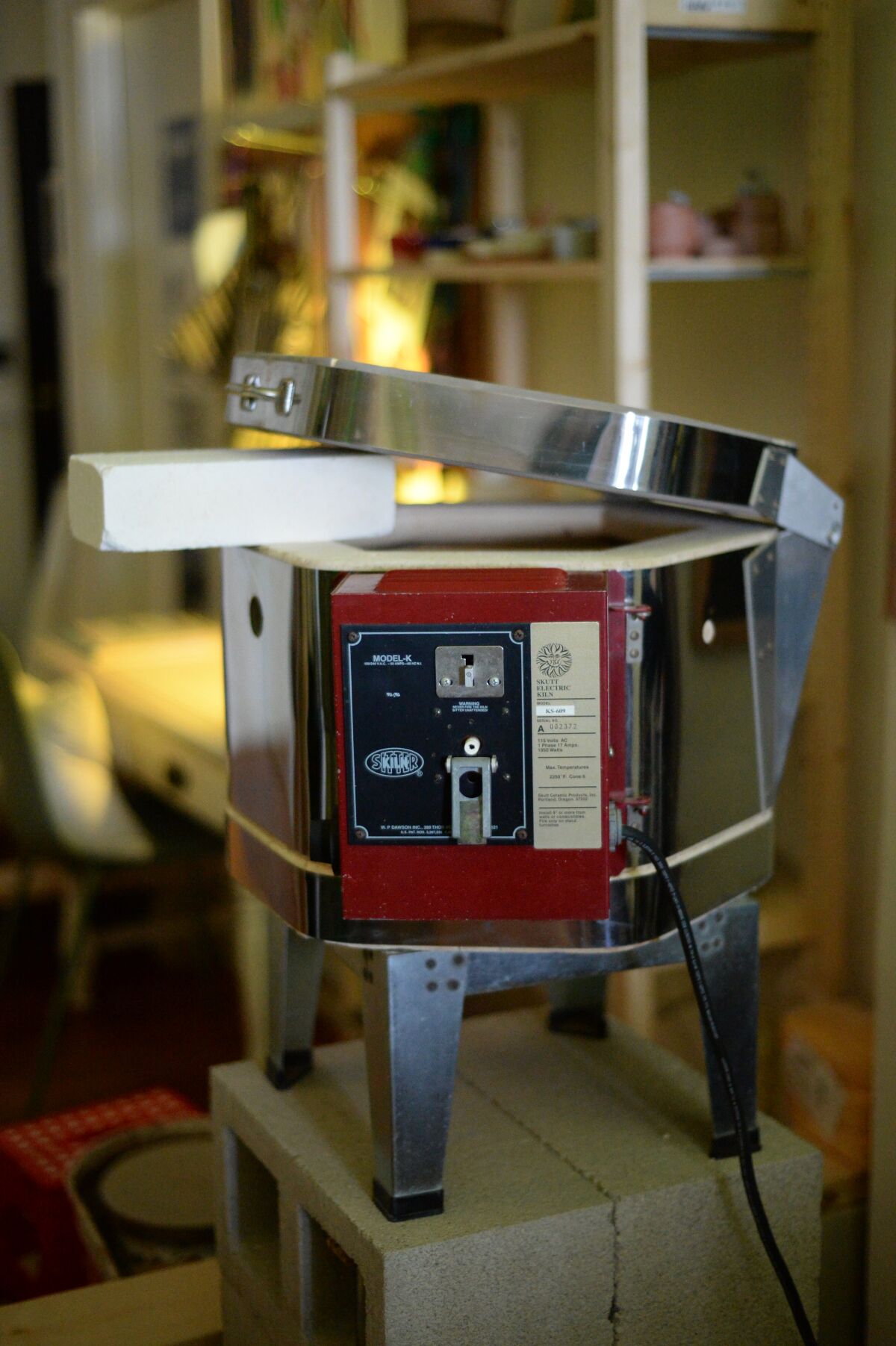 For now, I've placed a few of my proudest pieces — humble trays and shallow bowls I use as coasters and for office supplies — on my WFH desk. I'm hopeful my creations will be more impressive and useful in the future. Until then, these little ceramics serve as a token of my artistic and personal progress, as well as a reminder for what awaits me in the hallway after I submit this article.