I went to 'America's Got Talent' auditions and made friends, not enemies
America may have talent, but turns out San Diego stars also have camaraderie.
America's Got Talent started its auditions for the 2020 season right here in San Diego on Sunday. From 9 a.m. to 7 p.m., folks stopped by the San Diego Convention Center to show off their voices, humor and magic tricks.
Here's a time stamped recap of the day (from a press perspective) — full of anxious energy, long waits, quickly formed friendships — as well as a deeper look at some of the interesting people I met during the process.
9 a.m. – I get dropped off at the convention center. After seeing the lines of cars waiting for expensive parking, I'm glad I decided not to drive. I text my on-site AGT contact (Chase) but he's running late, so I sip my iced oat milk latte and take in the scene. People file into the building (which opened its doors to early birds at 8 a.m.) and get in line for bag checks. While they wait for security gates to open, young cheerleaders wander outside to take Instagram pictures with the San Diego skyline, and moms grab Starbucks coffee nearby.
9:30 a.m. – Just as security opens up, Chase arrives. He hands me my press badge and takes us upstairs for a tour. Unfortunately, I find out that photos and videos are not allowed in the hallway outside the audition rooms, and press is not allowed into the audition room. The holding room is fair game though, as well as the Embarcadero Marina Park, where America's Got Talent is filming contestants post-audition.
9:45 a.m. – I head upstairs into the holding room, which is beginning to fill up with people and tension. The room is buzzing, but the air feels heavy as people prepare for their auditions. A crew member gets on the mic and welcomes the crowd, giving instructions and reminding them of the rules. Everyone has a sticker with a number on it, and he is calling groups to audition based on the last four digits.
10:15 a.m. – I step out of the room to shoot an Instagram story. Behind me, I see a woman out of the corner of my eye singing her audition song for someone who appears to be her mother. The mom compliments the singer, but advises her to make eye contact. The woman then gets defensive and snaps at her mother before storming off. I hear another woman singing What's Up? by 4 Non Blondes on repeat. I can't tell where it's coming from and I can't get it out of my head the rest of the day.
10:45 a.m. – I decide to head to Embarcadero to see if I can talk to some folks who already auditioned. To get to the shuttle, I walk through the audition hallway, which feels even more serious than the holding room. Outside the audition rooms are rows of chairs that hopeful contestants sit on, who are quietly on their phones. On the other side of the hallway are round tables and chairs for family and friends to sit at while they wait for the results. I pass by a support group huddled together outside a closed-door audition room. All of a sudden the group starts screaming — they were practicing their congratulatory response for their friend.
11:10 a.m. – The shuttle finally arrives, and I sit next to a woman named Whitney.
11:30 a.m. – We finally arrive at Embarcadero Marina Park, where AGT is set up by the water. The crew is filming an introduction video for the next season of America's Got Talent, and has invited participants to come out to the park for the chance to be on TV. They have one job: stand at the top of the hill with the group, then walk down toward the camera with high energy. Only two rules: don't run, and don't look at the camera.
12:20 p.m. – The sun is now beating down on us, and the group has done so many takes of the one shot that I've started dreaming about another iced oat milk latte. The only thing keeping me engaged is a show dog who has been leading the pack with tricks as the group comes down the hill. I stick around so I can try to get some interviews with the participants, but the chance of that happening anytime soon is looking slim. "You guys wanna be on TV, right?" one of the producers yells to the crowd in an effort to re-energize them. It works.
1 p.m. – With no signs of the end nearing, I head toward the shuttle. On my way back I meet Edwin, a juggler from Poway, and Arlo Lee, a musician from Jamul. They don't want to talk much about themselves or their auditions, but they both agree to perform a bit of their talent for me (and Instagram).
1:15 p.m. – Outside the shuttle I meet six out of the 60 present members from the San Diego Chorus.
1:30 p.m. — We arrive back at the Convention Center, and I'm starving. I grab a sad breakfast sandwich from Starbucks and gulp down some water.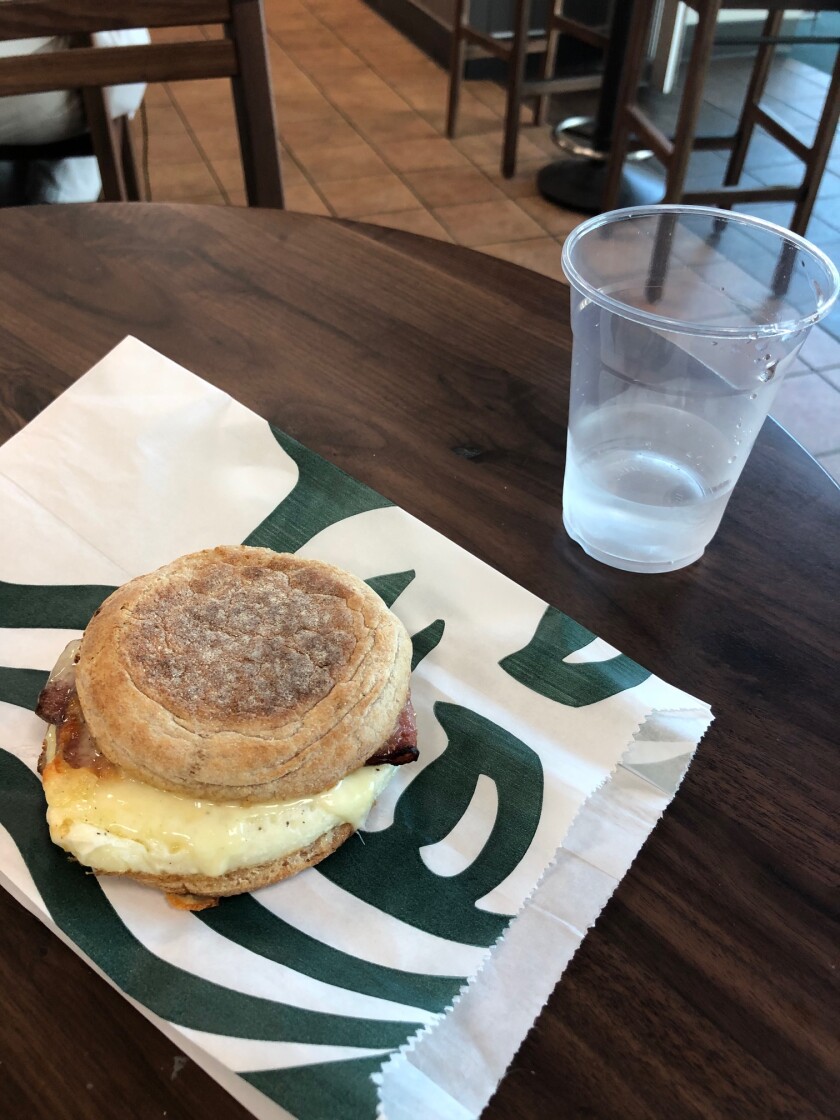 1:45 p.m. — I head back to the holding room, where my eyes are instantly drawn to a confident woman posing in front of the AGT backdrops — complete with life size selfie lights — while her five friends watch, smile and cheer her on. I'll call them "The Squad."
2:05 p.m. — I sit down and observe the rest of the holding room, which is quiet, but not as tense as this morning. A women softly plays the violin in the corner, and a man practices his modern dance routine in the aisle. When he sees me filming him, he looks up and smiles.
2:10 p.m. — I approach two men in odd costumes, who turn out to be a magician duo named Gonzo the Great and Mojo.
2:20 p.m. — Obligatory water and Instagram posting break.
2:45 p.m. — When I return, I see a 20-something women in a gold sequined jacket ask a fellow auditioner if he can take her picture. Just then, a AGT staffer calls his number and he jumps up anxiously, so I offer to take her photo instead — and I meet a comedian, Debbie.
3:15 p.m. — I scan the room and see a woman with light purple hair hanging down over her shoulders, listening intently to her headphones. She doesn't particularly look like she wants any company, but with the room beginning to clear out, I give it a shot. As soon as I sit down, she looks up and instantly smiles. She's a singer named Ayla.
3:35 p.m. — Ayla goes into audition room, with Debbie going into another room 10 minutes later.
3:45 p.m. — While I wait, I watch the rest of the groups come out of the rooms. Aside from one woman — who walked out sobbing — everyone else seemed to be in high spirits, congratulating and complimenting each other. They all gather and coordinate group photos, and exchange contact info. The day's shift from competition to camaraderie was clear and really refreshing.
4:10 p.m. — I see Ayla walking out of the building and run to catch up to her before she leaves. She seems in high spirits, telling me that while the judges had their heads down writing for most of the people auditioning, she said one of the judges kept her eyes on her throughout her entire song. "But there was this other woman… oh my gosh, she gave me goosebumps. After she sang the judges asked her follow-up questions, so obviously they liked her. But I'd be glad to see her on that screen."
4:12 p.m. — Just then, a woman walks by – and it just so happens to be the goosebump-inducing singer: Denise.
4:20 p.m. — I spot the gold sequined jacket on the other end of the hall, and see Debbie standing outside the audition room. She's smiling, talking with a group of her audition mates and new friends. "I think it went OK!" she tells me. "I made (the judge) laugh once, so at least he thought something I said was funny."
4:30 p.m. — Though auditions go until 7 p.m., with one final look around the empty holding room, I decide to head home for the day. As I ride the escalator down, I wonder how many people I have met today will end up on my TV screen. I guess we'll just have to wait until 2020 to see.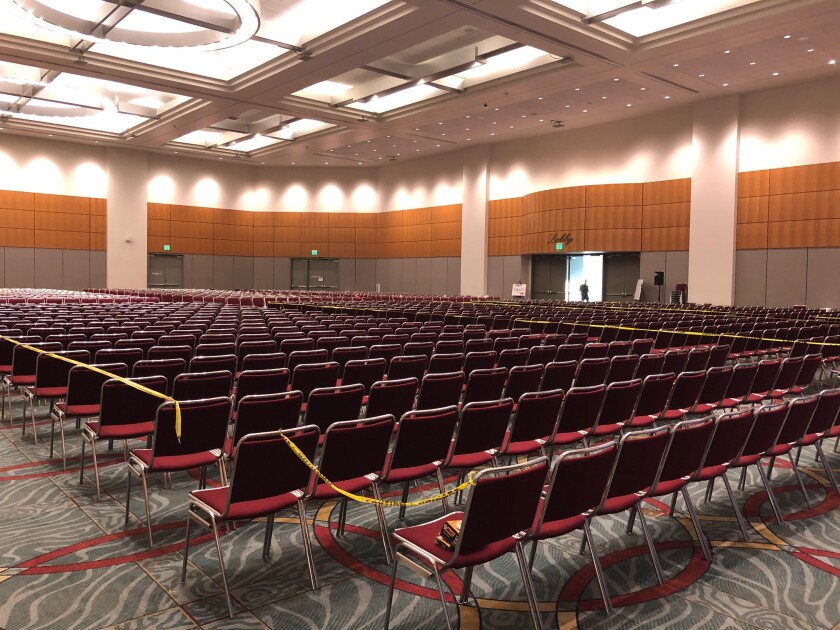 Quirky folks, quick-forming friendships
Here's a glimpse at a few of the interesting people I met during the audition process.
1. Whitney
Whitney is wearing a sparkly blue romper and a white leather jacket. She is 31-year-old Chula Vista resident working as an engineer in the military who has been trying to get the courage to audition for a talent competition for five years. Two years ago she drove up to L.A. forThe Voice but got a flat tire. Even though she knows how to change a flat tire, she used it as an excuse to skip the audition. She was so nervous for her AGT audition that she ate chocolate and drank wine the night before to purposely mess up her voice. But after receiving encouragement from a friend, she drove herself to the Convention Center at 6:45 a.m. to perform Emotional Rollercoaster by Vivian Green, and said she feels really good about the audition. After checking out Embarcadero, she's heading home to pick up her 3-year-old son and her mother to take them back downtown to celebrate.
2. San Diego Chorus
The San Diego Chorus didn't have to wait in any line. This impressive group was invited by a talent scout to audition, who secured them an appointment so they didn't have to wait. Even though they just performed a show the night before, they rallied and got to the Convention Center around 9:30 a.m. For their audition, they donned green and black velvet pantsuits and sang a Queen/Journey medley a capella. To their surprise, the judge seemed to like them and asked for another song, so last minute they decided on the theme from The Greatest Showman. Before we head back to the Convention Center, they give me their card and try to get me to join their choir, but I assured them they wouldn't want my voice.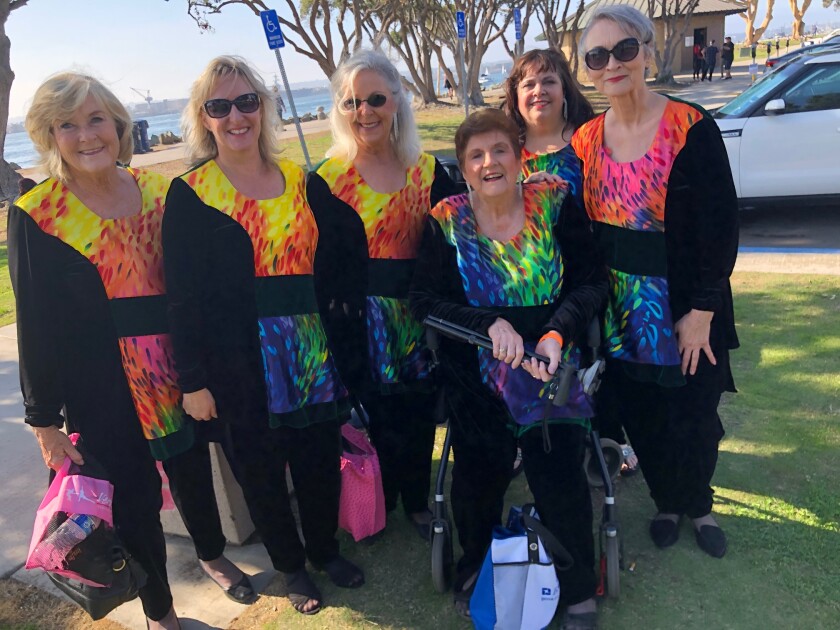 3. "The Squad"
Despite how comfortable they are around each other, it turns out "The Squad" — aka Cheryl, Casj, Mae, Sharp and Megan — did not all come to the Convention Center together. Cheryl and Casj arrived early this morning, and though they were nervous on the drive over, they effortlessly got a parking spot which they deemed a good sign. Then they met Mae, a fellow San Diego singer, in the registration line and became fast friends. The trio ended up hanging out at the venue after their morning audition and later ran into two more local folks, another singer Sharp, and her friend Megan (there for support). Though all five women were confident singers vying for a spot in a competition, there wasn't the slightest hint of jealousy. They quickly and kindly usher me into the group, and I listen to them discuss the importance of sharing black expressionism, not letting fear get in the way of your dreams, and not taking life (or competitions) too seriously. Then Sharp's audition number gets called, and they all cheer her on as she and Megan walk out the door.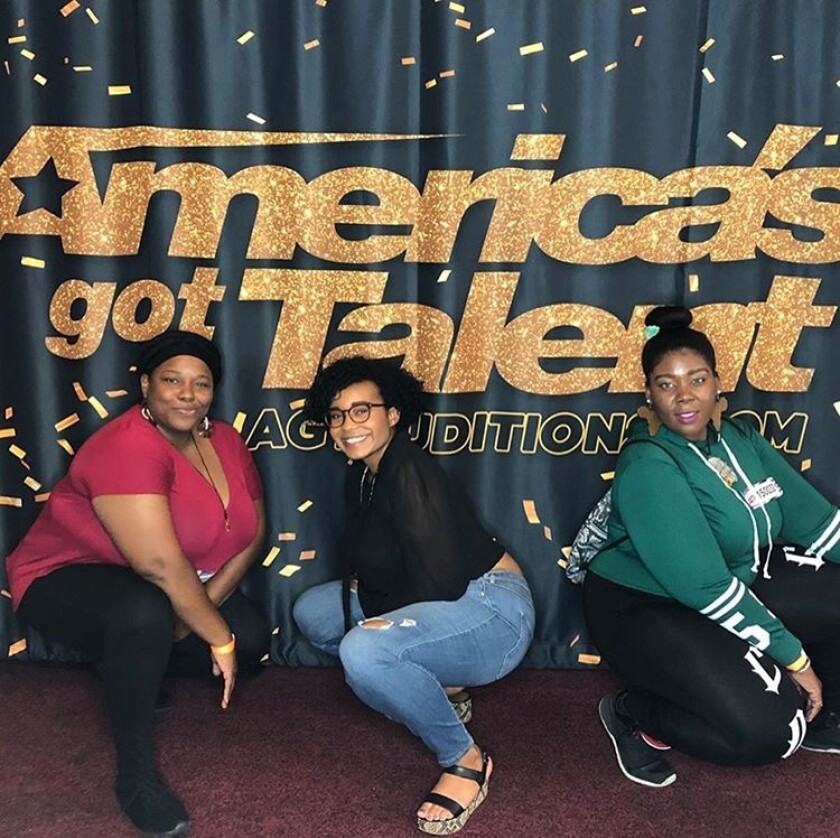 4. Gonzo The Great and Mojo
I didn't get the *real* names of this duo, who introduced themselves to me by their magician names. They drove down from Phelan, a small town in California 100 miles away, that "no one has ever heard of." It's a bit hard to understand them, as Gonzo talks in a thick, unrecognizable accent, and Mojo barely speaks at all. When I ask what they'll be performing, Gonzo looks over at a black suitcase sitting on the chair next to him. It looks like he'll unzip it for me, but ends up patting it and says he can't give away their audition routine. However, he does give me a hint: they'll be manipulating water. And that Mojo is bound to mess up his act. Then he offers me a different magic trick — asking for my pen and sticking it up his nose before returning it to me. I tell him he can keep it, but he insists it's just magic.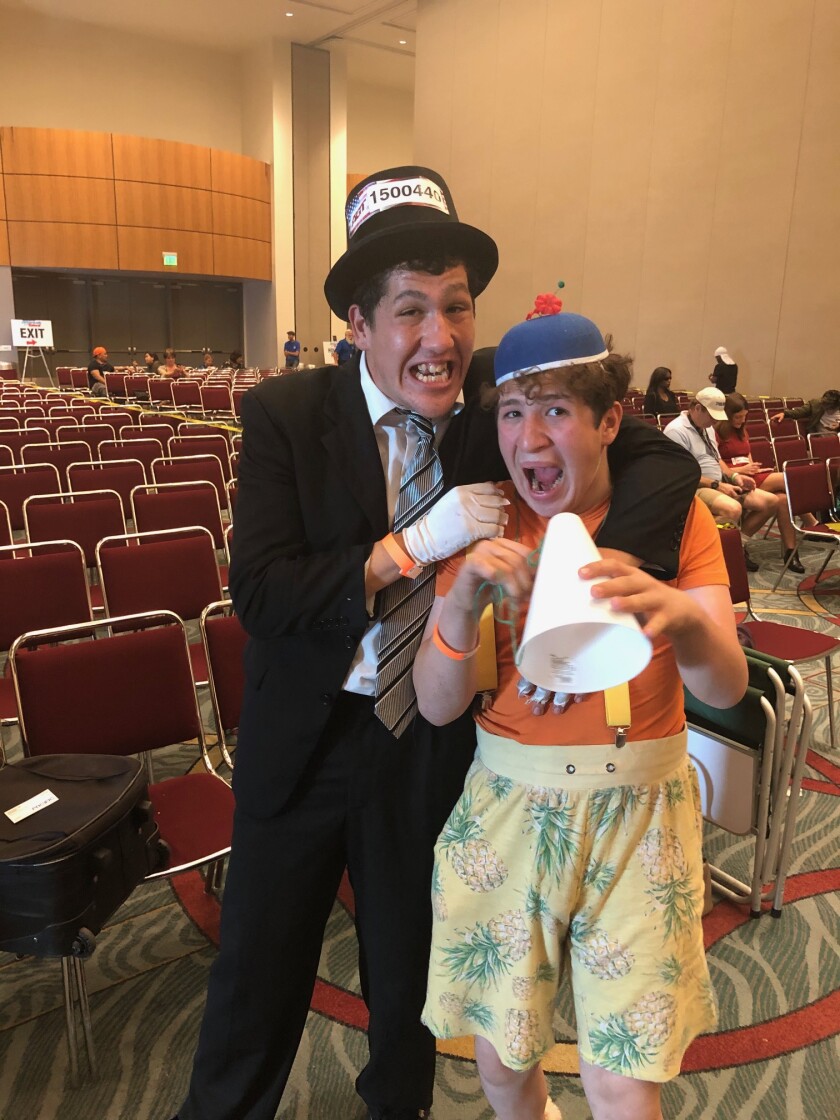 5. Debbie
Debbie is a San Diego transplant that moved from Seattle three months ago. She worked as a budtender (weed bartender) and is looking for a similar opportunity here. But in the midst of finding the job, she took up another career: comedy. "I was just looking through a career book and it said I should be a comedian – so I did," Debbie told me, adding that she's been following the advice of other comedians and performing stand-up as often as she can throughout the city at venues like Mad House Comedy Club. However, she said her set is a little raunchier than what would typically suit a TV competition show, so she edited the routine down during her car ride to the Convention Center to fit her 90-second family-friendly slot.
6. Ayla
Ayla is a singer who drove down from L.A. for the day to give AGT a shot. I only find out her age (31) after she makes me guess (22), but she's not offended. She's been singing since she was 14 and has a two-year-old boy back at home, who she "is doing it all for." For her audition she's singing – and rapping – Ghetto Superstar because she's "nostalgic for the early 2000s" but also because the song has lyrics that relate to today's political climate. When her number gets called, she thanks me for coming over to talk to her because it calmed her nerves.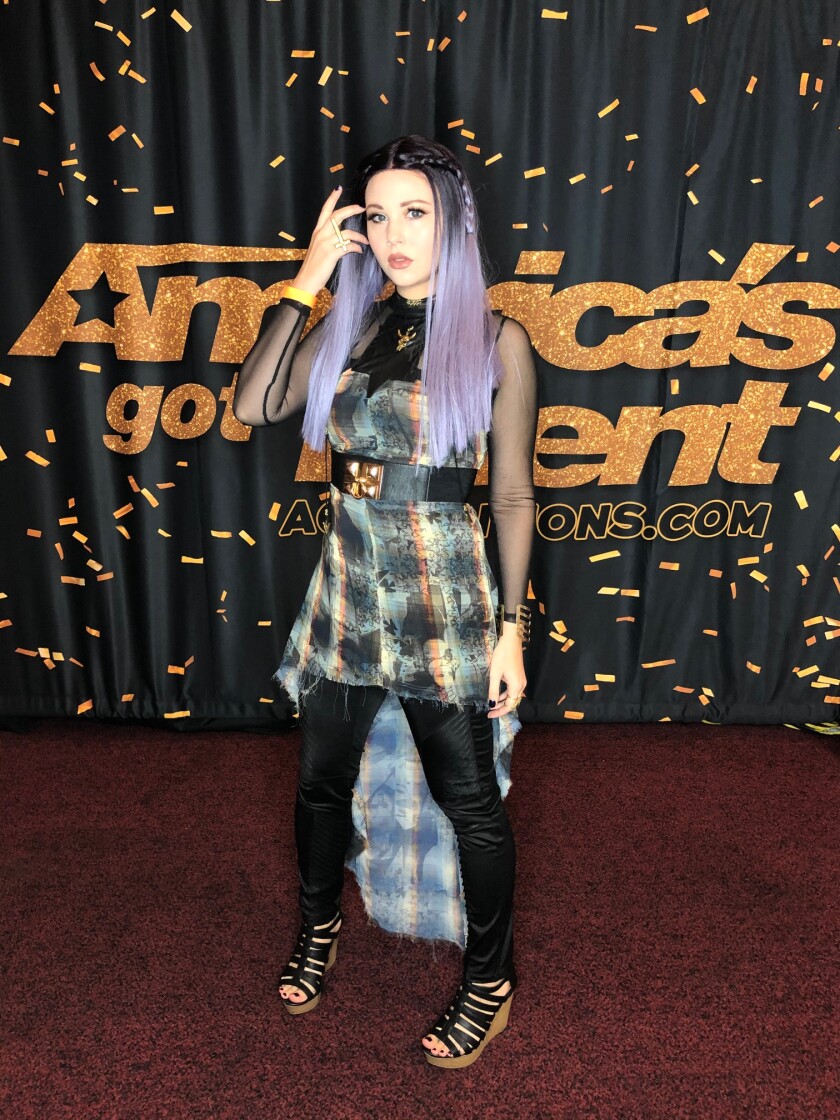 7. Denise
Denise is a 47-year-old singer who drove down from LA. "I hope I get (the call back) – I just don't want to let Simon (Cowell) down again," she said. Turns out she's a New York Subway singer who graced the X Factor stage back in 2013. After showing us videos of her performing on YouTube, Denise and Ayla engage in a deep conversation – about everything to using your purpose to take care of your family to the current state of the music industry – before going their separate ways for the commute back to L.A. But not before taking a few photos, and following each other on Instagram.
---
Sign up for the Pacific Insider newsletter
PACIFIC magazine delivers the latest restaurant and bar openings, festivals and top concerts, every Tuesday.
You may occasionally receive promotional content from the Pacific San Diego.