Ah, 2021 — out with the old and in with the new! Well, mostly: Between production delays caused by the COVID-19 pandemic and our own predilection for TV comfort food, we decided to open up this list of the year's most exciting shows to returning titles, in addition to the usual premieres.
That means you may find an old favorite among these names — or simply more to add to our recommendations for TV shows to catch up on — alongside plenty of new series worth marking on your calendar. Plus, there are new tellings of old stories (the Night Stalker killings, the Clinton impeachment), new twists on old characters (hello, "Clarice"), even an old show with a new lease on life ("Tuca & Bertie"). Here are the 15 TV shows we're most excited to watch in 2021.
The Times TV team reflects on the series that helped us cope throughout a brutal year — and may help you pass the time inside during the pandemic's long winter.
"Zoey's Extraordinary Playlist" (NBC, Jan. 5)
During the early days of the pandemic, NBC's charming musical dramedy served, at least for me, as a warm blanket with a built-in speaker playing cathartic music. Jane Levy stars as the titular heroine who discovers she can hear the innermost thoughts of people around her through popular songs like Cyndi Lauper's "True Colors" and DJ Khaled's "All I Do Is Win." This "power" provided a quirky, surreal and sometimes moving window into Zoey's world as she struggled to navigate the grief of watching her father battle a grave illness, figured out how to advance at work and got caught up in a love triangle. Created by Austin Winsberg as an ode to his own late father, the season ended with a heartbreaking, seven-minute "American Pie" number that I still go back and watch to this day. The series returns in the early days of 2021 and is sure to continue choking us up and making us smile with its endearing exploration as Zoey grapples with her new reality. —Yvonne Villarreal
"Coyote" (CBS All Access, Jan. 7)
Michael Chiklis made history when he played one of TV's most memorable antiheroes in FX's police drama "The Shield." His portrayal of the hard-bitten detective Vic Mackey won him an Emmy and helped put the cable network on the map. "Coyote," on CBS All Access, features another of the tough, conflicted characters that Chiklis excels at. Here he plays a former border patrol agent who starts working for the very people he once tried to keep out of the country — and has his eyes opened in the process. "Breaking Bad" and "Game of Thrones" executive producer Michelle MacLaren is an executive producer as well as the director of the pilot, so the show is guaranteed to have some edge. —Greg Braxton

"Dickinson" (Apple TV+, Jan. 8)
Season 2 of this daring and risqué reinterpretation of young Emily Dickinson's life arrives Jan. 8, a little more than a year after the show debuted on Apple TV+. The Peabody Award-winning series imagines the poet's existence through a 21st century lens, pairing period-accurate costumes with contemporary slang and sending up stiff antebellum manners with millennial twists. Season 1 followed Emily's (Hailee Steinfeld) quest to become a writer in a patriarchal era. We can only hope Season 2 continues on the same irreverent, charming and unpredictable path. —Lorraine Ali

"Night Stalker: The Hunt for a Serial Killer" (Netflix, Jan. 13)
Watch the throne, Tiger King. Netflix is once again adding to its stable of true-crime docuseries, and this story features a lethal devil in the City of Angels. The four-part series, which premieres Jan. 13 , focuses on the hunt for the dreaded Night Stalker. The elusive killer terrorized Southern California in the summer of 1985, committing atrocities from Northridge to Diamond Bar and beyond, eventually making his way to San Francisco. The pursuit of this phantom, who was finally discovered to be Richard Ramirez, promises to transfix armchair detectives and true-crime buffs alike. —Lorraine Ali

"WandaVision" (Disney+, Jan. 15)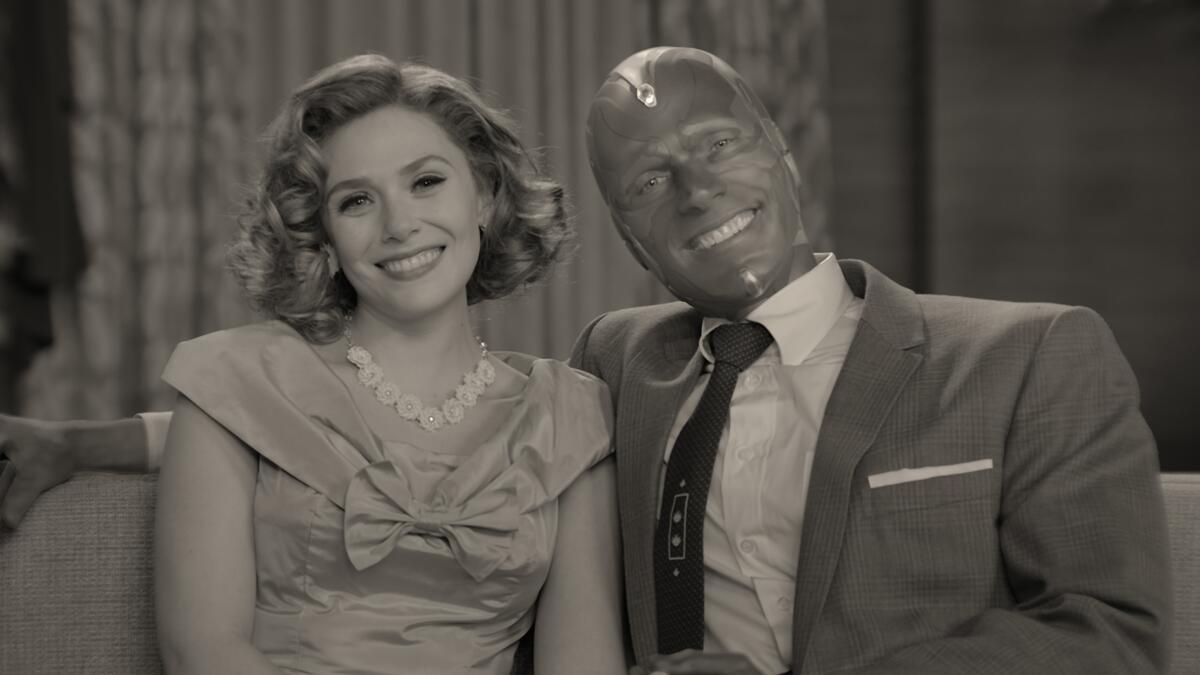 There has been plenty of Marvel superhero fare on television, but I am so curious about "WandaVision." The series, set after the events of "Avengers: Endgame," sees Elizabeth Olsen and Paul Bettany return as Wanda Maximoff and Vision, respectively, with the heroes doubling as a lovely couple living in the suburbs. This apparently means Vision is back from his demise — curious but not completely unheard of in the Marvel Cinematic Universe — but what has piqued my interest most is the show's homage to classic sitcoms. —Tracy Brown
Los Angeles Times television critic Lorraine Ali chooses the best TV shows of 2020.
"Snowpiercer" (TNT, Jan. 25)
There were many delays before this ambitious sci-fi series finally pulled into the station, but its premise was right on time: The remnants of humanity are stuck together in an enormous, thousand-car train, perpetually traversing an inhospitably frozen world — a global-warming fix gone wrong — while they play out metaphors of class struggle. There are politics in its pulp, built around a detective story, with Daveed Diggs as a reluctant shamus and Jennifer Connelly as the official who drags him out of the caboose to solve it. Spoiler-y developments abound toward the end of Season 1, which I will not share out of respect for anyone yet to get on board. —Robert Lloyd
"Clarice" (CBS, Feb. 11)
Hollywood's ongoing obsession with Thomas Harris' tales of serial killers and the FBI agents who profile them is older than I am, and I can't say I'm mad that film and TV keep going back to the well. It wouldn't be fair to expect "Clarice" to live up to Bryan Fuller's nightmarish masterpiece "Hannibal," starring Mads Mikkelsen as the fastidious cannibal and Hugh Dancy as his pursuer, to say nothing of Jonathan Demme's stone-cold classic "The Silence of the Lambs" — a movie so perfect I wore out my VHS copy as a teenage cinephile. But the pedigree of creators Alex Kurtzman ("Star Trek") and Jenny Lumet ("Rachel Getting Married") gives me hope that "Clarice," starring Rebecca Breeds as Agent Starling one year after her run-in with Dr. Lecter, will approach the source material with the insight and care it deserves. And Robert and Michelle King's indelible, chilling "Evil" has already offered proof that CBS won't shy away from forthright genre flourishes when the story merits it. —Matt Brennan
"The Great North" (Fox, Feb. 14)
Loren Bouchard has been a force in offbeat animation since "Dr. Katz, Professional Therapist," back when basic cable was the name of the game, through "Home Movies," the sadly abbreviated "Lucy, the Daughter of the Devil," the long-running "Bob's Burgers" and the relatively recent "Central Park." Here he is an executive producer of a new series created by "Burgers" writers Wendy and Lizzie Molyneux, along with "Regular Show" writer-actress Minty Brown, about an Alaskan fisherman (Nick Offerman), his artistically inclined daughter (Jenny Slate) and her three brothers, Wolf (Will Forte), Ham (Paul Rust) and Moon (Aparna Nancherla). Offerman's wife, Megan Mullally, and Alanis Morrissette (as "herself") recur. —Robert Lloyd

"The Dropout" (Hulu, TBA)
Kate McKinnon as Theranos founder Elizabeth Holmes. Asked in our deepest voice: Does anything else need to be said? The "Saturday Night Live" star will portray the disgraced turtleneck-wearing wunderkind in this limited series chronicling the rise and fall of the Stanford dropout who was once dubbed "the next Steve Jobs" — until her seemingly revolutionary blood-testing company was revealed to be a fraud. The series is based on the popular ABC News podcast of the same name. McKinnon also executive produces. —Yvonne Villarreal
"Genius: Aretha" (Nat Geo, TBA)
After zooming in on Albert Einstein and Pablo Picasso — as portrayed by Geoffrey Rush and Antonio Banderas, respectively — the third season of this anthology series turns the camera on the life of Aretha Franklin. Cynthia Erivo plays the Queen of Soul in the project from executive producer/showrunner Suzan-Lori Parks, which will inevitably draw comparisons to the Jennifer Hudson movie "Respect," also due out in 2021. —Ashley Lee
Los Angeles Times television critic Robert Lloyd chooses the best TV shows of 2020.
"Impeachment: American Crime Story" (FX, TBD)
"Impeachment: American Crime Story" will revisit the biggest political scandal of the 1990s: President Bill Clinton's affair with White House intern Monica Lewinsky and the impeachment that riveted the nation. After a series of delays and false starts, the drama, from uber-producer Ryan Murphy, is finally expected to premiere on FX this year. And like "The People v. O.J. Simpson" and "The Assassination of Gianni Versace" before it, it features some inspired casting, starting with Clive Owen as Clinton and Beanie Feldstein as Lewinsky. The real-life Lewinsky is also a producer on the project because, Murphy reportedly told her, "Nobody should tell your story but you." Coming after the turbulent Trump administration and at a time when pop culture is reconsidering many "infamous" women of the recent past through a more sympathetic lens, "Impeachment" is bound to get people talking (yet again) about this scandalous saga. —Meredith Blake
"Run the World" (Starz, TBA)
This comedy series — from "Boomerang" writer Leigh Davenport and "Dear White People" executive producer Yvette Lee Bowser — is set to follow the personal and professional lives of four Harlem friends (played by Amber Stevens West, Andrea Bordeaux, Bresha Webb and Corbin Reid). Plus, costumes by Patricia Field! It'll be a welcome addition to the landscape of TV shows about modern womanhood, giving to a new quartet of characters the "Sex and the City" treatment that white women have gotten on TV over and over since Carrie Bradshaw came back from Paris. —Ashley Lee
"Succession" (HBO, TBA)
It's been 14 months since the thrilling Season 2 finale of HBO's Emmy-winning drama — not that I'm counting or anything! — which ended with an exhilarating cliffhanger and the future of the Logan family's conservative media empire uncertain. Production on Season 3, delayed by the pandemic, is now underway, and I'm crossing my fingers and wearing my mask extra tight in hopes the show will be back on the airwaves as scheduled in 2021. Other than, uh, my real family, there's no one I look forward to seeing more in the new year than Logan, Kendall, Shiv, Roman and, yes, even Connor. —Meredith Blake
"Tuca & Bertie" (Adult Swim, TBA)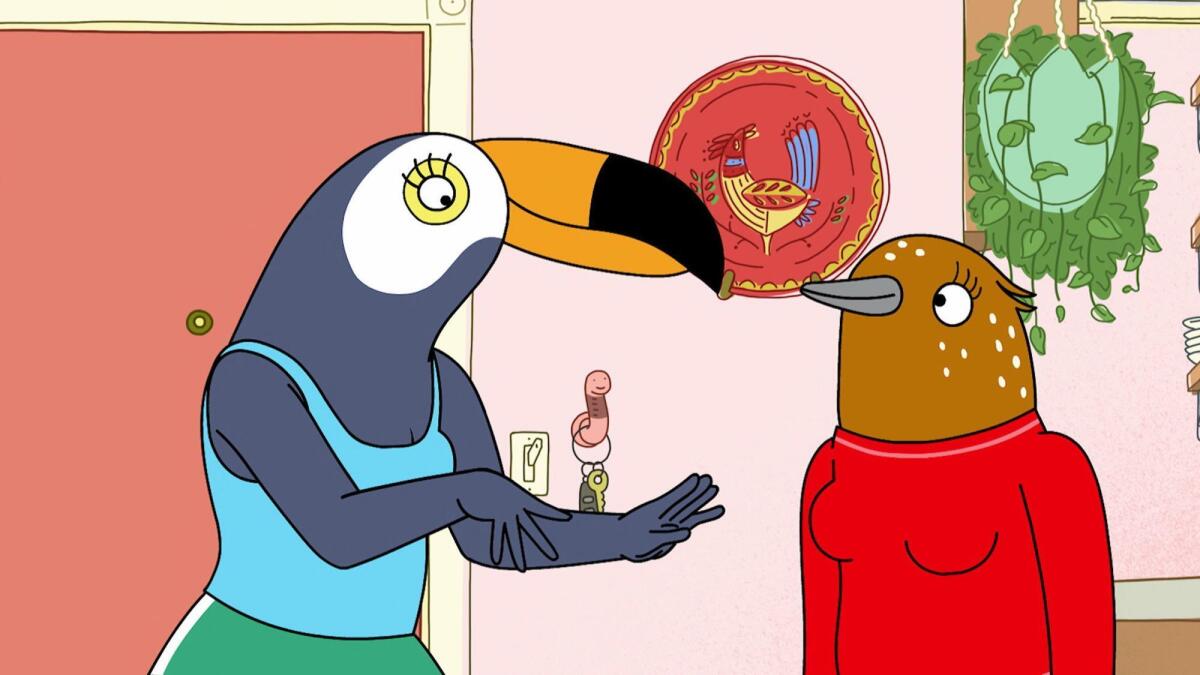 Premiering on Netflix in 2019, the first season of "Tuca & Bertie" won over fans and critics alike for being a weird, funny, earnest look at adult (bird) women navigating life and their friendship. Anxiety, trauma, purpose and the various uncertainties of adulting are just some of what best friends and former roommates Tuca (Tiffany Haddish) and Bertie (Ali Wong) are working through. Fans were crushed when Netflix canceled the series, but Adult Swim has announced it has picked up the show for a second season to air some time in 2021. —Tracy Brown
"The Underground Railroad" (Amazon Prime, TBA)
"The Underground Railroad — Preamble"
This Amazon Prime series — the first TV project from Oscar winner Barry Jenkins ("Moonlight"), and one of the most anticipated offers of 2021 — is an adaptation of Colson Whitehead's Pulitzer Prize-winning novel. Thuso Mbedu stars as young Cora, who seeks freedom in the antebellum South. Her search for the rumored Underground Railroad leads her to a literal railway and a secret network of tracks and tunnels underneath Southern soil. —Greg Braxton