Imagine Dragons rise up with shots of natural thunder and do whatever it takes at radioactive KAABOO debut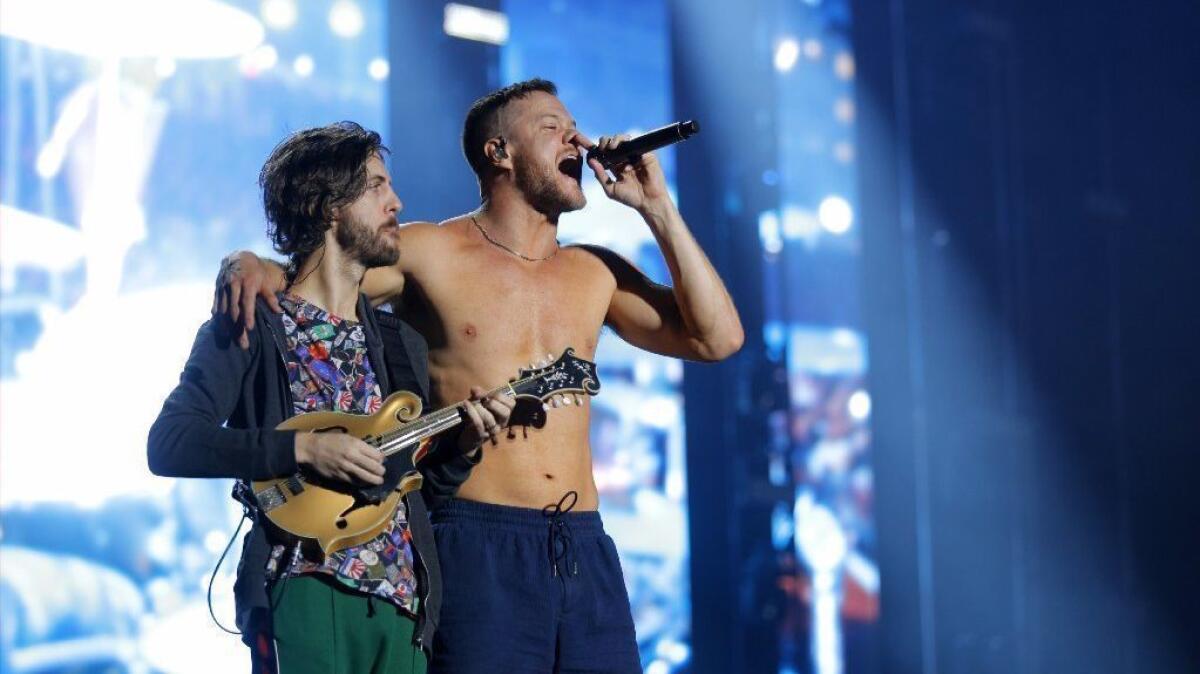 If you want to pinpoint a key to Imagine Dragons' success as a top-selling, radio-format leaping rock band — at a time when there are very few top-selling, radio-format leaping rock bands — just re-read the headline of this review of their Saturday headlining performance at the sold-out KAABOO Del Mar festival.
"Natural," "Thunder," "Radioactive" and "Whatever It Takes" are the titles of four of this Utah-bred quartet's big, booming, chart-topping singles. The equally sleek "Believer" is another, although it is not included in today's headline.
Why not?
Because, well — to invoke the title of a 2017 Imagine Dragons' song, "I Don't Know Why." That song was also a Top 40 hit, but only rose to the No. 25 spot. This, despite its snappy, electro-pop-styled beat, chiming, U2-styled guitar and sing-along chorus.
To paraphrase Meghan Trainor's best-known song, it's "All About That Hit" (with, or without, treble). Accordingly, Imagine Dragons' KAABOO show was all about that hit — and that hit, and that hit, and that hit — the more, the merrier.
True, the band also performed some album cuts that may not actually have been hit singles.
But nearly every song featured Saturday sounded like it could have been a hit, for better or worse. And that, for those wanting to chart Imagine Dragons' rise to stardom, is the crux of this socially conscious, all-inclusive band's allure.
So is its ability to astutely mix and match elements from various genres — 2013's breakthrough hit, "Radioactive," drew from pop, rock, alternative and even dubstep — to ensure maximum listener appeal.
Elements of EDM and hip-hop are also no strangers on the band's musical menu. All are used, as needed, in Imagine Dragons' fist-pumping, foot-stomping songs, some of which seem tailor-made for stadium events that don't necessarily include concerts.
Witness "Natural," which was the fifth song the band performed Saturday night and is ESPN's 2018/2019 college football theme song. "Natural" has charted on Billboard's Rock Airplay, Alternative Songs, Mainstream Rock Songs and Adult Alternative Songs charts.
That's in addition to it having topped Billboard's Hot Rock Songs chart last month, where "Natural" replaced another song by — you guessed it! — Imagine Dragons.
Which one?
Does it matter?
Led by charismatic singer and songwriter Dan Reynolds, 31, Imagine Dragons is a certified hit-making machine. That is precisely why they drew a loudly enthusiastic, overflow crowd to their Saturday KAABOO performance on the enormous Sunset Cliffs stage.
Their audience seemed to be twice the size as that for the hip-hop and rock-fusing N.E.R.D., the preceding band on the same stage. Reynolds' bigger-than-life persona dwarfed that of N.E.R.D.'s Pharrell Williams and Chad Hugo, two all-star producers and proven recording studio hit-makers with a fraction of Reynolds' stagecraft.
What Reynolds and Williams shared in common, at least Saturday, is that both waded into the audience during the second number by their respective bands.
Imagine Dragons' mix-and-match approach to genre-blending gives its music an every-man (and woman) magnetism. Its music seems to resonate as much with parents as with their kids, which may explain the number of families who were in attendance Saturday.
The band's mandate in concert is simple:
Play the hits, and the album cuts that also sound like hits, with as much polish, precision and energy as possible. Add some well-timed pyrotechnics, state-of-the art lighting and a crisp, booming audio mix. Top it all off with an athletic front man, Reynolds, who, on Saturday, was attired in nothing but shoes, socks and a pair of shorts.
The result?
Arena-ready songs that snap, crackle and pop on cue, rising, surging, receding and rising again with unerring efficiency. Many of these songs are bombastic and decidedly unsubtle, which may well account for much of their appeal. After all, in pop music, an innocuous ear-worm may ultimately have a longer shelf life.
The twist is that even some of Imagine Dragons' most musically upbeat songs have dark, brooding undercurrents in their lyrics. The moody ballad "Shots" — which Reynolds sang while playing piano Saturday — finds him apologizing for just about everything he's done in his life.
The slow-building "whoa-oh-oh-oh" punctuated "Radioactive," which opened the group's KAABOO performance, was written after Reynolds had undergone an especially heavy bout of depression. It's a condition the singer addressed in a recent Union-Tribune interview and has candidly discussed in the past.
Saturday, during "Rise Up," a proudly earnest song about self-empowerment, Reynolds held up a banner with a message that advocated the de-stigmatization of mental health issues.
A devout Mormon and father of three, Reynolds, has been an increasingly vocal proponent for Mormons who also belong to the LGBTQ community. Equality and the freedom to choose without being judged (or shunned) were clearly on his mind in his onstage remarks prior to performing "Mouth of the River" Saturday.
"San Diego, you cannot live your entire life in a box with (dictates) that make you feel shame," Reynolds said. "I will not be boxed. I have been boxed, but now I am not boxed. I know the truth in my heart. When you know the truth, you are free, Are you free? Are you free?"
The crowd roared its affirmative response.
Nearly half of Saturday's 19 selections came from Imagine Dragon's songs third and most recent album, 2017's "Evolve," on which synthesizers, keyboards and programmed beats are more prominent than guitars.
In concert, though, even the most moody of these songs brought to mind the title of a song that Sunday's KAABOO headliner, Katy Perry, will undoubtedly perform: "Roar."
Perhaps the most notable exception came when Reynolds delivered a somber and truncated version of "Every Breath You Take," the chart-topping 1983 song by The Police.
It was a decade that Melissa Etheridge, 57, invoked during her Saturday afternoon KAABOO set, as she recalled her self-titled 1988 debut album. "Yeah, we were there," Etheridge said. "We had the (big) hair, until everybody had it."
Etheridge's set overlapped with that of another Saturday performer who rose to prominence in the 1980s, onetime MTV darling Billy Idol, 62. He drew a visibly larger crowd than rap-lite star Post Malone did on Friday.
It's possible, though that a good number of those people were arriving early to stake out a good vantage point to watch Earth, Wind & Fire. That legendary cosmic-funk band's audience here included legendary songwriter (and longtime Del Mar resident) Burt Bacharach, 90, and his wife, Jane.
Idol sounded alternately spunky and long-in-tooth as he revisited such hits as "Rebel Yell" and "Flesh for Fantasy." He is likely the only KAABOO performer to toss pre-autographed Frisbees into the crowd.
george.varga@sduniontribune.com
Twitter @georgevarga