At KAABOO Del Mar, star chefs cook up their own kind of music — the culinary kind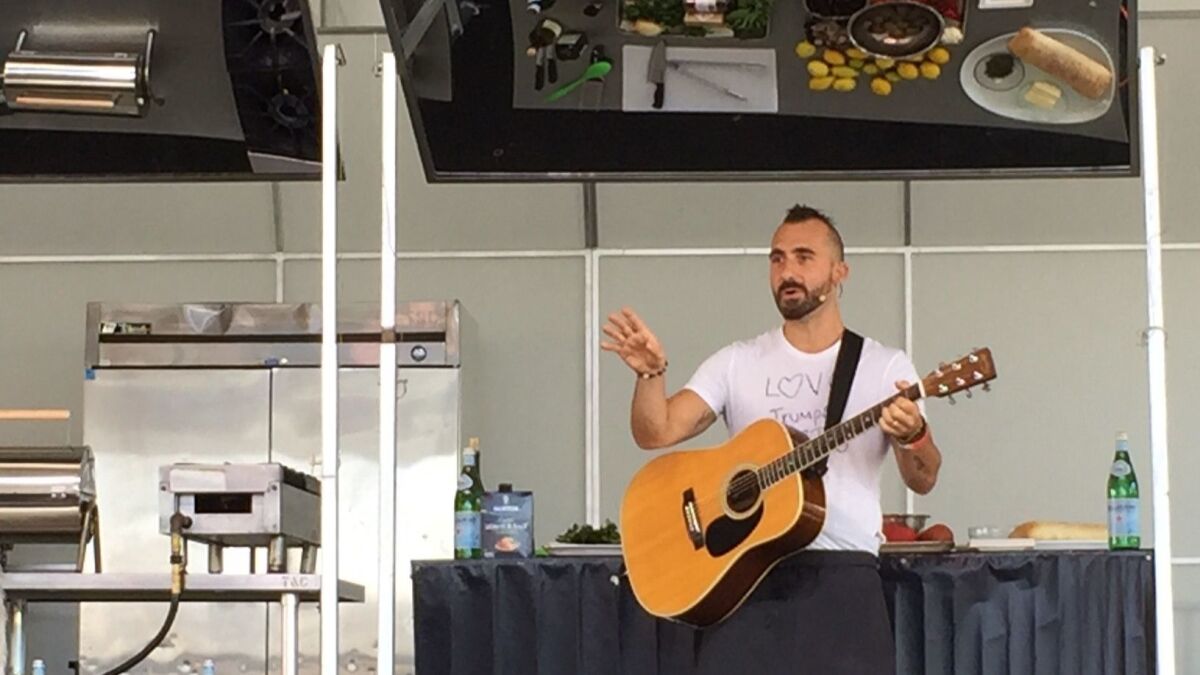 Del Mar —
With his mohawk hairdo, handmade "Love Trumps Hate" T-shirt, guitar and protest anthem, the late-afternoon performer fit right in with the simultaneous music acts on five other stages at KAABOO Del Mar Saturday.
But Iron Chef victor Marc Forgione wasn't there to give a concert. The New York restaurateur was Saturday's headliner on the festival's Palate stage, where rock star chefs offered tips on making mussel stock, lobster butter, multicolored pasta and charred Romaine salad.
Forgione, who showed a crowd of about 300 festival-goers how to prepare pink snapper three ways, started his demo with Little Steven's "I Am a Patriot" so he could tell his friends back home he'd performed a song onstage at the sold-out KAABOO festival.
In its fourth outing at the Del Mar Fairgrounds, KAABOO has raised the star wattage in its culinary showcase to the highest level ever this year. Chef stars this year include Ludo Lefebvre, Michelle Bernstein, Daniela Soto-Innes and Jessica Koslow, as well as San Diego restaurateurs and "Top Chef" stars Richard Blais and Brian Malarkey
San Diego Magazine food critic and TV food show regular Troy Johnson did his own presentation on the Palate stage Saturday, a fast-paced and humor-filled demonstration of more than 60 of his own cooking hacks. He's come to KAABOO as a spectator for the past three years and was impressed by the level of the culinary lineup this year.
"The first few years, KAABOO was still in its puberty as they worked things out, but now that it's grown up and it keeps selling out, they were able to bring in a great mix of both national and local chefs," Johnson said.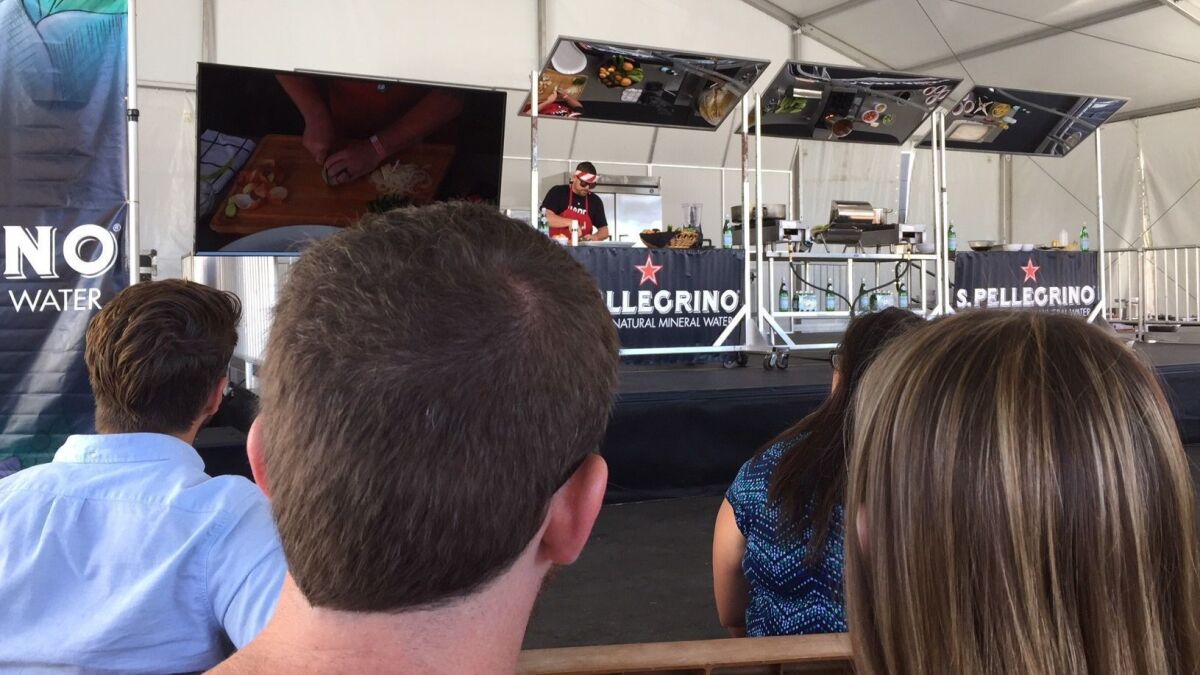 Kicking off the afternoon on the Palate stage was San Diego native Ryan Gilbert, 37, who has served as executive chef at the Lafayette Hotel, Swim Club & Bungalows in San Diego since 2014.
Gilbert — who prepared pan-cooked red snapper with banana mole, charred Romaine salad and bacon — said he was honored to be invited to join such an impressive lineup of chefs.
"I've grown up watching these guys on TV and to be able to cook on the same stage is a dream come true for me," said Gilbert, who said the rustic, simple dish he prepared was inspired by his childhood growing up in a big Sicilian family.
Also featured Saturday was Joe Sasto III, a "Top Chef" season 15 finalist known for his well-manicured handlebar moustache. In tribute to the music festival, he prepared a handmade tri-color "psychadelic"-hued pasta with Bolognese sauce and vaporized essence of lavender, fennel seed and star anise.
Sasto recently left his position at the Beverly Hills pasta restaurant Cal Mare. He plans to open his own restaurant, either on the L.A. coast or in his former home of San Francisco, where he said the diners are more open-minded and the produce is unmatched.
On Friday night, Sasto said he had a great meal at El Jardin, the new Liberty Station restaurant helmed his by friend and fellow "Top Chef" contestant Claudette Zepeda-Wilkins. He said he hopes to return to El Jardin on Nov. 1 for a Dia de Los Muertos-themed dinner with Zepeda-Wilkins.
When Forgione asked the audience for a show of hands during his demonstration, about half of the crowd were local residents and the other half were from outside San Diego, including sizable groups from L.A., New York and Philadelphia.
Among those seated in the audience for Gilbert's presentation were Encinitas residents Rachel Tyler, Rick Allan and Kelly Barger. They've come to KAABOO every years since 2015, but this was the frist time they've sat down to watch a culinary demonstration.
"We made a point to come early and watch this and we liked what Ryan was cooking. It looked healthy and delicious," Tyler said. "We also liked that he is a local chef. We like to go to support local restaurants and now we have a new place to go and try his cooking."
Sunday's Palate demonstration schedule
12:30-1:15 p.m.: Evan Estrada, a 13-year-old chef who appeared on "Master Chef Junior" season 6.
1:45-2:30 p.m.: Jessica Koslow, owner of Sqirl in Los Angeles and a James Beard Award best chef semifinalist.
3:10-3:50 p.m.: Brian Malarkey, chef/partner of Herb & Wood, Herb & Eater, Green Acre and Farmer & the Seahorse restaurants, all in San Diego.
4:15-5 p.m.: Daniela Soto-Innes, James Beard Award for Rising Star Chef of the Year and chef at Cosme and Atla in New York City.
5-5:45 p.m.: Ludo Lefebvre, French-born founder of Trois Mec, Petit Trois and Trois Familia restaurants and the famed food truck LudoBird, all in Los Angeles.