Could a Lemon Grove resident be the next national beard champion?
San Diegan Nathan Scalisi is currently competing for Wahl Man of the Year.
Did you know San Diego has its own beard champion?
Nathan Scalisi, 23, has been growing his beard for more than six years. Born and raised in Syracuse, New York, he moved to the beard-friendly city of San Diego for a change of pace (and better weather). The current Lemon Grove resident has called the west coast home since July.
Earlier this year, the men's grooming company Wahl visited the "Most Facial Hair Friendly Cities in America" to find the best beard in each city. On its stop in San Diego -- which came in at number nine on the list -- Wahl named Scalisi the facial man champion of the city.
Now Scalisi is up against ten other facial hair champions from around the country to take home the national title of Wahl Man of the Year, along with $1,500. Voting is currently open online and ends on Dec. 4.
Prior to the vote, PACIFIC spoke with Scalisi to talk about his beard, San Diego and his life outside of facial hair.
PACIFIC: Do you think San Diego is a beard-friendly city?
Nathan Scalisi (NS): Absolutely. It's hard to put a label on San Diegans since the area welcomes such a wide range of style. That's not to say it's indecisive, because my fellow beard-wearers are definitely around.
PACIFIC: How long have you been growing your beard?
NS: My facial hair has had it's journey. I was physically able to grow a beard by the time I turned 17 (years old). So I started with the classic full beard, then I went to a goatee my senior year of high school. After that, for the first half of college I went with the stubbly 5 o'clock shadow. Then when I was 20 or so, I went back to the full beard, but longer this time, and I've stuck with it until today.
PACIFIC: Why did you decide to start growing a beard?
NS: To put it simply, because I'm able to. I've heard from a lot of people that they wish they had the option to grow one, but of course, genetics plays its role and we have to deal with the hand we're dealt. I look at it as a privilege, and if I didn't make use of it, I think it'd be a waste.
PACIFIC: Could you tell us your grooming routine?
NS: Every time I shower, I wash it with the same shampoo I use on top of my head. Then, I dry it with a blow dryer, comb it, then finally put in the beard oil. I clean shave my neck and upper cheeks as needed, and also I trim the beard myself whenever the it gets too long or uneven. I comb it at least twice daily, too.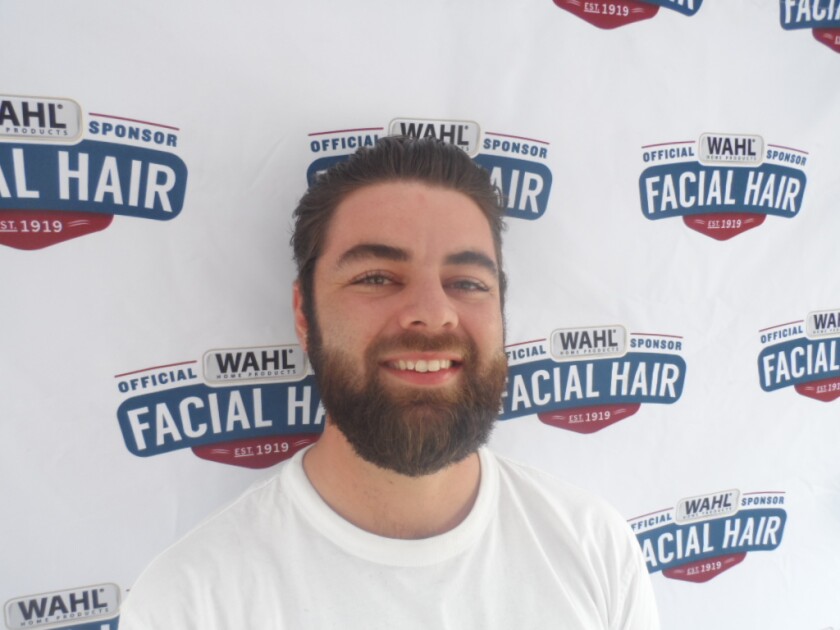 PACIFIC: What sets your beard apart from the other Wahl Man of the Year contenders?
NS: Physically, it's classic. There's nothing flashy or extra about it, it's not overly long or too high or low on my face. It's just solid, full, and the standard. Also, I don't know the other contenders' personal lives, but my background in broadcasting, acting, and music (camera experience in general) I think is what would project me further towards Wahl Man of the Year.
PACIFIC: What advice would you give to someone new on their beard journey?
NS: If you can grow a good one, don't hold back, guy. If it's full, let it show and make sure you take care of it because it's a God-given gift that a lot of men want, but not all can have. So, take advantage, wear it confidently, and don't look back.
PACIFIC: Aside from beard-growing, what are some of your hobbies?
NS: I'm real big on playing basketball and writing music, and if my free time isn't spent on the court or in the studio, then you'll definitely be able to find me on a golf course.
PACIFIC: Where can readers follow you on social media?
---
Sign up for the Pacific Insider newsletter
PACIFIC magazine delivers the latest restaurant and bar openings, festivals and top concerts, every Tuesday.
You may occasionally receive promotional content from the Pacific San Diego.