Carlsbad gaming startup goes viral in its first week. Will the good times keep coming?
Redemption Games has launched its first mobile game Sweet Escapes
Carlsbad's Redemption Games, a startup founded by local legends in mobile gaming, has had a big week following the global launch of its first title: a colorful masterpiece of a game with a sugary theme.
The app, Sweet Escapes, was downloaded more than 1 million times in its first week, bringing in around $100,000 in seven days. On Google Play, the game has nearly 30,000 reviews for an average of 4.5 stars.
The company's co-founder and CEO Michael Witz said he's pleased with the result but feels the company has a lot more work to do.
"It's a highly competitive market," Witz said. A market that's not always kind to indie gaming studios. "The entrenched companies who already have large audiences have a natural advantage."
Then again, Witz has high standards for mobile games. He and his co-founder Dan Lin are the guys behind Mob Science, a mobile gaming company that got acquired by Jam City in 2013. The Mob Science team went on to create one of Jam City's most successful games, Cookie Jam, which has had over 100 million downloads and generated $500 million in revenue.
It appears that Witz and Lin took some of the sweetness behind Cookie Jam to inspire their latest title. The duo founded Redemption Games in 2015 and has been developing Sweet Escapes ever since. They even got $5 million in startup capital in 2018 from Supercell, one of the most successful mobile game developers in the world. You might have heard of their hit game — Clash of Clans, which has brought in about $6 billion since it first debuted.
What kind of game is Sweet Escapes?
The free-to-play iOS and Android game combines two popular genres — puzzles and decorating. The story-driven game is packed full of adorable characters and an escapist mission, which can only be accomplished by playing more (and more, and more). The lead character, Joy, is a charmingly optimistic bunny who used to work in a bakery. But after the great "Sugar Crash" crumbles the town of Sweet Escapes, all the stores fall into disrepair and are shut down.
The player becomes the new owner, tasked with rebuilding the colorful stores and designing them to perfection. Along the way, the player rebuilds a bakery, an ice cream parlor, a chocolate store, and a coffee house. The stores are refinished with fresh wallpaper and floors, and then furnished with sparkling appliances, plush armchairs and other upgrades. The goal is to create a thriving village of sweet shops.
To get access to decorating gear, the player must solve puzzles and collect gold stars as currency. The puzzles get increasingly complex, as does the storyline, the cast of characters, and the village of Sweet Escapes.
Witz said the game has 500 levels, six zones of content, and over 25,000 words of story.
"It's a very deep game with a lot of gameplay," Witz said. "Passionate players will play as many levels as you give them."
Although a cartoon game full of sweet shops and talking animals might seem like a children's app, Witz said their primary demographic is actually women who are 40-years-old and older.
"A lot of times this older female audience has had children who are now busy, and their time is freed up," Witz said. "They also have more disposable income, more time, and playing games like this is a form of relaxation."
Like most free-to-play games, Sweet Escapes makes money by encouraging in-app purchases. If you'd rather buy your gold stars than earn them, you can do that. It allows you the instant gratification of rebuilding the village without having to solve as many puzzles along the way.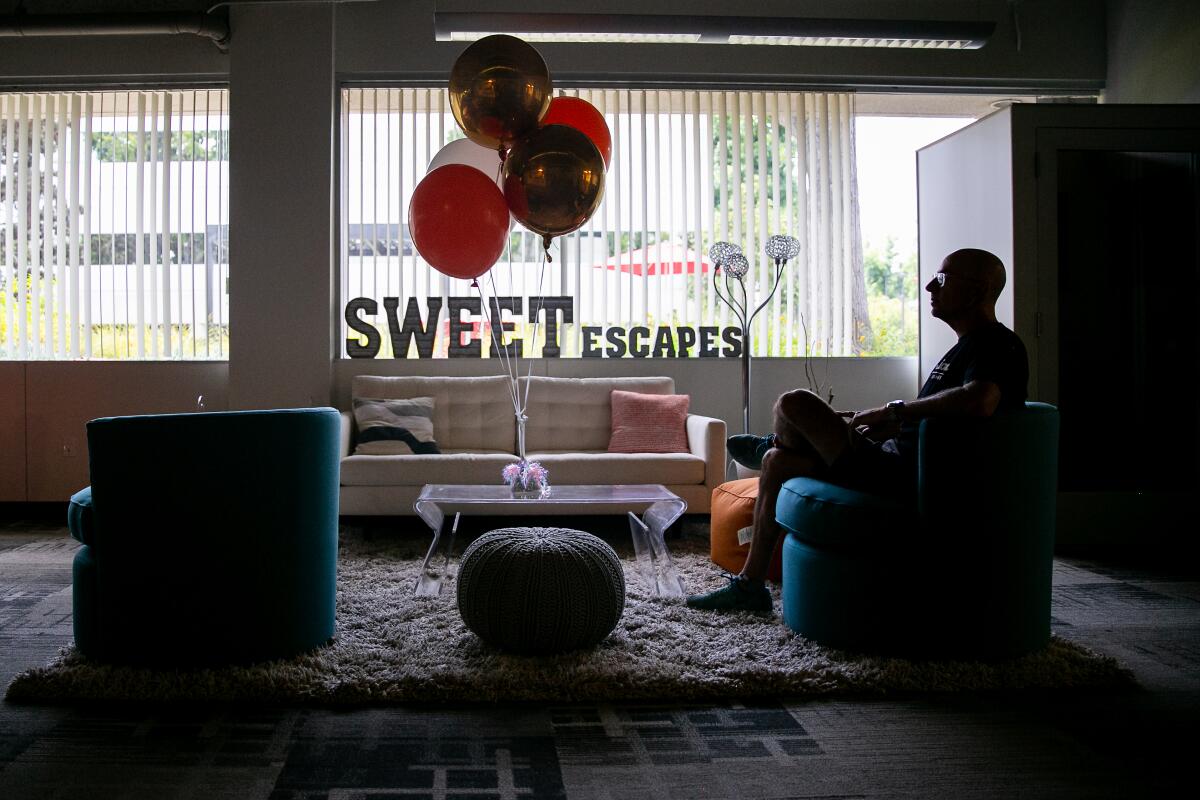 Why indie gaming companies struggle to compete
While Redemption Games had a winning debut, the company might have a bumpy road ahead. Many indie game developers dream of creating overnight successes like Flappy Bird, the simple but addictive game that generated $50,000 per day for the guy who created it. But times have changed since 2013.
Mobile gaming is now a highly competitive industry, making up the largest segment of the video game market. Mobile games accounted for 45 percent of the global games market in 2019, expected to generate $68.5 billion by year's end according to games market research group Newzoo.
This market is chock full of indie gaming companies like Redemption, all fighting for their share of mobile users.
"Getting visibility on the App Store and Google Play is really challenging," said Casey Dickinson, CEO of mobile gaming company FTX Games. "There are thousands of games released every week. You can have a really innovative game, but if the editorial boards at these giants don't see it and like it, then they won't feature it. Then no one will know about your game, and no one will play it."
The crowded market means game developers have to pay big bucks in advertising to get the word out about their games. Sometimes they barely break even after marketing expenses. Sometimes they spend more than the game earns.
"Mobile budgets are often now in the millions of dollars for each project," Dickinson said.
This is Redemption's biggest hurdle, Witz said. The gaming company will have to continue funneling cash into marketing, and in the meantime, deliver fresh and engaging content to its existing customers.
For the sake of the game
Ricardo Velez, the founder of San Diego's newest mobile game company Dun Rite Games, said indie companies certainly have an uphill battle, but they all know that going in. It's become part of the culture of the indie studio — they focus on creating a work of art, and then swing for the fences. After all, all entrepreneurship is hard. All startups have a high risk of early death. And globalization supersizes the competitive arena.
"People are finding it harder and harder to make the American dream a reality, because accessibility to tools is so much greater today and the market is widely distributed," Velez said. "You're no longer competing against your neighbor; you're competing against the world. That's a blessing because we all have access to a larger audience. But it's also a curse because there's more competition."
Currently, at 1.5 million total downloads, Sweet Escapes has had a good start. It's not the smashing success of titles like Pokemon Go, which amassed 50 million users in just 19 days, but it's great for a small, indie developer. Velez, who's indie startup is creating a strategy game called Rift of Raigard, said he'd be satisfied with less.
"I would say if we get 1 million downloads in our first month, we'd be happy," Velez said. A more common milestone for indie game developers, though, is around 100,000 downloads in one month, he said.
Now Redemption needs to see their customers stick around (and eventually open their wallets). If the game doesn't continue performing, Witz said it will be a painful reality.
"Being an entrepreneur, the one thing I've learned is that there are more things that don't work than do," Witz said. "It brings tears to my life on many occasions. But it is what it is. We're subject to the current state of the market, the cost of acquiring customer, and the trends and tastes of our players. The only things we can control are within the product. So we focus on doing the best work we can, and hopefully the rest will line up. Everyone in the studio is proud of the product, and if it doesn't work... you can't take that away."
Redemption Games employs 23 people in Carlsbad and plans to hire new staff in product management and engineering.
Sign up for the Pacific Insider newsletter
You may occasionally receive promotional content from the Pacific San Diego.