Pick up everything from a turkey to side dishes, but be sure to place your order soon
Thanksgiving can be a panic-inducing holiday for busy folks. Whether family is coming in from all over the country (think National Lampoon's Christmas Vacation) or pals are gathering for a Friendsgiving get-together, cooking and baking in the kitchen for days may not be in your frenzied schedule (marshmallow in the hair is not a good look).
Picture your options: oven burns, expletives, and cinnamon-spiced freak outs, or picking food up and serving dishes while serenely sipping on red wine. The choice is yours.
Here are some local spots where you can pick up Thanksgiving dinner to go.
International Smoke: While the Del Mar restaurant is serving a full "Thanksgiving Feast" buffet, it also offers a simplified Thanksgiving-to-go menu. Options include Low and Slow Smoked Turkey with gravy and citrus cranberry sauce, Coconut Curry Cornbread with Thai red curry butter, Winter Salad with arugula, cherries, butternut squash and leeks, Apple Caramelized Stuffing, and an assortment of fall-flavored pies. Orders must be received by Monday, Nov. 25 and will be available for pickup on Thanksgiving eve or Thanksgiving morning. (619) 331-4528 or internationalsmoke.com
Cafe Gratitude: If you're vegan or have a vegan coming to Thanksgiving, Little Italy's Cafe Gratitude has a variety of inspired sides, including French lentil and butternut squash loaves; kale, radicchio and persimmon salad; maple miso Brussels sprouts; and mashed potato and shiitake gravy. Choose from delectable pies like chocolate coconut cream, pecan, pumpkin and apple, and even a pint of vegan vanilla bean ice cream. Orders must be placed by Monday, Nov. 25 for pick up on Wednesday, Nov. 27 between 1 to 10 p.m. (619) 736-5077 or cafegratitude.com
Giardino: If turkeys and stuffing aren't your jam, go for an Italian-style Thanksgiving from this Lemon Grove restaurant. Start with eggplant rolls and burrata caprese, then choose from an array of main dishes including penne salsiccia with wild boar sausage, truffle risotto with wild mushrooms and mascarpone; classic lasagna with bolognese, bechamel, parmesan and mozzarella; or pistachio crusted salmon with chardonnay mustard cream sauce. Sides include arancini, stuffed mushrooms, crispy Brussels sprouts and traditional mashed or scalloped potatoes. Orders must be placed by Tuesday, Nov. 26 for pickup before 3 p.m. on Thanksgiving. (619) 825-7112 or giardinosd.com
Giuseppe Restaurants & Fine Catering: Serving gourmet dishes since 2001, Giuseppe has Thanksgiving on gastronomic lockdown. Choose from an impressive array of dishes including early day options like sun dried tomato, applewood bacon and goat cheese or Gruyere and Black Forest ham quiches. Afternoon and evening options include Roasted Kabocha Squash Skewers, Cabernet Poached Pear Salad and the Seasonal Chopped Salad with pomegranate jewels, pepitas, feta, celery hearts and butternut squash. In addition to turkey breast and whole turkeys, Giuseppe offers a range of sides including caramelized Brussels sprouts, focaccia, leek and pistachio stuffing, and a root vegetable medley. Orders must be received by noon Monday, Nov. 25 and will be ready for pickup or delivery on Wednesday, Nov. 27. (858) 581-2205 or grnfc.com
Coaster Saloon & Del's Hideout: Let Chef Tim Eylens do the heavy lifting this year, with basic dishes to please a traditional Thanksgiving crowd. With pickups at either location, choose from a whole smoked turkey or brisket for the main dish, with sides including mac and cheese and collard greens, and apple cobbler and pecan pie for dessert. Orders must be placed by 3 p.m. Monday, Nov. 25. and can be picked up between 11 a.m. and 5 p.m. on Wednesday, Nov. 27 or Thursday, Nov. 28. Coaster Saloon (858) 488-4438; Del's Hideout (619) 255-8175 or cohnrestaurants.com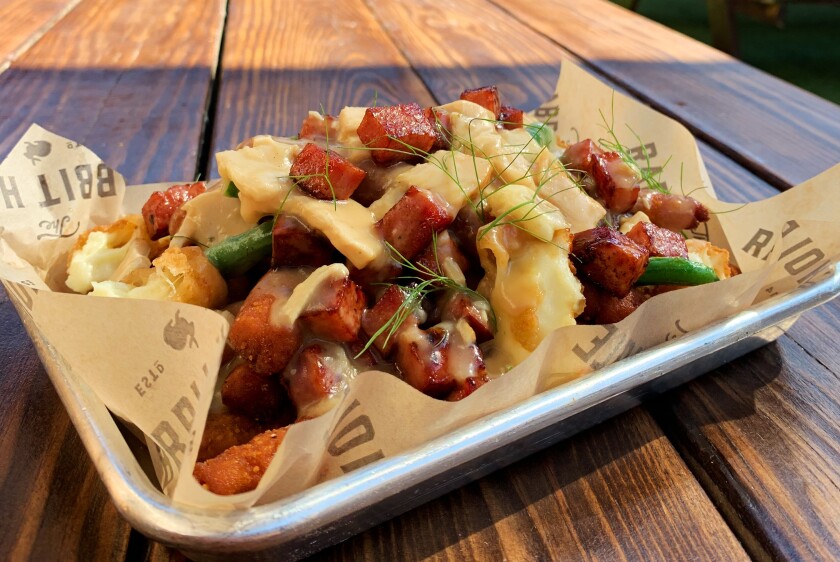 The Rabbit Hole: For a super casual dish (perfect for watching football), order out the Thankful Poutine, made with ham, mashed yam fries, white cheddar curds, green beans and topped in turkey gravy. Don't forget to add The Rabbit Hole's secret Cranberry Sauce for the full sweet and savory experience. Orders can be placed and picked up throughout Thanksgiving week. (619) 255-4653 or rabbitholesd.com
Wood Ranch BBQ: Forget screaming over lumps in the potatoes this Thanksgiving. Pre-order and pickup your choice of three styles of spuds including smashed sweet potatoes, loaded mashed or traditional mashed potatoes. Also available are Brussels sprouts and asparagus side dishes, prepared either steamed or grilled. Orders must be placed by 9 p.m. Tuesday, Nov. 26 for pickup by 9 p.m. on Wednesday, Nov. 27. (619) 764-4411 or woodranch.com
Provisional Kitchen, Café & Mercantile: Wow your guests with gorgeous cake and pies from this Gaslamp spot. Choose the stunning Autumn Celebration Cake and watch eyes light up with its multilayer beauty, or opt for sweet potato pumpkin pie, fresh apple and pear pies. Orders must be placed by Tuesday, Nov. 26 for Thanksgiving day pickup. (619) 738-7300 or pendry.com
Rancho Bernardo Inn: Executive Pastry Chef Margaret Nolan Carvallo bakes up a batch of specialty pies for easy take out this Thanksgiving. Options include pumpkin with cinnamon créme, Dutch apple with caramel crunch and bourbon pecan with chocolate shavings. Not a pie person? Try the cheesecake with orange-cranberry topping or pumpkin cheesecake with chocolate ganache. Orders must be placed at Café Granada by Monday, Nov. 25 for Thanksgiving pickup between 6 a.m. and 6 p.m. (855) 574-5356, ranchobernardoinn.com

---