San Diego has plenty of creative cupcakes spots, here are some of our favorites
Wooing hearts and tummies with flour, butter, sugar and eggs, cupcakes are often the dessert of choice for those in a rush or wanting a small and portable indulgence.
Cupcakes have a seemingly endless variety of possibilities - they can be made with spices or nuts, and can be easily filled with frosting or fruit. And alas, don't forget the frosting on top, the pièce de résistance for many, which can be varied in color and flavor within the same baking set.
San Diego bakeries and cupcake shops have taken this sweet treat to new heights with a unique and inventive array of flavors, sizes and shapes. Here are a few options, including plenty of chocolate options for National Chocolate Cupcake Day:
PURE Cupcakes: With an impressive range of vegan and gluten-free options, this Food Network Cupcake Wars winner has varieties including Chai Latte, Pecan Pie, S'mores, Tiramisu, Passion Fruit & Toasted Coconut, and the seasonal Pumpkin and Spiced Apple Cobbler. Chocolate specialties include the Mexican Hot Chocolate (with cayenne pepper and sweet toasted meringue), the Irishman (a dark chocolate cake soaked with stout beer, filled with Jameson ganache, and topped with Bailey's buttercream), and the 2013 Food Network winner, Mocha Madness (an espresso-soaked chocolate cake with mascarpone frosting, dark cocoa and chocolate shavings). 1772-A Garnet Ave. Pacific Beach. purecupcakes.com
Frost Me Cafe & Bakery: Remember to keep your eyes on the cupcake prize because this spot also has a deliciously curated menu of breakfast, lunch and wine list options. Choose from a tempting array of flavors including Hibiscus Orange Pineapple, Caramel Cashew Orange Zest and Lavender Lemon Blueberry. Craving chocolate? Go for the Chocolate Espresso Cherry with Luxardo-soaked cherries and espresso chocolate buttercream, the German Chocolate with coconut pecan caramel, or for a spicy kick, the Chocolate Dulce de Leche Habanero with a gooey dulce de leche center and habanero sea salt. 555 West Date St., Little Italy and 859 West Harbor Drive, Seaport Village. frostme.com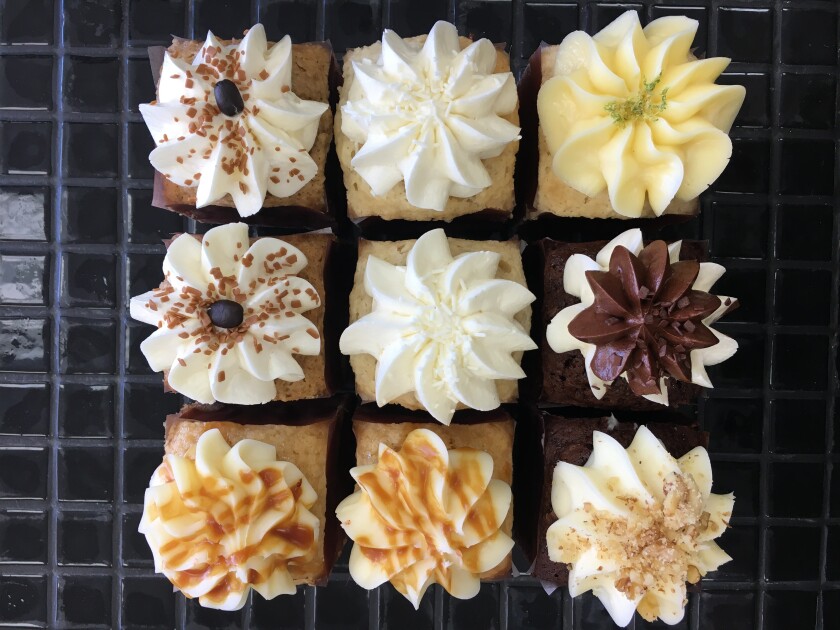 Cupcakes Squared: Bringing a new shape to one of America's favorite desserts, this unique shop offers both traditional and inventive flavors in an eye-catching square shape. Must-try flavors include Amaretto Cherry, Cafe au Lait, Key Lime, Pistachio Pomegranate, Rosewater Raspberry and Banana Split. Chocolate fanatics can drool over a number of unique choices like Chocolate Coconut Almond, Mocha Baileys with espresso infused chocolate cake and Bailey's Irish buttercream, and Red Hot Chocolate with cayenne and jalapeno infused chocolate cake, chocolate buttercream and jalapeño sugar. 3772 Voltaire St., Point Loma. cupcakessquared.com
Babycakes: Whether you want just a "baby" bite or a mouthful, this cake and cupcake shop will indulge you with three sizes including mini, standard and oversize. Chocolate lovers will have their choice of five flavors, including Black Bottom, Chocolate Fudge, Chocolate Raspberry, Chocolate Peanut Butter or the Chocoholic, with cake, mousse, drizzle and chunks, all made from ... you guessed it ... chocolate. If you're looking for vegan or gluten-free cupcakes, just give Babycakes a 48 hour heads up for a range of flavors including chocolate, salted caramel, and marble. 2315 Reo Drive, Paradise Hills and 874 Seacoast Drive, Imperial Beach. babycakessandiego.com
Sprinkles: Bringing frosting coated smiles to La Jolla, this sweet shop offers alluring options like Chocolate Marshmallow, Lemon Blueberry (gluten-free), Vegan Red Velvet, and Triple Cinnamon. Check out their unique seasonal specialties like Reese's Peanut Butter Cup filled with peanut butter frosting and topped with chunks of the chocolatey treat. 8855 Villa La Jolla Drive, La Jolla. sprinkles.com/locations/ca/la-jolla
---