Where are you going for National Pancake Day?
Actually, pancake day happens twice a year, once in March and the other on Sept. 26
Also known as flapjacks, hotcakes, and griddle cakes, the round, fluffy discs we call pancakes are a morning staple in the United States, gracing the menus of breakfast and brunch restaurants around the country. In San Diego, chefs are using a variety of ingredients to make both traditional and inventive versions of the beloved breakfast food.
Here are a few of our favorites:
Toast Gastrobrunch: For a twist on the popular Southern dish chicken and waffles, this Carlsbad restaurant substitutes flapjacks. Go savory with Crispy Chicken & Cakes, made with southern fried chicken and buttermilk pancakes topped with a spicy hot sauce syrup. For a sweeter treat, try the Red Velvet Cakes, with cream cheese frosting, powdered sugar and cocoa, or the Coffee Cake Cakes, with cinnamon, walnuts and streusel topping. 5970 Avenida Encinas, Carlsbad. 760.438.1212, toastgastrobrunch.com
Morning Glory: Take your pick of three different types of hotcakes under the Pancake Lords section, including the traditional available in vegan and gluten-free options, German, and soufflé. The German pancake, also known as a Bismarck or Dutch baby, is a specialty popover with a puffed edge and tender, custard center. Morning Glory's version is served with lemon, sugar, and maple syrup. 550 W Date St., Little Italy. 619.629.0302, morningglorybreakfast.com
Farmer & the Seahorse: Served in a cast-iron skillet, the Ricotta-Yogurt Soufflé Pancake is a unique twist on the traditional flapjack. A light, fluffy and mouthwatering way to start the day, the dish is topped with blueberry compote and powdered sugar. 10996 Torreyana Road, Suite 240, Torrey Pines. 858.260.5400, farmerandtheseahorse.com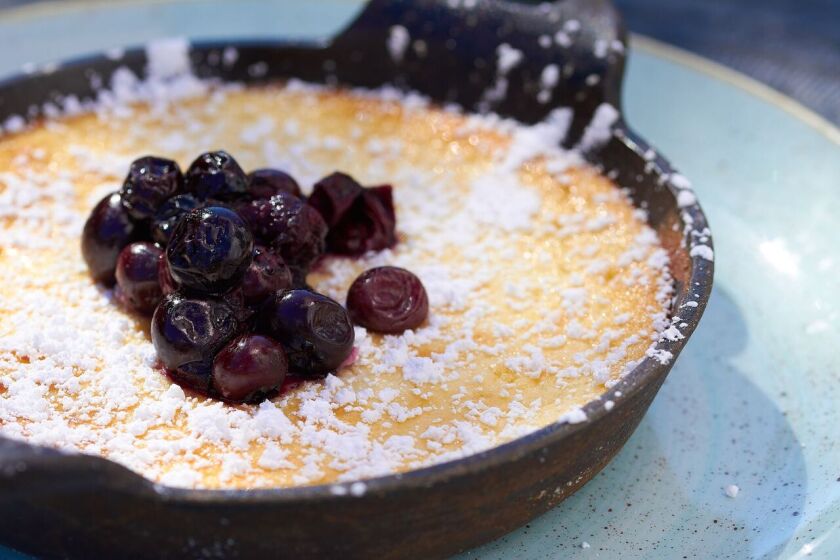 Lazy Hippo: No need deciding whether your breakfast sweet treat will be pancakes or a cinnamon roll (a real dilemma!), this restaurant has both tastes covered with its cinnamon roll pancakes. These hybrid flapjacks bring the warm baked feeling of fresh rolls topped with gooey icing on top. 416 Third Ave., downtown. 619. 550.1071, lazyhippobreakfast.com
Richard Walker's Pancake House: For an eye-popping variety of pancake choices, head to this famous Illinois/San Diego breakfast spot. Choose from twelve options using traditional buttermilk pancakes, including bacon-stuffed, cherry (with the tart Montmorency variety simmered in sweet Danish Kijafa wine), Georgia pecan and gluten-free. Try one of the "Gourmet Griddle Cakes," like the thin and delicate Swedish pancakes served with lingonberries from Sweden, or Idaho potato pancakes, served with onion, applesauce, and sour cream. For the pièce de résistance, head to the "Baked Pancake Specialties" section, where you'll find the famous apple pancake piled high with Granny Smith apples and cinnamon glaze. For a more savory meal, try The Danish Harvest, a oven-baked pancake with broccoli, onion, tomato, mushrooms and Havarti cheese. 520 Front St., downtown. 619.231.7777; 909 Prospect St., La Jolla. 858.459.8800; 2656 Gateway Road, Carlsbad. 760.893.8400, richardwalkers.com
Breakfast Bitch: Plant-based eaters will delight in having a vegan option here, sweetened with vanilla protein powder and topped with berries. Griddle Your Own Pancakes is a unique interactive experience, where customers are given a bottle of pancake batter, strawberries, granola, chocolate chips, bananas and powdered sugar to have a go at their own tableside creation. 3825 Fifth Ave., Hillcrest. 619.326.8186, eatbreakfastbitch.com
---