What's new for Restaurant Week? A cocktail course!
For the first time, eateries participating in San Diego Restaurant Week are offering beer, wine and mixed drinks as an option
Here's the thing about fixed-price meals — they're so, well, fixed.
And as anyone who's ever participated in San Diego Restaurant Week knows, the two-course lunch and three-course dinner format has been fixed in stone for years. The one-size-eats-all approach — appetizer, entrée, dessert; no grazing allowed — still works for some, but for others, it's a dated throwback that doesn't reflect how people dine out in 2019.
Now in its 15th year, San Diego Restaurant Week kicks off Sunday by raising a glass to a new way for diners to customize their meal — and even redefine what a meal is.
Craving only an appetizer but want two glasses of wine at dinner? La Mesa's Terra American Bistro is making that an option. Want to forgo dessert and opt for a beer instead? Gravity Heights, the Sorrento Valley brewpub, can make that happen. La Jolla's Whisknladle, Great Maple at Westfield UTC and Top of the Market on the downtown San Diego waterfront are also letting the sweet-averse skip dessert in place of an adult libation.
More than 150 restaurants will participate in the twice-yearly event that drives foot traffic into high-end, neighborhood and fast-casual eateries around the county. Two-course lunches cost $10, $15, $20 or $25, while three-course dinner menus are $20, $30, $40, $50 and $60 (tax and tip not included).
We've been doing Restaurant Week since it started and have a love-hate relationship with it. We love trying new places and returning to favorite spots as much as anybody, but in truth, it's been languishing in stale ritual territory for a while. The refresh is welcome.
So cheers, San Diego! Here are some of the restaurants letting you personalize your Restaurant Week dinner experience.
Cucina Enoteca/Cucina Sorella/Cucina Urbana
The Cucina group is offering perhaps the most creative course combinations in town — five in all. There's still the appetizer, entrée and dessert option for $40, in Bankers Hill and Kensington, but the traditional format ends there. Depending on the location, you can spend $25 to $40 for two courses of food, two glasses of wine and something to eat, two glasses of wine and two small plates, two pastas and a salad to share, two pastas and a salted caramel budino to share (I'm not doing that), and more. Locations in Bankers Hill, Del Mar and Kensington. urbankitchengroup.com
Gravity Heights
This impressive Sorrento Valley brewpub will allow guests to choose from a munchie (appetizer) or salad, sandwich or pizza and a dessert or house beer — for $30. We'd start with the mac 'n' cheese with crispy prosciutto, follow with a white pizza with whipped burrata and get our fill of booze in the Beer Float, with bourbon ice cream, chocolate sauce, stout caramel, candied pecans, Oreo crumbs, cocoa nibs and whipped cream. No drinking and driving, so we'll just roll our way home. 9920 Pacific Heights Blvd., San Diego. (858) 283-8206. gravityheights.com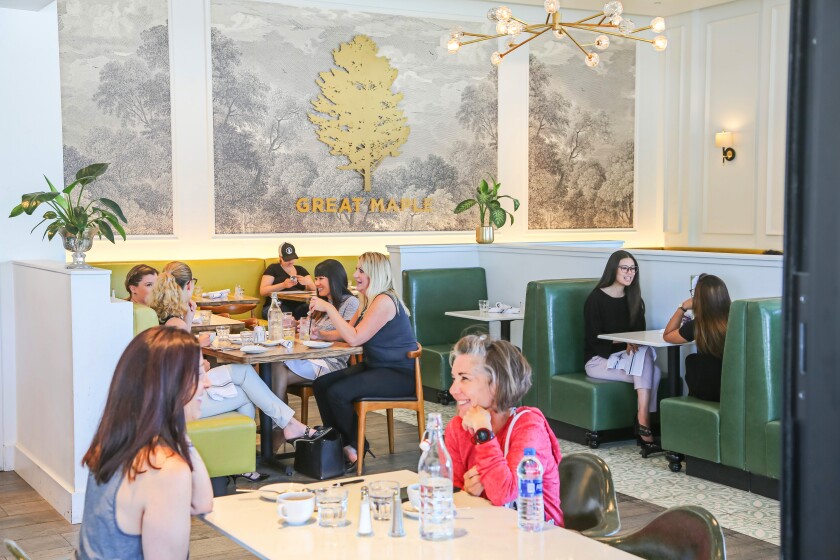 Great Maple
The Westfield UTC location of this excellent diner-on-steriods is eschewing dessert in favor of a course consisting of house red or white wine, a glass of Pol Clément Brut bubbly, 20-ounce draft beer or Moroccan iced tea (with free refill). Let the salted caramel pork ribs course sate your sweet tooth. Or head to the San Diego Great Maple for the full appetizer, entrée, dessert affair, including a warm salted caramel fudge brownie dessert. Both $30 for three courses. 8675 Genesee Ave., University Town Center area. (858) 886-7403; and 1451 Washington St., University Heights. (619) 255-2282. thegreatmaple.com
International Smoke
The new, deliciously flavorful global barbecue restaurant from celebrity chefs Michael Mina and Ayesha Curry makes a rule-smashing Restaurant Week debut, offering a 12-course, $60 tasting experience. The portion-appropriate menu consists of four starters, four main dishes, two sides and two desserts. Among the standout selections are Ayesha's Fresh Baked Cornbread, Kona kampachi sashimi, grilled Sinaloa-style Mary's Chicken, smoked St. Louis ribs, rib-tip mac 'n' cheese and street corn. 3387 Del Mar Heights Road, Carmel Valley. (619) 331-4528. internationalsmoke.com
STK San Diego
This chic, underrated steakhouse in the Gaslamp is adding a glass of Paso Robles' Justin cabernet sauvignon into its $60 three-course mix. That'll pair well with the wedge salad and flat iron steak. Save a sip for the mini doughnuts filled with dulce de leche and accompanied by raspberry Chambord and hot fudge dipping sauce. 600 F St., Gaslamp Quarter. (619) 354-5988. stksteakhouse.com/venues/san-diego
Terra American Bistro
The possibilities are endless at chef Jeff Rossman's elevated neighborhood eatery. Terra has always broken the mold by allowing Restaurant Weekers the opportunity to drink their dessert (espresso martini or housemade Irish cream on the rocks); now there's the option to order two glasses of wine and an appetizer, or a starter, main, dessert or liquid dessert, or a glass of wine, an entrée, dessert or dessert beverage, with each menu at $30. Entrées come with two sides. Must-have dishes include: salty peppery calamari, Grandma's Brisket, fried Brussels with balsamic and Cast Iron Baked Banana Bread Puddin'. 7091 El Cajon Blvd., La Mesa. (619) 293-7088. terrasd.com

Top of the Market
It's not surprising that a bayview restaurant serious about seafood and its wine list would offer a quality wine to go with its standout array of options from the sea. Margerum's Sybarite sauvignon blanc is my vino pick to pair with grilled local spot prawns with aji amarillo, sea bean salsa and avocado to start, followed by Pacific swordfish with cherry tomato risotto and eggplant caponata. Sparkling rosé (Chandon), pinot grigio (Masi), chardonnay (Daou) and pinot noir (Tolosa), round out the wine options. $60. 750 N. Harbor Drive, downtown San Diego. (619) 234-4867. sdtopofthemarket.com

Whisknladle
Always ahead of the craft cocktail curve, Whisknladle is at it again by offering a spirited drink, in place of dessert, as part of its $50 menu. Inventive house cocktails include the Oaxacan Sunburn (mezcal, Yuzuri, lemon and watermelon) and Fresita (basil vodka, strawberry-ginger purée, and Ancho Reyes chile liqueur). To start, don't miss the charcuterie plate, flatbread or local ahi tuna crudo. But having to choose a pasta or a main? Deciding between the pasta alla Norma (with Chino Farm eggplant) and braised pork barbacoa, fried chicken or one of the most gourmet burgers in town? I'll need another drink, please. 1044 Wall St., La Jolla. (858)-551-7575. whisknladle.com

San Diego Restaurant Week
Where: Sunday through Sept. 29
Where: Approximately 150 participating restaurants around the county, from Oceanside to Jamul
Cost: 10, $15, $20 or $25 for two-course lunch; $20, $30, $40, $50 or $60 for three-course dinner
Online: sandiegorestaurantweek.com
---