National Chocolate Milkshake Day? OK!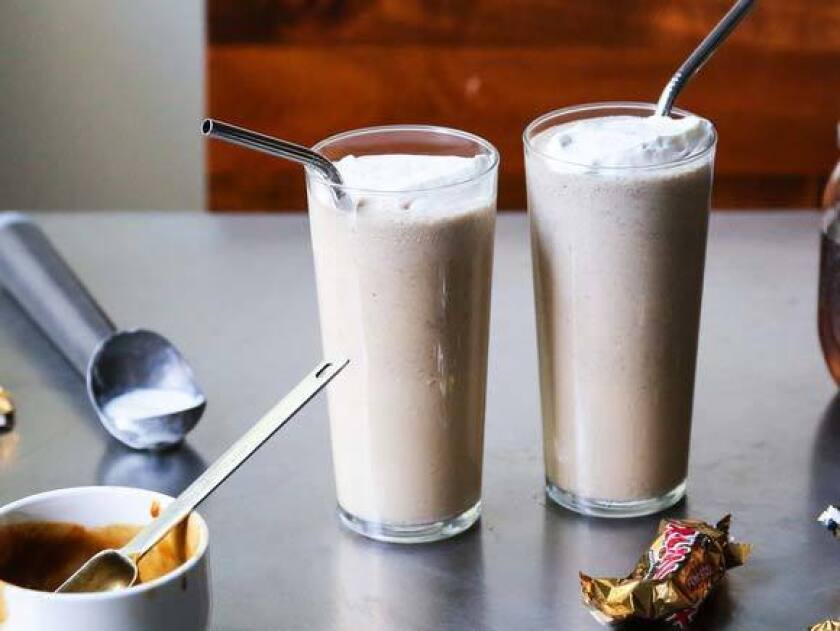 Whether or not you go for chocolate, here are seven shakes (vegan, too!) for this national day that we will definitely be celebrating
From causing the delightfully painful "brain freeze" to bringing "all the boys to the yard," the milkshake is embedded in American culture like apple pie, baseball, and 4th of July picnics.
Dating back to 1885, the original milkshake was hand shaken and involved eggs, sugar and whiskey. By 1922, when the electric blender was invented, the milkshake evolved into the nonalcoholic treat adored today, with vanilla, chocolate, and strawberry emerging as the top flavors.
Experimenting with a variety of tastes and textures, San Diego restaurants are churning out a smorgasbord of milkshake varieties, from cookie-laden chunky shakes to creamy vegan sippers.
Here are few must-try shakes for National Chocolate Milkshake Day on Sept. 12, or any time you need a frozen indulgence:
Dixie Pops: Craft your own gourmet milkshake with one of the inventive flavors at this ice cream, pops, and milkshake spot. Using all fresh fruits and ingredients, standout flavors from Dixie include the strawberry goat cheese, coffee toffee with toffee covered pretzels, almond butter brickle, and strawberry basil. Of the 12 flavors offered daily, four are vegan, making it a delight anyone can enjoy. 915 W. Washington St., Mission Hills, dixiepops.com
CREAM San Diego: SDSU students already know the cool joys of this ice cream shop. Curating a mouthwatering array of ice cream sandwiches, tacos, malts, and milkshakes in gluten-free, vegan, and seasonal varieties, CREAM has every taste bud covered (with sprinkles). Indulge on a shake with unique flavors like the Butterscotch Brew, Cin-Ful Churro, and Pink Peach Bellini. On Mondays, milkshake customers get a dollar off, making that first day of the week a little more bearable. 5157 College Ave., creamnation.com/san-diego
Soda & Swine: Take your pick of seven classic-style milkshakes at the Liberty Station location. Flavors include old school strawberry and chocolate shakes to Rolling in the Dough, a shake with chunks of cookie dough. Coffee lovers, don't miss the Star Buzzed, with cold brew coffee, caramel sauce, vanilla, and a dollop of whipped cream. 2750 Dewey Road #104, Liberty Station, sodaandswine.com
Cafe Gratitude: Go vegan with these healthy shakes from one of the top plant-based restaurants in town. Try the Decadent, an almond butter cup milkshake blended with coconut ice cream, almond butter, vanilla bean and topped with coconut bacon, or the Cool, a mint chocolate chip shake made with coconut ice cream, mint, cacao nibs, almond milk and kale for a green treat. 1980 Kettner Blvd., Little Italy, cafegratitude.com
The Milk Bar: Along with its mouthwatering range of flavored milks (like Cinnamon Toast Crunch and Fruity Pebbles), this dairy bar offers up blended shakes for an extra cool treat. Build your own shake with your favorite milk, or choose from their specialty shakes including the popular Grasshopper, a green sipper with Andes mint and chocolate, and the Cookie Monster, with chocolate chip cookie dough, baked cookies, and chocolate syrup. 2940 Lincoln Ave., North Park, facebook.com/themilkbarSD
Theatre Box's Sugar Factory American Brasserie: For an over-the-top milkshake experience, there is nowhere like the Sugar Factory for making your eyes and belly go pop. Choose from six "Old Fashioned Milkshakes" or nine "Insane Milkshakes" for any flavor combination under the sun. Mind-bending standouts include the Tye Dye Milkshake with Pop Rocks, cotton candy, Skittles, and rainbow sprinkles; the sweet and savory Bacon Cheeseburger Milkshake with a mini cheeseburger, crispy bacon strips, pretzels and M&Ms; and the Caramel Sugar Daddy Milkshake with crushed graham crackers, chocolate, and chunks of NY style cheesecake, adorned with a lollipop, piece of caramel, and a cheesecake slice. 701 5th Ave., downtown, theatrebox.com/sugar-factory-american-brasserie
For a deliciously decadent and boozy milkshake experience at home, try out this recipe from local producer, Skrewball Whiskey:
Skrewball Peanut Butter Chocolate Milkshake:
2 ounces Skrewball peanut butter whiskey
0.5 ounce white chocolate syrup
0.5 ounce chocolate syrup
3 ounces creamy peanut butter
6 ounces whole milk
Blend and enjoy
---