Craving bao? From Convoy to Carlsbad, here's where you can find some of the county's best buns.
Stuffed with mouthwatering savory fillings and crave-worthy sweet treats, bao buns have captured the taste buds (and imaginations) of San Diegans. From Harumama's pig and chicken-shaped buns to Bao Beach's savory specialties, these buns bring little bites of delight.
But what exactly is a bao? The bao or baozi is a fluffy steamed bun made from flour, yeast, oil and sugar and prepared in bamboo baskets. The shape can be a traditional sphere or resemble a mini taco, but both are prepared with sweet or savory fillings.
Curious? Here are a few local spots to grab, bite into, and enjoy this hot culinary trend:
Bao Beach: After a day cruising the boardwalk and riding waves, curb your hunger with bao created for a variety of tastes. The Char Siu Bao includes Chinese barbecue pork, cucumber, pickled daikon, carrot, and cilantro, while the Bulgogi Bao features Korean marinated beef, kimchi, and Sriracha ketchup. Vegetarians and vegans can try the baked tofu bao with mushrooms, carrots and squash.
3735 Mission Blvd., Mission Beach, 858.381.0033, www.baobeacheats.com
Din Tai Fung: With both vegan and vegetarian options on the bun menu, anyone (who has the patience to wait in line) can enjoy the goodness of bao. Meat lovers can choose from the Kurobuta Pork, Chicken & Mushroom and Vegetable & Kurobuta. Veg fans can try the Vegetable & Mushroom, Sesame, Red Bean and Taro buns.
4301 La Jolla Village Drive, #2000, UTC, 858.375-5988, dintaifungusa.com
Harumama Noodles & Buns: Whether you go to the Carlsbad or Little Italy location, these buns are worth a trip in either direction because they're the cutest in all San Diego. Take your pick from a range of character buns, including Pig, with pork and caramelized onion; Totoro, with barbecue beef, carrot and shiitake; Pooh Bear with egg custard; Bunny with Nutella; or Snoopy with red bean. For a variety of eight taco-shaped options, try the Bao Bao buns featuring the Duck with Chinese spice duck, hoisin sauce, fried garlic and cilantro; the unusual Spam, with yuzu aioli and tempura crumb; the Crunchy Shrimp with sweet and spicy aioli and onion chip; or the vegetarian Fried Eggplant, with yuzu aioli, taro and onion chips.
1901 Columbia St., Little Italy, 619.269.7122 and 2958 Madison St., Carlsbad, 760.720.7874, www.harumamasd.com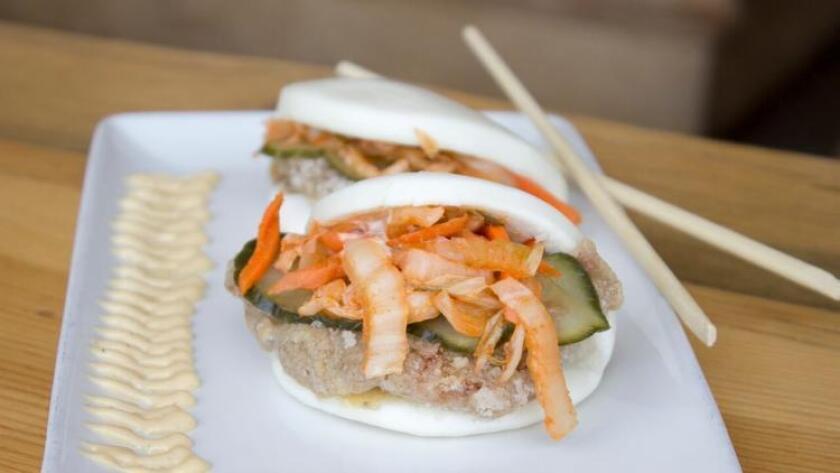 Underbelly: Buns galore at these popular spots bring in the crowds. The options here include the beef brisket with ginger hoisin, fried chicken with kimchi, pulled pork with pickles, tempura eggplant with mushrooms, and the albacore with sprouts, ponzu and spicy mayo.
3000 Upas St. #104, North Park, 619.487.9909 and 750 W. Fir St. #101, Little Italy, 619.269.4626, godblessunderbelly.com
Steamy Piggy: On a street already packed with amazing eats, this hot spot offers up homemade baos, dumplings and noodles from whole wheat flour. Baos include Bulgogi, chicken and shrimp, plus the crowd favorite Piggy Bao, made with pork belly, spicy mayo, cilantro and crushed peanut.
4681 Convoy St., Suite A, Kearny Mesa, 858.492.0401, www.steamypiggy.com
Dumpling Inn & Shanghai Saloon: Make a day of it on Convoy Street and head to the Saloon for happy hour, which includes half-priced bao sliders with braised pork belly or orange glazed chicken breast. Then you can take the money you saved and drop it on a rare Yamazaki or Hibiki whiskey ($30 to $126 per pour) to wash it down.
4625 Convoy St., Kearny Mesa, 858.268.9638, dumplinginn.com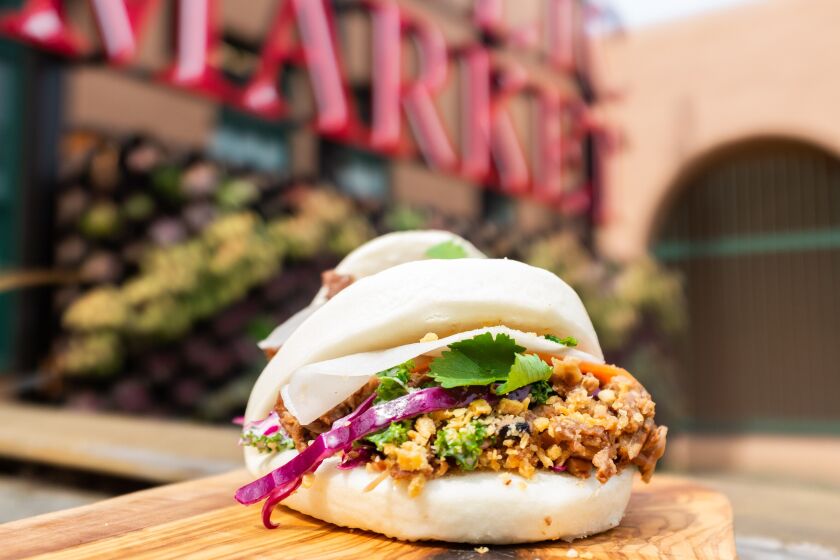 Bao Bar: Stroll through Liberty Public Market to this sister post of Mama Made Thai with a variety of buns for your gastronomic delight, including meat, seafood and vegetarian options. Don't miss the popular slow cooked pork bao with carrots and cilantro, paired with their boba tea.
2820 Historic Decatur Road, Liberty Station bluebridgehospitality.com/libertypublicmarket/artisan/bao-bar
Shanghai Bun: With an array of dumpling, noodle, potsticker and bun options this locale offers the Hoisin Duck Slider (a taco-style bao) with lacquered duck, cucumber, and scallions, the Pork Belly Sliders with braised pork belly and hoisin, and the round Char Siu Bao with honey roasted BBQ pork.
1029 Rosecrans St., Midway District, 619.795.1700 www.shanghaibunsd.com

---